Are you on the lookout for the best noise-canceling headphones on the market? The name of Bose QC45 headphones might hit your eardrums in this quest. However, you must know this product in-depth before jumping in and buying it. In this article, we'll list why you should avoid the Bose QC45 headphones.
From durability issues to limited customization options, we'll cover everything you need to know to make an informed decision. While the Bose QC45 headphones offer impressive features, such as noise-cancellation and long battery life, weighing the pros and cons before purchasing is important.
Read on to learn why the Bose QC45 headphones aren't ideal if you're considering getting them. You'll better understand the possible negatives and the ability to decide once you've read this article. Let's go!
Reason #1: Not the Best Sound Quality
The noise-canceling and long-lasting battery life of the Bose QC45 headphones are well-known. But the sound quality is subpar for the price. A below-par sound quality is an instant turn-off for somebody who just put their money into this gadget.
Poor clarity is one of the biggest problems with the Bose QC45 headphones' sound quality. You won't be able to distinguish between the different instruments or singers in a song since the sound is muddy and requires more clarity. This is very obvious when listening to music with multiple layers, such as symphonic compositions or contemporary pop music.
In addition to lacking clarity, the sound quality of the Bose QC45 headphones also lacks detail. These nuances can be important in creating an immersive listening experience, and the Bose QC45 headphones can't deliver on that front, at least for this price point.
Another issue with the sound quality of the Bose QC45 headphones is that the bass is overpowering. The bass on these headphones is so strong that it drowns out other musical aspects, even though some people may love songs with a lot of bass.
Another area for improvement with the sound quality of the Bose QC45 headphones is that it needs balance. However, the Bose QC45 headphones tend to overemphasize the bass and neglect other elements of the music. This can make the music sound unbalanced and unnatural.
The good news is that you can fix most of the bass and treble complaints in the EQ settings in the Bose app. However, you'll need to download the app to your phone and tweak the settings to find your preferred levels.
Reason #2: Distortion at High Volumes
The Bose QC45 headphones also suffer from distortion at higher volumes. The sound quality immediately degrades as you increase the volume, becoming distorted. If you're not cautious, it might be challenging to appreciate music at greater volumes and potentially cause hearing impairment.
The Bose QC45 headphones' lack of personalization options might affect the overall sound quality. These headphones don't provide any EQ settings or other customization options unless you download the Bose app.
Together, these problems demonstrate the poor sound quality of the Bose QC45 headphones. Hence, they're not for audiophiles or those who seek high-quality sound. But they could be a nice option for regular travelers who need noise-cancellation and lengthy battery life.
Reason #3: No aptX Support
The Bose QC45 headphones' absence of aptX compatibility is another problem. AAC and SBC are two common Bluetooth audio codecs that can be outperformed by aptX regarding sound quality. The overall sound quality of your music may be greatly impacted by the different codecs, even though some listeners may require some education on the subject.
Although AAC typically outperforms SBC regarding sound quality, it still falls short of aptX. This implies that the sound quality will be substandard if you pair the Bose QC45 headphones with a device that doesn't support aptX.
Furthermore, the lack of aptX support might be a deal-breaker for audiophiles or anyone who loves high-quality sound. It is realistic to anticipate that high-end headphones, like the Bose QC45, will support the newest and best audio codecs.
Unfortunately, the Bose QC45 headphones can't compete with other high-end headphones on the market in this instance since they don't support aptX. The lack of aptX support is another reason to avoid buying the Bose QC45 headphones.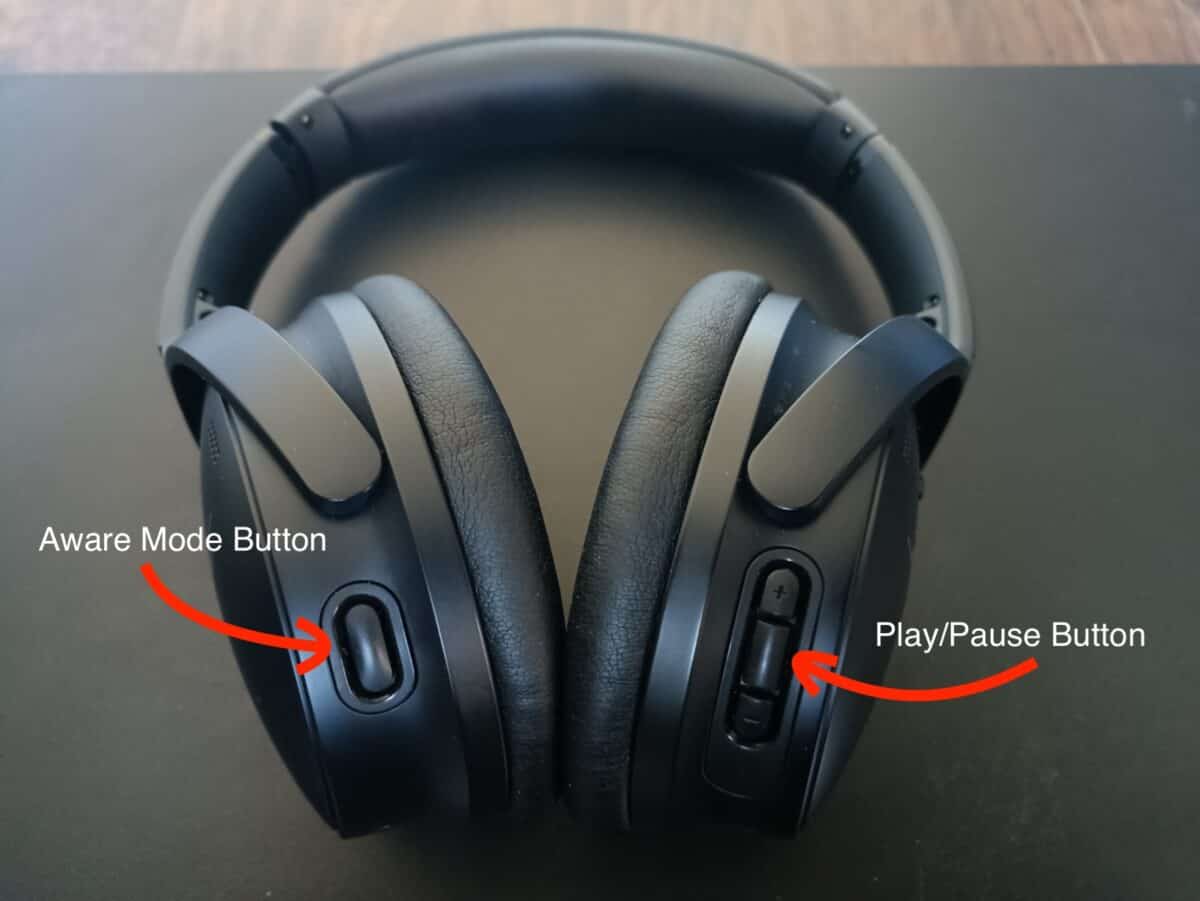 Reason #4: The Only Way to Turn Off ANC is to Turn On Aware Mode
The Bose QC45 headphones have been marketed as premium noise-canceling headphones. But one major issue is the lack of a true-off mode for active noise cancellation (ANC). The only way to turn off ANC on these headphones is to switch on Aware mode, which is not a true off mode, and this can be a major problem for users who prefer a complete silence mode.
When you need to hear announcements on a public transportation system or when you need to hear someone speaking to you while listening to music, this might be helpful in some situations.
However, it continues to use the microphones on the headphones to detect background noise and adjust ANC accordingly, which might cause a tiny change in sound quality. The ANC on the Bose QC45 headphones cannot be entirely disabled because there is no true-off option.
This can be a major drawback for some users who prefer to listen to music without ANC. Moreover, the Aware mode still lets some noise pass through, which can be distracting when you want complete silence.
Furthermore, when the ANC is not completely off, it can cause a faint hissing or humming sound. This can annoy some users, especially when listening to music in quiet environments. The sound can also interfere with the clarity of music, resulting in a subpar audio experience.
In addition to the audio quality, the lack of a true-off mode for ANC can also impact the battery life of the Bose QC45 headphones.
Users who want to conserve battery life by turning off ANC altogether cannot do so with the QC45 headphones. This really makes them less convenient and versatile. However, users who want to listen to music without ANC or complete silence may find the Bose QC45 headphones unsuitable.
Reason #5: High Price Tag
The price tag is one of the most significant issues with the Bose QC45 headphones. These headphones cost $449 in Canada and $329 in the USA. This makes them one of the most expensive noise-canceling headphones on the market.
Unfortunately, the price is not justified by the features and performance of these headphones. This might make it a major reason to avoid buying them. While it's common to find high-quality noise-canceling headphones at a similar or even higher price point, the Bose QC45 headphones don't deliver the level of performance that justifies their high price tag.
They have several issues with sound quality, lack of true-off mode for ANC, and codec support. These issues make it difficult to recommend these headphones, particularly at such a high price point.
There must be more than this product's features to justify its high price tag. Other noise-canceling headphones offer similar or even better features at a much lower price point, making the Bose QC45 headphones less attractive to buyers.
Moreover, the Bose QC45 headphones' build quality differs from other headphones in the same price range.
The Bose QC45 headphones lack some of the more advanced features that are becoming increasingly common in other noise-canceling headphones, such as touch controls and voice assistants. These features may be optional but add to the overall user experience and make the headphones more convenient.
The headphones do not deliver the level of performance that justifies their high cost, particularly compared to other noise-canceling headphones in the market. Considering these factors, it is difficult to recommend the Bose QC45 headphones to buyers, particularly at their current price point.
Reason #6: Not Waterproof
The issue of the Bose QC45 headphones having a plastic body construction and not being water or sweat-resistant is a concern for potential buyers. Consumers may expect higher quality materials and durability at a hefty price tag. While the headphones are not the worst-looking, the visible outlines of the body connections and microphones may appeal to only some.
Although the headphones are comfortable for lengthy periods, the headband and earcup design may cause discomfort when placing the headphones around your neck or adjusting them while wearing them. The weight of 240 grams is light, but the sliding forward of the headphones when bending over may be irritating to some.
Furthermore, the lack of water or sweat resistance is also an issue if you use headphones during workouts or sweating. This issue may also affect the headphones' lifespan, as they are more susceptible to damage from moisture.
Consumers may want to explore other options in the market that offer better durability and protection against moisture.
Reason #7: No Passive Play/Pause Feature
The lack of a passive play/pause feature is another problem with these headphones, which may put off certain users.
This function is helpful for people who regularly have to take their headphones off and put them back on, such as while commuting or working in an office setting.
Without passive play/pause, users would have to actively pause and restart media playing using the buttons on their headphones. This might be inconvenient and force them to remove their phone from their pocket or bag. It can be quite annoying if the user has to halt their media rapidly, such as when they need to speak to someone in an emergency.
While some users may be willing to overlook the lack of passive play/pause if the headphones have other features they value, it is still a significant issue that should not be ignored.
The fact that even cheaper headphones offer this functionality suggests that it is a relatively easy and inexpensive feature to implement. Its absence in the Bose QC45 headphones may be seen as a lack of attention to detail or a failure to prioritize the user experience.
The Bose QC45 headphones' buttons and controls have also been criticized for being more challenging and simpler. Because of their close proximity, the buttons are prone to unintentional presses, and the requirement to repeatedly touch the multi-function button to skip songs can be perplexing.
Some users may find using the headphones more bothersome than pleasurable due to this and the absence of passive play/pause.
Battery: 30 hours
Features an automatic noise optimizer (AI noise cancelling)
Includes Sony's V1 Processor for great sound
Features soft leather ear-cups

Buy on Amazon

We earn a commission if you make a purchase, at no additional cost to you.

10/02/2023 06:58 pm GMT

All-new Advanced Noise Cancellation
Works with B&W Android.iOS Music app
Slim and lightweight
7-hour playback
15-minute quick charge

Buy on Amazon

We earn a commission if you make a purchase, at no additional cost to you.

10/03/2023 10:49 am GMT

Dynamic driver
ANC blocks outside noise
Transparency mode
Dynamic head tracking

Buy Now on Amazon

We earn a commission if you make a purchase, at no additional cost to you.

10/03/2023 05:50 am GMT

11 levels of active noise cancelation
Built-in beamforming microphone that adapts to noisy and windy environments
Lightweight stainless steel headband and tilted earcups

Up to 20 hours of wireless battery life on a single charge

Buy Now on Amazon

We earn a commission if you make a purchase, at no additional cost to you.

10/03/2023 05:39 am GMT

Battery life of up to 60 hours

Features a 42mm transducer system

Comes with adaptive noise cancellation

Use the Sennheiser Smart Control app to personalize sound settings

4 digital beamforming microphones

Buy Now on Amazon

We earn a commission if you make a purchase, at no additional cost to you.

10/03/2023 05:44 am GMT

Includes alternate sizing kit

Bose 1-year limited warranty

CustomTune technology

Noise cancellation

Wireless

Buy Now on Amazon

We earn a commission if you make a purchase, at no additional cost to you.

10/03/2023 07:19 am GMT

Hybrid Active Noise Cancelling
Multiple modes
Hi-res sound
Custom EQ via app
40hr playtime
Comfortable fit
Bluetooth
Multipoint connection

Buy Now on Amazon

We earn a commission if you make a purchase, at no additional cost to you.

10/03/2023 02:29 am GMT
Will Bose Make a QuietComfort 46?
There's no official announcement from Bose regarding a new headphone after the QuietComfort 45. But rumors and leaks suggest that the company may be working on a pair of headphones called the Bose QuietComfort Ultra. This headset is rumored to have improved noise cancellation over the QC 45 as well as a longer battery life. Plus, it's purported to have a new design that's more lightweight and comfortable.
Of course, It's entirely possible that none of these rumors are true. To get breaking news about Bose products, we recommend that you follow the company on social media.
Up Next