4K television sets have slowly become the standard in many homes, but 8K models are starting to get more attention. While an upgrade may seem tempting, we have five reasons to avoid an 8K TV today. Some are common sense if you're a fan of audio-visual tech, but you may be surprised by others. A television set with 8K resolution can take content to all new highs in your home, but can also cause some expensive headaches.
Reasons to Avoid an 8K TV
8K resolution may seem like cutting-edge tech, but the format has been around since 1995. It didn't get any real traction until it was displayed during the 2014 Winter Olympics, and has taken even longer to reach the consumer market. You can purchase an 8K TV online today from a number of retailers, but there are five things you'll want to keep in mind before you do.
4K TV Sets
Are you considering purchasing an 8K TV set as an upgrade from an older TV? That would be the type of upgrade that will blow your friend and neighbors away. It could also be a mistake given how far 4K technology has come in recent years.
The first 4K TV sets had plenty of issues, but those have been ironed out. That means exclusive formats like Dolby Vision are found on a wider range of devices. You don't have to pay a premium to find a 4K set that can stream and has multiple HDMI ports, and they get more affordable by the day.
Whether you're looking for a secondary TV set for your kid's room or want to upgrade your main television set, there are thousands of 4K TVs to choose from. There is a price and style for everyone and even a mediocre 4K set is an upgrade over a premium HD model.
In a nutshell, a 4K TV provides the best overall experience for homeowners. They may have roughly half the resolution of an 8K TV, but the technology pushing those pixels has come a long way. You also won't have to worry about the next item on our list, which is a huge negative.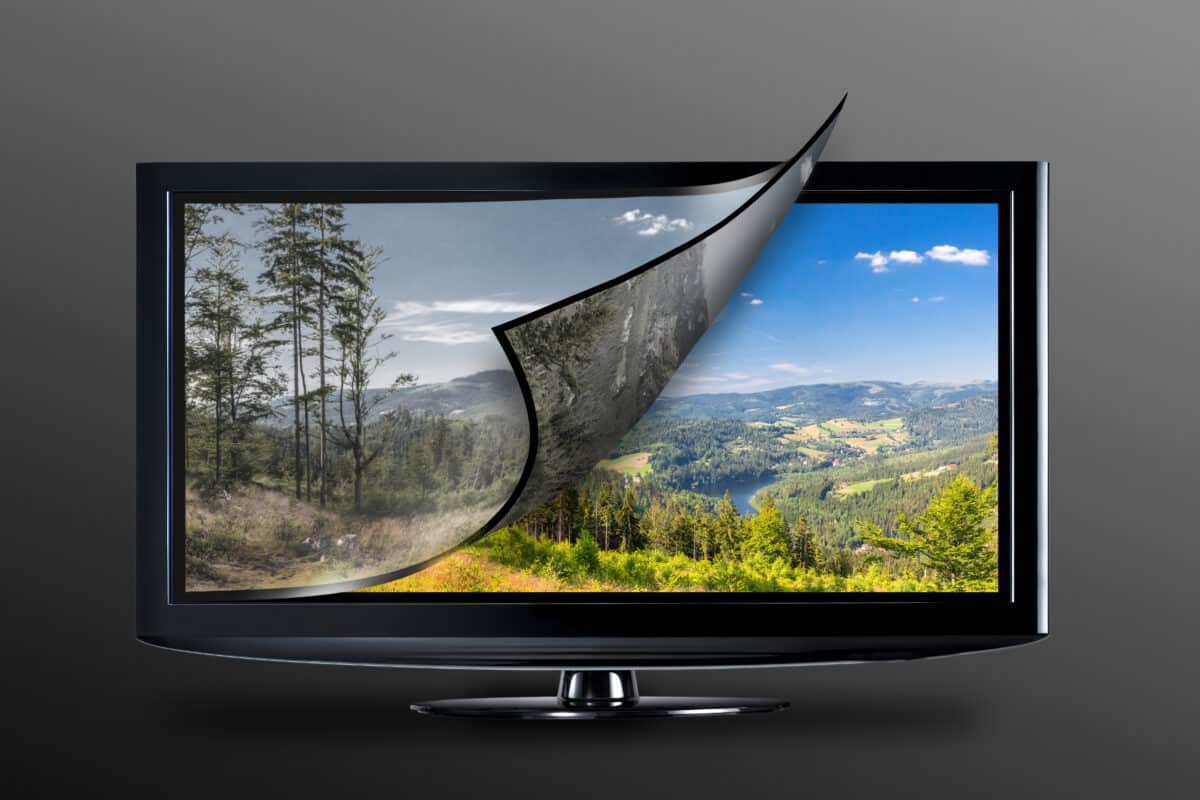 Lack of Content
The availability and technology in 4K TV sets is our main reason to avoid an 8K TV today, but the lack of content is a close second. Anyone planning on purchasing an 8K TV to enjoy their favorite series on Netflix or Disney+ will be in for a nasty surprise once they open up a streaming app.
Most 4K content comes from streaming platforms and home video releases. There aren't many companies that broadcast traditional programming in 4K. Netflix, Hulu, Amazon Prime, HBO, and others produce and stream premium content in 4K, however. 4K is the current gold standard for streaming services.
By comparison, you will not find any streaming content in 8K from a major provider. Want to pick up an 8K Blu-Ray of the new Avatar film or a Sci-Fi classic? That's not an option, and it could be 5-10 years before companies start rolling out 8K Blu-Ray disks. If you plan to watch anything broadcast or streamed in 7,680 x 4,320, you're going to be sorely disappointed.
At this time, the only places to get 8K content are through services like YouTube. Even then, the amount of content is sparse. That's due in part to the price of 8K cameras, which are incredibly expensive compared to their 4K counterparts.
Early Issues
It can be exciting to become the first person with a new piece of tech. Whether it's the latest gaming console or a big screen TV, we all enjoy showing off new gadgets and equipment. That brings us to the third problem with 8K TV sets today — problems with the tech.
If you've ever purchased a flat-screen TV or monitor and had to send it back due to a display issue, you've played the panel lottery. It's something a lot of early adopters have experienced over the years with new tech, and common when with all types of components from new PCs to television sets. Nobody wants to send back an 80-inch TV set and your warranty is only good for so long.
It's also hard to track down these early issues because there aren't many verified reviews to rely on. You won't find hundreds or thousands of reviews as you would with a popular 4K TV set. An example is Samsung's new QLED 8K sets. While they've received positive reviews on many sites, there are currently less than 100 reviews per model.
Many reviews are written after spending a week or less with a product, so you'll want to keep release dates in mind as well. It's important to note that firmware updates can clear up a lot of issues with new tech like TVs, but they can't fix problems with internal components. Some of the issues that could arise, may have not had time to actually appear with a new 8K TV set.
Sizing
Want a TV set you can take anywhere? That's an option thanks to the range of sizes available on the market today. You can find flat screens from 13 to more than 80 inches, although the field begins to narrow with certain types of display technology.
OLED TVs aren't designed for smaller spaces, but home theaters where bigger is better. Want to buy an 8K set that's 32 or 38 inches? That's not going to be an option anytime soon. In fact, the smallest 8K TV set we could find available for purchase was the 55-inch Samsung QLED 8K QN700B.
Most 8K TV sets are designed for home theater systems. Some of the more popular options are 70 to 80 inches or more, which could alter your installation plans. Having to pay a professional to mount an 85-inch TV on the wall isn't cheap, but neither is a repair bill if you drop your new $10,000 TV set while trying to install it.
The Price Tag
Pricing is one of the more obvious concerns with an 8K TV set for most consumers. If budget is a concern, you'll want to consider a 4K TV set as 8K models are far from cheap. Smaller sizes are comparable to a premium OLED television set. The tech is still too new to find any real discounts or sales as well.
This is an area where branding is important. At the moment, Samsung is the main company producing consumer-friendly 8K TV sets. LG isn't far behind, and there are a handful of sets from Sony, TCL, and Hisense as well. You won't pay as much for an 8K set from TCL or Hisense, but won't get the same type of quality or features.
When you factor in the lack of content, pricing is a major reason to avoid an 8K TV. Do you want to pay $9,000 for a television set that only plays 4K content and can upscale? Probably not, especially when you can pick up a premium OLED 4K television set for much cheaper.
Alternatives to 8K Television Sets
Not sold on an 8K TV set? That's probably a good choice unless you're testing out tech or are comfortable waiting for new content to arrive. If you're still in the market for a new TV set, here are 3 fantastic alternatives.
Sony XR55A95K 4K TV
LG gets a lot of love for its stunning OLED displays. It's hard to argue with the Sony XR55A95K as the best all-around option, however. Consumers looking for a smart 4K TV that can do it all will be thrilled with this set's performance and the stunning visuals.
This smart TV allows you to connect to HBO Max, Netflix, and other services with the tap of a button. It has AirPlay 2 support and you can control it with Alexa. You'll also get access to the company's exclusive Bravia Core app. This opens the door to new content and possibilities for your TV set. It's easy to set up and connect to other components through HDMI 2.1, and Sony's tech takes the visuals to new heights.
That's due in part to the resolution and color palate capable through their QD-OLED panel. It supports HDR and Dolby Vision and gets a boost from Sony's Intelligent Cognitive Processor. Fans of movies will enjoy everything this TV set offers, and gamers get a few perks as well. The Sony XR55A95K can bring input lag down to 8.5 seconds and has exclusive features designed for the PlayStation 5.
Samsung UN65CU8000 4K TV
Prices on 4K television sets have dropped significantly since the first models debuted. That means some flagship features are now standard, which makes mid-range sets an attractive option. One of the best models in this range comes from Samsung with the UN65CU8000.
This 65-inch TV is packed full of premium tech. Audio is enhanced through Object Tracking Sound Lite, and you can take video calls on the TV through ConnecTime. That's a unique feature, and so is the Solar Cell remote which has a voice assistant and solar charging panel. Have a Q or S-series Samsung soundbar? If so, you'll appreciate Q-Symphony tech.
This smart TV can handle any content you throw its way, and you'll definitely see an uptick in quality with Mega Contrast and HDR. Dynamic Crystal Color makes images jump off the screen. The upscaling is fantastic as well and will give content new life through 4K resolution. This attractive TV is available in five other sizes including an 85-inch model depending on your needs.
TCL 50S446 4K TV
It's hard to narrow down a 4K TV set in the budget class given the wealth of options available to consumers today. While it's a close race between TCL and VIZIO, we feel like the TCL provides the most bang for your buck through this 50-inch Class 4 television set.
TCL designed the 50S446 to work on the Google Assistant platform. You can use Google to pull up movies on demand and control other compatible gadgets in your home. Chromecast is built-in along with access to dozens of streaming apps from Disney+ to Peacock and Tubi. The audio and video are top-notch as well with features like Dolby Digital Plus audio and eARC.
With a resolution of 3,840 x 2,160, this 4K TV set is on par with other models from a pixel standpoint. The depth and range aren't as good as you'll find on better panels from Sony or LG, however, and it's not Dolby Vision capable. This TV can handle HDR10 formats, and Google integration alleviated the problems with the old interface providing users with a better experience overall.
The Wrap-Up
We believe 8K will be the next evolution in TV resolution, but the world isn't quite ready for it yet. It wasn't long ago when consumers were struggling with 4K TV set prices and quality control issues. The same problem plague 8K television sets today, but something manufacturers will address as consumer demand increases for these high-end TVs.