Key Points
The Ryzen 5 5600X has limited overclocking potential, restricting enthusiasts from fully maximizing its capabilities.
The stock cooler bundled with the processor is inadequate, requiring an aftermarket cooling solution for optimal performance.
The Ryzen 5 5600X lacks integrated graphics, necessitating the purchase of a separate graphics card for visual display.
The Ryzen 5 5600X, despite its popularity, presents several compelling reasons to be avoided. This high-performance processor from AMD may seem enticing, but prospective buyers should be aware of its drawbacks. By considering these nine significant factors, individuals can make an informed decision and avoid the Ryzen 5 5600X.
From performance limitations to compatibility concerns, this article will shed light on the downsides of this particular CPU. Whether you're a gaming enthusiast or a productivity-driven professional, understanding these key points will help you navigate the market and select the best processor for your needs.
A Glance at Today's Ryzen 5 5600X
The Ryzen 5 5600X is a powerful processor designed by AMD. It boasts six cores and twelve threads, providing excellent multitasking capabilities. With a base clock speed of 3.7GHz and a boost clock speed of up to 4.6GHz, it offers swift and efficient performance in various tasks and applications.
Equipped with the Zen 3 architecture, the Ryzen 5 5600X delivers significant improvements in both single-threaded and multi-threaded performance compared to its predecessor. This makes it suitable for gamers and content creators who require high-speed processing and smooth gameplay.
The processor features an advanced 7nm manufacturing process, ensuring optimal power efficiency and reduced heat generation. This allows for better cooling solutions and overall system stability. Additionally, the 5600X is compatible with PCIe 4.0.Thus, enabling faster data transfer speeds and supporting the latest graphics cards and storage devices.
The Ryzen 5 5600X also incorporates AMD's Precision Boost technology, which dynamically adjusts clock speeds to match the workload. This intelligent feature optimizes performance on the fly, delivering a seamless user experience without manual tweaking.
Also, the processor supports simultaneous multithreading (SMT), allowing each core to handle two threads simultaneously. This enhances overall efficiency and responsiveness, making the processor ideal for multitasking and demanding workloads.
Why Avoid a Ryzen 5 5600X?
The Ryzen 5 5600X processor comes with certain drawbacks, making it less than ideal for every user. Hence, before making a purchase, it is crucial to consider the reasons why you should avoid getting a Ryzen 5 5600X.
1. Limited Overclocking Potential
Overclocking allows users to increase the operating frequency of a CPU for enhanced performance. However, this particular processor needs to catch up in terms of overclocking capabilities. Despite its impressive stock performance, the Ryzen 5 5600X has limited headroom for manual overclocking adjustments. This means that users may need help to push the processor beyond its default clock speeds in order to achieve significant performance gains.
The restricted overclocking potential prevents enthusiasts from fully maximizing the CPU's capabilities and may be disappointing for those seeking to extract every ounce of power from their system.
2. Higher Power Consumption
This processor consumes more power compared to its counterparts in the same price range. Subsequently, this may result in increased electricity bills. The higher power consumption can also lead to increased heat generation, requiring additional cooling measures to maintain optimal operating temperatures. This can add to the overall cost of the system, as more robust cooling solutions may cost more.Similarly, the increased power draw may limit the system's overall efficiency and battery life, making it less suitable for portable devices that rely on energy conservation.
3. Expensive Compared to Similar Options
The Ryzen 5 5600X may not be the best choice due to its high cost. In terms of the price-performance ratio, this processor needs to catch up when compared to its counterparts. Other CPUs within the same price range offer comparable or even better performance, making the Ryzen 5 5600X a less attractive option for budget-conscious buyers.
The premium price tag attached to this processor may not be justified by its marginal performance improvements over cheaper alternatives. Choosing a more affordable CPU with similar specifications and performance levels would allow users to allocate their budget towards other components or upgrades. Thus, maximizing overall system performance.
4. Inconsistent Availability
Inconsistent availability is a compelling reason to avoid purchasing a Ryzen 5 5600X. This processor's inconsistent availability poses a significant drawback for potential buyers. Supply chain issues, fluctuating demand, and limited production capacity result in frequent stock shortages. These shortages lead to prolonged waiting times and uncertainty for customers who desire this particular CPU.
Moreover, unpredictable availability can hinder one's ability to plan and execute a timely computer build or upgrade. The unreliability of stock availability also creates frustration and disappointment for those eager to enjoy this processor's benefits. Ultimately, this inconsistent availability undermines the convenience and reliability that customers seek when making a purchasing decision.
5. Inadequate Stock Cooler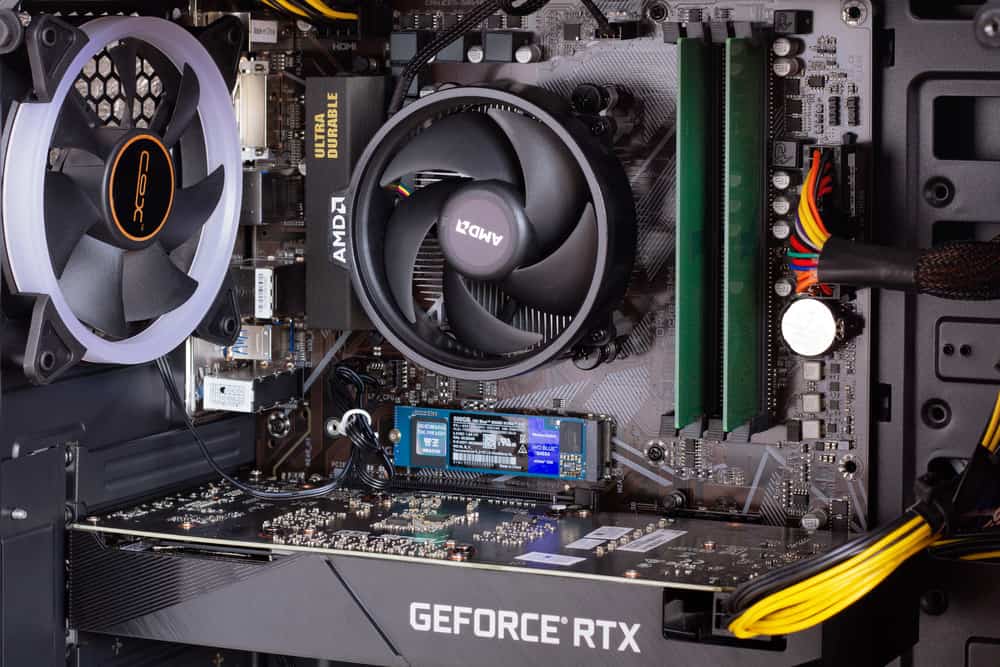 The stock cooler bundled with this processor fails to meet the cooling demands of the powerful CPU, resulting in suboptimal performance and potential thermal throttling. With inefficient cooling, the processor may not be able to maintain its intended clock speeds, leading to decreased overall performance.
Plus, inadequate cooling can contribute to increased heat buildup. This may negatively impact the longevity and stability of the CPU. Overheating issues can also pose a risk to system components, such as the motherboard and memory modules, potentially leading to system failures or instability.
Therefore, opting for a superior aftermarket cooling solution is highly recommended to ensure optimal performance and longevity of the Ryzen 5 5600X processor.
6. Limited PCIe 4.0 Lanes
With limited PCIe 4.0 lanes, the processor offers a restricted bandwidth for connecting high-speed devices like graphics cards, NVMe SSDs, and other expansion cards. This limitation negatively impacts the overall performance and potential future upgrades of the system. As a result, users may experience lower data transfer rates and slower performance compared to processors with more PCIe 4.0 lanes. It also restricts the ability to fully utilize the capabilities of high-end components, limiting the potential for advanced gaming, content creation, and professional workloads.
Additionally, limited PCIe 4.0 lanes can lead to compatibility issues and hinder fully harnessing the benefits of next-generation technologies. Therefore, it is advisable to consider processors with a higher number of PCIe 4.0 lanes for a more versatile and future-proof system.
7. Potential Compatibility Issues With Older Motherboards
Potential compatibility issues arise when using the Ryzen 5 5600X with older motherboards. These compatibility issues stem from the advanced technology and architecture of the processor, which older motherboard models may only partially support. Older motherboards might need more BIOS updates to recognize and function with the Ryzen 5 5600X properly.
As a result, users may encounter difficulties during the installation process or face unstable system performance. The lack of compatibility can lead to various problems, including boot failures, random crashes, or limited functionality. Upgrading to a newer motherboard that specifically supports the Ryzen 5 5600X is advisable to ensure seamless compatibility and optimal performance.
Therefore, individuals with older motherboards should consider this potential issue before opting for the Ryzen 5 5600X to avoid any complications or incompatibilities.
8. Lack of Integrated Graphics
The Ryzen 5 5600X may not be ideal for some due to its lack of integrated graphics. This means the processor does not have its dedicated graphics processing unit (GPU) built-in. Consequently, users will need to purchase a separate graphics card to display visuals on their monitor or perform graphics-intensive tasks.
This additional expense can significantly increase the overall cost of building or upgrading a system. Further, the absence of integrated graphics limits the flexibility and convenience for users who rely on the system for basic computing needs, as they would need to invest in a dedicated GPU even for simple tasks.
Considering this factor when choosing a processor is important, especially if cost-efficiency and versatility are significant concerns.
9. Relatively Smaller Cache Size
The cache is high-speed memory located on the processor that stores frequently accessed data for quicker retrieval. With a smaller cache size, the processor has limited space to store this data, resulting in more frequent trips to the slower main memory, which slows down overall performance.A smaller cache size means the processor has less room to store instructions and data, leading to increased latency in accessing information. This can result in slower execution times for complex tasks that require frequent data retrieval or multitasking.
In resource-intensive applications, such as gaming or video editing, the relatively smaller cache size of the Ryzen 5 5600X may limit its ability to handle large datasets efficiently. This can lead to decreased performance and potential lag or stuttering during demanding tasks.
Compared to processors with larger cache sizes, the Ryzen 5 5600X's relatively smaller cache size may not deliver optimal performance for tasks that heavily rely on fast data access and retrieval.
The Best Ryzen 5 5600X Alternatives
Here are a few options to consider as alternatives to the Ryzen 5 5600X processor:
Intel Core i5-11600K
The Intel Core i5-11600K is an excellent alternative to the Ryzen 5 5600X. It offers exceptional performance and efficiency, making it an excellent choice for gamers and content creators alike. With its 6 cores and 12 threads, the i5-11600K delivers powerful multitasking capabilities, allowing for the seamless execution of demanding tasks.
Its base clock speed of 3.9GHz can be turbo-boosted up to an impressive 4.9GHz, ensuring swift and responsive performance. The i5-11600K also boasts Intel's advanced architecture, delivering superior single-threaded performance and optimizing overall system speed. Its compatibility with high-speed DDR4 memory further enhances its capabilities.
Additionally, the i5-11600K features Intel's integrated UHD Graphics 750, providing decent graphics performance without the need for a dedicated GPU. Therefore, the i5-11600K is a compelling alternative to the Ryzen 5 5600X with impressive specifications and competitive pricing.
AMD Ryzen 7 5800X
The AMD Ryzen 7 5800X outperforms the Ryzen 5 5600X, offering superior performance and capabilities. It enhances its processing power with its 8 cores and 16 threads, enabling seamless multitasking and smooth execution of demanding tasks. Its base clock speed of 3.8GHz and a maximum boost clock of 4.7GHz ensure swift responsiveness and efficient performance across various applications.
The Ryzen 7 5800X also features a larger cache size, enabling faster data retrieval and enhancing overall system efficiency. Additionally, it supports PCIe 4.0, delivering faster data transfer speeds for compatible devices. The advanced Zen 3 architecture of the 5800X provides enhanced instructions per clock (IPC) performance, resulting in improved efficiency and higher frame rates in gaming.
With its superior specifications and robust performance, the Ryzen 7 5800X emerges as the top choice for those seeking an alternative to the Ryzen 5 5600X.
Intel Core i7-11700K
The Intel Core i7-11700K outperforms the Ryzen 5 5600X in various applications, providing exceptional performance. Its 8 cores and 16 threads give it a higher core count. Thus, enhancing multitasking capabilities and accelerating processing speeds. Its base clock speed of 3.6GHz can be boosted up to 5.0GHz using Intel's Turbo Boost Max Technology 3.0, ensuring swift and efficient performance across demanding tasks.
Likewise, the i7-11700K supports PCIe 4.0, enabling faster data transfer rates and improved overall system responsiveness. Intel's advanced thermal management features, such as Thermal Velocity Boost and Enhanced Core and Memory Overclocking, optimize the processor's performance while maintaining safe operating temperatures.
Ultimately, the Intel Core i7-11700K presents a compelling choice for users seeking a powerful alternative to the Ryzen 5 5600X, delivering exceptional performance and versatility.
Intel Core i9-11900K
This powerhouse CPU boasts 8 cores and 16 threads, delivering remarkable multitasking capabilities and ensuring the smooth execution of demanding tasks. Its base clock speed of 3.5GHz and an impressive boost clock speed of 5.3GHz offers exceptional responsiveness and rapid processing. Moreover, the i9-11900K's 10nm architecture enables efficient power usage and reduced heat generation, resulting in improved overall system stability.
Its integrated Intel UHD Graphics 750 delivers stunning visuals for gaming and multimedia applications. Additionally, the i9-11900K supports Thunderbolt 4 and PCIe Gen 4.0, enhancing connectivity options and ensuring future-proof compatibility. When seeking a high-performance alternative to the Ryzen 5 5600X, the Intel Core i9-11900K stands tall, offering unrivaled power, speed, and versatility.
The image featured at the top of this post is ©Jack Skeens/Shutterstock.com.