Key Points
Laser TVs utilize screens between 100 and 150 inches, providing an immersive viewing experience without interference from people walking around the room.
Laser TVs have a long life cycle of over 25,000 hours and offer eye protection for comfortable long-term viewing.
Despite their advantages, laser TVs can be costly, require specific assembly and installation, and may have limited brand options.
A Laser TV is comprised of a short-throw projector and a screen. While this projector resembles the traditional types, they differ in two ways. One, they have a small projection, and second, they use laser beams. Ordinary projectors emit light through an LED lamp. To understand how a laser TV works, think of it as a projector in front of your screen.
The viewing experience on a laser TV is immersive as they utilize screens between 100 and 150 inches. Also, the projector is close to the screen, so there is no viewing interference when people walk around the room. Moreover, a laser TV has a long life cycle of over 25,000 hours. In addition, laser light has a low temperature which helps keep the device intact for a long time. Even more impressive laser TVs have eye protection that does not tire your eyes even when you stay glued to a screen for a long time. Despite the technology, there are reasons to avoid a laser TV today.
Background on Laser TVs
Laser is an acronym for Light Amplification by Stimulated Emission of Radiation. Helmut K.V. Lotsch originally envisioned laser television technology and patented it in Germany. He revisited it in 1977 with F. Schroeter, explaining the potential applications of laser color TV.
By 1995 Schneider AG, a German-based tech firm, had developed a prototype but could not produce it due to bankruptcy. Mitsubishi Digital Electronics unveiled a commercial-grade 65-inch laser TV in 2008 but later shelved the project in 2012. LG picked up from where Mitsubishi stopped by releasing its TV in 2013. LG's laser TV could display images measuring 100 inches from a 22-inch distance.
No Laser TV story is complete without mentioning Hisense, another Laser TV pioneer company. Hisense invested in deep research between 2007 and 2011, creating a single laser projector. Among the technologies added were picture calibration, smart TV, a processing chip, and a soundbar. Hisense would later unveil a laser TV that reflected rays from a projector placed 55 cm, followed by another where the laser was 50 cm away.
Best Reasons to Avoid a Laser TV Today
The technology is now in an advanced development phase with numerous brands. Companies are now competing for market share in a less crowded environment. A large screen reflects laser TV images that are easy on the human eye. Laser TVs consume less power compared to LCD screens. They are also lightweight devices. Previously projectors needed a dark room to achieve a regular TV's image quality. That is now in the past as the modern laser TVs work excellently in well-lit rooms.
Notwithstanding these innovations, laser TVs have their disadvantages. The following are the seven best reasons to avoid a laser TV today:
Laser TVs are costly
Laser TVs require an anti-light screen
Low brightness and poor image quality
The task of finding an ideal screen is on the user
Laser TVs require specific assembly requirements
Lack of built-in OTA (Over-The-Air) Tuner
Limited options
Let's examine each in greater detail.
Quick Facts
| Feature | Laser TV |
| --- | --- |
| Technology | Ultra-Short Throw (UST) projector |
| Screen panels | Wall-mounted OLED and LCD flat panels |
| Screen size | 90 to 150 inches |
| Screen type | Ambient light-rejecting (ALR) screen |
| Eye protection | Proximity sensors |
| Built-in over-the-air (OTA) broadcast tuner | Not available in most earlier models, but the latest models have a built-in ATSC tuner |
| Display | Supports 4K to 8K resolution |
| Sound format | Dolby Atmos, DTS:X |
| HDR (High Dynamic Range) | Supports HDR |
| Gaming | Best for games that don't require fast reaction times |
Reason 1: Laser TVs Are Costly
A Laser TV with a 150-inch display costs around $2,500 to $7,000. We checked on Amazon and picked two random brands. A NexiGo Aurora PJ90 Laser powered projector with a 150-inch display costs $2,499.99. On the other hand, an AWOL Vision LTV-3500 4K 3D Laser TV projector that displays a 150-inch screen costs $5,499. Besides, you might also require some add-ons such as a 5.1 channel audio and a power amplifier for enhanced sound. These are added costs when the prices already range in thousands of dollars.
Prices of other brands that we sampled are as follows:
Hisense L9G: From $5,499 to $5,999
Epson LS500: From $4,999 to $5,999
BenQ V7050i: From $3,499
XGIMI Aura: From $2,499
Overall, a laser TV is an expensive entertainment unit. However, you can invest in other alternatives that do not cost an arm and a leg.
Reason 2: Laser TVs Require an Anti-Light Screen
An ordinary screen produces image distortion, meaning you need an anti-light screen. Unfortunately, laser TV projectors do not work well with standard soft screens. The traditional screens do not reject or bounce ambient light effectively. Besides, if you're in a well-lit room, the image from a regular screen appears faded or washed out.
The screen that befits a laser TV projector is an Ambient Light Rejection (ALR) screen. It reflects light from a projector in a controlled way. Regular screens reflect less light in all directions. Since more light bounces from an ALR screen, the result is a bright, bold image that is easy on the eyes. Nonetheless, ALR screens work well if you position the USP projector correctly.
Anti-light screens, whose technology you need for an excellent viewing effect, are expensive. High cost is one of the reasons to avoid a laser TV today. For a complete setup, you must have a dedicated projection screen, an ATSC tuner, and a Smart TV operating system. Also, choosing a projection screen requires keenness, since it must meet specific requirements.
Reason 3: Low Brightness and Poor Image Quality in Daylight
Ordinary TVs produce brighter images than laser TVs. How is that? Television light comes directly to your eyes. On the contrary, the light emitted by a laser TV projector bounces off the screen's surface before reaching your eyes. If the surface is highly reflective, your room's ambient light mixes with that from the projector resulting in a low-contrast image. On the other hand, a surface with a deep matte finish absorbs the incoming light.
The surface where the laser TV's projector directs its light must have the correct color balance. It must be of a precisely neutral gray or white shade. A regular wall is, therefore, not an ideal surface as there could be imperfections during its construction. Probably the wall isn't straight or has some added texture. Since the light emitted by a UST projector is at an acute angle, it reflects similarly and may not reach your eyes accurately.
Reason 4: The Task of Finding an Ideal Screen is on the User
UST (Ultra Short Throw) projectors can display images in different sizes depending on the model. As a result, most manufacturers opt to sell them as stand-alone units. They do not come packaged with a screen. Once you buy a laser TV projector, you choose the screen size that fits your budget and preference. That alone is a disadvantage as it forces you to shop again.
Hisense and Epson are exceptions. Their laser TVs are a complete package comprised of a projector with a screen already customized to image size, resulting in an easy buying experience. However, shopping for a laser TV projector and a matching TV screen takes a lot of work. The experience is time-consuming and it is an added cost. Therefore, buying a projector and screen as separate units is one of the reasons to avoid a laser TV today.
Reason 5: Laser TVs Require Specific Assembly Requirements
Installing a laser TV screen and projector has specific requirements. Laser TV screens may come as pre-assembled or unassembled. In the latter case, you must assemble the screen before mounting it. After installing the screen, you set up the projector, connect plug-and-play devices and tune in to the channels in your region.
Aligning the ultra-short throw projector to a mounted screen requires precision. A laser TV screen needs a wall area of around 320 cm (126 inches) by 210 cm (83 inches). Beneath the screen must be a cabinet at least 50 cm (20 inches) high and 70 cm (28 inches) wide. A fixed cabinet should have a 50 cm (20 inches) height and a 60 cm (24 inches) depth for a free-standing cabinet.
You can only perform these tasks with the right tools and skills. Professional technicians will carry out mounting, device connections, channel tuning, and Wi-Fi connectivity. After that, they will walk you through the basic operations of a laser TV. There are also add-ons, such as cable concealment and soundbar mounting. All this work comes at a cost making a laser TV installation a tedious and expensive affair.
Reason 6: Lack of Built-In OTA (Over-The-Air) Tuner
Unlike digital TVs, most laser TVs do not have a built-in over-the-air tuner. It is a device that enables you to receive broadcasts by local stations in your region. TVs purchased after March 2007 have in-built digital tuners. You can check if your TV has one by identifying labels such as ATSC, HDTV, and DTV. Notwithstanding, TVs without a digital tuner require an antenna and digital converter to receive local channel broadcasts.
In connection to this, it would have significantly helped if laser TVs kept pace with modern technology. Now, you must connect your projector to an external TV antenna and a tuner. Besides, that means incurring additional costs for these gadgets. The setup also requires installing extra cables around your house. There is no point in buying expensive and sophisticated entertainment equipment that later poses more connectivity challenges.
Reason 7: Limited Options
The laser TV industry has very few players, meaning you do not have much brand variety. Key players include Hisense, Epson, BenQ, XGIMI, Samsung, Dell, Appotronics, and Optoma, to mention a few. Moreover, these are premium brands and very costly.
Alternatives to a Laser TV
Ultra-short-throw projectors, often marketed as laser TVs, deliver large images from a short distance. However, the truth is that these are expensive. You're better off with the following alternatives.
OLED TVs
Organic light-emitting diode (OLED) TVs are a fantastic alternative to laser TVs. They have a rich color spectrum with perfect black levels. Their motion quality is also top-notch; their wide viewing angle will benefit you. The LG C2 is our ideal choice.
Excellent OLED Screen
LG C2 65-Inch OLED evo
Great contrast, deep blacks, and over a billion colors
8 million self-lit OLED pixels
Alpha 9 Gen 5 AI Processor 4K, exclusive to LG, intuitively adapts to what you're watching
LG Game Optimizer mode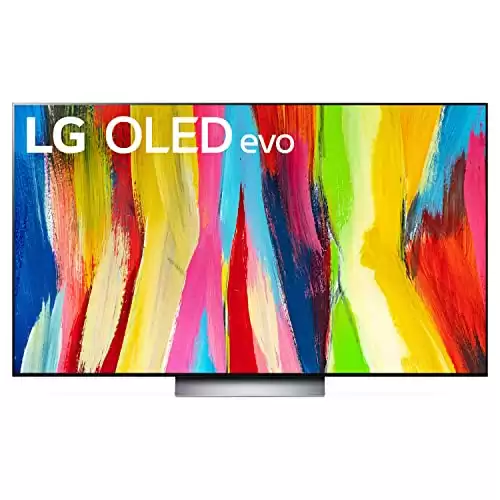 We earn a commission if you make a purchase, at no additional cost to you.
QLED TVs
You can still enjoy similar or better brightness from a high-performance QLED TV. Even more fulfilling is that quantum dot LED TVs offer a wide color gamut, excellent brightness, and they resist burn-in, among other features. The Samsung QN90B is an excellent QLED TV with good picture quality.
Best QLED
SAMSUNG QN90B 65-Inch Class Neo QLED 4K
Samsung's ultra-precise Quantum Mini LEDs
Quantum HDR 32X
Neo Quantum Processor 4K uses AI-based deep learning to analyze content and optimize it to full 4K
Anti-glare
Ultra viewing angle
We earn a commission if you make a purchase, at no additional cost to you.
Lamp Projectors
Other projector types deliver quality images without being too hard on your pocket. As you shop for this alternative, consider your room type, screen size, and what you want the projector to achieve. A bright lamp projector delivers a wholesome cinema-like experience on a big screen.
Best Value Projector
We earn a commission if you make a purchase, at no additional cost to you.
Large Screen LED TVs
Large LED TV models with screen sizes ranging from 75-85 inches are an excellent alternative. You can enjoy watching them from diverse viewing angles. Also, they have good picture quality. The TCL 75R655 is an excellent example of a 75-inch TV alternative to a laser TV.
Best Overall for Gaming
TCL 75″ Class 6-Series 4K Mini-LED TV
4K Ultra HD with 120 Hz refresh rate
Mini-LED backlight technology
Support for Dolby Vision, HDR10, HDR10+, and HLG
Comes in three screen sizes: 55, 65, and 75 inches
Four HDMI inputs and support for 144 Hz VRR
We earn a commission if you make a purchase, at no additional cost to you.
Wrapping Up
Laser TVs comprise an ultra-short throw projector that releases light rays on a dedicated TV screen. Laser TV technology is among the latest intrusion in the market. A laser TV is an excellent choice for viewers that love large screens. However, there are reasons to avoid a laser TV today.
Laser TV installation considers the height and distance between the UST projector and a wall-mounted screen. It would be best if you had a light-resistant screen. A long projector distance yields a large image and vice versa.
A laser TV is not a good choice with a limited budget. You must budget for it sufficiently as it is expensive. Moreover, it requires a screen that matches its projector, resulting in a troublesome shopping experience. Besides, they suffer from daylight disruption resulting in less clear images.
Moreover, some brands do not come as a complete package forcing you to buy a projector and screen separately. Also, the equipment's assembly requires expertise. Laser TVs do not have a built-in local channel receiver. Last but not least, there are limited brand options for the consumer.
Great contrast, deep blacks, and over a billion colors
8 million self-lit OLED pixels
Alpha 9 Gen 5 AI Processor 4K, exclusive to LG, intuitively adapts to what you're watching
LG Game Optimizer mode

Buy on Amazon

We earn a commission if you make a purchase, at no additional cost to you.

08/29/2023 10:24 am GMT

Samsung's ultra-precise Quantum Mini LEDs
Quantum HDR 32X
Neo Quantum Processor 4K uses AI-based deep learning to analyze content and optimize it to full 4K
Anti-glare
Ultra viewing angle

Buy on Amazon

We earn a commission if you make a purchase, at no additional cost to you.

08/29/2023 08:19 am GMT

YABER Y30 Native 1080P Projector 15000L Brightness Full HD Video Projector 1920 x 1080, ±50° 4D Keystone Correction Support 4k & Zoom,LCD LED Home Theater Projector Compatible with Phone,PC,TV B...

Projection size ranges from 45 inches to 300 inches depending on the distance
1080p native resolution, plus supports 4K video
Features 2 HDMI ports, 2 USB ports, a VGA port, and an AV port
15000L brightness and high dynamic contrast ratio of 15000:1
Lamp lifespan 100,000 hours

Buy Now

We earn a commission if you make a purchase, at no additional cost to you.

08/29/2023 03:45 pm GMT

4K Ultra HD with 120 Hz refresh rate
Mini-LED backlight technology
Support for Dolby Vision, HDR10, HDR10+, and HLG
Comes in three screen sizes: 55, 65, and 75 inches
Four HDMI inputs and support for 144 Hz VRR

Buy Now on Amazon

We earn a commission if you make a purchase, at no additional cost to you.

08/29/2023 03:46 pm GMT
Summary Table
| Reason | Explanation |
| --- | --- |
| 1. Laser TVs Are Costly | Prices range from $2,500 to $7,000, with additional costs for accessories. |
| 2. Laser TVs Require an Anti-Light Screen | Traditional screens do not work well, requiring an expensive Ambient Light Rejection (ALR) screen. |
| 3. Low Brightness and Poor Image Quality in Daylight | Ordinary TVs produce brighter images, while laser TVs struggle with image quality in well-lit rooms. |
| 4. The Task of Finding an Ideal Screen is on the User | Most manufacturers sell projectors without screens, making the shopping experience time-consuming and costly. |
| 5. Laser TVs Require Specific Assembly Requirements | Installation and alignment require precision, tools, and skills, often needing professional technicians. |
| 6. Lack of Built-In OTA (Over-The-Air) Tuner | Most laser TVs do not have a built-in tuner, requiring additional costs for an antenna and digital converter. |
| 7. Limited Options | Few players in the laser TV industry, resulting in limited brand variety and high costs. |