If you've been keeping tabs on the latest trends in gaming, you'll know that it's not just about shooting bad guys or rescuing princesses anymore. It's now all about getting your game on with a crypto twist! Yup, the world of gaming has gone crypto.
In fact, there are now hundreds of games that let you earn rewards (in the form of tokens) for simply having fun. Game developers are taking advantage of blockchain technology to create new ways to play and be rewarded for their effort — and gamers are loving every minute of it!
Now is a great time to start exploring different cryptocurrency games out there. So today, we're going to discuss some top-rated virtual worlds where you can earn some cool cryptocurrency rewards by simply playing games.
What Are Crypto Games?
A crypto game is a video game in which players buy, sell, or trade in-game items using cryptocurrencies and other non-fungible tokens (NFTs). Crypto games are also referred to as blockchain games, non-fungible token games, or play-to-earn games.
Players can exchange in-game items for either in-game currencies or cryptocurrency. These in-game tokens are easily convertible to any other cryptocurrency and can be used in the real world.
A Brief History of Crypto Gaming
The first widely-played cryptocurrency game, CryptoKitties, was released by Axiom Zen in November 2017. After a single virtual pet sold for over US $100,000 in December, widespread interest in crypto gaming prompted several developers to release crypto-based games.
Some of these new releases centered on buying and selling in-game items, while others sell digital land and other assets. With that in mind, here are the top 10 crypto games you should check out.
#10: Gods Unchained
Gods Unchained is an NFT trading card game developed and published in 2018 by Immutable, a company operated by Chris Clay. The game was developed on the Ethereum network and includes a native ERC-20 token named GODS.
Flux and Stars are the game's other two currencies. These tokens serve as the in-game currency for making purchases and executing transactions.
To play the game for the first time, a brief tutorial will be presented to you. Upon creating an account, you will receive 70 cards from a total of 140. After finishing the tutorial, you can engage in the various game modes.
Every god possesses four God Powers. You can choose one at the beginning of a match to utilize during the game, but be careful when doing so because your God's Power cannot be altered while the game is still going on. In Gods Unchained, players can use the forge feature by paying fees with $GODS tokens.
Players can use the forge feature to create new NFTs to use in-game or sell on the market. Users can also fuse two similar plain cards to create a Meteorite card with a real-world value if they have two identical plain cards.
#9: Summoners Arena
Summoners Arena is an innovative clicker game developed on the Binance blockchain. The game also features NFT and DeFi and ensures that participants plan their resources, characters, formation, and items to gain the utmost payout.
Summoners Arena was developed and published by Onesoft in 2021. The game works on both Android and iOS. In the game, the first step is to create a Metamask wallet. You then need to deposit BNB into your wallet, which you will use to purchase your heroes from the Marketplace.
To effectively purchase your heroes, you need to buy chests in the Binance NFT Marketplace using either BNB or BUSD, and then move your chests to your Metamask Wallet. Afterward, you can summon your heroes using Genesis Reveal. You can earn while playing this game by ensuring that you are on top of the leaderboard by the end of the season. 
Summoners Arena's in-game currencies include $SAE and $ASG. Land and Guild is also a feature where players pay $ASG rental fees to farm owners in order to farm valuable goods. You can also trade several items on the Binance NFT Marketplace, including heroes and chests. These heroes are divided into five classes, each with different strengths, characteristics, and weaknesses. 
#8: Illuvium
Illuvium is a computer game focused on play-to-earn crypto games. It was released as an Open Beta in 2022. It is a blockchain-based game and employs a play-to-earn (P2E) system. Illuvium was created on the Ethereum blockchain (ETH). The game is compatible with Windows and macOS and is ideal for role-playing game enthusiasts.
The game features Illuvials, who are alien beasts used for gaming. They are collected from dying planets. When you capture the Illuvials, you can take them to a place in the game called Regions. Some of the different game items that are used for playing include shards, weapons, and armor.
The game also has a marketplace that allows you to purchase in-game items such as Illuvials and weapons. When playing this game, you first have to personalize your character. After that, you will get to explore different locations and face off against monsters.
After you have defeated the Illuvials, you can capture them using the shards. This makes you strong enough to face other fighters or explore more locations in the game.
#7: Splinterlands 
Splinterlands is a collectible trading card game based on blockchain technology. The game was created by Matthew Rosen and released in 2018. Its headquarters are in Media, Pennsylvania. In order to play the game, players must sign up for an account or connect an existing Web3 wallet, both of which operate on the Ethereum network.
Splinterlands can be played on various platforms, including Windows, macOS, and Android. Each player in a game of Splinterland must buy a card pack containing the full set of game cards. These cards each have a set number of MANA points.
In a match, if a player needs to combine heroes within a certain MANA limit, they will have to employ cunning tactics and do some arithmetic before building their deck and playing their cards. Splinterlands also has unique features such as a marketplace, flipping cards, and play to earn mechanism.
The marketplace is where you can shop for and trade cards. Flipping cards is a feature that allows you to buy a card and later sell it off for a higher price. Players who defeat opponents are placed in higher leagues, where they can make more money.
#6: Decentraland
Decentraland is a browser-based 3D open-world platform game. It was released to the public for the first time in February 2020 and is managed by the nonprofit DeCentraland Foundation. Players can buy non-fungible tokens (NFTs), representing virtual land parcels, using the MANA cryptocurrency on the Ethereum network.
Chrome or Firefox can be used to play Decentraland on PC and Mac OS. At the moment, Decentralnd is not supported on mobile devices. Fans of immersive experiences who enjoy constructing their own civilization and actively contribute to its development will get the most out of this game.
To play Decentraland, you only need access to a web browser. There are two ways to log in: using a digital bitcoin wallet like MetaMask, or as a guest, in which case some functionality will be disabled. It is recommended that you get a digital wallet in order to get the most out of the experience.
You can safely transfer your in-game assets and save your progress in a digital wallet as long as you take the necessary precautions with the wallet's private key and seed phrase. Players have complete creative freedom and retain full ownership of all digital content created on their accounts.
The four main components of Decentraland are a marketplace, land, accessories, and avatars. All your Decentraland assets can be managed and traded in this market. What's more, the land is a marketable asset that can be acquired with Ethereum. Also, avatars in Decentraland can alter their appearance with the help of a wide variety of wearables.
#5: Aavegotchi
Aavegotchi is a DeFi-enabled crypto collectible game created and published by Singapore's Pixelcraft Studios in September 2020. The game lets users engage with the Aavegotchi metaverse and stake NFT avatars with interest-generating tokens. It is a unique blend of NFTs and Decentralized Finance (DeFi), and it uses the Ethereum cryptocurrency. 
To play Aavegotchi, the first step is to sign up for a crypto wallet. The game supports multiple famous wallets, including Metamask. After doing this, you need to get a playable Aavegotchi character. You can summon one by purchasing an unopened portal or by buying an open portal from the Gotchi Baazar.
Alternatively, you can buy a character directly or borrow an Aavegotchi from the Gotchi Lending program. After acquiring your character, you can engage in rarity farming, which involves selecting a character with rare attributes during the summoning process, playing minigames, or activating NFT accessories on your Aavegotchi character.
You can also buy and sell your Aavegotchis in Gotchi Baazar and earn cryptocurrencies. One of Avegotchi's distinctive features is the Gotchi Baazar, a marketplace where users may buy and sell portals and other Aavegotchis.
You can also make in-app purchases within the games with Ether (ETH), which can be converted into Avegotchi Tokens (GHST). As for the Avegotchis themselves, they are ghost pixeled with NFT and put to use in the games' metaverse. The game's three locations, The Grid, The Citadel, and The Beyond offer unique challenges and rewards.
#4: Thetan Arena
Thetan Arena is an online third-person shooter fighting game that was developed and published on November 27, 2021, by the Vietnamese-based game studio, Wolffun. The game's play-to-earn feature allows players to earn cryptocurrency through in-game purchases made using NFTs. You can play Thetan Arena on your computer, Android, or iOS device.
When playing the game, players can form teams with their friends and engage in battles against other online opponents or AI in a variety of game modes. Each fight lasts five minutes. You can also select your preferred hero from the three available classes: assassin, tank, or marksman.
Each of these classes possesses unique powers, popularly known in-game as Fury. In addition, there is a play-to-earn mechanism where gamers can earn cryptocurrencies by playing and trading NFT assets on the market.
Thetan Arena possesses a number of distinctive characteristics. There is a Marketplace where NFT products can be traded, allowing the player to earn cryptocurrencies. Tank is a hero type that protects allies from damage because they are typically positioned in the forefront.
Assassins are another class of heroes that approach their enemies stealthily and kill them without arousing suspicion. Marksmen are responsible for most of the damage and regulate the DPS amount during battle.
#3: The Sandbox
The Sandbox is a virtual metaverse based on the Ethereum blockchain. It allows users to create, own, and monetize their game experiences. The game was developed and published by Pixowl INC. in 2018. The Sandbox uses a variety of token types, including sand, land, and assets. The game is compatible with PC, Android, and iOS devices.
The game has extensive features that allow players to browse and buy their preferred assets using $SAND on the Sandbox Marketplace. SAND is the currency of the game and you can also use it to buy land. Each player can use the in-game visual builder tool to construct their own unique homes on pieces of land that vary in size.
To play this game, you need a cryptocurrency account like Metamask which is a famous wallet for the Ethereum blockchain. You can get a mobile app or add a browser extension to enable quick access.
After depositing SAND into your MetaMask wallet, you will be able to register and join The Sandbox and start playing immediately. With this $SAND, you can buy LANDs, develop them, and then rent your virtual homes to other people to make money.
#2: CryptoKitties
CryptoKitties is a blockchain game developed and published by Dapper Labs, a Canada-based studio, in November 2017. It uses Ethereum cryptocurrency and allows users to buy, collect, breed, and sell virtual cats. The game gained popularity in December 2017, registering the highest number of users since its development. CryptoKitties is best suited for virtual pet fans. 
In the game, players can acquire, breed, and trade virtual cats with unique appearances and varying levels of rarity. In order to take part in the game, participants need to acquire Ethereum cryptocurrency, which is then used for every breeding and trading operation.
The virtual cats can be bred, and their unique DNA traits, also known as Catrributes, are handed down to subsequent generations. You can also sell your current virtual cats, or breed new ones and make some Ethereum.
The distinctive characteristics of CryptoKitties include genes, which are the DNA of each pet and are passed down through generations. All cats have their unique appearances encoded in their Catrributes. These Catrributes are then combined to make every kitty unique.
However, a cat has to live to maturity, a process referred to as cooling down before they become sexually active and ready to have kittens. Sometimes, a mutation can occur where a bred cat bears some attributes which cannot be traced back to the parents. If you can establish that your cat has royal ancestry, you or your descendants may be awarded precious family jewels.
#1: Axie Infinity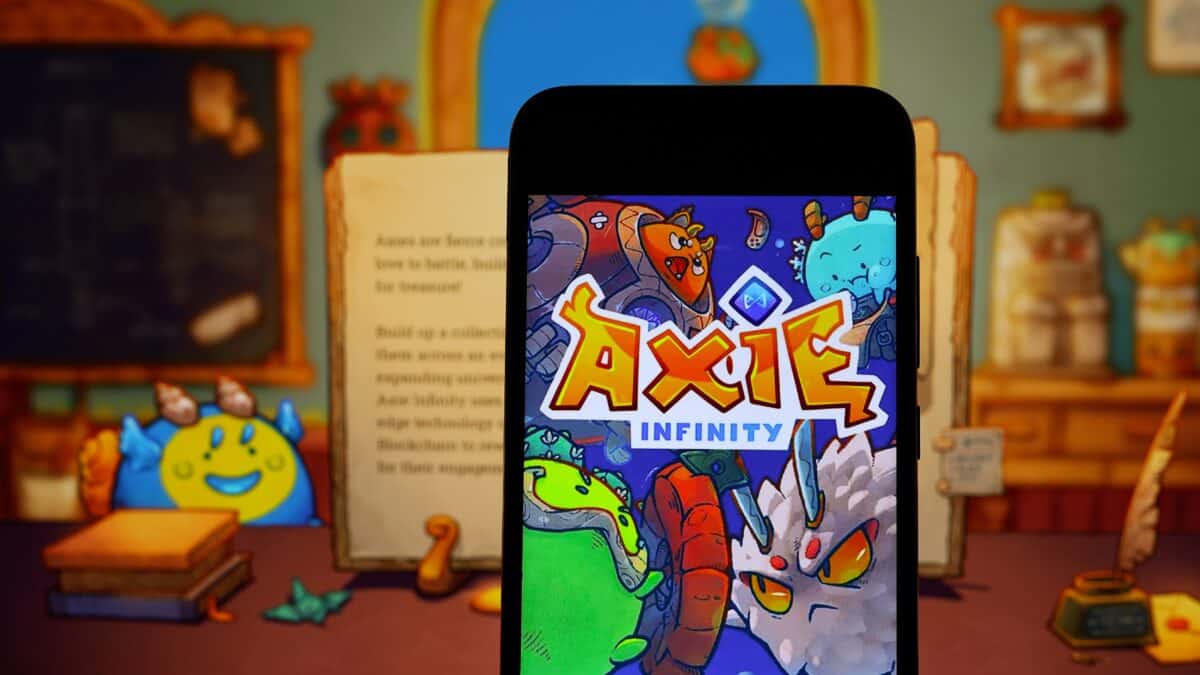 Axie Infinity is an online video game developed and released by Sky Mavis in March 2018. It is well-known for having an in-game economy based on Ethereum and the Ronin Network. This online NFT game is playable on a variety of operating systems, including Windows, Android, macOS, and iOS.
To play the game, you first need to create a Ronin wallet and transfer some ETH into it. This ETH cryptocurrency may then be used to make in-game purchases of Axies, which are virtual pets that users can acquire, groom, and care for while also constructing kingdoms for them.
When properly trained, players pit their Axies against each other in battle. The victor is awarded some ETH. Axie Infinity includes the following four primary components: 
Battle: The battle takes the form of a card game, where the contestants have to beat their adversaries. 
Breeding: When you breed your Axies, you can either sell them or use them in battle. 
Land: Also known as Lunacia, the land acts as the home for your Axies and is divided into plots.
Marketplace: The marketplace is where you may purchase new Axies, and sell the ones you have bred or acquired previously.
Bottom Line
The crypto gaming industry is booming, with millions of people getting involved worldwide. In recent years, crypto games have become a popular way to combine an interest in online gaming with cryptocurrency. However, some games offer better rewards, while others have more growth opportunities.
Up Next