Key Points
Our choice for the #1 Best Overall Nerf Gel Blaster is the Nerf Gelfire Mythic.
Gel blasters have ammo that is wet and disintegrates on contact, so it leaves little to no residue and the rounds are non-toxic to humans and animals.
When shopping for the best Nerf gel blasters, it is important to consider design, performance, and price.
If you enjoy gel warfare, there's a good chance you were excited when Nerf entered the fray. The best Nerf gel blasters have left an impression on players, despite mixed reviews from influencers online. We're going to tell you what to expect from the company's lineup while providing a few tips for consumers purchasing their first gel blaster.
800-round hopper
Semi- or fully-automatic
Rechargeable battery
10,000 rounds included

Buy Now on Amazon

We earn a commission if you make a purchase, at no additional cost to you.

11/27/2023 12:07 am GMT

Designed with MrBeast colors and logo
Streamlined 300-round hopper
Detachable barrel
20,000 rounds included

Buy Now on Amazon

We earn a commission if you make a purchase, at no additional cost to you.

11/27/2023 12:11 am GMT

Slam Fire action
130 round hopper
Trigger lock system
Comes with 5,000 rounds

Buy on Amazon

We earn a commission if you make a purchase, at no additional cost to you.

11/26/2023 08:37 pm GMT
History-Computer's Top Picks for the Best Nerf Gel Blasters
Nerf was late to get into the gel blaster scene. Their first release was announced in the summer of 2022, and they've only launched a handful of products since that time. While their selection is sparse, they have become a big hit for kids and adults who are young at heart.
Best Overall: Nerf Gelfire Mythic
The Best Nerf Gel Blaster
We earn a commission if you make a purchase, at no additional cost to you.
The #1 Best Overall Nerf Gel Blaster is the Nerf Gelfire Mythic. Gel blasters come in many forms, but long blasters tend to bring a little more to the table than smaller blasters. The Gelfire Mythic is the company's best option for people who want to lay down heavy fire without worrying about reloading.
Whether you want to pick your opponents off in short bursts or blow through the hopper in minutes, the Gelfire Mythic has you covered. This blaster has a dial that lets you switch from semi-automatic to full auto quickly. That allows the blaster to fire 10 pellets per second, which could empty a normal hopper quickly.
That won't be a problem with the Gelfire Mythic, considering Nerf used a large hopper that holds 800 rounds. It's easy to swap out, just like the rechargeable battery. Other noteworthy features include a removable barrel, trigger lock, tactical rails, and an extendable stock. This set comes with protective eyewear and plenty of ammunition to get you started as well.
While not as powerful as pro models, this gel blaster is easy to use with a thoughtful design. It has enough pop to get people's attention in the heat of battle, and several intuitive features like the removable barrel. It's accurate as well. The blaster also comes with two ammo packs for a total of 10,000 gel blaster rounds.
| Pros | Cons |
| --- | --- |
| This gel blaster has the perfect amount of power. | The price tag will be a turn-off for some. |
| It has a semi to full-automatic switch. | Some users reported hopper jams on the blaster. |
| There is a removable, rechargeable lithium-ion battery. | |
| The Mythic has an oversized hopper that holds 800 rounds. | |
Best Budget for Beginners: Nerf Pro Gelfire Legion
The Best for Beginners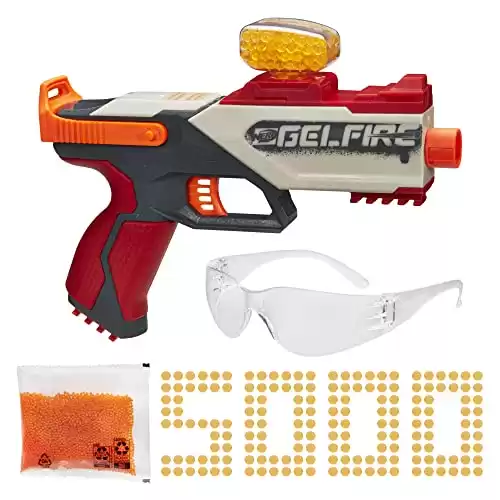 We earn a commission if you make a purchase, at no additional cost to you.
Gel warfare can be an acquired taste and an expensive game to get kids into, but Nerf has a solution to that with the Nerf Pro Gelfire Legion gel blaster. It doesn't fire as rapidly as our top choice, but it is affordable and ideal for beginners.
Nerf took a different approach with this gel blaster. It's designed like an oversized hand-held blaster with a small tank on top and a lever on the back. That's where their Slam Fire system comes into play along with the spring-loaded mechanism that primes it. It's a different kind of approach from gel blasters that require a constant stream of power.
This gel blaster doesn't need batteries and can fire around 130 rounds before the hopper runs dry. It has a trigger lock and the hopper is cross-compatible with other blasters in their lineup as well. Nerf kept the power comparable and users can get somewhat of a semi-automatic feel through Nerf's slam mechanic.
The Gelfire Legion isn't for everyone, especially children who may struggle with the unique lever system. Adults love it, however, and we haven't seen too many complaints from teens either. The Pro Gelfire Legion comes with 5,000 rounds of gel shot and the company's ANSI 787.1+ rated protective eyewear.
| Pros | Cons |
| --- | --- |
| The Gelfire Legion is well-built and fun to fire. | The slide on the Legion could be challenging for some children. |
| This gel blaster has an attractive price tag. | It's not a rapid-fire gel blaster. |
| The blaster doesn't require any batteries. | |
| It comes with 5,000 rounds of gel ammo. | |
A Unique Alternative: Gelfire Mythic MrBeast
A Unique Alternative
We earn a commission if you make a purchase, at no additional cost to you.
Nerf is one of the newer companies in the gel-based blaster scene, but it didn't take them long to form a partnership to make the Gelfire Mystic MrBeast blaster. The blaster is the latest toy in the company's arsenal and a gel blaster with a very familiar design.
This version of the Mythic is a variant of the original with some minor design changes. The MrBeast logo is emblazoned near the barrel while the Gelfire logo was bumped back to the area by the stock. The color combination matches the influencer's branding and brings a completely different vibe to the blaster. That carries over to the ammo hopper, which has received a significant makeover.
MrBeast's spirit animal is on the side of the hopper, which is smaller with a more streamlined design. On the downside, the slimmed-down tank can only hold 300 rounds at a time. It's nothing to scoff at, but given it can fire 10 rounds per second, you may spend a lot of time on refills. Everything else stays the same with this version of the Mythic from the semi-automatic switch to the eyewear and removable barrel.
This gel blaster has plenty of style and is more than capable on the battlefield. It performs like the original but has a smaller hopper that will need to be filled more often. Semi-auto mode makes up for that, however, and we're big fans of the color-coordinated bags of gel fire ammo as well.
| Pros | Cons |
| --- | --- |
| The overall design and color combination is unique. | The hopper may be too small for some. |
| There is a streamlined hopper. | It's pricey compared to blasters from lesser-known brands. |
| It has a removable barrel. | |
| It comes with 20,000 rounds of ammo in MrBeast's colors. | |
How to Pick the Best Gel Blaster: Step by Step
Looking for a gel blaster to get started or want to upgrade? The good news is there are hundreds of options to choose from. Unfortunately, that can make finding the best gel blaster a little more challenging unless you know what to look for. For most people, it all boils down to three areas with design, performance, and price.
Let's take an in-depth look at each consideration.
Design
Design, build quality, and branding are tied closely together with gel blasters. When the Orbeez craze took hold of the world, we began to see more companies produce various devices that fire gel-based projectiles. It also didn't take long for things to get competitive with players and companies alike.
Whenever a hot new product hits the streets, companies produce comparable items. They haven't been around as long as Airsoft, but a quick search will show there are thousands of models and dozens of designs in the wild world of gel blasters. Gel blasters for kids tend to resemble futuristic weaponry with colorful designs, but there are realistic models geared for adults as well.
Kids (and adults) are often tempted by things with cool designs, but that can be a mistake with gel blasters. Features like gas blowback mechanisms and electronic gearboxes may overcomplicate things, especially when the blaster is put together by a small or unfamiliar brand.
If you're buying your first gelfire, you'll want to know that the design can affect performance, so don't be fooled by fancy features. A trigger lock system or extendable stock is useful, but the design of the hopper and cheap parts can render a blaster useless quickly.
Performance
One of the big specifications people wonder about with gelfire blasters is their power. That's something many manufacturers will put out as a premium feature while others leave those details in the dark. If you do find a rating, it will be listed in FPS which stands for feet per second.
The higher the FPS rating, the more powerful the gel blaster. That's important with younger players, and while some models allow you to adjust the power, many are locked in at a fixed rate. Power has nothing to do with the firing rate either, which lets you know how many rounds these blasters can fire in rapid succession. A fully automatic system can handle around 10 rounds per second, but there are single-shot and semi-automatic models as well.
How a gel blaster fires and how quickly it can cycle through ammo is crucial, but don't overlook the feed system itself. There are two main options with hoppers and clip-based systems. Hoppers sit on top of the blaster and use gravity to help feed the gel blasters, while blasters with magazines rely on batteries, springs, and compression.
Price
Are you purchasing your first gel blaster or picking one up as a gift for a kid? That is important with pricing, which has a significant impact on how a gel blaster performs. While there are budget-friendly models that provide endless entertainment, they won't hold up under competitive conditions.
Compared to blasters that fire foam darts, gel blasters are in the premium class. While there are some exceptions like the Nerf Elite Titan or Rhino Fire, a gel blaster can run anywhere from $20 to well over $300 in price. Features and firing rates will affect the price along with the design itself.
A gel blaster from a company like YaGee or IZOKEE won't break the bank and may work flawlessly for a year or a few weeks. Brands like Nerf have blasters priced at a premium, but you can expect better performance and reliability.
What to Know Before Buying a Nerf Gel Blaster
One thing to keep in mind with Nerf gel blasters is the fact the company's selection is relatively new compared to other companies that produce gel-based toy blasters. Their top models are still priced at a premium because of that.
Gel blasters that run on batteries are easier for younger children to use. Anything with levers could be challenging for some, even if they meet the required age range of these products. While we've seen plenty of accessories and add-ons for gel blasters, they aren't always cross-compatible.
You'll want to check on that beforehand if you're considering a stock, magazines, or another hopper for a blaster. We also recommend keeping the power in check with younger players, considering there are models with almost as much power as paintball gear.
Have you used a Nerf blaster that fires foam darts or other projectiles? You can expect a similar experience from a gel blaster, although with more power and precision. The gel beads will fly further and have more accuracy, but they will also sting more.
There's a reason eyewear is included with most gel blasters, so it's important to consider safety regardless of age. While the best Nerf gel blasters are a lot of fun, the ammo can go fairly quickly. It can take hours to fully hydrate rounds as well.
The Wrap-Up
Nerf's selection of gel blasters isn't the largest, but rest assured new models and styles will change that throughout the year. The company took its time to perfect the best Nerf gel blasters, and reviews show they've been well-received by their fans. If you're on the fence between a new Nerf blaster or something with more power like airsoft gear, our breakdown will help make your decision easier.
The image featured at the top of this post is ©8H/Shutterstock.com.