Key Points
The Nintendo 64 was the first home video game console to feature 3D graphics but was not the best-selling console of its generation.
The Nintendo 64 sold 32.9 million consoles during its seven-year lifespan.
RetroArch is a versatile emulator that works on multiple platforms and has a dedicated community.
OpenEmu is a user-friendly emulator for Mac computers that supports various controllers and multiple gaming systems.
Mupen64Plus FZ is a feature-rich Android emulator with easy ROM importing and compatibility with external controllers.
As much as the video game industry looks forward to the next big thing, sometimes, the past is exactly what you really need. The history of the Nintendo 64 is complicated as it maintains the title as the first home video game console to feature 3D graphics, but it also wasn't the best-selling console of its generation. Even so, games like Super Mario 64 saw incredible critical and fan acclaim, which has helped position it as one of the best titles in the Mario series. Today, gamers use emulators to play these classic games, and many of those are some of the best N64 emulators today.
Upon its release in 1996, the Nintendo 64 sold a respectable 32.9 million consoles during its seven-year lifespan. While these sales numbers pale in comparison to other Nintendo staples like the Game Boy or Nintendo Switch, the Nintendo 64 (N64) remains a fan favorite. Today, long after the N64 was removed from store shelves, you might be wondering how you play some of the 388 games released over its almost lifecycle.
Let's take a look at the best N64 emulators you can find today. 
What is Nintendo 64 Emulation?
With games like Super Mario 64, 007 Goldeneye, Perfect Dark, Paper Mario, and more, it's no surprise there is still huge amounts of interest in replaying these favorites. Yes, you can absolutely try and locate a used Nintendo 64 console through eBay or Facebook Marketplace, but you could pay quite a bit given the current retro console market. Instead, you can look at emulation as the next best thing, which allows you to play any N64 game you want on almost any phone, tablet, or retro handheld you can think of.
It's important to note that while Nintendo 64 emulators are perfectly legal, downloading games you did not pay for is not legal. Better known as ROMs, these games are available online if you know where to look, but download them at your own risk. If you still own any N64 cartridges, you can go through a process known as "dumping the ROM" in order to play the game, and this remains legal as long as you are using your own copy of the game.
Before diving into the best N64 emulators, it's important to note that this is a pretty mixed space with different emulators available across different platforms. For example, an emulator available on PC might not be available on Android. It's also worth noting that Apple doesn't officially allow N64 emulators or any emulators for that matter inside the App Store. There are ways to sideload apps on iPhone or iPad devices such as through Delta Emulator, but it's not nearly as seamless as other platforms.
A Nintendo Classic
Nintendo 64 Console (Renewed)
Renewed Nintendo 64 console is available in "excellent condition"
Capable of playing all 388 available N64 titles
Fully refurbished and backed by 90-day Amazon guarantee
Includes one controller
We earn a commission if you make a purchase, at no additional cost to you.
RetroArch
Widely regarded as the best overall emulator on the planet, RetroArch has long been the first choice for Nintendo 64 emulation. 
What RetroArch really gets right is that it works just about every platform under the sun. You can put it on a Fire TV stick, a Chromecast with Google TV, Android devices, iOS devices (using AltServer), and so many others. Essentially, RetroArch is a one-stop shop for emulation that enables you to download "cores" that play any of your Nintendo 64 ROMs. RetroArch is about as cross-platform as it gets with availability on Windows, macOS, Linux, Android, Raspberry Pi, Haiku, Xbox, iOS, Steam, and more.
There is something of a small learning curve with RetroArch as there are a lot of settings available to help tweak gameplay. The increased learning curve also comes from knowing which cores to download for Nintendo 64 as there are many to choose from. However, if you take the time to learn the intricacies of RetroArch, you will have a ton of great features, incredibly solid gameplay, and a dedicated community to help you maximize its potential. 
Check out RetroArch here.
OpenEmu
When you are looking for what is arguably the best way to emulate retro games on macOS, OpenEmu is the absolute best option.
Where OpenEmu really excels is that its front end is really great to use across any number of Mac computers. Once installed on a Mac, it's pretty much drag and drop with your N64 ROMs into the OpenEmu desktop client and the software will handle the rest. It will even scan your game to find the appropriate box art so it's all displayed beautifully.
As soon as your games are loaded, you can go into OpenEmu settings and begin mapping out controller keys depending on the type of controller you want to use. Everything from the DualShock and DualSense (PS4/PS5) controllers is accepted along with SteelSeries, Xbox, Nintendo Switch controllers, and many more. No matter what controller you use, when you are done with your N64 games, OpenEMU offers support for more than 20 different systems including SNES, Game Boy Advance, Sony PlayStation, Nintendo GameCube, Sega Genesis, and even the Sega Saturn. 
Check out OpenEmu here.
Mupen64Plus FZ
Easily one of the most popular and highly regarded N64 emulators for Android, Mupen64Plus FZ is a great choice for smartphone or Android tablet users. 
As one of the most prominent Android emulators, you can expect to find a feature-rich software experience and, fortunately, that is exactly what you get. While there are two different versions of Mupen64Plus FZ, one paid and one free, you get a similar experience on both. This includes an easy ROM importer, which will also track down any necessary box art. As soon as the ROMs are uploaded, the app will also take care of any library management so everything is alphabetized and organized.
Along with organization, Mupen64Plus FZ is compatible with a bevy of external controllers as long as the controller works with Android. Touchscreen controls work too, but a controller is highly recommended. Other notable features include resolution upscaling, screen scaling, text pack functionality, video shaders, flicker reduction, and preset profiles. 
Check out Mupen64Plus FZ here.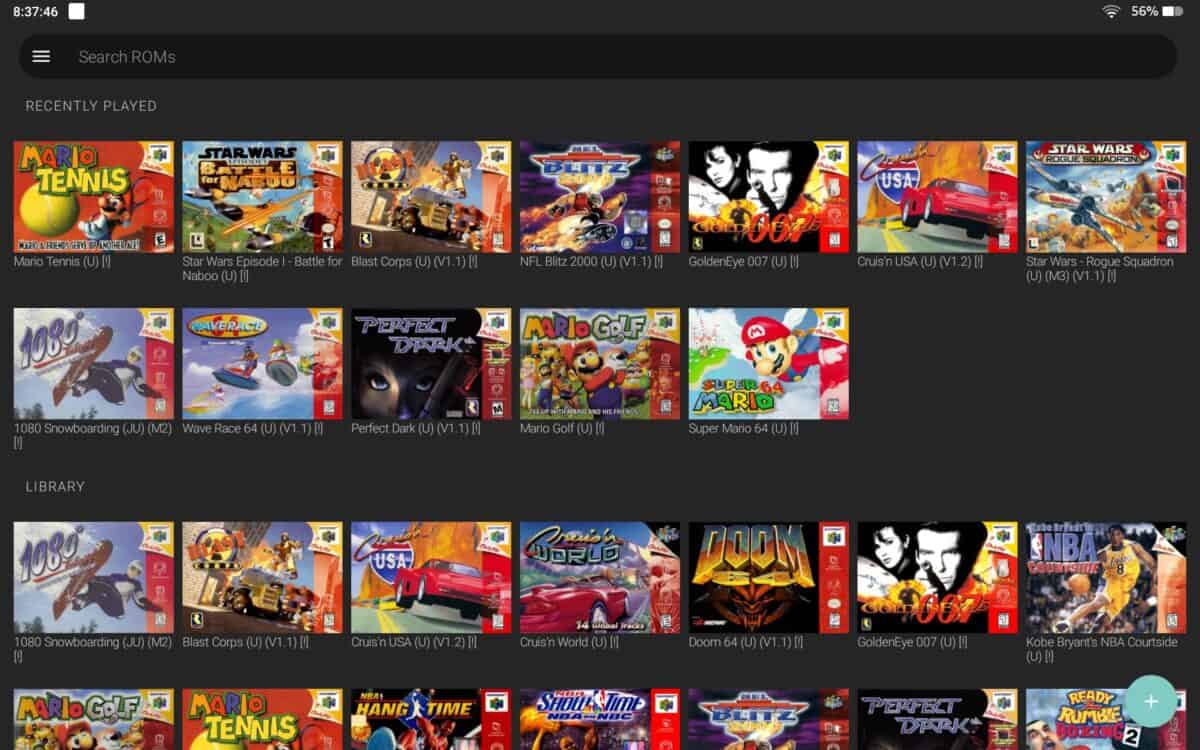 Mupen64Plus
While Mupen64Plus FZ is dedicated to Android only, the Mupen64Plus software is a fantastic N64 emulation tool available for nearly every other software platform. 
Designed for use with both Intel and AMD CPUs on Windows, macOS, and Linux, there is even a compatible version for outdated Windows 32 machines. Regardless of which desktop software you are on, Mupen64Plus is completely free and downloadable from GitHub. All necessary plugins for audio and graphics rendering are constantly being updated by the community, which is another great reason why Mupen64Plus is so highly regarded.
What the community has done with this software is remarkable as they have helped build support for the fan-favorite N64 Rumble Pak and support for a cheat code system with GameShark. Plus, Mupen64Plus includes support for a shared library interface, two OpenGL plugins for improved graphics, and adjustments to the speed of game playback to ensure audio stability. Best of all, Mupen64Plus is 100% free. 
Check out Mupen64Plus here.
Lemuroid
Something of a jack-of-all-trades, Lemuroid is more than just a fancy Nintendo 64 emulator as it can do far more than just N64 titles. 
Well-known as an open-source emulator based on Libretro, Lemuroid is an all-in-one emulation tool similar to RetroArch that can emulate almost two dozen different console formats. Best of all, Lemuroid is designed not to just work on Android phones or tablets, but also on TVs, compatible Chromebook models, or pretty much anywhere Android can run. As it's 100% free without any ads, it's quickly blown past one million Android downloads.
Receiving regular updates to keep up the performance, the N64 emulation is really outstanding. Where Lemuroid stands out is that it offers a host of features without the extra cost including controller support, auto-saving, support for fast-forwarding, cloud syncing, and last but not least, local multiplayer support. Like RetroArch, Lemuroid has a bigger learning curve than something more straightforward like Mupen64Plus FZ but is well worth trying. 
Check out Lemuroid here.
Project64
If Windows fans have felt a little left out of the N64 emulation game for a while now, rest assured that Project64 is here to stay. 
A completely free Nintendo 64 emulation project for Windows, Project64's popularity lies in being open source. Written in C++, it's easy for anyone to look at the code and make improvements to ensure game stability. This includes being able to continuously improve on the already high-definition graphics, save states, built-in cheat code access, and just overall great compatibility with nearly the entirety of the N64 library.
For those who love the idea of an open-source project, rest assured that fans of Project64 are continuously adding new merge changes to the GitHub page. These bug fixes benefit all users of Project64 and it's because of this community work that Project64 is such an easy recommendation as one of the best N64 emulators available today. 
Check out Project64 here.
SixtyForce
As a dedicated Nintendo 64 emulator tool for macOS, SixtyForce is a terrific option for using a standalone emulation solution across Apple laptops and desktops. 
Right away, SixtyForce jumps out from the pack of N64 emulators with a dedicated page on its website indicating which games are compatible and, if not, what games have minor (or major) issues. Thankfully, Super Mario 64 and Star Wars: Rogue Squadron work fantastic. While the last update may have been over two years ago, it hasn't caused any issues with the latest releases of macOS as SixtyForce remains compatible with macOS 10.9 Mavericks or later.
While the developers do indicate the emulator's best performance comes if no other applications are running alongside it, it really depends on your Mac's performance. Running the OpenGL 3.2 core profile, SixtyForce has controller support and was the first to bring over PPC dynarec software which enhances the overall stability and performance of ROM titles. 
Check out SixtyForce here.
AltStore
While iOS has typically been devoid of any hopeful emulation software, AltStore has defied the odds and brought N64 emulation to iPhones and iPads. 
Even as a free emulating tool, AltStore developers remain some of the most active and dedicated across all of the various computing platforms. Essentially, AltStore acts as a front-end to download a program called Delta, which is the true N64-emulation software that works on your iPhone or iPad. Downloading and installing AltStore is easy, and thus far, Apple hasn't made any efforts to stop the workarounds provided by the developers to get up and running.
Delta has long been a smooth way to play not just N64 games, but other platforms like NES, SNES, Sega Genesis, Nintendo DS, and Game Boy games. Importing your games or ROMs into the Delta emulator is best done through the likes of the pre-installed Files app on your iPhone/iPad device. Once installed, the gameplay is super smooth and N64 games feel completely native on your Apple device. 
Check out AltStore here.
Wrapping Up
Thanks to a resurgence in retro gaming over the last decade or so, emulation has benefited from exponential growth across any number of platforms and devices. Everything from dedicated emulation computers available on Amazon to Nintendo Switch-like handhelds that do nothing but emulate retro games has surged in popularity.
The Nintendo 64 remains a staple of the emulation community thanks to hugely popular titles like Perfect Dark, Super Mario 64, and 007 GoldenEye, which should give comfort to fans of this console that support will be available for years to come.
The image featured at the top of this post is ©robtek/Shutterstock.com.