LEGO and Star Wars have been a perfect partnership since the first sets debuted tied to the original trilogy. The best Mandalorian LEGO sets for collectors expand the blocky universe that started in the late 90s. While there aren't as many LEGO collectibles and sets tied to the Mandalorian as other entries in the franchise, we found six sets everyone will love.
The History of Star Wars LEGO Collectibles
LEGO has produced colorful plastic blocks since 1947, and the first themed sets arrived a few years later. Early sets were based on natural wonders and things like pirates or knights. That changed as licensors jumped in, and now you can find sets from almost any franchise. That includes Star Wars LEGO collectibles from every movie and several TV shows.
LEGO Star Wars is its own franchise with dozens of lines and multiple video games including animated versions of Star Wars LEGO characters. You can also find figures from Rebels, Clone Wars, Last Jedi, and even the Young Jedi Adventures. As one of Star Wars' hottest new properties, Mandalorian LEGO sets have become incredibly popular.
We picked the Star Wars Razor Crest 75292 as our top choice. It's accessible, still affordable, and instantly recognizable to fans of the show. That's a set we feel anyone can enjoy, although we've included a range of builds that are suitable for everyone.
Which of the six best Mandalorian LEGO sets will you choose from our lineup?
1. LEGO Star Wars Mandalorian The Razor Crest
Our Top Choice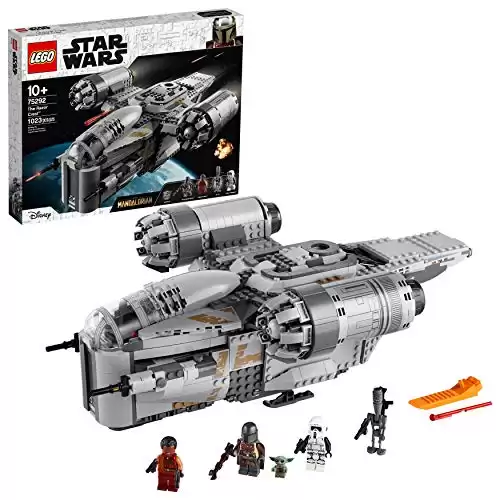 We earn a commission if you make a purchase, at no additional cost to you.
The first option on our list is instantly recognizable for Mandalorian fans as it features Mando's iconic ship, the Razor Crest. You're also getting five LEGO mini figures from the series, including the two stars of the show with the Mandalorian and Child.
LEGO set 75292 is the Razor Crest complete with captain and crew. In addition to Grogu and Mando, this set comes with Greef, IG-11, and a Scout Trooper. It's a 1,023-piece set, so it's not ideal for the youngest Star Wars fans but will provide a fun challenge for teens and adults.
As a 2020 release, this LEGO set is one of the earlier from the series. It's proved popular with fans since it arrived and has seen ample action on the secondary market. You can still pick up this set at retail price, but that will change when it's retired. That could happen in 2024 before season four of the Mandalorian.
Buy your Razor Crest on Amazon.
2. LEGO Mandalorian Imperial Light Cruiser
An Action-Packed LEGO set
We earn a commission if you make a purchase, at no additional cost to you.
The LEGO Star Wars Imperial Light Cruiser is one of the best Mandalorian LEGO sets and a great way to add to your mini-figure collection as well. Imperial ships are a mainstay in the Star Wars universe and vehicles that always look great in collectible form. This set is no exception.
The Star Wars Imperial Light Cruiser is another LEGO set with multiple figures. There are six with pint-sized Grogu, Mando, Cara Dune, Moff Gideon, Fennec Shand, and a Dark Trooper. You can recreate scenes from season two with this set, which is packed full of fun LEGO-centric features.
Spring-loaded turrets are a nice touch, and there are two mini starfighters tucked away in a dock. At 1,336 pieces, it's not the most complicated build on our list. It might be the most fun LEGO set once you've put it together, however. LEGO retired this set in January 2023 after about a year and a half on the market.
Buy your LEGO Star Wars Imperial Light Cruiser on Amazon.
3. LEGO Star Wars Galactic Adventures Pack
3 Sets in 1 Box
We earn a commission if you make a purchase, at no additional cost to you.
Our favorite smaller LEGO set is this 3-in-1 set dubbed the Galactic Adventures Pack. Smaller LEGO sets are a great way for fans to get their feet wet with LEGO sets. Star Wars has more than most franchises, including several from The Mandalorian.
This 901-piece LEGO set is three sets in one pack. There is LEGO set 75299 Trouble on Tatooine, 75310 Duel on Mandalore, and 75311 Imperial Armored Marauder. Each depicts a certain scene and setting from the series and introduces Darth Maul and Ahsoka Tano to the collection along with seven other mini figures.
The LEGO Galactic Adventures Pack 66708 was released in 2022, but the three LEGO sets included have all been retired. This set provides the best bang for your buck, although you can still purchase these sets individually until stock runs out.
Buy your Galactic Adventures Pack on Amazon.
4. LEGO Star Wars Ultimate Collectors Series Razor Crest
LEGO has dozens of sets geared toward adults such as this version of the Razor Crest. The first series designed for experienced builders featuring pop culture icons are known as UCS sets. Ultimate Collector's Edition LEGO sets bring a premium, and this version of the Razor Crest is a significant upgrade over set 75292.
The Razor Crest 75331 UCS set consists of 6,187 pieces. That's five times the number of other sets on our list, and the detail is remarkable. There aren't many outward-facing bricks on this design, which is large and geared towards display — not play. The outside is impressive, but so is the interior with cargo compartments, sleeping areas, and an infamous freezing chamber.
As a premium LEGO set, the Razor Crest 75331 UCS comes with a few extras. There are four mini figures in the set including Mando, Grogu in his floating cart, Mythrol, and the Ugnaught known as Kulil. This set won't retire for several years, but prices may skyrocket when it does.
Buy your LEGO Star Wars Razor Crest on Amazon.
5. LEGO Star Wars The Mandalorian Helmet
Mando's Helmet
We earn a commission if you make a purchase, at no additional cost to you.
The LEGO "helmet" line is one of the company's more unique additions, and where you'll find this replica of the Mandalorian's most famous piece of beskar'gam: the Manadlorian Helmet.
Helmets have always been a great way to show off your fandom, and it's hard to top LEGO set 752328 unless you're a fan of Boba Fett. The Mandalorian LEGO helmet consists of 584 pieces and sits atop a custom stand. It's the perfect size for a desktop display, but won't overwhelm Star Wars fans looking for a relatively simple build.
The Star Wars LEGO helmet collection has been around since 2020. Out of the 11 figures in the set, four have been retired, and this one will follow suit within a few years. Mando's helmet is a great gift for any Star Wars fan and a fun addition to Mandalorian collections.
Buy your Mandalorian Helmet at Amazon.
6. LEGO BrickHeadz The Mandalorian and Child
Best BrickHeadz
We earn a commission if you make a purchase, at no additional cost to you.
If your child is just getting into creating with LEGO sets, they'll be delighted with the Mandalorian and Child set 75317. One of the joys of LEGO sets is the fact they are fun for all ages. That includes adults looking for something different, and smaller children just getting into the world of LEGO. Star Wars fans young and old will appreciate this set which is part of the BrickHeadz series.
LEGO introduced BrickHeadz in 2017 featuring characters from a variety of franchises. They provide people and younger kids with a way to build a set quickly without breaking the bank. Set 75317 features the Mandalorian and Grogu. It's a 295-piece set from start to finish but with two blocky characters in place of a traditional building set.
The Mandalorian and The Child LEGO set 75317 is a 2020 BrickHeadz release. That means time is running out before it's retired, and prices begin to rise. At the moment, it's one of the more affordable Mandalorian LEGO collectibles and the perfect fit for younger Star Wars fans.
Buy the Mandalorian and Child set 75317 on Amazon.
Other Great Mandalorian LEGO sets
The Mandalorian has only been out for three seasons, so there isn't a wealth of sets yet. While the six LEGO sets we picked are among the most popular with collectors and fans, here are some more worthy of consideration.
LEGO released Armorers Forge 75319 2021 and retired it in February of 2023. This three figure set shows the armorer at work along with the Mandalorian and Paz Vizsla. It's the best way to get some mini beskar bars for your collection, and a set that will only go up in value. Interested in something newer? Consider the Mandalorian Spider Tank 75361.
This LEGO arrives in August featuring a scene from The Mandalorian Season 3 on Disney+. It's a 500+ piece set listed for preorder through LEGO, but you can pick up set 75318 now. The large LEGO version of the Child is comparable in size to the helmet collection. It's also on the edge of retirement and is the biggest figure of Grogu from the company to date.
The Wrap-Up
Fans of the Mandalorian and his adorable sidekick can look forward to adventures for years to come. You can expect to see hundreds of new toys from the series including new sets from LEGO. You don't have to wait for the newest season to relive those adventures, however, if you already have the best Mandalorian LEGO sets available.
The image featured at the top of this post is ©Andrey Arkusha/Shutterstock.com.