Key Points
Our choice for the #1 Best Overall LEGO set for eight-year-olds is Harry Potter 12 Grimmauld Place.
LEGO sets are some of the most memorable toys a child can get.
Not only will children get plenty of enjoyment from building LEGO sets, but also in creating their own adventures.
When selecting the best LEGO set for eight-year-olds, you should always think about how much it costs, the number of pieces it comes with, the set's recommended age range, and what sets the child already has.
At a time when kids are turning to technology more than ever, there is still plenty of fun to have with physical toys. One of the most popular building toys of all time is LEGO. The easy-to-use design makes them a great choice for kids of all ages, yet eight-year-olds have a lot to choose from.
Not only are there sets designed after popular films like Harry Potter, but also video games like Mario and Minecraft. From the ever-popular LEGO City theme to newer additions like Ninjago, LEGO is always coming up with new ideas. With all of these options, you are sure to find something your child will enjoy, and you may also find something for yourself.
Without further ado, let's break down the best LEGO sets for eight-year-olds today!
History-Computer's Top Picks for the Best LEGO Sets for 8-Year-Olds
#1 Best Overall: Harry Potter 12 Grimmauld Place
Best Overall
We earn a commission if you make a purchase, at no additional cost to you.
The absolute best set for eight-year-olds is Harry Potter 12 Grimmauld Place, bringing a classic setting from an iconic movie straight to your child's fingers.
This set recreates the house owned by Sirius Black, and the building first appeared in Harry Potter: the Order of the Phoenix. After leaving the Dursleys' home, the Order of the Phoenix members take Harry there. The home is crucial to keeping the Order safe from Voldemort's followers.
The Harry Potter 12 Grimmauld Place LEGO set offers stunning detail that any HP fan would appreciate. Most notable is the three-story building's ability to expand. The home in the movies and books has a Fidelius Charm on it, which makes it impossible to find; it is conveniently hidden between two other residences and will only reveal itself to someone who knows its secrets.
LEGO went all out and created a mechanism that allows 12 Grimmauld Place to pop out between two other homes, just like in the movies. But there is a lot more to this set than just a fun mechanism. Fans of the films will instantly recognize some of the iconic rooms and even the Black family tree.
Of course, there is also the dining area which appears in several movies. The set has three stories, but some rooms are a bit small thanks to the folding mechanics of the building. One really nice thing about this set is that it has nine minifigures, and several are rare. Additionally, the price tag isn't too bad, with a $119 MSRP for the set, which comes with 1,083 pieces.
| Pros | Cons |
| --- | --- |
| The building has a unique folding mechanism. | Some of the rooms are really small. |
| There are nice details inside for fans to spot. | It is not a very sturdy design. |
Best for Dinosaur Lovers: Triceratops Research
Best for Dinosaur Lovers
We earn a commission if you make a purchase, at no additional cost to you.
Kids who love dinosaurs will spend hours playing with the Jurassic Park Triceratops Research set.
With years of experience building sets based on the Jurassic Park theme, LEGO has taken some of the most popular characters and icons and put them into a small set for children. This set comes at the perfect time to celebrate the first film's 30th anniversary!
You get a buildable Triceratops in the set, but the build mainly consists of putting his legs and head on. Next, you have the iconic green Ford Explorer modified with a large see-through roof. The vehicle in this set is identical to the one included with the T. Rex Breakout. It even has a custom bumper that uses a lot of interesting pieces.
One of the funniest parts of the Triceratops Research set is the pile of dinosaur poop. It has a hidden storage compartment inside of it to scoop berry pieces. Fortunately, it also comes with two of the best Jurrasic Park minifigures, Dr. Ian Malcolm and Dr. Ellie Sattler. Triceratops Research is a very small set with only 281 pieces at an MSRP of $49.
| Pros | Cons |
| --- | --- |
| A nice throwback to the original films | Pretty small set at a high price |
| The Ford Explorer is really well-built. | The Triceratops is made of a couple of large pieces. |
Welcome to Jurassic Park
LEGO Jurassic Park T. Rex Breakout
Includes four minifigures plus the T. Rex
Authentically detailed based on the movie
Over 1,200 pieces in all
Perfect gift for the Jurassic Park fan
We earn a commission if you make a purchase, at no additional cost to you.
Best for Real-Life Simulating: Friends Main Street Building
Great for Real-Life Simulations
We earn a commission if you make a purchase, at no additional cost to you.
The Main Street Building is the best LEGO set for eight-year-old kids who love to get creative with real-life simulations of community.
This vibrant city street is part of the LEGO Friends theme. If you aren't familiar, Friends came out back in 2012 as a line of LEGO toys for kids.
Although Friends is a part of LEGO, it uses very different characters than traditional minifigures. The Friends figures are slightly larger with more details, giving them a doll-like quality. Even though the figures differ, they are still compatible with conventional LEGO bricks and minifigure accessories. The only difference is their bodies and heads are not interchangeable with regular minifigures.
The Main Street Building is a blend of shops and apartments. From the outside, you will notice that each building has its own style and details. Each of these sections is modular, so kids can rearrange them, allowing them to create their own town. There is a moving truck, and the first-floor stores consist of a market, cafe, and hairdresser.
The rooms have tons of detail, from artwork on the walls to a miniature kitchen. There is even a small rooftop garden and seating area on the top of the corner market. Overall, the Main Street Building has many vibrant colors and details that will pique the imagination of younger LEGO fans. The set comes with 12 figures and 1,682 pieces at an MSRP of $159.
| Pros | Cons |
| --- | --- |
| There are plenty of different building configurations. | Some accessories aren't compatible with minifigures. |
| The set includes lots of small pieces for customization. | All of the apartments are essentially modular boxes. |
Best for Ninjago Fans: Ninja Dojo Temple
The perfect set for kids who watch the LEGO Ninjago TV show is the Ninja Dojo Temple.
LEGO's Ninjago theme takes inspiration from ninjas and Asian culture. But beyond that inspiration, the theme is entirely made up by the creative designers at LEGO. Additionally, temples are a major part of the Ninjago theme as that is where the characters meet and train.
But don't worry, the action is very mild and mostly limited to cartoon fighting, with characters losing a few bricks in the process. Of course, there is still good and bad in the LEGO Ninjago universe. This set comes with Boa Destructor and Cobra Mechanic, who are trying to attack the Dojo Temple with their Rammer vehicle.
In addition to the two foes, you also get six Ninjago warriors like Kai and Master Wu. But the main portion of the build consists of the Dojo Temple, a five-story building packed with lots of detail. A bridge leads from a small landing area up to the second floor, where the grand entrance and training room are located.
The lower level is hidden by rockwork in the front but contains a workshop and storage area for your Ninja wardrobe. Part of the rockwork pops out so the Rammer vehicle can break into the Temple. The upper floors include Wu's tearoom and the armory. The Dojo Temple is a pretty good value with a $99 MSRP for 1,394 pieces.
| Pros | Cons |
| --- | --- |
| The Dojo Temple has a great price per piece value. | Some rooms could use more details. |
| The set includes a couple of small builds. | The Dojo Temple may have limited appeal to kids who are not Ninjago fans. |
Best for Mario Starter Course Owners: Peach's Castle Expansion Set
Best for Mario Starter Course Owners
We earn a commission if you make a purchase, at no additional cost to you.
Kids with a LEGO Super Mario Starter Course will love adding the Peach's Castle Expansion Set to their collection.
If you aren't familiar with LEGO's line of Mario toys, they use Starter Courses and Expansion Sets to essentially build out your own Mario game. Rather than building a simple model to play with, Mario sets are interactive.
The Starter Courses come with an electronic Mario, Luigi, or Peach figure that you can connect to a mobile device to keep track of points. You can even use it as a two-player game. However, you can also play with these figures without a mobile device. The Expansion Sets provide a larger world to play in, featuring many icons from Mario's world.
One of the most notable and recognizable locations is Princess Peach's Castle, as this is where Bowser usually comes to kidnap the princess. Unlike other LEGO castles, this one is pretty sparse as it is spread out for the characters to move about. The castle is also very two-dimensional, although you can spot some neat pieces inside, like a portrait from Super Mario 64.
This highest portion of the castle features a nice stained-glass-like image of Princess Peach. Unfortunately, this set doesn't come with a Princess Peach figure, but it does include Bowser, Ludwig, Toadette, a Goombo, and a Bob-omb. Altogether, Peach's Castle Expansion set is a decent value at $129 for 1,216 pieces.
| Pros | Cons |
| --- | --- |
| One of the most iconic places in the Mario franchise. | There is lots of empty space. |
| Includes a brick-built Bowser and Toad | Requires a Starter Course for full experience |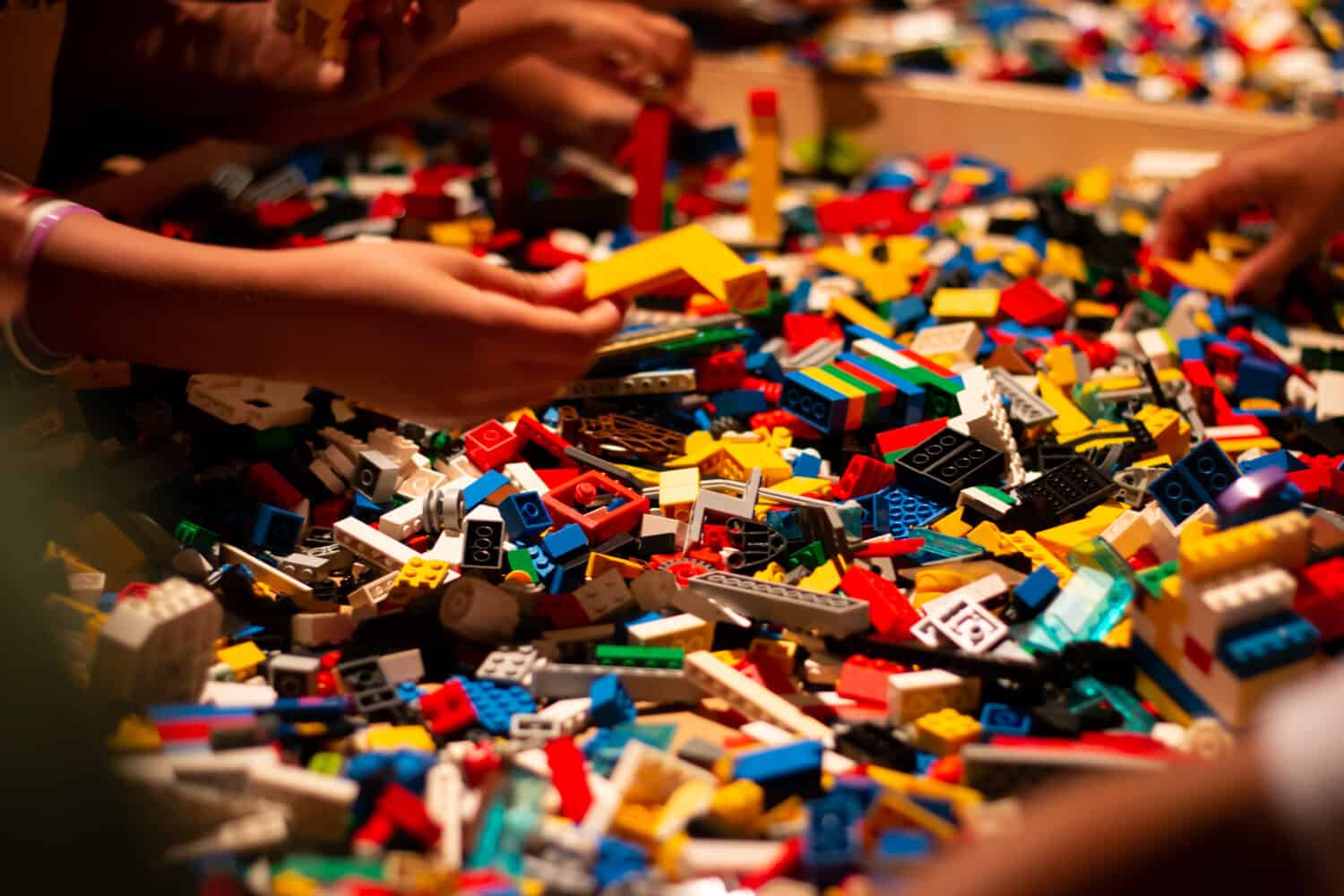 How to Pick the Best LEGO Set for 8-Year-Olds: Step-by-Step
When picking a LEGO set for eight-year-olds, there are four main considerations for most buyers.
Interests
Age
Price
Sets owned
Let's review each of these criteria in more detail.
Interests
First, you should look at the set's theme and then consider whether it sounds like it will interest the child you are purchasing it for. This is pretty simple if you know they like a certain movie or video game. But these sets get pretty pricy considering the number of pieces they come with, so be sure to look at original themes like Ninjago or Friends.
Age
The next thing to consider is the child's age compared to the recommended age of a LEGO set. The age range on most LEGO sets spans a couple of years, but depending on your child's abilities, they may be able to handle more advanced sets. Similarly, there is nothing wrong with buying a set even if they are a year or two past the age range.
Price
Price is a major concern for most shoppers since kids will always outgrow toys. LEGO sets are some of the most expensive building toys you can buy. Just be sure that whatever you intend to purchase doesn't break the bank. Most shoppers consider an average cost below 10 cents per piece a good value.
Sets Owned
Lastly, you will want to consider what sets the child already owns. Besides ensuring you don't purchase a duplicate set, you can also see what LEGO sets go with ones they already have. For instance, LEGO City often has small sets like vehicles that coincide with larger builds.
What to Know Before Buying LEGO Sets for 8-Year-Olds
Before you purchase a LEGO set for an eight-year-old, it is a good idea to see if it interests them. LEGO sets are a big investment, especially compared to other toys. Fortunately, there are many options, so you should easily find something that piques their interests. But with that in mind, some kids may not be into the toy.
If you aren't sure, starting with a small set is a good idea. This way, you can see if it is something they like. From there, you can look into larger and more elaborate sets. In addition, you should consider where your child will keep the LEGO pieces since there is nothing worse than stepping on one of those plastic bricks.
Using a LEGO Set: What It's Like
Your eight-year-old will love building LEGO sets, especially if it is based on something they really love. There is nothing like recreating your favorite scene from a game or movie in LEGO form. Not to mention, LEGO is doing a phenomenal job of putting more details in their sets than ever before.
The great thing about LEGO is that kids aren't limited to building one thing. Once they've built the set, they will undoubtedly start to reconstruct it or make changes. LEGO offers infinite possibilities, and the fun begins while you're building a set and then continues after! Plus, you can always combine pieces from different sets for even more fun.
The image featured at the top of this post is ©Rafi _toya/Shutterstock.com.