Internet Protocol Television, or IPTV, is the transmission of video content over broadband networks. It has become an increasingly popular way of consuming live and recorded TV content.
The main requirements to access IPTV are a high-speed and reliable internet connection to facilitate buffer-free video streaming at the best video resolutions and a streaming device. Some common streaming devices include Amazon Fire Stick and Fire TV Cube, Android and Google TVs, Smart TVs, and NVidia Shield.
IPTV services are growing in popularity because of their content, which offers more than cable or satellite TV networks. They are also cheaper than the traditional methods of media consumption despite offering more content.
However, just like in conventional media landscapes, there are numerous services to choose from when looking for an IPTV provider, which can be challenging for most. Therefore, below is a list of the best IPTV service providers in the market to help you make an informed decision.
#1: BestBuy IPTV
BestBuy IPTV is one of the best IPTV services in the US, offering an extensive array of live TV channels and video-on-demand (VOD) services. The service works on several devices, including all Android-based devices, Fire TV, Roku, and Amazon's Fire Stick, and is compatible with most IPTV players.
Benefits of BestBuy IPTV include access to over 7,300 live channels and 9,600 VOD options for movies and TV series from over 40 countries. The live channels have HD picture quality, while the VOD content is in 1080p resolution. There are also about 20 VOD packages on the service, allowing customers various options that best suit their preferences.
The service has an easy-to-use electronic program guide (EPG) that includes daily updates on new content available to customers. The service does not have an IPTV location lock, meaning you can access content from anywhere in the world.
BestBuy IPTV offers a 24-hour free trial to allow potential customers to make an informed decision. When purchasing their services, you can use PayPal, your credit card, or a debit card to pay for your package of choice.
The packages available include:
One month – $10
Three months – $24
Six months – $40
One year – $69
Two years – $120
#2: Xtreme HD IPTV
Xtreme HD IPTV is arguably the best IPTV service in the market, offering access to live tv, movies, and popular tv shows. It is compatible with devices that run on Windows, Android, iOS platforms, smart TVs, and Amazon Fire Stick and Fire TV.
An Xtreme HD IPTV subscription allows clients over 20,000 channels in SD, HD, and Full HD resolution. The channels include all the major channels in the US, Canada, the UK, and across Europe, available in English and other languages.
If you think it might be challenging to navigate through 20,000 channels, the service offers an interactive EPG to help you find your favorite channels. It also includes a Catch-Up feature that lets users stay updated with their favorite movies and tv shows.
Other features include 24/7 active support, anti-freeze technology, and reliable servers guaranteeing 99.9% uptime. Though the service is geo-locked to specific locations, a suitable VPN will provide access to the services when you are outside the countries that receive the service.
Xtreme HD IPTV offers a 36-hour trial for $3, while other packages include:
One month -$15.99
Three months – $45.99
Six months – $74.99
One year – $140.99
Lifetime – $500
#3: Comstar IPTV
Comstar IPTV is a leading IPTV service provider in North America, providing access to over 10,000 worldwide channels and over 9,000 movies and TV shows in SD, HD, and Full HD. The service offers access to premium channels like Cinemax and HBO, as well as pay-per-view (PPV) content like sporting events.
Clients can access Comstar on devices running Windows, Linux, and Android OS. They can also do so on Amazon Fire Stick, Smart TVs, MAG boxes, Enigma, VLC Player, and Perfect Player, among others. The company has a free android and windows app for easier access to the platform.
Despite the significant number of channels available on the platform, the streaming services are quite reliable because the company has over 117 servers that help balance streaming traffic. The service has location locks, with users in the UK, UAE, Saudi Arabia, and other countries encouraged to use VPNs to access services.
The company offers a 48-hour free trial, after which you can choose from several packages, including a $7.99 subscription for a week. Other subscription packages include:
One month – $14.99
Three months – $29.99
Six months – $49.99
One year – $79.99
Clients can make payments using Visa, Mastercard, and American Express cards, as well as Bitcoin. One of the benefits of Comstar IPTV is an instant connection to the service once you've paid for a subscription, unlike with other service providers where you must wait for several hours or a day to have your account set up.
#4: DirecTV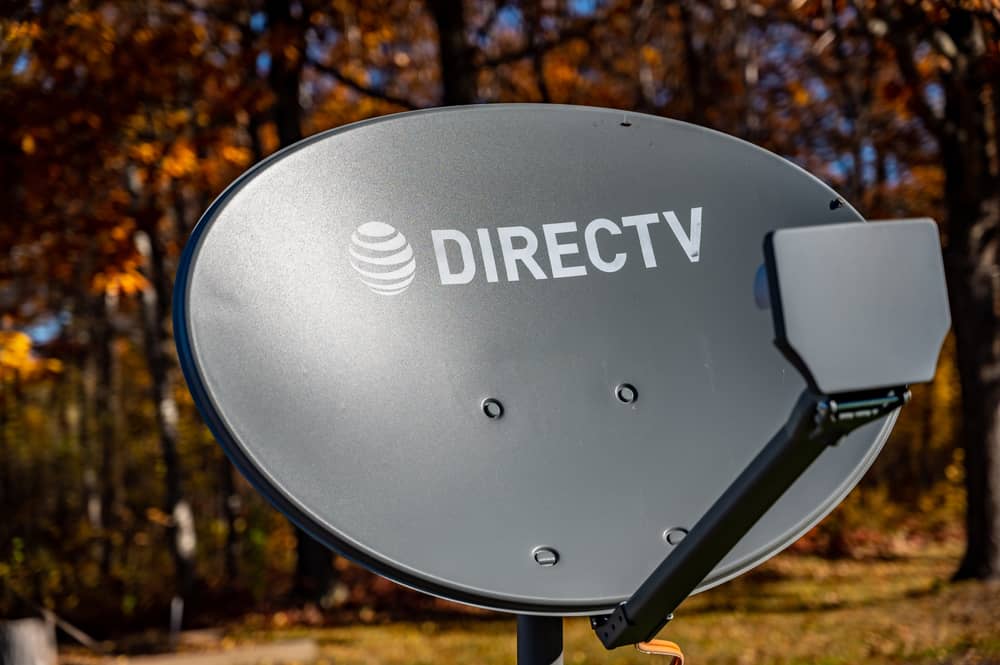 DirecTV is an IPTV streaming service owned by AT&T (the world's largest communications company) that offers access to hundreds of live TV stations and thousands of VOD channels. The number of live TV stations you can access on DirecTV depends on the subscription of your choice.
However, all the subscription packages carry the major US TV channels, including ESPN, ABC, CBS, Fox, NBC, TNT, CNN, Comedy Central, FX, National Geographic, TBS, Discovery, Disney Channel, AMC, USA, and TLC.
DirecTV also claims to have more live sport streaming options than any other IPTV service provider. The cheapest package on DirecTV costs $69.99 a month, making it the most expensive IPTV service. Other packages include a pro-sports package for $89.99 a month with over 105 channels, a family-friendly movie package with over 140 channels for $104.99, and a premium package with over 150 channels for $149.99.
The service also offers a Spanish-oriented package with more than 55 Spanish and over 40 English channels for $74.99. However, before choosing a package, you can enjoy a 5-day free trial available for online users.
Other features on DirecTV packages include unlimited cloud DVR storage to save your favorite content for as long as nine months and access to over 7,000 apps on Google Play. Users can also stream content on up to three devices simultaneously.
You can access DirecTV on Amazon Fire Stick, Apple TV, Android TV, Google TV, and Roku. For users outside the US, UK, Canada, and Europe, a VPN is necessary to access the service.
#5: Necro IPTV
Necro IPTV is a major IPTV service provider accessible on all devices, including smart TVs, Amazon Fire Sticks, Android, iOS, and Windows devices, and set-top boxes like MAG and Ministra, Linux, and Enigma2.
The service provides access to all the major TV channels, including sports and premium channels in the US, Canada, UK, Germany, Italy, Spain, France, the Netherlands, Ireland, Turkey, and the UAE, among other European and Arabic countries.
Overall, you can access over 7,000 channels on Necro IPTV with the option to include or exclude adult-themed stations. The video quality on the platform is either SD, HD, Full HD, or Ultra HD (4K), without disruption to viewership thanks to their anti-buffering technology that distributes loads across multiple servers.
Upon signing up, clients can access the platform's catalog in about five minutes. Necro IPTV accepts Visa, Mastercard, Amex, PayPal, and cryptocurrencies like Bitcoin as payment methods. Some of the subscription packages include:
24-hour trial – £0.99
One month – £9.99
One year – £79.99
#6: IPTV Trends
IPTV Trends is one of the most suggested IPTV service providers. That is because it has one of the most extensive content libraries in the market. It is also accessible on Android Tv, Windows, Roku TV, Enigma2 Box, Mag box, and Amazon Fire Stick.
The platform offers 19,000 live TV channels and over 56,000 movies and TV shows on demand with HD and 4K resolutions. IPTV Trends has a user-friendly interface and EPG to enable easy and seamless access to content.
The company guarantees up to 99.9% uptime; therefore, you do not have to worry about missing out on your favorite tv channels, shows, and movies. IPTV Trends has over 100 servers that make load management possible, thus ensuring video stability.
The company accepts PayPal and credit cards as payment options. The most basic package is a 24-hour trial that costs $2.99. You can also choose from the following short, medium, and long-term plans:
One month – $18.99
Three months – $50.99
Six months – $80.99
One year – $150.99
Lifetime – $500
#7: Typhoon Labs TV
Typhoon Labs TV is a USA-based IPTV service provider that offers content generated mainly in North and South America. The channels offered provide local news, movies, sports, music, and PPV events. Overall, the service provides over 1,500 live TV channels and over 300 sports channels.
Some of the mainstream TV channels on their platform include ABC News, Fox News, CNBC, MSNBC, Hallmark, AMC, ESPN, and Azteca Mundo, among many others. Founded more than ten years ago, Typhoon Labs TV has provided its clients with consistent content with little to no disruption in viewership.
In case of an issue, the platform has a 24/7 customer service and technical support team that works to restore viewing as quickly as possible. If they cannot resolve the problem, the platform often refunds their clients.
Typhoon Labs TV also values its clients' privacy and security, as the platform has a 256-bit encryption module to prevent data breaches. Moreover, the platform offers up to five simultaneous connections to a single account.
Their subscription packages include:
One month – $15.99
Three months – $39.99
One year – $79.99
#8: Falcon TV
Falcon TV is a first-rate IPTV service provider offering channels from the US, UK, Canada, and other countries. The platform is compatible with most devices, meaning you do not have to worry about spending extra to find a suitable device.
Falcon TV offers over 4,000 live TV channels and more VOD-like movies and TV shows that get updated daily, all of which are in HD or Full HD resolution. Among their channels are numerous international shows from regions like the Caribbean, Latin America, and the Middle East. They also offer PPV events and password-protected adult-themed content.
Falcon TV offers three kinds of subscriptions; namely, a one-month subscription for $20, a three-month subscription for $50, and a year subscription for $90, all of which you can cancel at any time. All three subscriptions support three connections simultaneously.
#9: IPTV Tune
IPTV Tune is a mainstay on several lists of the best IPTV service providers in the US. The platform is popular because of its extensive programming offers, high-quality videos, and ease with which people can navigate the platform to access their favorite channels and shows.
IPTV Tune offers over 10,000 live TV channels, including more than 200 sports channels and over 20,000 movies. It also offers 20000 TV shows, all in HD or SD resolution.
The platform also has an interactive EPG for easy navigation through content and anti-freeze technology to guarantee smooth viewership. Users also enjoy a 99.9% uptime and 24/7 technical support in case of any issues.
IPTV Tune also offers a 24-hour free trial, after which you can choose between the several packages listed below:
One Month – $15
Three Months – $30
Six Months – $50
One Year – $80
Two Years – $140
#10: Philo
Founded in 2010, Philo is an IPTV service provider headquartered in San Francisco, California. The company operates primarily in the USA. It offers over 60 live TV channels and an array of VOD content for its basic subscription, which costs $25 a month.
Philo only has monthly subscriptions, meaning you do not have to worry about being stuck in a long-term subscription. They also offer a seven-day free trial which is the longest free trial service among IPTV providers in the market.
Other benefits of using Philo include saving an unlimited number of movies, TV shows, and other forms of content. You can also create up to ten profiles on your account that you can share with family and friends. Lastly, you do not need to provide credit card information when creating an account.
Up Next
The image featured at the top of this post is ©Profit_Image/Shutterstock.com.