The Apple iPhone 8 Plus is among the most popular smartphones today. With its sleek design and powerful features, it can do almost anything you need. However, what if you want to keep your cards close? That's where the best iPhone 8 Plus cardholder cases come in. They are available in various sizes and designs to suit any preference. A cardholder case is a great option to hold your credit cards and any cash you might need in your day-to-day activities.
Below, we'll look at the best iPhone 8 Plus cardholder cases available. These cases will keep your cards safe and secure from cracks or bumps while still allowing you to enjoy your device. Let's get started.
Here are our top picks for best cardholder cases for iPhone 8 Plus:
The remarkable iPhone 7 Plus iPhone 8 Plus Wallet Case is the best wallet case for your iPhone 8 Plus. It blends top-notch quality, phone protection, and enough space for your cards and cash in one design.
This case boasts premium PU (polyurethane) leather quality that's made to stand the test of time while optimizing a soft feel for comfortable handling. Moreover, all incisions are designed to allow you to access all buttons and ports with ease.
If you're looking for a unique way to store your cards and keep your phone safe, then the iPhone 8 Plus Wallet Case is perfect. This leather case offers ultimate protection against scratches, drops, bumps, or damage. Besides, this stylish case is designed to look like an old-fashioned leather book, complete with a snap closure for added security.
It features two slots for your daily credit cards and extra compartments to store a few dollars or your ID. Besides, the iPhone 8 Plus Wallet Case can hold up to 3 cards that are easy to access by flipping open and sliding out the card you require. These cards are kept locked in securely with a dual magnetic grip hold.
The case also has a convenient built-in stand that makes it easy to watch videos or use FaceTime hands-free at multiple angles. Additionally, this case is available in eight colors, so you can choose the one that best suits your style, preference, or mood.
| Pros | Cons |
| --- | --- |
| All-round protection | Wears off with heavy long-term use |
| Variety of colors | |
| Dual magnetic grip for enhanced safety | |
| Affordable | |
Check out iPhone 7 Plus iPhone 8 Plus Wallet Case on Amazon.
We earn a commission if you make a purchase, at no additional cost to you.
The VENA Wallet Case, compatible with iPhone 8 Plus, is our runner-up for its unique design that doesn't compromise on space for your essential cards and phone safety. The design is patented so you can't find any other case that resembles VENA Wallet Case.
The wallet case's precise craftsmanship guarantees versatility, allows wireless charging, and offers magnetic car mount compatibility. The feel is also superior, and while you'll have to spend more, it's worth it.
VENA's wallet case has a hidden compartment to keep your cards or IDs safe. The compartment at the back of the case is easy to open and close, providing convenient access to all your cards. Moreover, the case is manufactured with a military grade polycarbonate (PC) and thermoplastic polyurethane (TPU) combination to protect your phone for up to 26 drops from a height of 4 feet.
Additionally, the corners absorb and distribute shock, preventing unsightly damage with the CornerGuard technology. VENA's design was made with CornerGuard, mainly because corners often hit the ground first in case of accidental drops. Moreover, if you love reading, watching, or FaceTiming with loved ones in hands-free mode, whether in landscape or portrait mode, the case has got you covered with its convenient multi-angle stand feature.
| Pros | Cons |
| --- | --- |
| Unique patented design | Not waterproof |
| Mil-grade protection | |
| Wireless charging compatible | |
| Multi-angle lock kickstand | |
Check out VENA Wallet Case on Amazon.
VENA Wallet Case Compatible with iPhone 8 Plus, iPhone 7 Plus, vCommute (Military Grade Drop Protection) Flip Leather Cover Card Slot with Kickstand Compatible w/iPhone 8 Plus and 7 Plus (Gray/Black)
[PATENTED DESIGN IPHONE 7 PLUS WALLET CASE, IPHONE 8 PLUS WALLET CASE] vCommute combines functionality and protection. The hidden card slot securely stores IDs, credit or debit cards, or even transit...
[MILITARY GRADE DROP PROTECTION WITH CORNERGUARD TECHNOLOGY] Dual-layer polycarbonate and TPU design meets military drop-test standard (MIL STD 810G-516.6), surviving 26 drops from 8 feet high....
[COMPATIBLE WITH WIRELESS CHARGING] Open the card flap and place flat on Qi charger, and your phone will begin to charge. Note: Metal cards may interfere with wireless charging. Remove before placing...
[MULTI-ANGLE MAGNETIC LOCK STAND] The foldable leather flap on the back of the case doubles as a kickstand so you can watch videos at your desired angle.
[COMPATIBLE WITH MAGNETIC CAR MOUNT] This iPhone 7 Plus wallet case, iPhone 8 Plus wallet case comes with metal plates incorporated in the flap, therefore no additional plate or adhesive is needed.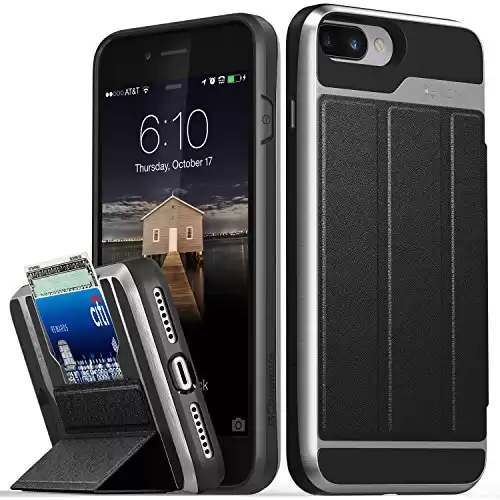 We earn a commission if you make a purchase, at no additional cost to you.
The UEEBAI Wallet Case for iPhone 8 Plus makes the cut for a wallet case that can carry the most cards. It has a load capacity of up to 6 standard-sized cards, a cash slot, and a zipper pouch for extra storage.
A wallet case shouldn't sacrifice your phone's safety to offer convenience. This case maximizes both features by adding a magnetic grasp, a zipper, and an optional wrist strap. Its wrist strip presents an easy way to carry your phone when your pockets and hands are full. It's the right mix of durability, functionality, and design.
UEEBAI's high-quality leather with a soft silicon interior makes sure your phone looks premium while cushioning your phone's exterior. The magnetic clasp always keeps your phone fully covered and out of the way for its safety while leaving the phone compartment open.
The phone confinement system works well and is comparable to your typical phone case. The wallet also fits snugly on your phone, is easy to remove, and offers hassle-free access to your cards. Lastly, the wallet case doubles as a kickstand for hands-free watching or video calling.
| Pros | Cons |
| --- | --- |
| Holds up to 6 standard-sized cards | Can be bulky |
| Durable and quality craftsmanship | |
| Hand strap for secure grip | |
| Offers ultimate phone protection | |
Check out UEEBAI Wallet Case for iPhone 8 Plus on Amazon.
UEEBAI Wallet Case for iPhone 7 Plus/iPhone 8 Plus, Premium Handmade PU Leather Phone Case Card Slots Magnetic Closure Zipper Pocket Kickstand Flip Case with Hand Strap - Vintage Brown
Compatible with iPhone 7 Plus/iPhone 8 Plus; Please choose the correct model/size of your phone before purchasing. If you have any quality issue with our case, please feel free to contact our customer...
HIGH-END MATERIAL: This Handbag case is made of high-quality durable PU leather and an updated soft silicon inner shell. This Wallet Perfectly fits for your phone, offering comprehensive body and...
CARD SLOTS AND VIEWING STAND: This wallet case includes 6 standard card slots + 1 ID card slot + 1 cash slot + 1 zipper wallet pocket (highly smooth zipper). You can carry your ID/ credit or debit...
SECURE MAGNETIC CLOSURE: A highly strong reversible magnetic snap opens and closes stably, which provides a secure and reliable lock to keep your case firmly closed. This strong magnetic also offers...
PRECISE CUT-OUTS: This case is easy to install due to the soft silicon inner shell and easy access to all features (speaker/ charging port/ camera), which you have no need to take off it when using...
We earn a commission if you make a purchase, at no additional cost to you.
The ULAK Compatible with iPhone 8 Plus Case is a premium PU leather quality wallet for those not looking to break the bank on the pricier models. It's designed as a durable and shockproof case to provide all-around protection for your phone. Plus, it has a stylish side.
The ULAK's premium magnetic flip cover helps safeguard your screen against unsightly table or key scratches, preserving your screen's touch sensitivity. The high-grade TPU material provides built-in shock-proofing, protecting your phone from accidental drops.
This multi-card wallet case is convenient if you only need somewhere to stash a few of your cards or dollars and don't want the bulk that comes with carrying a wallet or purse. Even when full of cards or cash, the magnetic clasp remains sturdy.
The wristlet strip is also handy for a relaxed grip, preventing accidental drops so you can carry your phone around without worry. Moreover, ULAK's accurate cutouts ensure available, easy access to all ports and buttons. If you also love watching videos or FaceTiming hands-free, it has a built-in kickstand feature for propping up your phone in landscape mode.
| Pros | Cons |
| --- | --- |
| Most affordable | Not suitable for those who love plain cases |
| Shockproof protection | |
| Wristlet strip | |
| Elegant floral design | |
Check out ULAK Compatible with iPhone 8 Plus Case on Amazon.
ULAK Compatible with iPhone 8 Plus Case, iPhone 7 Plus Flip Wallet Case, PU Leather Wallet Case with Card Holders Kickstand Shockproof Protective Cover for iPhone 7 Plus/8 Plus 5.5 Inch, Floral
Floral wallet case specifically design for iPhone 7 Plus 5.5 inch 2016 Release/ iPhone 8 Plus 5.5 inch 2017 Release. will not fit iPhone 7 normal size 4.7 inch
iPhone 8Plus / 7Plus case with wallet made from premium PU leather cover and soft shockproof TPU case made to store your cash or cards and while giving you a protective fashionable cover
Act as a convenient purse with a removable wristlet strap and multi card slots include on see-through slot for I.D. Card, credit card, and cash for on the go people
The PU Leather flip covers the screen of the phone avoiding scratches from day to day use. The kickstand feature provides convenient hand-free viewing experience
iPhone 7 Plus 8 Plus wallet case for women : Precise cutout ensure full access to all the function and ports to your phone; easy to put the case on and off the phone
We earn a commission if you make a purchase, at no additional cost to you.
Wallet cases can be bulky by design, and one of the worst feelings while using your phone is feeling like there's something between you and your phone. However, the Smartish iPhone 8 Plus Wallet Case makes carrying your cards effortless and convenient with its ultra-slim and lightweight design.
Don't let its slim profile fool you — it can carry up to 3 cards and maybe a bill. The wallet is also elastic so it can stretch to hold more cards. It has a thin profile and a durable build to protect your phone. It also has air pocket corners to absorb and distribute shock in case of accidental slips. Moreover, the case has a solid texture making the sides highly grippy and comfy.
Additionally, the case has a very lightly raised bezel around your screen edges and the rear camera. This safeguards your phone from the displeasing scratches and dents caused by rough surfaces. It also has a credit card kickstand option to add functionality to your wallet holder case, although it can only sit in landscape mode at an angle of about 30 degrees.
| Pros | Cons |
| --- | --- |
| Sleek, ultra-slim profile | You have to take off all cards to access the bottom card |
| Durable | |
| Air corners for shock-proofing | |
| It stretches, hence can fit more cards | |
Check out Smartish iPhone 8 Plus Wallet Case on Amazon.
We earn a commission if you make a purchase, at no additional cost to you.
How to Pick the Best iPhone 8 Plus Cardholder Cases: Step by Step
When choosing an iPhone 8 Plus cardholder case, here are the four major considerations for most buyers:
Material
Design
Budget
Extra features
Material
Choosing a wallet made of a sturdy and reliable material is crucial. Likewise, the material you use should keep your items organized and compact.
Speaking of top-notch materials, leather wallets are durable and will last for years. There are other appealing solutions for individuals who want to avoid using animal skins, such as silicon, metal, carbon fiber, or plastic. Soft-touch rubber or silicone wallet cases are also perfect for shock absorption in case of a drop.
Design
The wallet's color, design, and size are significant considerations to ensure the wallet case looks good and fits snugly on your phone. Additionally, you should pay attention to the wallet compartment design if you are concerned about your wallet's usability. Some wallet cases enable easier access to cards than others.
A large wallet case can also be too bulky for pants pockets. So, if you wear a suit daily, consider a slimmer wallet to fit in the jacket pocket. No matter the wallet you select, it's always great to go with traditional, understated hues and distinctive designs that blend seamlessly with your style.
Size of Compartments
The size of the compartment will determine how many cards you can carry. Bi-fold wallets with a flip cover are some of the best options for wallet cases. They frequently feature some extra compartments or a money clipper.
Most standard iPhone 8 Plus wallet cases can hold 2 to 3 standard-sized cards and a few bills. However, if you carry several cards, there are larger-sized wallets with more compartments for your cards. Some can store up to 6 or 7 cards and cash.
Budget
Another indisputable factor to consider while looking for a wallet is your budget. However, it is also important to ensure the case is of excellent quality and worth your hard-earned money.
Extra Features
Some wallets have unique features, such as an RFID-blocking layer made from aluminum or carbon fiber to block electromagnetic signals from your card. This keeps your data from getting stolen.
Some other features may include shock-absorbing corners, wrist straps, and kickstands. Always consider ease of card access as well. While most iPhone 8 Plus wallet cases offer easy access to your cards, some may prove quite challenging when you want to use the cards.
What to Know Before Buying iPhone 8 Plus Cardholder Cases
Most iPhone 7 Plus cases should fit your iPhone 8 Plus because they are the same size. Your iPhone 8 Plus is usually 5.5 inches, which can help you while shopping for a case. If you previously owned an iPhone 7 Plus wallet case, you may want to try it on your iPhone 8 Plus to see if it fits. However, while shopping for a new one, you may get frustrated if you assume that the iPhone 7 Plus case will automatically fit — even if it looks flexible.
Additionally, some wallet cases may not be compatible with wireless charging pads. They're often too thick to allow the Qi charge signals to pass through. However, there are many Qi-compatible cases. Of course, your iPhone 8 Plus doesn't have MagSafe, so you'd have to get a wireless charging pad for Qi compatibility.
Using iPhone 8 Plus Cardholder Cases: What it's Like
A wallet holder case is a convenient, yet stylish and secure way to keep your cards or cash close when you don't want to carry a wallet or purse. You can also be confident that your phone is safe from unsightly scratches and damage from drops.
Moreover, some are great accessories for watching videos hands-free because they have a kickstand feature. You can also use your phone to make video calls while in the kitchen or when your hands are tied with other activities.