The best headphones offer the perfect mix of comfort and sound quality. So immerse yourself in music, dive into our favorite gaming worlds, or jump on a video call. An excellent set of headphones is waiting for you, whatever your needs and activities are.
You'll find many headphone styles, like earbuds, in-ear, on-ear, and over-ear. In addition, most sets offer noise-canceling technology, so you'll hear only the sounds you want. You pick the style you want, then decide if you want wired or wireless. Your best headphone feature set might differ from activity to activity. So if you're looking for the right pair to keep you motivated at the gym, it's on our list. But you'll also find the best headphones for gaming, music, and more.
Best Overall: Anker Soundcore Life Q30
Best Overall
We earn a commission if you make a purchase, at no additional cost to you.
The Anker Soundcore Life Q30 compete with the best of the best and hold up okay in the running. Bose reigns in the active noise-canceling (ANC) market for good reason. But these Life Q30s provide features that many of us only dreamed about a few years ago.
You'll get good-quality sound, noise cancellation, and 40h battery life for under $100. In addition, they feel comfortable and have three layers of ANC to choose from. Thus, their feature options and affordability make these Life Q30 headphones our best overall pick.
Of course, this low price point has a downside, but thankfully it isn't the sound. Instead, these headphones look a little cheap since they're made primarily of plastic. And who knows why the headband says "active noise canceling" because it's odd. But they sound good, and that's what matters.
Check out the Anker Soundcore Life Q30 on Amazon.
Best Over-Ear: TREBLAB Z2
Best Over-Ear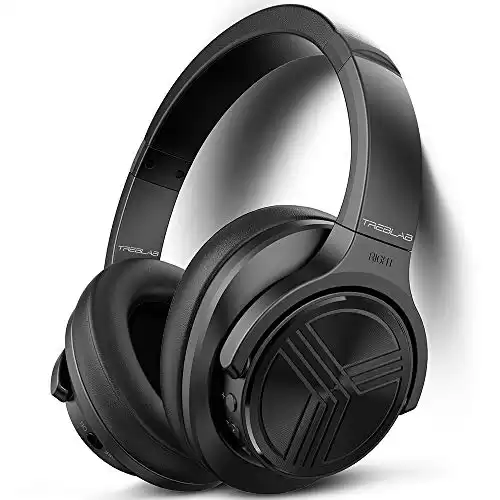 We earn a commission if you make a purchase, at no additional cost to you.
Here's another terrific over-ear headphone set under $100; the Treblab Z2 has an excellent "cushiness" level, making them super comfortable. Treblab uses premium materials with super soft ear pads on these ANC headphones. We've found that ear pad cushiness is unimportant to us until we're on a long airplane or train ride. Suddenly, cushiness matters a lot!
So if you want a headphone that molds to your ear, stays put, and feels great, here it is. Use the Z2s for gym workouts that slay. And then, use the built-in microphone to answer your phone without missing a beat. As long as you don't breathe too heavily, your boss will believe you're still in the office.
Check out the TREBLAB Z2 – Over Ear Active Noise Cancelling Headphones with Microphone (Black).
Best Earbuds: Apple AirPods Pro
Best Earbuds
We earn a commission if you make a purchase, at no additional cost to you.
Here's the younger brother to the Apple earbuds that started it all, the Apple AirPods Pro. These bring you all the quality of the originals but with ANC functionality, better sound, and a customizable fit. Choose from the included silicone tips (XS, S, M, L) for your best fit. In addition to holding your AirPods Pro in place, the tips keep out noise by creating an acoustic seal.
Of course, you already know that AirPods continually get five-star ratings, which is pretty impressive over 570K Amazon reviews. And that's not even counting the gazillions more sold by Apple, Costco, and other retailers. The AirPods Pro is still gaining sales but has the same loyal fan base.
Check out the Apple AirPods Pro (2nd Generation) with AppleCare+ (2 Years) on Amazon.
Best Budget: Prtukyt 6S
Best Budget
We earn a commission if you make a purchase, at no additional cost to you.
You may have thought the Soundcore Life Q30s were a bargain under $100, but the Prtukyt 6S are a solid headphone choice under just $30. Don't expect the exact sound you'd get from the next pair on our list, but this best-budget headphone does remarkably well for your investment.
Fold them up to take them on the go, then stretch them out for the most comfortable over-ear fit. But at this price point, there's no carrying case. We'd be sad if we lost this pair of headphones, but we wouldn't be wailing in distress quite like if we lost a pair of Bose or Apple earbuds.
Like most headphones, their battery life lasts around thirty hours. Or you can listen to them wired to save battery.
Check out the Prtukyt 6S Wireless Bluetooth Over Ear Headphones (Black & Gold) on Amazon.
Best Travel Choice: Bose Noise Cancelling Headphones 700
Best Travel
Bose Noise Cancelling Headphones 700 UC
Perfect for the home office, cubicle, open office
Adaptive 4-microphone system for clear calls
Bose app to personalize your environment
11 levels of notice cancellation
Easily switch between audio sources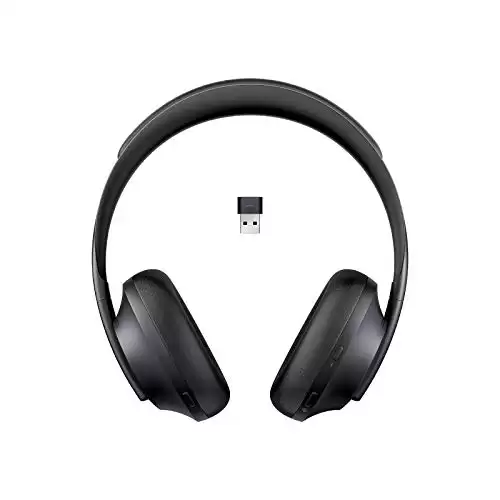 We earn a commission if you make a purchase, at no additional cost to you.
Can we just start by saying these Bose Noise Cancelling Headphones 700 UC look sexy? Their silver luxe or black colors and sleek profile look great on anyone. Besides their good looks, Bose 700 is perfect for noise haters. They make "quiet sound quieter," so you can work, listen to music, or travel without sound interference. Work from home with fewer interruptions from neighborhood noise. Or do a load of laundry during your workday without disturbing your peace. Bose's ANC has situational awareness, so you let the world in on your terms.
Make clear calls with the built-in microphone or ask Alexa to add milk to your shopping list.
In addition, Bose's quality makes listening to music downright dreamy. High-fidelity audio lets you drift into the music with a bold sound. Plus, the protein leather treats your ears like royalty, soft and comfortable.
Bose sets the bar high, and we're glad for it. But these 700 headphones don't come cheap. So remember, you're paying for premium quiet with crazy good sound. Personally, we've owned a pair of Bose Noise canceling headphones for almost a decade. They just keep going!
Check out the Bose Noise Cancelling Headphones 700 UC on Amazon.
Best Music: Sony WH-1000XM4
Best Music
We earn a commission if you make a purchase, at no additional cost to you.
The Sony WH-1000XM4 Wireless Noise Canceling Headphones with Mic, Midnight Blue combine Bose's noise-cancellation technology with Sony's great sound quality in Sony's "Dual Noise Sensor" feature. In addition, the headphones let you connect two devices at once with Bluetooth multi-point. So you can pause your YouTube video to listen to a song a friend just suggested. Another attractive option is the left ear sensor that recognizes when you remove the headphones and pauses your music. AirPod users have long appreciated this feature, and Sony delivers. And, of course, the WH-1000XM4 also delivers the superb sound that Sony fans expect. So, the tones are on point whether you rock out or jazz out.
The only downside is the slightly shorter battery life compared to previous models. But that's what wires are for. 
Check out the Sony WH-1000XM4 Wireless Noise Canceling Headphones with Mic, Midnight Blue on Amazon.
Best Gaming: SteelSeries Arctis Pro + GameDAC
Best Gaming
We earn a commission if you make a purchase, at no additional cost to you.
Gamers love the SteelSeries Arctis Pro + GameDAC Wired Gaming Headset – Black because they're comfortable, reliable, and have excellent sound quality. Plus, they are made for gaming on your PC or PlayStation console. The DAC converter lets you hear every detail, turning your PlayStation into a high-performance audio source. SteelSeries is to gaming sound what Bose is to ANC. It's an industry-famous brand, perfect for gaming. But it's also great for music.
We're highlighting the SteelSeries wired headphones here, but if you're curious whether the Arctis 7X or 9X is best for you, read our complete comparison.
The only downside is needing to buy a converter for Xbox.
Check out the SteelSeries Arctis Pro + GameDAC Wired Gaming Headset – Black on Amazon.
Gaming Runner-Up Headphones
Best Gaming Runner-Up
HyperX Cloud II - Gaming Headset
Comfortable memory foam for focused gaming
Excellent in-game audio quality
7.1 virtual surround sound for immersive gaming
Closed earcup design allows for passive noise cancellation
Compatible with PC, PS5, PS4, Xbox Series X|S, Xbox One
We earn a commission if you make a purchase, at no additional cost to you.
The HyperX Cloud II – Gaming Headset are an excellent runner-up at an affordable price. In addition, their surround sound is helpful in first-person shooter games, so you know when the enemy is sneaking up.
In addition, HyperX headphones have a decent microphone for smack-talking other players. Read our full review of this great option.
Check out the HyperX Cloud II – Gaming Headset on Amazon.
Best Workout: Beats Studio Buds
Workout music needs to pump you up and Beats Studio Buds – Black do just that! Star athletes paraded them around town long before the Studio Buds' public release. And all that hype made us that much happier to love these wireless earbuds.
They have active noise cancellation, so your workout buddy's heavy breathing won't annoy you. And the audio has a crisp quality that'll get your heart pumping. Plus, Studio Buds are comfortable when you choose the right-sized ear tip for your best fit.
We wish their sound quality for phone calls was a little better. But when you're working out, do you really need to answer your phone? (Friendly hint: No, you don't!)
Check out the Beats Studio Buds – Black on Amazon.
Best Sleeping: Perytong Sleeping Headphones
Best Sleeping
Perytong Sleep Headphones, Grey
Headband style for ultimate comfort
Bluetooth 5.0 connectivity
Headband is washable (remove headphones first)
Battery life: 10 hours
We earn a commission if you make a purchase, at no additional cost to you.
We're just going out on a limb to say that if you like falling asleep to music, books, or meditation, these Perytong Sleep Headphones, Grey will knock your socks off! They are perfect for side sleepers since there's no bulkiness under your head. And even the most comfortable earbuds get annoying when you're lying on them. Plus, they block some ambient noise for a quieter bedroom environment. If you opt for the original or Perytong's newest model, you'll appreciate the soft, breathable material. Some listeners even use them for working out, but we'll let you choose between sleep and sweat.
Check out the Perytong Sleep Headphones, Grey on Amazon.
How to Pick the Best Headphones: Step by Step
When choosing your new headphones, there are four primary considerations (beyond price) for most buyers.
Activity choice: How will you use your headphones?
Earbuds, In-ear, On-ear or Over-ear
Wired or Wireless
Noise cancellation
Let's review each one in more detail.
Activity Choice: How Will You Use Your Headphones?
Sometimes you just want a good pair of headphones for lounging around listening to music. But other times, you need a set to stay in place for running and exercise. You could use the same pair for multiple activities. But deciphering how you plan to use your headphones helps determine your desired features and style.
Headphone Type: Earbuds, In-Ear, On-Ear or Over-Ear
The next purchasing decision you'll make about headphones is the type you buy.
Over-ear headphones come in two styles: open and closed-back. Open-backs let sound in and your music out, but create a natural sound. They're best for music at home since others can hear what you're listening to. Closed-backs keep your music in.

Both styles create space between your ear and the speaker, giving you a high-quality sound, like in a concert hall.
The downside is, over-ear headphones are bulky and not ideal for working out.

On-ear headphones sit on your ear like ear muffs instead of encompassing them fully. As a result, they work best for office situations or any place where you need to be aware of surrounding sounds.
In-ear headphones are usually wired and are the predecessor to earbud styles. And if you're like us, you probably have a few pairs in your junk drawer. For example, those leftover ones you got on a flight or the ones your older sibling handed down to you. Who knows why you're keeping them? But they might come in handy one day, as long as you can get the wires untangled. (This is why you have a junk drawer!)
Earbuds headphones are everywhere nowadays. This style is ideally suited for working out and often comes in sweat-resistant materials. They make it easy to answer your phone or mute the volume. And some earbuds even have noise cancellation. But, overall, their sound quality is inferior to over-ear headphone types.
Wired or Wireless
For the most part, choosing wired or wireless headphones boils down to personal preferences. In addition, most wireless headphone options come with a wire to allow either use. The two main reasons to choose wired headphones are if you're a musician or don't want to depend on a battery.
Sound engineers and audio techs want the highest-quality audio, which wired headphones provide. That's also true for music lovers wanting to lose themselves inside an album. Meanwhile, Bluetooth technology is perfect for a headphone connection but drains your battery. So some gamers prefer wired headphones to ensure they don't lose power when crushing their opponent's hopes and dreams.
Noise Cancellation
Bose spent many years perfecting their noise-cancellation technology. And they still enjoy top-dog status. However, companies like Sony challenge the frontrunner status with amazingly clear and magical sound. And in addition, low-cost competitors like our best overall pick, Anchor Life's Q30s, are putting out noise-cancellation that anyone can afford.
What to Know Before Buying the Best Headphones
Before buying a pair of headphones, ensure you have a clear budget and idea of their intended purpose. For example, someone buying headphones for virtual meetings may not need the most impressive sound available. But you will want a pair that feels comfortable for long periods. And think about how headphones look on screen during meetings if that's important to you.
Of course, your budget dictates some of your buying choices. But you can get decent selections without spending a ton of money. However, higher prices in headphones often indicate higher-quality sound and hearing protection.
So weighing your headphone's activity purpose against the cost helps determine a good investment. Hearing specialists typically recommend the best quality you can afford. And that's because you'll keep the volume lower with good headphones, thus protecting your hearing health.
Using the Best Headphones: What It's Like
You may wonder what wearing earbuds is like compared to on-ear and over-ear headphones. And which one is best? While the answer is all about personal preferences, there are some differences. For example, over-ear headphones encapsulate your ear, so they block out some ambient sound. That makes it easier to keep the volume lower, thus protecting your eardrums. On-ear doesn't cover your whole ear, so there's less room for sounds to reverberate and give you that "immersed" feeling. On the other hand, earbuds funnel music and gaming sound directly into your ear canals. Unfortunately, they also may not block ambient noise, so listeners typically increase the volume, sometimes to dangerously high levels.
Many users find over-ear headphones more comfortable. But it will depend on your needs and activities. So you may find that different types work best for differing scenarios. And, of course, high-quality components mean better sound quality. So if you listen to music, game, or spend a lot of time in virtual meetings, buy the best quality you can afford.
The image featured at the top of this post is ©Dean Drobot/Shutterstock.com.