The best gaming PCs for VR typically have high-end GPUs, CPUs, and huge performance potential to bring virtual reality to life. The specs to play VR games vary depending on the game and the headset you're using. A gaming PC for VR will need certain basic features, including a strong graphics card. If you have an old computer, it's likely it may not meet the gaming threshold feature-wise.
We've carefully weighed the pros and cons of some of the best computers for virtual reality on the market. From price to customization, we've considered every facet of VR gaming. The results?
#1 Best Overall Gaming PC for VR: HP Omen 30L
HP OMEN 30L GT13 5th Gen Gaming & Business Desktop PC (AMD Ryzen 5 5600G 6-Core, 16GB RAM, 1TB PCIe SSD, RTX 3060, WiFi, HDMI, USB 3.2, Display Port, Shadow Black, Win 11 Pro) with Hub
【Upgraded】 Seal is opened for Hardware/Software upgrade only to enhance performance. No Display ; 802.11ac Wifi, Bluetooth 5.1, Ethernet LAN (RJ-45), No Webcam, .
【Powerful Performance with AMD Ryzen 5 5600G Hexa Core】 5th Gen AMD Ryzen 5 5600G 3.9GHz Processor (upto 4.4 GHz, 16MB Cache, 6-Cores, 12-Threads, ) ; NVIDIA RTX 3060 12GB GDDR6 Dedicated Graphics, .
【High Speed and Multitasking】 16GB DDR4 DIMM; 500W Power Supply, Air Cooling CPU Cooler; Shadow Black Color, .
【Enormous Storage】 1TB PCIe NVMe SSD + 1TB HDD; 3 USB 3.2 Gen1, 2 USB 2.0, 1 HDMI, 3 Display Port (DP), USB 3.2 Type-C Gen1, USB 3.2 Type-C Gen2, No Optical Drive, 1 x Headphone/Microphone Combo Jack., Windows 11 Home-64., 1 Year Manufacturer warranty from GreatPriceTech (Professionally upgraded by GreatPriceTech)
Includes Dockztorm USB Hub(Special Edition Portable Docztorm Data Hub;Super Speedy Data Syn Rate upto 5Gbps)
We earn a commission if you make a purchase, at no additional cost to you.
The HP Omen 30L is a popular gaming PC for everything, virtual reality aside, and with good reason. It's hard to beat the Omen's performance, price, and all-around ease of access. In our testing, the HP Omen's graphics come out as a clear winner compared to the other computers on this list – no surprise, considering it's packing an NVIDIA GeForce RTX 3060.
At $1,349, this PC is right in the middle of the cost spectrum. It's not a budget option, but you won't have to break the bank to have quality VR gameplay at your fingertips. Most of that money goes toward the incredible graphics card (which is, frankly, the most important piece for VR gaming). The processor isn't anything to sneeze at, though, since the Omen has an AMD Ryzen 5 5600G CPU. It also has 16 GB of memory and a 1 TB SSD. All in all, the HP Omen 30L covers all of its bases in the most efficient way possible.
One downside to the HP Omen 30L is that it lacks customizability. Although we did see room in the tower for some upgrades, HP's usage of proprietary technology always makes it difficult to upgrade. That being said, the Omen isn't likely to need any upgrades, given how powerful it is right out of the box. Another thing we noticed during our testing is that the water-cooling fan can be a little loud. It's not enough to be seriously disruptive, but it is louder than some other PCs.
Check out the HP Omen 30L on Amazon.
Best Overall Laptop for VR: ASUS ROG Strix SCAR 15
Responsive and Powerful
We earn a commission if you make a purchase, at no additional cost to you.
For those that prioritize portability, purchasing a desktop for VR might not be very appealing. We included the ASUS ROG Strix SCAR 15 because, amongst gaming laptops, the Strix SCAR is a clear winner for VR. It uses a graphics card that rivals some of the best gaming desktops, the NVIDIA GeForce RTX 3070 Ti, which meant that most VR games were within reach during our testing. The Intel Core i9 12900H processor isn't quite as top-notch, but it's certainly close.
Many laptops struggle to beat the memory afforded to desktops. The Strix SCAR 15 is not one of those laptops, with 16 GB DDR5 RAM. It has a 1 TB SSD, which also rivals what gaming desktops often have. You'll be stuck with a fixed screen, but we found that the 15.6" 300Hz IPS FHD Display wasn't meaningfully worse than many common desktop monitors. As the cherry on top, the Strix SCAR is one beautiful laptop. It has a per-key RGB keyboard and lots of visual customization options.
On the flip side, there are a number of downsides that you'll have to look out for if you opt for this laptop. It costs $2,049.99, which can be a steep price for a computer that might not last as long. Like most laptops, we did notice that it could really benefit from a cooling pad to keep from overheating. This is especially relevant when playing demanding VR games.
Check out the ASUS ROG Strix SCAR 15 on Amazon.
Best for Performance: Alienware Aurora Ryzen Edition R14
Best Overall
Alienware Aurora R14 Liquid Cooled Gaming Desktop
7200 RPM hard drive rotational speed

1 TB memory storage capacity

32 GB RAM

Overclockable DDR4 memory

PCI-Express 4.0

Chassis based on the Legend Industrial Design (allows for liquid cooling and efficient airflow)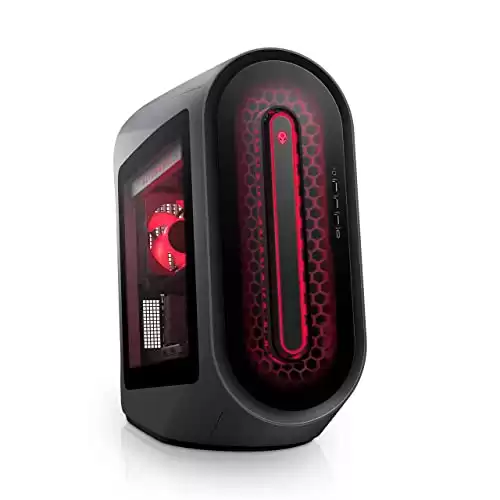 We earn a commission if you make a purchase, at no additional cost to you.
You can't top the HP Omen 30L for all-around greatness, but the Alienware Aurora Ryzen Edition R14 is next in line for the throne because of its incredible performance capabilities. Some might say that a 12-core processor (the AMD Ryzen 9 5900X) is overkill for gaming, but one thing is for sure: you'll never have CPU issues with the Aurora R14. The NVIDIA GeForce RTX 3080 10 GB GDDR6X graphics card is also insanely good. You'd have some serious trouble trying to find any game that can't run with specs like those.
The Aurora has both a 1 TB SSD and a 2 TB HDD and is complete with Windows 11 Home, making it the most VR-ready desktop we've ever tested. As the icing on the cake, it comes with liquid cooling. We found it to be the quietest out of all the computers on the list. This version of the Aurora R14 has 32 GB 3466MHz RAM, but there is a cheaper version with fewer specs. Unfortunately, the Aurora R14 isn't a cheap desktop either way, with this one clocking in at $2,799.99 and the slightly worse version costing $2,066.99. The price threshold is the biggest flaw with this desktop. For most gamers, it's nigh untouchable.
Another thing to keep in mind is that, like many Alienware desktops, the Aurora has a unique chassis and proprietary Dell technology that could limit its customizability. This is the case with the Omen L30, too, but the Aurora is even worse off because of space limitations.
Check out the Alienware Aurora Ryzen Edition R14 on Amazon.
Best Budget Option: CyberPowerPC Gamer Xtreme
We earn a commission if you make a purchase, at no additional cost to you.
Although the name "CyberPowerPC Gamer Xtreme" might feel like overkill, this desktop by CyberPowerPC really does fit the bill. For gamers on a budget, the $949.99 price tag might still feel like a lot. It's possible to go lower than that, but we opted for a higher-quality build that will let you run more VR games. At the end of the day, VR gaming isn't for the faint of wallet!
Even so, the Gamer Xtreme is significantly cheaper than most other VR-ready gaming computers without sacrificing too much performance. It's equipped with an Intel i5-10400F 2.9 GHz and a GeForce GTX 1660 Super 6 GB. In practice, this meant that the Gamer Xtreme was able to run moderately and even some highly demanding VR games smoothly during our testing.
This PC does skimp a little when it comes to memory, with only 8 GB DDR4 and a 500 GB NVMe SSD card. We didn't notice any issues with the games we were running, and 8 GB is a minimum threshold for a lot of VR headsets, so it's definitely still functional. Similarly, it uses Windows 10, which is right at the cutoff point for headsets like the Valve Index. This OS will likely be fine for VR gaming in the years to come, so it's not something to worry about!
Check out the CyberPowerPC Gamer Xtreme on Amazon.
Best Customization: CLX Set
High Performance
CLX Set Gaming Desktop
Intel Core i9 10900KF 3.70GHz (5.30GHz Max. Turbo)
32GB DDR4 - 2 x 16GB (4 slots total, 128GB Max)
960 GB SSD, 4 TB HDD
GeForce RTX 3060 Ti 8 GB GDDR6
750 Watt power supply
Black
We earn a commission if you make a purchase, at no additional cost to you.
As far as pre-built gaming PC brands go, CLX is known for being highly customizable. The CLX Set lives up to this standard while already being kitted out for VR gaming the second it arrives. It's the best of both worlds, with a GeForce RTX 3080 10 GB GDDR6X, AMD Ryzen 9 5900X 3.70GHz, and plenty of space inside the chassis to add upgrades. CLX even conveniently includes information on the Power Supply (a 750 Watt) right next to other specs like the processor, memory, and graphics card on the Amazon product page.
Storage is relatively easy to upgrade, but it's better to have good storage right off the bat because of how large some VR games are. The CLX Set carries a 960 GB SSD alongside a 2 TB HDD which should be more than enough for VR gaming. It also has two 8GB sticks of RAM for a total of 32GB memory. Keeping with the customizability of this PC, the Set has four slots and could be upgraded to a whopping total of 960GB. Even without upgrades, though, 32GB is respectable.
The actual performance of the CLX Set, without any add-ons, is very respectable. During our tests, we never felt like the Set was struggling to keep up or like it ran games poorly. The sky's the limit with some of the other desktops on the list because of their pure performance, but the Set makes up for that by being so perfectly upgradable. Not only does it have a solid starting point, but any gamer who wants to build a VR gaming setup without having to build it from scratch will find that the Set is a godsend.
Unfortunately, the baseline price for the Set is rather painful at $1,399. It isn't the cheapest PC out there, but it also won't need to be upgraded. The Set simply has customization options if you feel like you want to take them, not because they're necessary. For that reason, despite the cost, the CLX Set is by far the best virtual reality PC for customizing.
Check out the CLX Set on Amazon.
How To Pick The Best Gaming PC for VR: Step by Step
Virtual reality aside, there are usually four aspects you need to consider when you're buying a gaming PC. After all, it's likely you'll be using it for more than just VR!
Portability
Performance
Price
Customization
Let's dive in.
Portability
Deciding whether to buy a gaming laptop or a desktop is one of the first crossroads you'll face when purchasing a PC for virtual reality. Laptops are tempting for many people because of their portability, but they also have multiple drawbacks. Desktops are almost always better than their laptop counterparts at the same price when it comes to performance and has superior cooling. If you buy a laptop, you'll need to keep in mind that they often have issues with overheating. Getting a cooling pad for your laptop can be a solid compromise when portability is a must-have.
Performance
Performance is key for VR since many VR games are newer and more demanding than regular games. Although the exact level of performance you need depends on the games you want to play, and what headset you use, there are some basic metrics you can look at to decide if a PC will meet your needs. You'll want a good graphics card (usually better than a GTX 1060 at minimum) and a good CPU (at least an Intel Core i5-4590) more than anything else. For memory and storage, it's best to get at least 16 GB and 1 TB, respectively. These are both easily upgradable, so they aren't as much of a priority. The better your video card and CPU is, the better your computer will be able to run VR games.
Price
The price of gaming PCs can be intimidating, and even more so if you need a PC that can run VR games. Still, remember that your PC is a (hopefully) long-lived investment that you can use for a multitude of tasks. For a higher-end computer, you might shell out upwards of $4,000– for example, the IPASON is all the way at $4,999. If you're on a budget, you'll want to spend at least $600 to get a computer that will serve you well. Anything below that might struggle to keep up. In the case of VR gaming, it's really better to just save up so you can buy something that will work long-term with minimal upgrades.
Customization
Even when looking at pre-built PCs, some computers have more customization options than others. This might not matter to you if you aren't familiar with which parts you want, but anyone who wants to min-max their PC performance should pick a computer with lots of customization available. It's usually easiest to upgrade RAM, GPU, and storage, but pre-built PCs with standardized parts (such as the motherboard and chassis) will have more options than PCs that use proprietary technology.
What To Know Before Buying a Gaming PC for VR
The most important thing to know before you buy a PC for VR gaming is which headset(s) you'll want to use. Every headset has slightly different spec requirements, so you can't make a decision without knowing what those specs are!
Here are the system requirements for a couple of the most popular VR headsets on the market:
Oculus Rift VR Requirements:
| Category | Specs |
| --- | --- |
| CPU (Processor) | Intel Core i3-6100 or AMD FX-4350 or better |
| GPU (Graphics Card) | NVIDIA GTX 960 4 GB or AMD Radeon R9 290 or better |
| Memory | 4 GB RAM or better |
| Operating System | Windows 8.1 |
| Ports | 1 x USB (3.0+), 1 x DisplayPort |
Valve Index VR Requirements:
| Category | Specs |
| --- | --- |
| CPU (Processor) | Dual Core with Hyper-Threading |
| GPU (Graphics Card) | NVIDIA GeForce GTX 970 or AMD RX480 or better |
| Memory | 8 GB RAM or better |
| Operating System | Windows 10 |
| Ports | 1 x USB (2.0+), 1 x DisplayPort (version 1.2+) |
Vive Focus 3 VR Requirements:
| Category | Specs |
| --- | --- |
| CPU (Processor) | Intel Core i5-4590 or better |
| GPU (Graphics Card) | NVIDIA GeForce GTX 1060 6 GB or AMD Radeon RX 580 or better |
| Memory | 8 GB RAM or better |
| Operating System | Windows 10 |
| Ports | 1 x USB port (3.0+) |
Using a Gaming PC for VR: What it's Like
For each of the computers on this list, we tested a few of the most popular VR games (Half-Life: Alyx, Superhot, The Elder Scrolls V: Skyrim, No Man's Sky, and so on) for around 2 hours of consistent gameplay. We had a similar experience across many of the computers, but there were a few details that stood out to us.
The HP Omen 30L had the loudest cooling system out of all of the desktops, whereas the Alienware Aurora was the quietest. The Strix SCAR also ended up being noisier. It did a good job keeping the laptop cool over the 2-hour period, but we could see it overheating without a cooling pad with more intensive games and over longer periods of time. Another detail is that the CLX Ra ended up being even larger than we expected, so you'll have to make sure you have plenty of room in your setup to use it.
Since gaming PCs are long-term investments, it's hard to say exactly how they would hold up to constant, long-term use, but all of the computers did well during our testing.
Up Next
The image featured at the top of this post is ©iStock.com/Thinkhubstudio.