Key Points
Our choice for the #1 overall best gaming PC brand on the market today is Razer.
There are more than a dozen great gaming PC brands available with which to choose your next gaming PC.
Some brands, like Dell, have separate gaming PC lineups, so there is even more choice under the Dell name.
When it comes to gaming computers, no matter what you want to spend or how you want to play, there is no shortage of available options. If you want to go to the very top end and get the latest and greatest, there are plenty of PC brands willing to sell you high-end machines. The opposite is true as well for those new to gaming who want to start off with a more entry-level, budget-minded gaming PC.
Regardless of what you want to spend, the biggest decision you do need to make is which gaming PC brand is right for you.
Let's take a look at the 8 best gaming PC brands available today.
#1 Best Overall: Razer
#1 Best Overall
Razer Blade 14 Gaming Laptop
NVIDIA GeForce RTX 3080 GPU for outstanding graphics
165Hz QHD display
Vapor chamber cooling for strong thermal performance
Customizable RGB individual key lighting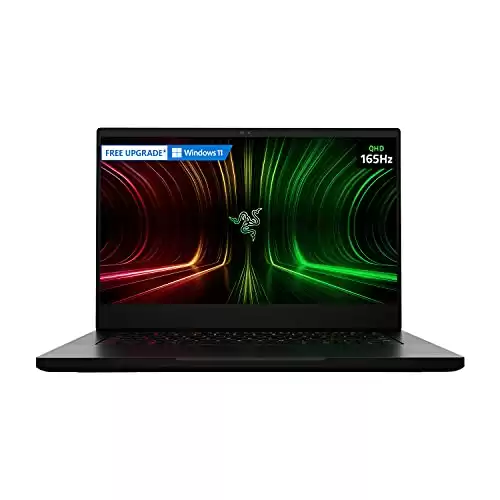 We earn a commission if you make a purchase, at no additional cost to you.
The top choice in any list of the best gaming PC brands is bound to be subjective, but Razer arguably continues to be the best name in PC gaming. 
Not only is Razer well known for its gaming laptops, but also for its outstanding variety of gaming accessories like keyboards, mice, headsets, and speakers. Razer is undoubtedly a one-stop shop for all things PC gaming. However, it's the Razer lineup of laptops that has really helped set the company apart and earn the number one rating on this list. Between the Razer Blade 14, Razer Blade 16, Razer Blade 17, and Blazer 18, you have an excellent choice of machines that include top-of-the-line CPUs and GPUs.
Originally founded in 2005, Razer didn't get started in the gaming PC race until 2012 when it would introduce the Blade series of laptops. Previously, Razer's focus was on keyboards and other accessories but the company's deep knowledge of PC gaming helped it quickly earn market share. Today, Razer is a consistent "best of" winner for its gaming laptops and that's why it's widely regarded as the best gaming laptop available.
| Pros | Cons |
| --- | --- |
| Razer makes some of the best gaming PCs around. | Prices quickly add up with higher specs |
| There is a strong selection of sizes. | No entry-level options for new gamers |
Check out the Razer on Amazon.
#2 Best Value: HP
Best Value
HP Omen 25L Gaming Desktop
12th generation Intel 12-core i7 processor
32GB DDR4 RAM, 1TB SSD
RGB liquid cooler
Includes wired keyboard and mouse combo
We earn a commission if you make a purchase, at no additional cost to you.
If you are looking for the best overall value in the gaming PC world, HP is the name that first comes to mind. 
Originally founded in 1939, HP has long been a staple in the computing world with a history that lives alongside the rise in Silicon Valley's prominence as the predominant tech sector in the United States. With more than 80 years of PC manufacturing under its belt, it's no surprise HP with its OMEN and Victus lineup of gaming computers has turned into one of the best value brands around.
Desktop fans will appreciate the strength of the OMEN lineup, which is backed by HP's highly regarded reliability and customer service. Prices can start under $500 for a gaming desktop, which is truly a great value, especially when compared to competitors that often start for hundreds more. The company's gaming laptops start around $600 MSRP but still offer the company's signature value and name.
| Pros | Cons |
| --- | --- |
| One of the strongest names in the gaming PC space | Entry-level gaming PCs won't play the latest AAA games |
| Offers multiple lineups from which customers can choose from | Customer support is a hit or miss |
Check out the HP on Amazon.
#3 Best Gaming Division: ASUS
Best Gaming Division
We earn a commission if you make a purchase, at no additional cost to you.
Founded in Taipei, Taiwan in 1989, ASUS has grown into one of the most dominant gaming companies the world over. 
It wouldn't be until 2006 that ASUS started to tap into its PC manufacturing knowledge and enter the world of gaming with a new sub-brand in the form of the Republic of Gamers (ROG). Today, ROG represents some of the best gaming PCs around and has developed a reputation as a go-to option for gamers worldwide.
Whether you want a gaming laptop, desktop, or even a portable gaming handheld, ASUS has something within the ROG lineup for you. When choosing a laptop, ASUS presents you with three different sub-brand options depending on your needs, and the same for desktops as three different brand opportunities under the ASUS name are sure to be the right fit for your needs and budget. The ROG Strix lineup, in particular, is often found at or near the top of many best-of lists for gaming laptops.
| Pros | Cons |
| --- | --- |
| The ROG lineup is arguably one of the best in the gaming PC space | Laptops can be heavy and not very portable |
| Both laptops and desktops offer strong pricing options | RGB lighting is not included in all models |
Check out the ASUS on Amazon.
#4 Best for Beginners: Acer
Best for Beginners
Acer Nitro 17 Gaming Laptop
Latest AMD Ryzen 7735HS series processor
NVIDIA GeForce RTX 4050 GPU
17.3-inch 1920 x 1080 display with 165Hz refresh rate
NVIDIA Advanced Optimus graphics switching technology
We earn a commission if you make a purchase, at no additional cost to you.
First launched to the market in 1976, Acer has quickly become one of the most dominant PC manufacturers. 
The sixth largest computer brand in the world as of the end of 2022 has continuously gained ground in the gaming PC world, especially with those looking for their first gaming machine. The Predator lineup, Acer's game-focused brand, was first announced in 2008 with a variety of desktop machines. It wouldn't be until 2016 that Acer would look to establish itself in the laptop market with a series of Predator gaming laptops.
Today, Acer's emphasis is on competing with the likes of HP's Omen and the ASUS ROG series of computers. Within the Predator brand, Acer has introduced other models like Triton and Orion to help create a lineup that can cater to both the high and low-end portion of the gaming market. Acer doesn't necessarily excel at gaming PCs any more than the likes of HP or Dell, but they do make a reliable computer that can last for years.
| Pros | Cons |
| --- | --- |
| Another strong name in the gaming PC space | Quality control has been a historical concern |
| Some of the best entry-level laptops for new gamers | Good machines that don't necessarily stand out |
Check out the Acer on Amazon.
#5 Best for Enthusiasts: Corsair
Best for Enthusiasts
We earn a commission if you make a purchase, at no additional cost to you.
When Corsair was first founded in 1994, it never envisioned itself as a company that manufactured gaming PCs. 
Corsair was founded with a deep focus on manufacturing DDR memory, at least until Intel adopted similar technology, which forced Corsair to pivot to DRAM modules. Corsair's focus shifted toward computer enthusiasts who could make use of DRAM technology, and to this day, it still emphasizes going after PC enthusiasts. While this passionate group might share the company's passion for overclocking and getting the most out of their computer hardware, Corsair, another big market, was ripe for entry.
The company's acquisition of ORIGIN PC in July 2019 and SCUF Gaming in December 2019 has helped it begin to establish a foothold in the gaming PC market. Today, the company makes a wide variety of gaming PCs that can truly run the pricing gambit. Their best-known models, the Corsair One gaming PCs are high-end machines that offer a unique vertical design and can often be found on best-of-gaming PC lists.
| Pros | Cons |
| --- | --- |
| The Corsair One is one of the best gaming PCs available. | Pricey machines remove this as a good choice for budget-conscious buyers |
| A great selection of gaming desktops | Corsair isn't as well known as Dell or HP |
Check out the Corsair on Amazon.
#6 Best Big Name: Lenovo
Best Big Name
We earn a commission if you make a purchase, at no additional cost to you.
As soon as Lenovo announced its intentions to enter the gaming PC world at CES 2017, the world took notice. 
The Legion brand of laptops, Lenovo's staple gaming PC brand, wouldn't be announced for another two years at CES 2019 but has since gone on to become one of the most prominent gaming PC names in the industry. Fast forward to 2023, and the Legion name has quickly become dominant in the gaming PC space with both laptops and desktops that work great for those looking for their first gaming computer or a best-in-class experience.
Laptops, in particular, are a Lenovo strong point with the Legion Pro 5/5i lineup constantly discussed as some of the best gaming laptops available to consumers. The launch of the Legion 3, 5, and 7 gaming laptops in 2020 has really helped strengthen Lenovo's place in the market,
| Pros | Cons |
| --- | --- |
| Lenovo has long been a giant in the PC space. | Multiple uses of the Legion name can lead to confusion |
| The Legion Pro lineup is often regarded as best-in-class. | Laptops are more highly regarded than desktops. |
Check out the Lenovo on Amazon.
Best Hidden Gem
We earn a commission if you make a purchase, at no additional cost to you.
A subsidiary of computer giant Dell, Alienware is a well-known name in the gaming PC space ever since it was formed in 1996.
Founded well outside Silicon Valley in Miami, Florida, Dell acquired the company in 2006 and assists with marketing, purchasing power, and lowering Alienware operating costs. Even as Dell maintains its own series of gaming PCs, Alienware is very much a dedicated portion of Dell's gaming market share.
As of June 2023, Alienware currently produces three gaming PC desktops, which begin at $1,199 but offer a truly unique style complete with RGB lighting. Alienware's desktops may start inexpensively, but rest assured you can quickly up the pricing once you start upgrading different components. Alienware offers laptops in 14, 15, 16, 17, and 18-inch varieties, and like their desktop counterparts, can start relatively cost-friendly only to jump as you upgrade the internals.
| Pros | Cons |
| --- | --- |
| Excellent options for hard-core gamers | A limited selection of desktops |
| Dell ownership helps keep costs down | |
Check out the Alienware on Amazon.
#8 Best of the Rest: Dell
Best of the Rest
Dell G15 5511 Gaming Laptop
11th generation Intel Core i7 11800H processor
NVIDIA GeForce 3060 graphics card with 6GB dedicated RAM
15.6-inch Anti-Glare display with 120Hz refresh rate
Wi-Fi 6 AX201 connectivity
We earn a commission if you make a purchase, at no additional cost to you.
Arguably one of the best-known PC manufacturers in the United States and around the world, Dell is, simply put, a massive computer brand. 
Founded by Michael Dell in his dorm room at the University of Texas, Dell began selling computers out of his room. After a year of successfully selling products, Dell would drop out of college to run his business full-time. Thankfully, this bet paid off as Dell is now one of the richest people in the world thanks to his great lineup of consumer and gaming PCs that bear his name.
When it comes to Dell gaming, the "G Series" is its budget-friendly series starting at $799 (MSRP), which makes it an ideal choice for anyone just dipping their toes into PC gaming for the first time. On the desktop side, Dell leans heavily into the Alienware brand for its desktop selection, so the Dell name only supports gaming laptops. Still, the G series is highly regarded as being cost-friendly while still offering plenty of performance for AA and AAA titles.
| Pros | Cons |
| --- | --- |
| Arguably the best-known name in PC computing | Customer support is very hit or miss |
| Offers friendly pricing to new gaming laptop buyers | Alienware sub-brand offers more power for the dollar |
Check out the Dell on Amazon.
How to Pick the Best Gaming PC Brand: Step-by-Step
As soon as you make the decision to purchase a new gaming PC, there are a few important considerations to look at before handing over your credit card.
Budget
When it comes to cost with a gaming PC, it's a bit of a tricky proposition as you don't want to overspend anymore than you want to underspend. The good news is that you have a wide range of options across all pricing levels. Ultimately, you want to look at the top end of your budget and see if there is a computer that fits your needs today. Alternatively, you can look at spending less and conserving some of your money to make upgrades down the road.
Upgrades
Upgradability with a gaming PC is a tricky proposition as many people feel totally comfortable making upgrades on their own, especially with desktops. This is actually an important point too as gaming desktops offer almost universal upgradability for all components. On the other hand, a laptop is generally only able to provide upgrades for RAM and a hard drive. If you want the most opportunity to upgrade down the line, a gaming desktop is the only choice.
Size
Choosing between a gaming laptop and a desktop sounds a lot easier than it actually is when you have to actually make a decision. You'd like to think that gaming laptops give you more flexibility by being somewhat portable, but that's not the whole story. Gaming laptops tend to be bulkier, have larger charging bricks, and don't always have the best battery life, which makes them less portable than non-gaming laptops. Gaming desktops can be any size, though they tend to lean more on the larger side and are not necessarily small enough to hide on a desk. What you need to do is think through how you really plan to use a gaming PC and then make a decision on size.
Ports
Similar to the size consideration, how many or how few ports you have available can really count when it comes to decision time. Unsurprisingly, because they are smaller, gaming laptops tend to have fewer ports, so you are more limited as to what you can connect. With a gaming desktop, if you want to connect two monitors, speakers, a gaming mouse, a gaming keyboard, and another peripheral, you can easily do so. The same won't be true for a gaming laptop, so the number of ports can weigh heavily into your decision.
Using a Gaming PC: What It's Like
Unsurprisingly, if you are into PC gaming, having a gaming PC is the best way to play any of the tens of thousands of games available. Gaming on PCs has been a growing business since the late 1980s and has only gotten bigger and better since. As this list shows, you have so many great options that you have to try really hard to not find a gaming PC that works for you. When you do find a gaming PC, being able to game is a great way to start a YouTube business, play for fun, or play with friends.
As you can find games on sale all the time, being able to use a gaming PC isn't nearly as costly on an ongoing basis as you might think. Unless you absolutely have to have the latest and greatest GPU in your gaming desktop, you can instead focus on building up a great gaming library. No matter the type of gaming experience you want to have, whether it's VR or casual, there is an opportunity to do it all, and that's what makes gaming on a PC so special.
The image featured at the top of this post is ©Om.Nom.Nom/Shutterstock.com.