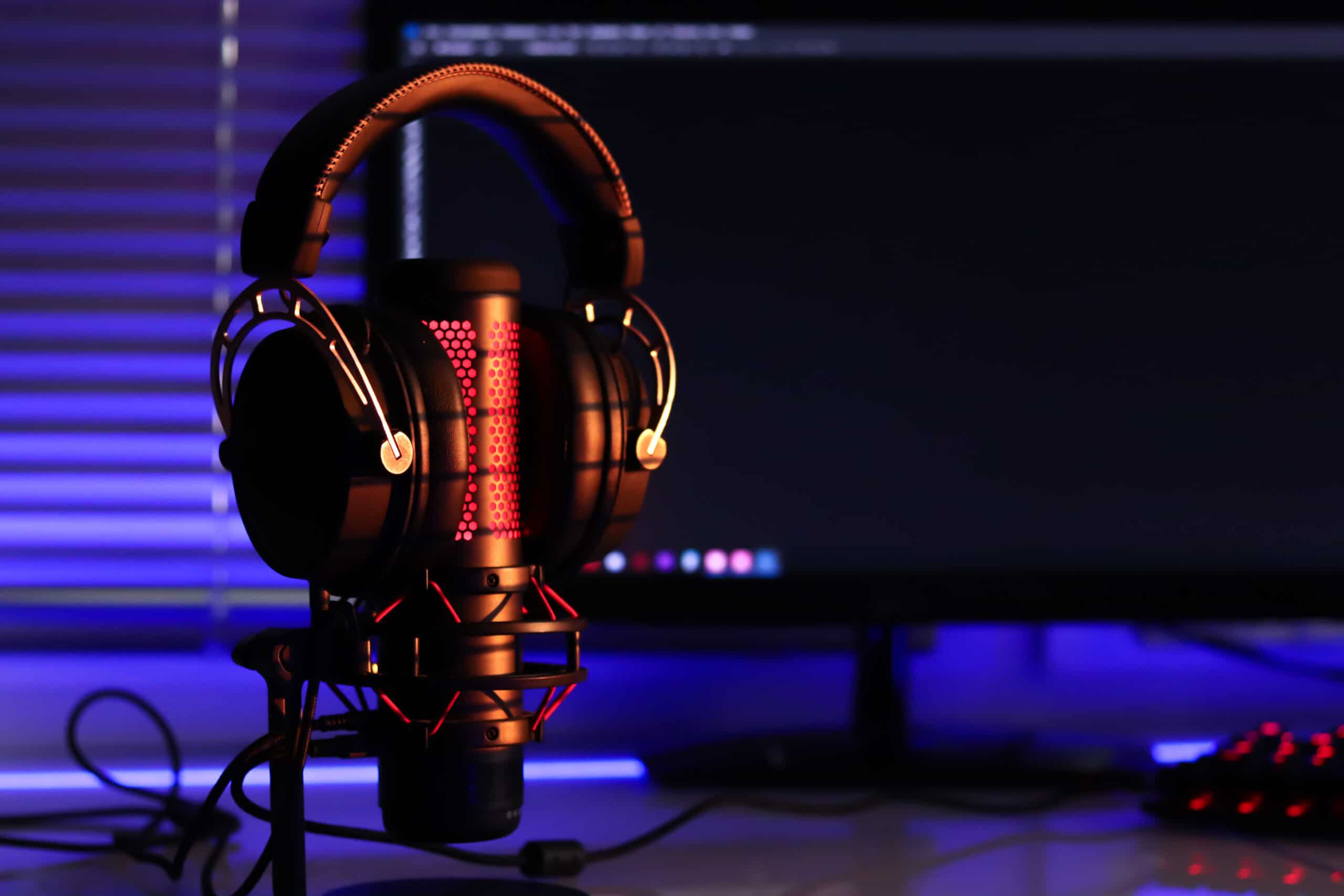 Nothing beats an excellent standalone microphone, primarily when gaming. Even though there are cool gaming headsets with microphones, these devices won't deliver the same results. Gaming microphones are clear and suitable for multitasking.
These microphones make you sound better and clearer to your opponents and viewers. Furthermore, you can use them for other uses, such as podcasting games and recording music. Most gaming microphones are affordable; so don't hesitate to buy one when upgrading your gaming setup.
Here are the best gaming microphones in the market:
Best Overall Gaming Microphone: Blue Yeti
The Blue Yeti is arguably the best gaming microphone on the market. You can acquire one with multiple colors, such as black, blue, white, and silver. However, the black one is the coolest of the bunch.
This gaming microphone has a simple and traditional design, making you feel like you are in a recording studio. At the front, the microphone has a volume and mute knob. It makes it easy for users to make these adjustments when playing.
Additionally, you won't face any challenges setting up the Blue Yeti because you only need a USB cable to connect this microphone to your computer or gaming console. This microphone is also compatible with GarageBand for Apple users, thus adding to its versatility.
Some of the Blue Yeti specifications include:
20Hz to 20kHz frequency response,
USB Type-A connection cable,
44KHz sample rate,
A bit rate of 16-bit.
The Blue Yeti has various polar patterns for sound quality, including cardioid, bidirectional, omnidirectional, and stereo. Cardioid is the ideal mode for gaming, which is also suitable for streaming. The bidirectional mode is better when playing one-on-one games with your friends because it's clearer.
Ultimately, acquire the Blue Yeti if you are serious about gaming since this microphone is simple and compact, and you can travel with it because it won't take up much space.
Check out Blue Yeti on Amazon.
Best for Performance: JLab Talk
Go for JLab Talk if you are looking for sound speech and depth. This is one of the best-performing gaming microphones on the market, currently available only in black. The JLab has a simplistic design, making it ideal for diverse setups.
At the front, this gaming microphone has a huge knob that allows you to control its four polar pattern modes. You can also press this knob inwards to mute the microphone. Below the main controller is a smaller knob that adjusts the volume.
The JLab Talk also has a three-legged stand, adding stability to the microphone and preventing it from wobbling. You only need a USB cable to connect this microphone to your gaming PC or console. The Jlab Talk has various specifications that make it an outstanding microphone. For instance, it has a 96KHz sample rate, a 20Hz to 20KHz frequency response rate, a 9dB audio response rate, and a plug-and-play feature.
With the right settings, the JLab Talk has good sound quality. The microphone's cardioid polar pattern is ideal for gaming and streaming as it's loud and clear. Furthermore, you won't notice any echo when streaming, and it's clearer than the Blue Yeti.
Another thing that makes the Jlab Talk the best-performing microphone in the market is that you can record from multiple angles. This microphone is consistent with its recording, and you don't have to always sit directly in front of the microphone. The Jlab is an impressive microphone and a great option if you cannot afford the Blue Yeti.
Check out JLab Talk on Amazon.
Best-Designed Gaming Microphone: HyperX QuadCast
You are bound to see the HyperX QuadCast if you are a Twitch fanatic. This gaming microphone is RGB-fueled and one of the best customizable microphones on the market, which boosts its aesthetic appeal.
The most significant talking point about this microphone is its design. The HyperX QuadCast has an RGB lighting system that transitions from one color scheme to another. This microphone has HyperX's NGENUITY software, which allows users to change the microphone's color combinations.
The HyperX QuadCast also has a mute button at the top. This button is sensitive to touch, so you don't have to press it hard to mute the microphone. It also has a gain dial at the bottom, which you can use to adjust the microphone's sensitivity. You will also notice another knob that adjusts the microphone's polar pattern modes in the middle.
The connection process is also easy since you only need a USB cable to connect the microphone to your PC or console. Other specifications to expect from the HyperX QuadCast include the following:
A sample rate of 48KHz,
A bit-rate of 16-bit,
A 20Hz to 20KHz frequency response,
USB type C and A connectivity.
Even though most of the work has been geared toward improving this microphone's design, its sound quality justifies the price tag. One thing that makes this microphone unique is that it filters out unwanted noise.
You don't have to worry about background noise, especially when streaming in a loud place. Additionally, this microphone's sensitivity settings are ideal for horror games. Even though the HyperX Quadcast is pricey, it is worth it thanks to its fantastic sound quality, aesthetic appeal, and ease of connection.
Check out HyperX QuadCast on Amazon.
The Elgato Wave:3 is the best gaming microphone for streaming. It uses a USB type C cable, and you can only acquire it in black.
The microphone's design is simple, making it easy to use. It only has three settings, which are adjusted by the knob in the middle. The first setting controls the microphone's sensitivity. You can set it higher if you have a low voice to ensure you are audible.
The second setting is the volume control, while the third setting controls the balance between your voice and the sound output. This microphone has a stand for stability and a mute button at the top. Other notable specifications include the following:
A 70Hz to 20KHz frequency response,
A 96KHz sample rate,
A bit rate of 24-bit,
USB Type A connectivity.
The Elgato Wave:3 sound quality is impressive. One thing to note is that this microphone only has the cardioid audio pattern. This microphone is ideal for someone speaking directly to it and addressing a specific audience, making it suitable for streaming.
Another thing that makes the Elgato Wave:3 unique is its compatibility with the Stream Deck. This is a tool that one connects to the PC, allowing you to use fewer buttons to perform tasks requiring many buttons on the PC.
So, you can sync your Elgato Wave:3 to the Stream Deck, allowing you to manipulate your microphone using this tool. Ultimately, it improves your streams as you don't have to physically adjust the microphone when making gaming commentaries. Go for Elgato Wave:3 if you want a microphone specifically for gaming as it's not ideal for other uses, such as recording music.
Check out Elgato Wave:3 on Amazon.
Go for the Razer Seiren Mini if you are on a tight budget. This is one of the best low-priced gaming microphones on the market, and you can acquire it in various colors.
The Seiren Mini is a small microphone compared to others on this list, and it looks like a block of snowball ice. This microphone has a stand for stability and can be tilted to suit one's recording position.
Unlike other microphones, the Seiren Mini has no control buttons at the front. You will only see a small light showing that it's compatible with a USB cable. Other specifications present in the Razer Seiren Mini include:
A 48KHz sample rate,
USB Type A connectivity,
Frequency response of 20Hz to 20KHz,
A bit rate of 16-bit.
For sound quality, this gaming microphone only has a super-cardioid polar pattern. It implies that this microphone's sound quality is more directional than the cardioid polar pattern. While this sound quality isn't ideal for musicians, it's the best for streaming gamers.
This microphone's primary shortcoming is that it doesn't have a noise cancellation feature, meaning it may pick up your keyboard clicks when playing. Ultimately, the Seiren Mini doesn't have as many features as the other gaming microphones on this list, which isn't surprising due to its low price.
Check out Razer Seiren Mini on Amazon.
The Blue Yeti Nano is a smaller version of the Blue Yeti. This microphone's compact size makes it durable and ideal for gaming and streaming. The Blue Yeti Nano has a stand, and the microphone's body is made from weighty metal.
The microphone has a conspicuous knob at the front. Besides regulating the microphone's volume, this knob is used to mute the recording when pressed inside. At the bottom, the Blue Yeti Nano has another button that controls the microphone's polar patterns. Other specifications include the following:
A 48KHz sample rate,
USB connection,
Frequency response of 20Hz to 20KHz,
A bit rate of 24-bit.
You may have to download Blue Sherpa Software if you acquire the Blue Yeti Nano. This doesn't mean you must use the software to control the microphone. However, the software simplifies its use.
For instance, you can adjust the microphone's settings from your PC without reaching for the microphone during your streams. The Blue Yeti Nano's sound quality is also impressive. The microphone only has two polar patterns, which include cardioid and omnidirectional.
The cardioid polar pattern is ideal for gaming as it makes your voice crisp and clear during your streams. As for the omnidirectional mode, it records everything close to the microphone, making the Blue Yeti Nano good for podcasting. If you cannot afford the Blue Yeti, go for the Blue Yeti Nano since it's equally impressive.
Check out Blue Yeti Nano on Amazon.
How To Pick The Best Gaming Microphone
Choosing the best gaming microphone may be challenging as there are microphones on the market. Consider the following six factors when shopping for a microphone.
Ease of use
Ease of setup
The type of game
Sound quality
Budget
Compatibility
Let's discuss these factors in detail.
Ease of Use
Look for a gaming microphone that isn't complicated. Always go for plug-and-play microphones as they don't require other equipment to connect. Otherwise, you may incur additional costs should you acquire a microphone that needs additional software or equipment to play.
Ease of Setup
Buy a gaming microphone that you can easily set up. You shouldn't have any problems physically integrating the microphone into your gaming setup. Additionally, it shouldn't get in the way when playing.
Thus, go for a smaller, more compact microphone if you have a small gaming area. Ultimately, choose a gaming microphone that sounds good even when you are a little further from it.
The Type of Game
The type of game matters when selecting a gaming microphone. For instance, consider buying a less expensive microphone when playing single-player games like adventure games. You are probably playing alone, meaning investing in a less expensive microphone is okay as you won't regularly communicate with anyone.
However, a more expensive microphone is ideal if you frequently stream your games. Such gaming microphones have better sound quality, which is imperative for your streams.
Sound Quality
Choose a gaming microphone that can pick up a low-tone voice and filter background noises. For instance, it should filter desktop vibrations and keyboard clicks.
Another thing to consider are the microphone's sound adjustment settings. Select a gaming microphone with multiple adjustment settings to allow you to alter the sound quality.
Budget
Gaming microphones have varying prices. For instance, high-end microphones have more features and cost more than other microphones. However, budget-friendly options have all the features you need for your gaming requirements.
Compatibility
Check the microphone's compatibility before acquiring it. Some gaming microphones are only suited for specific consoles and PCs. It will be a loss should you acquire a microphone you won't use.
What To Know Before Buying Gaming Microphones
You must know that each gaming microphone has different features before buying one. Look for a microphone that will fully complement your gaming experience. Additionally, the microphone's frequency response is crucial.
This is the range of sound the gaming microphone can produce, as it is integral to achieving good sound quality. You should research your preferred microphone's frequency response before settling for it.
Some gaming microphones are fixed and cannot be adjusted. Those who want compact microphones are lucky as you can buy them and permanently install them on your gaming station. Lastly, you can use the gaming microphones for other uses, such as podcasting and recording music.
Using Gaming Microphones: What It's Like
You will have the ultimate gaming experience with a good gaming microphone, especially if you like streaming your games. For example, it allows you to give audible gaming commentaries to your audience when playing.
Additionally, you can clearly interact with your opponents with a good microphone when playing a multiplayer game. Some gaming microphones have noise cancellation so that you can play peacefully without distractions.