Key Points
Best overall electric scooter of 2023: Razor Power Core E90
Best performance: UNAGI Model One E500 – Dual Motor
Most comfortable: Segway Ninebot F40
Getting a high-performance and durable electric scooter on a limited budget can be a hassle. However, the cut-throat competition in the market has made brands manufacture durable, easy-to-handle, and high-performance electric scooters.
Technological advancement has also made it easy for scooter enthusiasts to get a bang for their buck with as low as $300.
Owning one of the best electric scooters is about freedom: Freedom from having to find a rental scooter on the street and hoping it's charged up, freedom to travel farther than you could on foot, and freedom from having to use a bus or train.
Whatever your reason for wanting to own one of the best electric scooters, we have tested several models to give you plenty of options when making your buying decision.
Without further ado, here are our choices for the best electric scooters in 2023:
Best Electric Scooter Overall: Razor Power Core E90
Our top pick for the best electric scooter is the Razor Power Core E90; a fairly priced scooter but an exceptional performer. Lighting the 6 LED lights at night produced a bright light that alerted motorists from a distance as a safety precaution.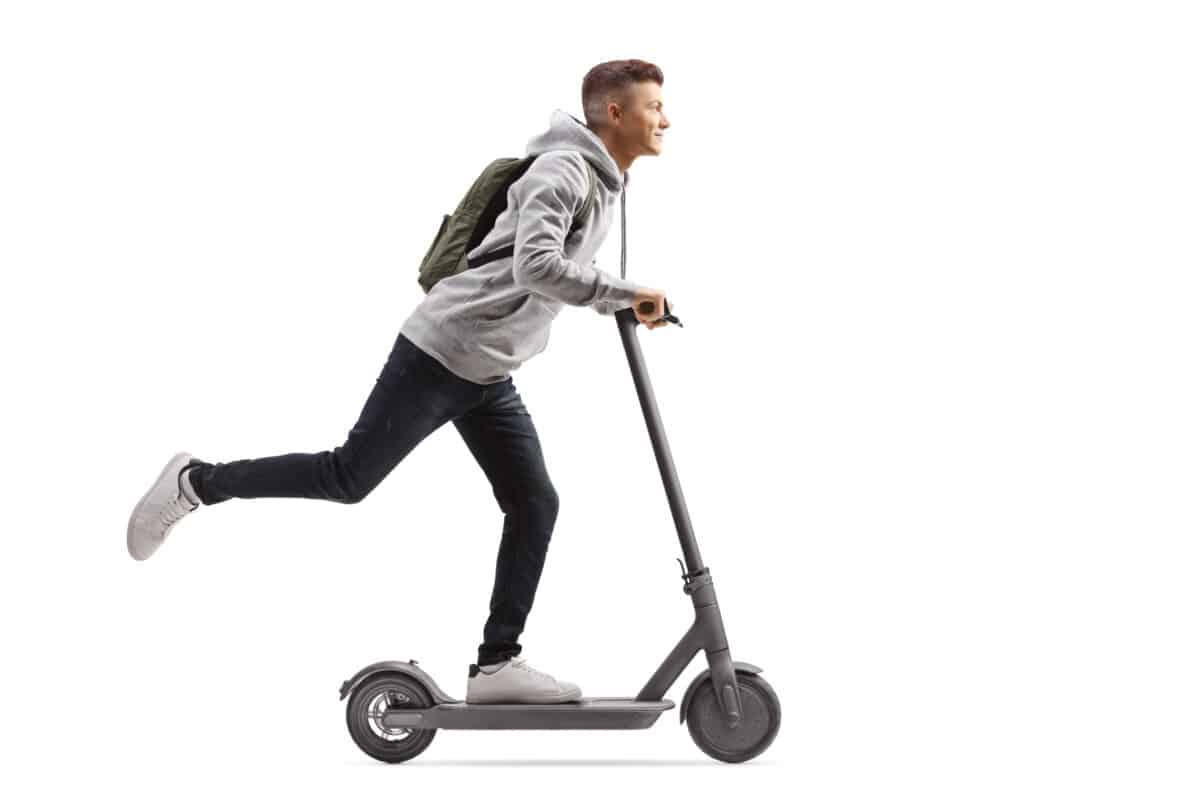 The 90-watt high-torque motor and a 12-V lead-acid battery make this scooter run for an impressive 60 continuous minutes. We tried this scooter on a smooth road and attained a maximum speed of 10mph (16km/h). The only downside of the scooter is that it takes up to 12 hours to charge fully.
Pros
A sleek design and lightweight
Considerable and stable speed.
Long range after a full charge.
Cons
Check out the Razor Power Core E90 on Amazon.
Best for Performance: UNAGI Model One E500 – Dual Motor
The UNAGI Model One E500 - Dual Motor is built for comfort and performance. E500's sleek design is unparalleled, given that it is both lightweight and has heavy-duty strength. The first thing we noticed about the scooter is its sophisticated handlebar, fitted with an LED headlight, brake, horn, and throttle, all in the dashboard.
The scooter performed excellently during our field and road test, attaining a top speed of 20mph (32.2 km/h). We marveled at the scooter's strength, seamlessly supporting someone weighing 205 lbs. (93 kg). The only downside of the scooter is that it covered a smaller range than anticipated.
Pros
Sleek and lightweight design.
High speed.
Adaptable power for different skill levels.
Few charging hours.
Cons
Check out the UNAGI Model One E500 - Dual Motor on Amazon.
Best Scooter for Comfort: Segway Ninebot F40
The Segway Ninebot F40 is revered for offering riders a smooth and safe riding experience due to its customized tires and super shock absorbers. Segway's foldable design makes it easily portable and sturdy. The scooter's multiple riding options at different speeds and a unique braking system have also made it gain popularity among riders.
We tested the speed on a continuous smooth road and attained a top speed of 9.3 mph (15 km/h), which was reasonable. One downside of the Segway Ninebot F40 electric scooter is that the mobile app might experience a lag when least expected.
Pros
Quick folding system.
10-inch vacuum tires.
High speed of 20mph (32 km/h).
Three riding modes.
Cons
A single button for all settings.
Check out the Segway Ninebot F40 on Amazon.
Most Durable Electric Scooter: Razor E300S
The Razor E300S was made for convenience and durability, and our tests proved that. The first outstanding feature of this scooter is a removable padded seat that gives riders the freedom to choose their preferred riding style. Our top speed in this electric scooter was 15mph (24 km/h), which was quite impressive.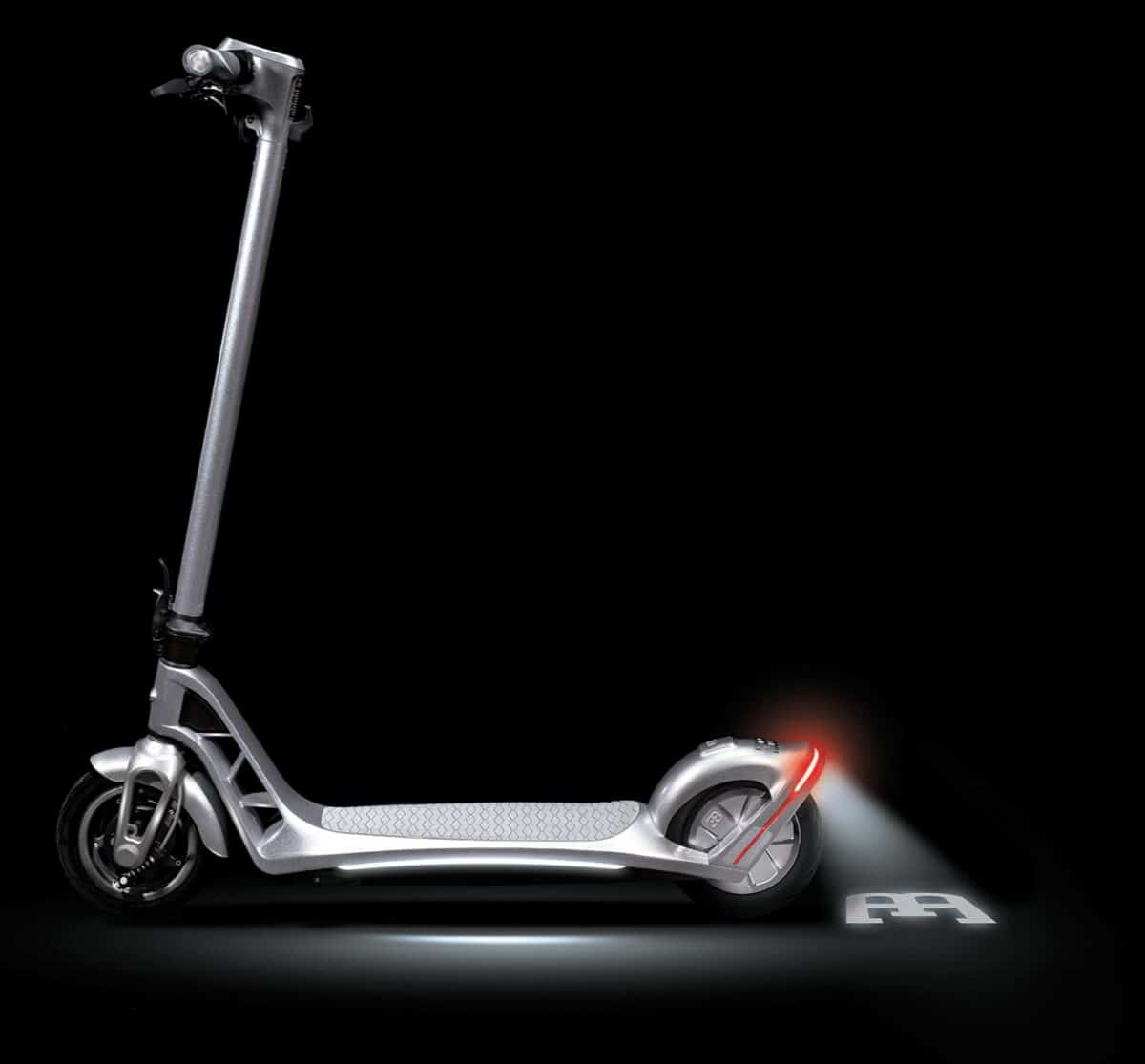 Despite its simple design, the scooter easily accommodated my nephew, who weighs 200lbs. After testing the scooter, we dismantled every part and assembled it again. To our surprise, it only took less than seven minutes to get everything in place. The only downside of this scooter is that it takes long to charge.
Pros
Pneumatic tires for easy maneuver.
Removable padded seat.
Sturdy and simple design.
Cons
Long charging time (12 hours).
Check out the Razor E300S on Amazon.
Best Scooter for Speed: Razor EcoSmart Metro and SUP
Our test with the Razor EcoSmart Metro and SUP electric scooter was incredible, and we discovered that it offered so much, despite its average price. The first thing that caught our attention is its soft padded seat which is only available to premium scooters. The scooter also contained a luggage rack to help riders travel comfortably.
We experimented with this scooter on a rough patch, albeit for a short distance, and it performed extraordinarily. The scooter's performance was more than we had anticipated, hitting speeds of up to 17.4mph /(28km/h). Our only disappointment in the scooter is the long hours it took to charge fully.
Pros
High speeds of up to 18mph (29km/h).
A cargo carrier to ease the transport of light objects.
Has a soft-padded seat for comfort.
Cons
It takes a long to fully charge.
Check out the Razor EcoSmart Metro and SUP on Amazon.
Best Budget Option: MICROGO M5 Pro
The MICROGO M5 Pro is not only affordable but also a high-performance electric scooter. Many riders revere it for its high-performance Smart APP Control and safe dual brakes, which other electric scooters lack.
It is sturdy, and riders can use it for smooth roads and off-road terrains. Despite being sturdy, we established that the scooter is also lightweight and easy to handle. We tested the anti-lock braking system (E-ABS) and were pleased with the fast response. The only challenge that we encountered while testing the MICROGO M5 scooters was that some of them had faulty batteries.
Pros
Easy to operate, especially for beginners.
Lightweight and easy to fold.
Sturdy design.
Cons
It cannot support more than 220 lbs.
Check out the MICROGO M5 Pro on Amazon.
Most Portable Electric Scooter: Envy Scooters Prodigy S9
Prodigy introduced the nine series to give scooting enthusiasts a fresh and better experience. The first outstanding feature we loved about Envy Scooters Prodigy S9 is its high portability, given that it weighs only 7.7 lbs. (3.5kgs). Regarding its design, the S9 performs above other electric scooters within the same price range.
We admired the efficiency and mastery used in making the nylon front plate and brake systems. Applying brakes instantly made the scooter stop immediately with ease, making it ideal for beginners and intermediate scooters.
Pros
The scooter comes in six different colors.
It has a high-quality Envy grip tape.
Uses a rare high-quality nylon brake system.
Cons
The screws and bolts loosen over time.
Check out the Envy Scooters Prodigy S9 on Amazon.
Best Electric Scooter for Children: Razor Power Core E90
The Razor Power Core E90 is the perfect electric scooter for kids and our tests proved that. After receiving the scooter, we had to assemble it from scratch, and it was much fun.
One thing that caught our attention was the 85-watt motor, which was fair, considering that its primary users are kids. After assembling all parts, we gave our kids to test them out. Surprisingly, the kids attained a top speed of 10mph (16km/h) which was impressive. The only downside of the scooter is that it lacked a flexible push-button throttle.
Pros
Sturdy due to the all-steel frame.
A top speed of 10mph (16 km/h).
Durable battery charge (80 minutes).
Cons
Small wheels limit it to urban use.
Long charging hours (12 hours).
Check out the Razor Power Core E90 on Amazon.
How to Pick the Best Electric Scooters: Step-by-Step
There is a huge variety of electric scooters on the market, but not all are created equal. So, how do you pick the best one for you? Here are some things to consider:
Motor Power
Rider weight
Range
Scooter Weight
Top speed
Motor Power
Motor power determines whether the scooter can help the rider carry out daily activities without heating. Adults should choose scooters with 250 watts of motor power, while people living in an area with steep slopes should get scooters with more than 350 watts of motor power.
Rider Weight
Riders should consider their weight first since it affects the overall performance of the scooter. It is recommendable that riders settle for scooters within their weight limit to avoid accidents, overheating in the motor, and constant breakdowns.
Range
The range is the maximum distance a fully-charged scooter can cover before it goes out of power. Although manufacturers have a set range that the scooter can cover, factors such as the rider's weight, average speed, and mode of driving can alter the standard range. However, the rider is advised to estimate the average distance they cover and buy a scooter with a similar range for convenience.
Weight
Heavy scooters can be hectic to carry or fold, making them ineffective for people who cover short distances. When choosing a scooter based on its weight, the rider should consider whether they will: use staircases, lift the scooter into a vehicle's trunk, or get enough parking space for the scooter.
Top Speed
Choosing an electric scooter with high acceleration and speed helps you avoid accidents. Although most states have banned riding on scooters beyond 14.9mph, having an electric scooter that can attain high speeds saves your time.
What to Know Before Buying Electric Scooters
Beginner scooter riders might be overwhelmed by the number of electric scooters in the market. The first thing that a person should ascertain before buying an electric scooter is whether the seller offers a warranty. Products with a warranty tend to be more durable and better performers.
Having an electric scooter that is all-weather and all-terrain is beneficial since they can use it for different occasions without having to worry about repairs.
Using Electric Scooters: What it's Like
After testing different scooters, we found that most of them could work on tough terrains and smooth roads. Another thing that separates electronic scooters is how they reduce emissions and noise compared to diesel-operated ones.
Next Up…
The image featured at the top of this post is ©Zoran Zeremski/Shutterstock.com.