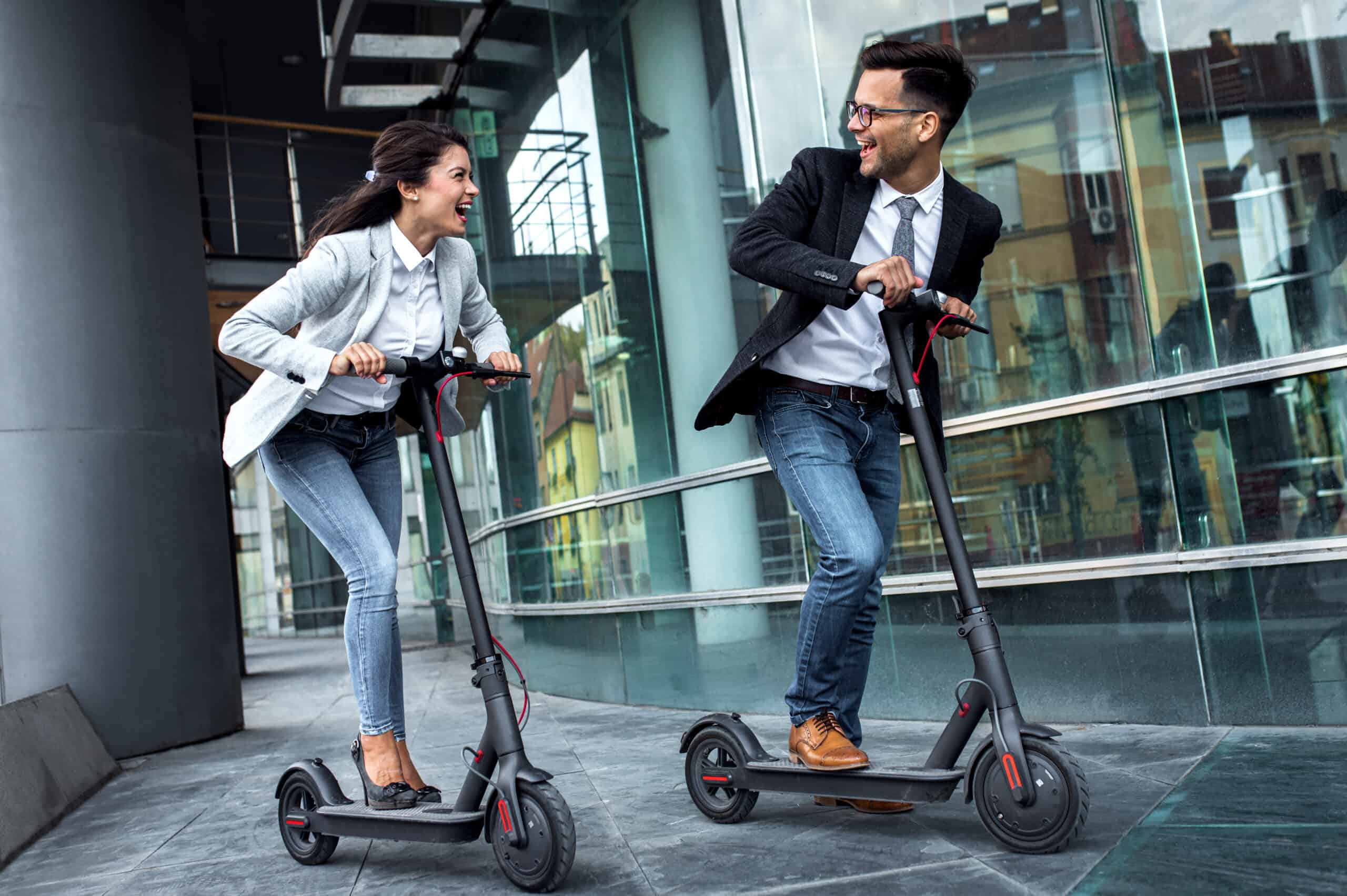 Getting a high-performance and durable electric scooter on a limited budget can be a hassle. However, the cut-throat competition in the market has made brands manufacture durable, easy-to-handle, and high-performance electric scooters. Technological advancement has also made it easy for scooter enthusiasts to get a bang for their buck with as low as $300.
Owning one of the best electric scooters is about freedom: Freedom from having to find a rental scooter on the street and hoping it's charged up, freedom to travel farther than you could on foot, and freedom from having to use a bus or train. Whatever your reason for wanting to own one of the best electric scooters, we have tested several models to give you plenty of options when making your buying decision. Without further ado, here are our choices for the best electric scooters in 2022:
Sale
Our top pick for the best electric scooter is the Razor Power Core E90; a fairly priced scooter but an exceptional performer. Lighting the 6 LED lights at night produced a bright light that alerted motorists from a distance as a safety precaution. The 90-watt high-torque motor and a 12-V lead-acid battery make this scooter run for an impressive 60 continuous minutes. We tried this scooter on a smooth road and attained a maximum speed of 10mph (16km/h). The only downside of the scooter is that it takes up to 12 hours to charge fully.
Pros
A sleek design and lightweight
Considerable and stable speed.
Long range after a full charge.
Cons
Check out Razor Power Core E90 on Amazon.
UNAGI Model One E500 - Dual Motor Folding Electric Scooter - 20 mph - 26 lbs - Sea Salt White
Superior Design: Unagi leverages TORAY carbon fiber from Japan to strike an unprecedented balance of lightweight and heavy-duty strength, the same material used by SpaceX rockets.
Unrivaled Technology: Unagi features an ergonomically optimized lever and dual electronic anti-lock brakes to bring you to a safe, steady stop. Both on our accelerator and brakes, we've built variability into our controls so pushing down further increases their action.
World-Class Performance: With the best torque in its class for fast, powerful acceleration, the Unagi can reach up to 20 mph when unlocked, with a max range of 15 miles, both depending on load.
500W power and dual motors for quick acceleration
Incredible Handlebar: Integrated in the top bar are the intuitive controls of the Unagi dashboard—throttle, brake, horn, and LED headlight. No visible wires. No bulky console. Just a sleek, integrated command center that connects the rider to the ride, also available in a downloadable app.
The UNAGI Model One E500 - Dual Motor is built for comfort and performance. E500's sleek design is unparalleled, given that it is both lightweight and has heavy-duty strength. The first thing we noticed about the scooter is its sophisticated handlebar, fitted with an LED headlight, brake, horn, and throttle, all in the dashboard. The scooter performed excellently during our field and road test, attaining a top speed of 20mph (32.2 km/h). We marveled at the scooter's strength, seamlessly supporting someone weighing 205 lbs. (93 kg). The only downside of the scooter is that it covered a smaller range than anticipated.
Pros
Sleek and lightweight design.
High speed.
Adaptable power for different skill levels.
Few charging hours.
Cons
Check out UNAGI Model One E500 - Dual Motor on Amazon.
Segway Ninebot F40 Electric Kick Scooter, 350W Powerful Motor, 10-inch Pneumatic Tire, Foldable Commuter Electric Scooter for Adults, Dark Grey
All In One Product: F40 reaches a top speed of up to 18.6 mph, a max range of 25 miles on a single charge, and accommodates a max load of 220 lbs. 350W output helping you conquer up to a 20% grade slope. Get ready for new adventures and easier commutes.
Improved Riding Experience: The 10-inch pneumatic tires, with superior shock absorption, make your ride smoother and more stable even on bumpy terrain or rough surfaces. With the 350W powerful motor, the F40 delivers a fast and sturdy riding experience.
Comfortable, Smooth, and Safe Ride: Equipped with a front-wheel mechanical drum brake and a regenerative electric rear brake, the dual brake system ensures a safe ride. With a regenerative braking system recycled energy from riding.
Extraordinary Functionality: The Smart Battery Management System ensures battery safety and to notify you of any battery alerts when needed. With the Quick Folding System, the F40 can be easily folded in 1 second to store in the trunk.
Quality Assurance: In three riding modes, the Ninebot F40 is equipped with a preset speed limit of 9.3 mph Eco, 18.6 mph Standard, and 18.6 mph Sport. One year or 180-day for different parts, please contact us if you have any questions.
The Segway Ninebot F40 is revered for offering riders a smooth and safe riding experience due to its customized tires and super shock absorbers. Segway's foldable design makes it easily portable and sturdy. The scooter's multiple riding options at different speeds and a unique braking system have also made it gain popularity among riders. We tested the speed on a continuous smooth road and attained a top speed of 9.3 mph (15 km/h), which was reasonable. One downside of the Segway Ninebot F40 electric scooter is that the mobile app might experience a lag when least expected.
Pros
Quick folding system.
10-inch vacuum tires.
High speed of 20mph (32 km/h).
Three riding modes.
Cons
A single button for all settings.
Check out Segway Ninebot F40 on Amazon.
Most Durable Electric Scooter: Razor E300S
Razor E300S Durable Adult & Teen Ride-On 24V Motorized High-Torque Power Electric Scooter, Speeds up to 15 MPH with Brakes & Pneumatic Tires, Blue
POWERFUL MOTOR: Powered by a 250-watt, high-torque, single-speed, chain-driven motor that delivers electrifying fun at speeds up to 15 mph (16 km/h) for adults and teens ages 13 and up
LONG RANGE BATTERY: Rechargeable 24V (two 12V) sealed-lead-acid battery system provides up to 40 minutes of continuous use letting you cover plenty of distance on a single charge in pursuit of fun; With a quick recharge time helping you find big-time thrills
EXTRA FEATURES: Additional features include soft rubber grips with twist acceleration control for easy acceleration, hand-operated rear brake, and retractable kickstand; The scooter also features a removable seat post and seat cushion to transition it into a stand up ride on scooter
DURABLE & LONG-LASTING: An all-steel frame and fork provide for a solid ride that stands up to rugged use and time with a max rider weight of 220 lbs. (100 kg)
SAFETY & COMFORT: The Razor E300S has a super-sized deck and frame, length 26.2 inches (666 mm) and 8-inch (204 mm) width; The scooter is ready to roll and is perfect for meeting friends or just cruising around town; With larger 9-inch (229 mm) pneumatic front and rear tires support older riders while softening out rough surfaces for a smooth ride
The Razor E300S was made for convenience and durability, and our tests proved that. The first outstanding feature of this scooter is a removable padded seat that gives riders the freedom to choose their preferred riding style. Our top speed in this electric scooter was 15mph (24 km/h), which was quite impressive. Despite its simple design, the scooter easily accommodated my nephew, who weighs 200lbs. After testing the scooter, we dismantled every part and assembled it again. To our surprise, it only took less than 7 minutes to get everything in place. The only downside of this scooter is that it takes long to charge.
Pros
Pneumatic tires for easy maneuver.
Removable padded seat.
Sturdy and simple design.
Cons
Long charging time (12 hours).
Check out Razor E300S on Amazon.
Sale
Razor EcoSmart Metro Electric Scooter – Padded Seat, Wide Bamboo Deck, 16" Air-Filled Tires, 500w High-Torque Motor, Up to 18 mph, 12-Mile Range, Rear-Wheel Drive
SIT AND RIDE – Soft padded seat and wide bamboo deck make for plenty of foot room and a cushy, stylish ride
SMOOTH HANDLING – Air-filled 16" tires (406 mm) provide a smoother, safer ride on uneven terrain. Comfortable, twist-grip hand throttle and hand brake provide ease of control
CARGO CARRIER – Tote your groceries, books, or bags with the handy detachable luggage rack and basket
FAST AND POWERFUL – A 500-watt, high-torque, chain-driven motor boasts an up to 18 mph (29 km/h) max speed with a range of up to 12 miles (19 km) and up to 40 minutes of continuous use
SAFETY AND STABILITY – Rear-wheel drive shifts weight to the rear, enhancing both drive traction and ease of steering
Our test with the Razor EcoSmart Metro and SUP electric scooter was incredible, and we discovered that it offered so much, despite its average price. The first thing that caught our attention is its soft padded seat which is only available to premium scooters. The scooter also contained a luggage rack to help riders travel comfortably. We experimented with this scooter on a rough patch, albeit for a short distance, and it performed extraordinarily. The scooter's performance was more than we had anticipated, hitting speeds of up to 17.4mph /(28km/h). Our only disappointment in the scooter is the long hours it took to charge fully.
Pros
High speeds of up to 18mph (29km/h).
A cargo carrier to ease the transport of light objects.
Has a soft-padded seat for comfort.
Cons
It takes a long to fully charge.
Check out Razor EcoSmart Metro and SUP on Amazon.
MICROGO New M5 Pro Electric Kick Scooter for Adults, Honeycomb Off-Road Tires, Large LED Panel, App Control, 350W Motor, 19MPH 18.5Miles, Long-Range Battery, for Commuter/Travel, Foldable Scooter
💐 The best gift for your family 💐
[🛴Excellent 350W Powerful Motor for Travel]: Combined with a revolutionary upgraded 350W brushless direct current motor, the scooter can be boosted to a max speed of 19mph and a max load of 220lbs. With a 36V/7.5ah lithium battery, the scooter achieves a max 18.5 Miles travel range and a long battery capacity in one charge. MICROGO scooter is designed to achieve the highest performance and durability, ensuring a smooth, safe and reliable riding experience.
[🛴Smart APP Control & Superior LED Display]: MICROGO M5 pro features an innovative LED display, current speed, battery capacity, and headlight, you can easily switch functions by touching the screen at any time. Pair the scooter with your Smartphone APP, and use this app to control this foldable electric scooter, which will greatly facilitate your travel.
[🛴All-Terrain Off-road Tires Wear-durable & Anti-slip]: MICROGO 8.5" super oversized rubber honeycomb tires, with anti-explosion, wear-durable, reinforcement and good shock absorption, it's suitable for all types of terrain. And the long and large 6" pedals ensure your comfort experience during use. All of the designs aim for durable use and provide protection for your safety.
[🛴Safe Dual brakes & Lights System for Comfortable Riding]: The scooter with a crisp bell sound, rear disc brakes (mechanical ), and front E-ABS (anti-lock braking system) ensure effective and sensitive braking. The side LED lights, headlights, and red tail lights are used for a night, which can effectively warn pedestrians and vehicles, help you ride in comfort, and love your commute.
The MICROGO M5 Pro is not only affordable but also a high-performance electric scooter. Many riders revere it for its high-performance Smart APP Control and safe dual brakes, which other electric scooters lack. It is sturdy, and riders can use it for smooth roads and off-road terrains. Despite being sturdy, we established that the scooter is also lightweight and easy to handle. We tested the anti-lock braking system (E-ABS) and were pleased with the fast response. The only challenge that we encountered while testing the MICROGO M5 scooters was that some of them had faulty batteries.
Pros
Easy to operate, especially for beginners.
Lightweight and easy to fold.
Sturdy design.
Cons
It cannot support more than 220 lbs.
Check out MICROGO M5 Pro on Amazon.
Envy Scooters Prodigy S9 Complete Scooter (Oil Slick)
FRESH NEW 2022 UPGRADES – 6 new colour ways include Oil Slick, Black/Oil Slick, Swirl, Hex, Galaxy & Toxic.
NEW 6 Series Aluminum Forged Diamond IHC fork- Compatible up to 125 x 30mm wheels.
PRO SCOOTER RIDER DIMENSIONS – Total Height: 880mm/34.6", Total Length: 690mm/27.2" and Foot Space: 345mm/13.5"
ENVY CLASSIC PRODIGY Clamp with 6mm bolts (Oversized), high quality Envy grip tape, and durable bolt on Nylon Brake System with Nylon front plate and rear inserts.
HIGH DENSITY Aluminum Reaper Style bars – Height: 620mm/24.4" high x 560mm/22" wide (including Bar Ends) and comes with 160mm long TPR hand grips with nylon ends
Prodigy introduced the nine series to give scooting enthusiasts a fresh and better experience. The first outstanding feature we loved about Envy Scooters Prodigy S9 is its high portability, given that it weighs only 7.7 lbs. (3.5kgs). Regarding its design, the S9 performs above other electric scooters within the same price range. We admired the efficiency and mastery used in making the nylon front plate and brake systems. Applying brakes instantly made the scooter stop immediately with ease, making it ideal for beginners and intermediate scooters.
Pros
The scooter comes in six different colors.
It has a high-quality Envy grip tape.
Uses a rare high-quality nylon brake system.
Cons
The screws and bolts loosen over time.
Check out Envy Scooters Prodigy S9 on Amazon.
Razor Power Core E90 Electric Scooter - Green
Innovative Power Core technology features a 85-watt, maintenance-free, high-torque, hub motor that delivers smooth acceleration to up to 10 mph (16 km/h) with the push of the throttle
Rechargeable 12V sealed lead-acid battery provides an extended ride time of up to 80 minutes of continuous use
Rear-wheel drive delivers better balance control and traction for a safer, more stable ride
Features a lightweight, all-steel frame and fork and flat-free, airless rear tire for a solid ride
Additional features include hand-operated, front brake and retractable kickstand
The Razor Power Core E90 is the perfect electric scooter for kids and our tests proved that. After receiving the scooter, we had to assemble it from scratch, and it was much fun. One thing that caught our attention was the 85-watt motor, which was fair, considering that its primary users are kids. After assembling all parts, we gave our kids to test them out. Surprisingly, the kids attained a top speed of 10mph (16km/h) which was impressive. The only downside of the scooter is that it lacked a flexible push-button throttle.
Pros
Sturdy due to the all-steel frame.
A top speed of 10mph (16 km/h).
Durable battery charge (80 minutes).
Cons
Small wheels limit it to urban use.
Long charging hours (12 hours).
Check out Razor Power Core E90 on Amazon.
How to Pick the Best Electric Scooters: Step-by-Step
There is a huge variety of electric scooters on the market, but not all are created equal. So, how do you pick the best one for you? Here are some things to consider:
Motor Power
Rider weight
Range
Scooter Weight
Top speed
Motor Power
Motor power determines whether the scooter can help the rider carry out daily activities without heating. Adults should choose scooters with 250 watts of motor power, while people living in an area with steep slopes should get scooters with more than 350 watts of motor power.
Rider Weight
Riders should consider their weight first since it affects the overall performance of the scooter. It is recommendable that riders settle for scooters within their weight limit to avoid accidents, overheating in the motor, and constant breakdowns.
Range
The range is the maximum distance a fully-charged scooter can cover before it goes out of power. Although manufacturers have a set range that the scooter can cover, factors such as the rider's weight, average speed, and mode of driving can alter the standard range. However, the rider is advised to estimate the average distance they cover and buy a scooter with a similar range for convenience.
Weight
Heavy scooters can be hectic to carry or fold, making them ineffective for people who cover short distances. When choosing a scooter based on its weight, the rider should consider whether they will: use staircases, lift the scooter into a vehicle's trunk, or get enough parking space for the scooter.
Top Speed
Choosing an electric scooter with high acceleration and speed helps you avoid accidents. Although most states have banned riding on scooters beyond 14.9mph, having an electric scooter that can attain high speeds saves your time.  
What to Know Before Buying Electric Scooters
Beginner scooter riders might be overwhelmed by the number of electric scooters in the market. The first thing that a person should ascertain before buying an electric scooter is whether the seller offers a warranty. Products with a warranty tend to be more durable and better performers.
Having an electric scooter that is all-weather and all-terrain is beneficial since they can use it for different occasions without having to worry about repairs.
Using Electric Scooters: What it's Like
After testing different scooters, we found that most of them could work on tough terrains and smooth roads. Another thing that separates electronic scooters is how they reduce emissions and noise compared to diesel-operated ones.
Last update on 2022-10-04 / Affiliate links / Images from Amazon Product Advertising API