Key Points
The Gravity LTS 01 B is the top pick on our list of best DJ laptop stands, thanks to its durability, portability, and resistant design.
Laptop stands come in various price points and have different use cases.
Adding a laptop stand to your DJing setup will make it more comfortable and save you space to place more gear on your table.
If you've invested in a powerful computer, you're going to need a solid, ergonomic stand that can safeguard it. Keeping it at least a few inches away from your controllers will also extend your computer's service life. CDJs can get hot after hours of use, and high temperatures hinder a PC's performance and could ruin its parts.
The right stand will also benefit your health. While DJing, you may be on your feet for long hours, and you want to avoid slouching or maintaining bad posture during that time. If you build a comfortable setup, you'll have all your equipment at hand and breeze through long sets without discomfort.
When you're just starting out, we doubt you'll be playing in the most spacious venues, which underlines the importance of a neat layout. If you maximize the available space, you'll be able to fit all of your equipment into even the smallest tables. Laptop stands add verticality, allowing you to have a tiered setup, with your computer above and your interfaces and controllers below.
We've put together a list of the best laptop stands you can buy today, considering factors such as durability, portability, and price. By the end of this article, you'll be considering getting a laptop stand to take your setup to the next level. If not, at least you'll understand why DJs everywhere swear by this seemingly unimportant product. Now, here are our top 6 picks for best DJ laptop stands.
Best Overall DJ Laptop Stand: Gravity LTS 01 B
Best Overall
Gravity DJ Controller, Black
Fits laptops from 12 to 17 inches in size
Supports various controllers, including the Push 2, Machine, and Launchpad
Made from lightweight Aluminum
Features adjustable base angle and shelf for fast and easy set-up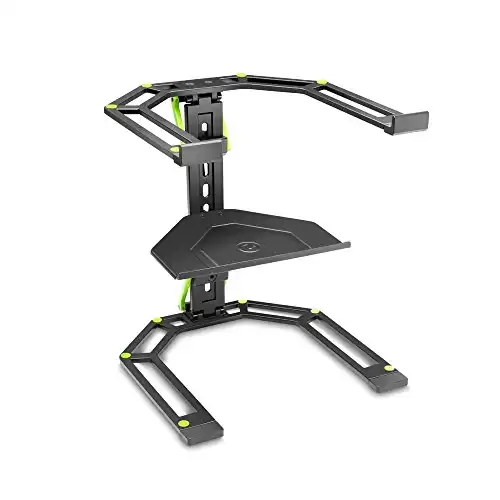 We earn a commission if you make a purchase, at no additional cost to you.
The Gravity LTS 01 B is our best overall pick for a durable, portable, and stable DJ laptop stand. Its striking design and lightweight build make it a premium product and a perfect addition to your setup. You can also fold it for easier storage, and it comes together by adjusting its quick-release mechanisms. Before locking its arm into place, you can fine-tune its angle to your liking.
This stand is one of the few to include a table clamp, allowing you to secure it to the edge of your table. Since its legs are removable, you can also use this clamp to save space for the rest of your equipment. It comes with an additional shelf which is on the shorter side and may be too small for most interfaces. However, it's large enough to hold an external drive or a sampler.
The Gravity LTS 01 B is everything you look for in a laptop stand bundled into one outstanding product. Although it's expensive, consider it an investment that will stay with you for many years.
| Pros | Cons |
| --- | --- |
| Light and durable aluminum build that can last for years. | Comes with a small additional shelf that may not accommodate most DJing equipment. |
| Practical table clamp and removable legs that allow you to save space. | May struggle to hold thick laptops in place. |
| Thanks to its easy-to-use mechanism, you can set it up and fold it in seconds. | |
Check out Gravity LTS 01 B on Amazon.
Best Ergonomic DJ Laptop Stand: Pyle Portable Folding Laptop Stand
Ergonomic and Comfortable
Pyle Portable Folding Laptop Stand
Supports laptops (12.6 to 16.7 inches), tablets, turntables, and DJ mixers
Includes a laptop shelf (8.6 by 9 inches in size)
Features a foldable, anti-slip design with adjustable height
Folds flat or completely disassembles for easy portability
We earn a commission if you make a purchase, at no additional cost to you.
The Pyle Portable Folding Laptop Stand beats every other laptop stand in terms of ergonomics. It's an incredibly versatile product that can hold PCs, mixers, turntables, or interfaces.
Its adjustable height goes from 12.6 to 16.7 inches, so it can accommodate various setups. It's also very durable and has anti-slip padding on its legs that can prevent accidents. It allows for 360° rotation and three settings, which you can switch depending on the weight of the object you'll place on it. Its four prongs grip your computer tightly so you can tilt it at an angle without it falling over.
Although heavy due to the materials used in its construction, it can fold into a thin layer that fits in most bags. As long as you carry a light load, this won't be too troublesome.
| Pros | Cons |
| --- | --- |
| Adjustable height makes it versatile and useful people of any stature. | Heavy build, which may make it too heavy to transport. |
| Sturdy and durable, it can hold large equipment with ease. | Lacks grip, so your computer could slip off if you're not careful. |
Check out Pyle Portable Folding Laptop Stand on Amazon.
Best Durable DJ Laptop Stand: Hercules Laptop Stand
Outstanding Durability
HERCULES Laptop Stand
Adjustable angle and height
Supports up to 10kg (22lb) (including heavy laptops)
Easy set-up
Includes a free carry bag
We earn a commission if you make a purchase, at no additional cost to you.
The Hercules Laptop Stand is the most durable laptop stand you can get by a wide margin. Its x-shaped design provides enough stability to hold up to 22 pounds of equipment. Make sure to place it on a resistant table. Also, remember to consider the weight of your other equipment otherwise, it could topple your entire setup.
This stand comes neatly folded in a transport bag, and it's easy to set up. Once it's assembled, you can adjust its height, angle, and rotation.
Although it's heavy, it's portable due to its compact design that easily folds up to save storage space.
| Pros | Cons |
| --- | --- |
| Folds up nicely, making it easy to pack. | Really heavy, not recommended if you move around a lot. |
| Exceptionally durable, made from premium materials. | Short prongs that can't properly hold a laptop in place. |
Check out Hercules Laptop Stand on Amazon.
Best Budget DJ Laptop Stand: Odyssey L-Stand
Budget Option
We earn a commission if you make a purchase, at no additional cost to you.
The Odyssey L-Stand is a serviceable laptop stand that you won't have to break the bank for. This discrete stand can hold small laptops and interfaces and is a good choice for a beginner setup.
It comes with a carrying case and two clamps that allow you to place it on the edge of a table. It has three height settings, although we recommend sticking to the lowest setting as it feels the most stable.
The Odyssey L-Stand is the least portable of the stands we've covered. Setting it up is a hassle, so we recommend you keep it in a fixed position. It's better suited for a home studio.
| Pros | Cons |
| --- | --- |
| Inexpensive without sacrificing quality, great for beginners. | It may wobble if you use it on its highest setting or place a heavy object on it. |
| | It's not particularly portable. |
Check out Odyssey L-Stand on Amazon.
Best Portable DJ Laptop Stand: Stanton Uberstand
Most Portable
Stanton Uberstand Laptop Stand
Supports laptops, external hard drives, and sound cards
Features an adjustable shelf
Made of aircraft grade stainless steel and aluminum for extra durability
Includes zippered bag into which the stand folds (flat) for portability
We earn a commission if you make a purchase, at no additional cost to you.
The Stanton Uberstand can't be beaten when it comes to portability due to its lightness, easy setup, and foldability. It's packaged in a slim zip-up vinyl case, which is thicker than the stand when compacted. Once you take it out of its container, you'll be surprised by how easily it comes together. After you unfold it, there's no need to adjust any knobs, although we recommend securing its bottom with a zip tie so it doesn't collapse. Optionally, you can fit it with an additional shelf, which is small but can hold an external drive or a small sampler.
One of the benefits of it being an older product is that it's prepared to hold the weight of old laptops, which are generally larger and heavier. Because of this, it'll hold most modern PCs, which have become slimmer and lighter. It's also incredibly durable, which is handy if you're continuously folding and unfolding it.
The black version holds up through the years as its color masks wear and tear better than the standard silver version.
| Pros | Cons |
| --- | --- |
| Can last for years without showing signs of wear. | Its legs may wobble if not adjusted. |
| Light, easy to transport, and stylish. | Small shelf that may struggle to hold an interface. |
Check out Stanton Uberstand on Amazon.
Best Premium DJ Laptop Stand: Crane Stand Pro
Premium Option
Crane Stand Pro Laptop Stand
Includes a subtray (free)
Carry bag included for easy travel
Effortless setup with the included owner's manual
Folds flat
We earn a commission if you make a purchase, at no additional cost to you.
The Crane Stand Pro is a premium laptop stand that has all the bells and whistles, but its high price may discourage some buyers.
It's easy to set up, made with light and durable metal, and folds into a flat surface to fit any kind of storage. Further, it can hold laptops up to 17 inches in size and won't wobble due to its high build quality. It also has an additional shelf, but it isn't large or firm enough to hold additional gear besides small drives.
This stand is a fan favorite even though it can set you back over a hundred dollars. Since it's extremely durable, you won't need any other stand for many years.
| Pros | Cons |
| --- | --- |
| Simple, compact design that is stylish and ergonomic. | Flimsy shelf of inferior quality compared to its platform. |
| Made with lightweight but extremely durable materials. | Expensive and harder to come by. |
Check out Crane Stand Pro on Amazon.
How to Pick the Best DJ Laptop Stand: Step by Step
The laptop stand you choose should cater to your needs. The four primary criteria to look out for are:
Durability
Ergonomics
Portability
Stability
Let's dive into each consideration to understand its importance.
Durability
You should consider purchasing a durable stand that's built with high-quality materials. A sturdy product can last up to 10 years if you handle it with care. You are more likely to replace it with another one with different features before it breaks.
You also shouldn't skimp out on a flimsy stand, as an accident could potentially take out both your stand and laptop, making you spend a larger sum of money. Consider your equipment's weight too and ensure the stand you choose supports it. You don't want your setup to collapse.
Ergonomics
Your laptop stand should fit your body and preferred setup. If you're in doubt, opt for one with adjustable height and positioning, since comfort is one of the most important aspects of a DJ table. This way, your stand will adapt to any environment, whether sitting or standing behind your station.
You should also consider how much equipment you take to each gig. If you have a minimalist setup, a simple stand will do. If you use many interfaces and mixers, consider getting a stand with a tiered or side-by-side setup or extra shelves.
Portability
Portability is key if you're performing in different venues regularly. Some stands are a hassle to put together and may be too heavy to carry along with the rest of your equipment.
Stability
Be sure to look into stands with a clamping mechanism if you usually DJ in small, crowded venues. Otherwise, your laptop could fall from a considerable height if someone were to bump into it. We all know how nightclub crowds can get once the alcohol starts flowing, so this is a sound precaution to take.
What to Know Before Buying a DJ Laptop Stand
Whichever laptop stand you choose to buy should be able to hold your laptop or the equipment you want to place on it firmly. If you're committed to DJing, avoid looking for a bargain stand, and look for one that will secure your PC.
Also, consider its size and weight if you travel a lot, as some stands, while sturdy, may weigh you down.
Using a DJ Laptop Stand: What It's Like
Once you start using a laptop stand, you'll never go back to placing your computer on makeshift surfaces or on the edges of cluttered tables. In addition, if you've been slouching over to reach your computer, you'll instantly reap the benefits of making your setup more ergonomic.
The added comfort this product brings will make DJing more pleasant and could even make you a more proficient DJ.
The image featured at the top of this post is ©Pixel-Shot/Shutterstock.com.