Key Points
The Garmin 67W, Cobra SC 400D, and Vantrue N1 Pro are some of the best dash cams.
The 67W is reliable when you're away from your vehicle.
The Garmin 67W's sweet features require it to be on a WiFi network.
The best dash cams offer quality video performance, night vision, and 24-hour monitoring. Some cameras will even feature dual recording capabilities. These devices are essential in case of an accident and help you monitor your vehicle while you're away.
While you're looking through the best dash cams, you might be tempted at 4K resolution models. Remember, this isn't everything, and it's important to compare all the features so you can find the right model that fits your needs.
After reviewing dozens of options, we've ranked the best dash cams for 2022:
Best Dash Cam Specs
Model
Video Quality
Field of View
GPS Tracking
Display
Price
Garmin 67W
1440p
180 degrees
Yes
2″
$250
Cobra SC 400D
Front: 4k
Rear: 1080p
140 degrees
120 degrees
Yes
3″
$400
Vantrue N1 Pro
1080p
160 degrees
No
1.5″
$80
Viofo A129 Pro Duo
Front: 4k
Rear 1080p
130 degrees
140 degrees
Yes
2″
$250
Garmin Dash Cam Mini 2
1080p
140 degrees
No
None
$120
Best for Older Cars
Garmin Dash Cam 67W
1,440p resolution
Extra-wide 180-degree field of view (FOV)
Monitor your car while away
Voice control
Compact and discreet
Includes memory card
We earn a commission if you make a purchase, at no additional cost to you.
With great features, high-quality resolution, and the dependability you can expect from the auto-tech industry leader, the Garmin 67W is one of the best dash cams on the market. The device is small enough to fit in your pocket, yet powerful enough to capture even the smallest details in tough conditions. And if that's not enough, the 67W features exclusive Connect software that gives you access to the camera from anywhere in the world.
The dash cam is equipped with a front-facing camera with 1440p resolution. The camera has a 180-degree field of view (FOV), which allows it to capture details of the scene that most competitors cannot. While some see a wide FOV as a disadvantage due to the distortion and lack of detail that results, Garmin's high dynamic range (HDR) function helps solve these potential issues. And when it matters, the camera captures important information, even in inclement weather or in the dark.
The 67W is also reliable when you're away from your vehicle. The dash cam is equipped with 24-hour monitoring, and will automatically upload footage to a microSD (or even to the cloud with an internet connection) if the device detects any accidents. What's more impressive is that if your device is connected to the Garmin Drive app, you can view that incident footage from home, work, or wherever you might be.
Now, many of the Garmin 67W's sweet features require it to be on a WiFi network, so unless you're packing a mobile hotspot, you might not have access to your device all the time. But the dash cam can auto connect to several WiFi networks, so once it's on your home and work network, you're fairly set. You can find the Garmin 67W at a price of about $250.
Check out Garmin 67W on Amazon.
Cobra Smart Dash Cam + Rear Cam (SC 400D) – UHD 4K Resolution, Alexa Built-In, 3-Camera Capable, Live Police Alerts, Emergency Mayday, Drive Smarter App, 3" Touchscreen, Wi-Fi & GPS, 32GB S...
UHD VIDEO (4K) – With Ultra HD 4K resolution, you'll get 4x the pixel resolution of 1080P, so you can see and capture every detail on your drive. Includes rear-view accessory camera to see the front...
ALEXA BUILT-IN – This dash camera comes with Alexa built into its system. From playing music in your car to navigating or finding restaurants, Alexa is ready to help answer any question or request...
3-VIEW CAPABLE – Includes front-facing SC 400D dash cam and a rear-facing accessory camera to provide dual-view capability. Add on an optional cabin-view accessory camera to record the road ahead,...
HEADS-UP NAVIGATION – Drive safer with on-screen notifications to upcoming turns, even if your map is running in the background on your phone. Making the perfect car accessory for ensuring you get...
LIVE POLICE ALERTS ON-SCREEN – Get exclusive live police alerts on-screen with the Cobra SC 400D. Cobra SC smart dash cams are the only products that show exclusive live police alerts like radar...
We earn a commission if you make a purchase, at no additional cost to you.
Now what if you want all the quality footage and 24/7 monitoring of the 67W, but with added touchscreen capability, Alexa support, and a rearview camera? Then you want to check out the Cobra SC 400D. While you can expect to pay quite a bit more for this dash cam, its design, ease of use, and a myriad of features make it worth the price tag if you can afford it.
The SC 400D comes has a front camera that records at 4K resolution at a 140-degree FOV. The model also has a rear camera with 1080p capability and 120-degree FOV. The two cameras connect with a 3.5 mm to mini-USB cable. So while you have access to some of the most detailed footage, you also get industry-standard resolution while recording front and rear simultaneously.
The camera's 4K resolution is particularly useful at night. If you often drive late into the day, having a reliable dash cam that can capture crisp footage is essential in the event of an accident. The camera's G-sensor automatically saves footage to an emergency save and SD card, meaning you have essential info when you need it.
For a premium dash cam like the SC 400D, it would be nice to see cable ports that accept USB-C for better interoperability. In the meantime, you'll have to carry around an extra cable exclusively for your camera.
Check out Cobra SC 400D on Amazon.
Vantrue N1 Pro Mini Dash Cam Full HD 1920x1080P Car Dash Camera 1.5 inch 160 Degree DashCam with Sony Night Vision Sensor, 24 Hrs Parking Mode, Motion Detection, Support 256GB Max(2023)
【FHD 1080P Mini Dash Camera with Super Night Vision】With mini and compact design (Size: 2.5x1.95x1.5in), the dashcam takes up tiny space in your car, which won't obstruct your vision while...
【24H Parking Monitor & Collision Detection】With built in battery, this dash cam can be triggered by collision detection without hardwiring, it will auto power on and end recording after 20s once...
【Seamless Loop Recording & G-sensor】When the storage limit is reached on the memory card, new recordings will automatically overwrite oldest recordings. Triggered by G-sensor, it can automatically...
【Heat- Resistant & Optional GPS Function】Made of the PC and ABS materials, the working temperature is from -4℉ to 158℉ (-20℃ to 70℃). With high heat resistance chipset, the cam has longer...
【Time lapse & 18-Month Warranty】The car camera will keep taking photos at the set time interval and then auto edit them together to a video clip once time lapse enabled, thus reducing the size of...
We earn a commission if you make a purchase, at no additional cost to you.
On the other end of the scale, you won't compromise quality for price with the Vantrue N1 Pro. At just $80, users find a great camera stripped down of all the bells and whistles and offering all of the essentials. The dash cam features quality resolution, night vision, and concise usability in a small frame.
The N1 Pro records video at 1080p with 160-degree FOV, showing a great range of objects at great resolution. The camera runs on a tiny, lithium-ion battery, which gives it a long lifespan between charges. And for additional features, such as 24-hour parked car monitoring, the N1 Pro easily connects to an external battery pack or can even be hardwired into the vehicle.
For a dash cam under $100, it's surprisingly reliable in dark or inclement conditions. The camera automatically saves footage in the event of a crash, and users can also manually save clips while the device is recording.
While the N1 Pro doesn't have all the same features as our preferred options (don't expect internet or Bluetooth capability with this model), it's the perfect camera for those that don't have to hassle with additional buttons. At the end of the day, the device does exactly what we need it to do: record driving behaviors.
Check out Vantrue N1 Pro on Amazon.
Best Double Camera
VIOFO A129 Pro Duo Dash Cam
4K +1080p front and rear dashcam
5GHz Wi-Fi GPS built-in
Ultra HD dual car camera
Sony 8MP sensor
Buffered parking mode
G-Sensor
Motion detection
WDR
Loop recording
We earn a commission if you make a purchase, at no additional cost to you.
While the forward-facing camera is enough for some, others like to know what's going on behind their vehicle. In this case, the best model for front and rear capability is the Viofo A129 Pro Duo. While the device is a little bulkier than most, it features a massive screen and easy-to-use controls. And when it comes to simultaneous recording, it's hard to find a model producing as crisp footage (without spending $400, that is).
The dual camera consists of a 4k UHD front camera with a 130-degree FOV. While its width is the shortest on our list, the A129 Pro trades FOV for some of the clearest footage you'll find in a dash cam. A 1080p rear camera with 140-degree FOV completes the ensemble for a powerhouse of video content.
The unit also does a great job capturing footage at night. Its parking mode will automatically save footage like our other dash cams. You can use the unit's smartphone app to watch the clips. However, the A129 Pro Duo requires a power source after the vehicle is shut off. 
The only downside about this dash cam is its permanency. The device doesn't remove from its semi-permanent mount, and its large size makes it a pretty noticeable target for nefarious individuals. Still, at just under $250, this consideration is well worth all the benefits you receive for the price.
Check out Viofo A129 Pro Duo on Amazon.
Digital Village Garmin Dash Cam Mini 2, 1080p, 140-degree FOV, Incident Detection Recording Bundle with SanDisk 64gb Card, High Speed Card Reader, Camera Lens Pen
This Bundle Contains: 1 Garmin 010-02504-00 Dash Cam Mini 2, Car Key-Sized Dash Cam, 140-Degree Wide-Angle Lens, Captures 1080P HD Footage, Very Compact with Automatic Incident Detection and Recording...
This diminutive dash cam about the size of a car key automatically records and saves captured footage of incidents
Parking Guard feature automatically alerts you to incidents around your parked vehicle (required Constant Power Cable available separately)
Dash Cam Auto Sync enables you to control and play back footage from up to four cameras in the Garmin Drive app for iOS and Android
Voice control enables you to save footage, start or stop audio recording, take still images, and more | Vault storage saves videos online securely for 24 hours that can be accessed via the Garmin...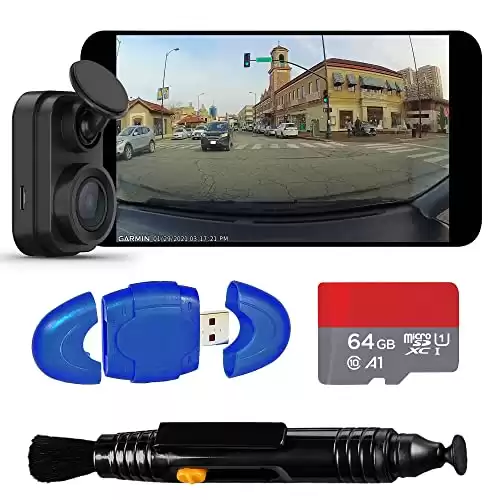 We earn a commission if you make a purchase, at no additional cost to you.
If the size does make a considerable difference, however, you'll want to have a look at the Garmin Dash Cam Mini 2. This little toy measures only 2 inches by 1.25 inches and is one of the smallest dash cams on the market. But don't let its short stature fool you; Garmin's incognito camera records video that competes with models twice its size.
Okay, a stealthy dash cam that doesn't sacrifice quality is a lofty request; the Mini 2 doesn't come with a display and only features two control buttons. However, it records video at an incredible 1080p and 140-degree FOV. While not as crisp as some of the 4K models, you'll still be able to see all the necessary information in the event of an accident.
And where it does away with usability, the Mini 2 features voice control for changing settings on the go. And even more impressive, the dash cam has WiFi connectivity, allowing users to sync with the Garmin Drive app to manage video footage. 
The camera has night vision and 24-hour monitoring, but don't expect it to perform as well as some other models in the dark. It also requires a power source when the vehicle is off, which honestly just takes away from the unit's stealth. Still, at just $130, here is a dash cam designed by some of the best in the business that you won't have to worry about sticking out like a sore thumb.
Check out Garmin Dash Cam Mini 2 on Amazon.
How to Choose the Best Dash Cams: Step by Step
When choosing a portable charger there are four main considerations.
Recording Quality
Night Vision and Monitoring
Mounting
Features
Let's review each one in more detail.
Recording Quality
Whether your objective is to hedge from accidents or record beautiful road trip landscapes, you'll want to consider the resolution and field of vision your dash cam records at. Many users find that dash cams with no less than 1080p are sufficient for recording footage with enough detail. However, if you're someone that spends more driving time at night, you might want even more quality than that.
The field of view (FOV) is also an important aspect; while a wide range of vision helps include important aspects of a scene, too much range can distort the video and make obstacles seem farther away than they really are. Furthermore, a wide field of view leaves the edges of your video in poor quality.
Night Vision and Monitoring
If your goal with a dash cam is to protect your vehicle, then night vision and 24-hour surveillance are must-haves. These cameras often require an alternative power source, so you'll have to consider connecting your unit to an external battery or even hardwiring it to the vehicle.
Dash cams with parked-car monitoring won't use space on your SD card unless there is a disturbance. The vast majority of dash cams use G-sensors to detect abrupt movements. In the case of a collision, while you're away from your vehicle, the camera will automatically save footage of the moment before and after the incident so you can use it for evidence.
Mounting
There is a variety of mounting systems among dash cams that appeal to different users. While some, such as suction cup mounts, are simple to use and remove, they aren't as secure. For those spending hundreds of dollars on a camera, semi-permanent mounts typically hold up better. 
Most manufacturers sell a choice of mount types depending on your needs. However, some brands (such as the Viofo A129 Pro Duo) aren't removable from their mount once it's secured. Other models even require hardwiring and permanent mounting. Keep in mind how you plan on using your dash cam before looking at mounting options.
Features
In addition to these notable aspects, dash cams include a wide array of features. Keep an eye out for:
Display and controls
WiFi and smartphone connectivity
GPS receivers
Multiple cameras
Driver assistance
Capacitor power supplies
What to Know Before Buying a Dash Cam
Many might look at the resolution and chomp at the bit when they see 4K resolution. While the camera does produce some of the highest quality images out there, it's easy to forget about storage. 4K video uses about 4x the storage space as typical 1080p HD footage. At that rate, you could easily fill up a 32GB SD card in a matter of hours. Before buying a dash cam, consider how often you need to record and when it's necessary.
Another aspect to consider is how much you really need additional features. For instance, smartphone connectivity is practically necessary for a smaller dash cam such as the Garmin Mini 2, but maybe not so much in the Cobra SC 400D. For all these extra features you can expect a higher price tag. When it comes to value, think about how you'll actually use your device.
Using a Dash Cam: What It's Like
Dash cams should record video that provides valuable information in the event of an accident, but they should also activate when it detects a collision. While it's easy enough to test the camera (we recorded driving day and night), it's not as simple to get in an accident for the sake of testing. Instead, a simple tap on the side of the camera is enough to simulate an impact.
While viewing the recorded video from the Cobra and Viofo models makes one want more from the other models, they all produce footage that would help identify other vehicles. The only one that struggled was the Garmin Mini 2, and it was at night. Otherwise, each device has quality G-sensors that activate the camera when they need to.
Next Up…