If you're a loyal Costco member, you already know about the plethora of benefits and discounts to enjoy within their hallowed warehouses nationwide. If you aren't a member, then you might want to consider becoming one. Especially after hearing about the kind of deals to be found on electronics of all shapes and sizes.
From laptops to AirPods to smart watches to televisions, Costco warehouses offer unbeatable deals on all the tech you're looking for. Don't believe it? Just take a look at the best Costco TV deals available to you today.
No matter if you're shopping on a limited budget, looking for something more in the middle of the road, or have an endless amount to spend on the best thing money can buy, Costco has a wide range of options for all spending limits. TVs are no exception.
Below, we've compiled three serious contenders for the best Costco TV deals today. We've also taken into account the best options for small, mid-range, and unlimited budgets. Read on to learn which TV is best for your price limit. Then, continue on for some more helpful tips about the best Costco TV deals.
Best for Unlimited Budgets: LG – C2 Series – 4K UHD OLED TV
Best for Mid-Range Budgets: Sony – X80CK Series – 4K UHD LED LCD TV
Best for Small Budgets: Hisense – A65H Series – 4K UHD LED LCD TV
Best for Unlimited Budgets: LG C2 4K UHD OLED TV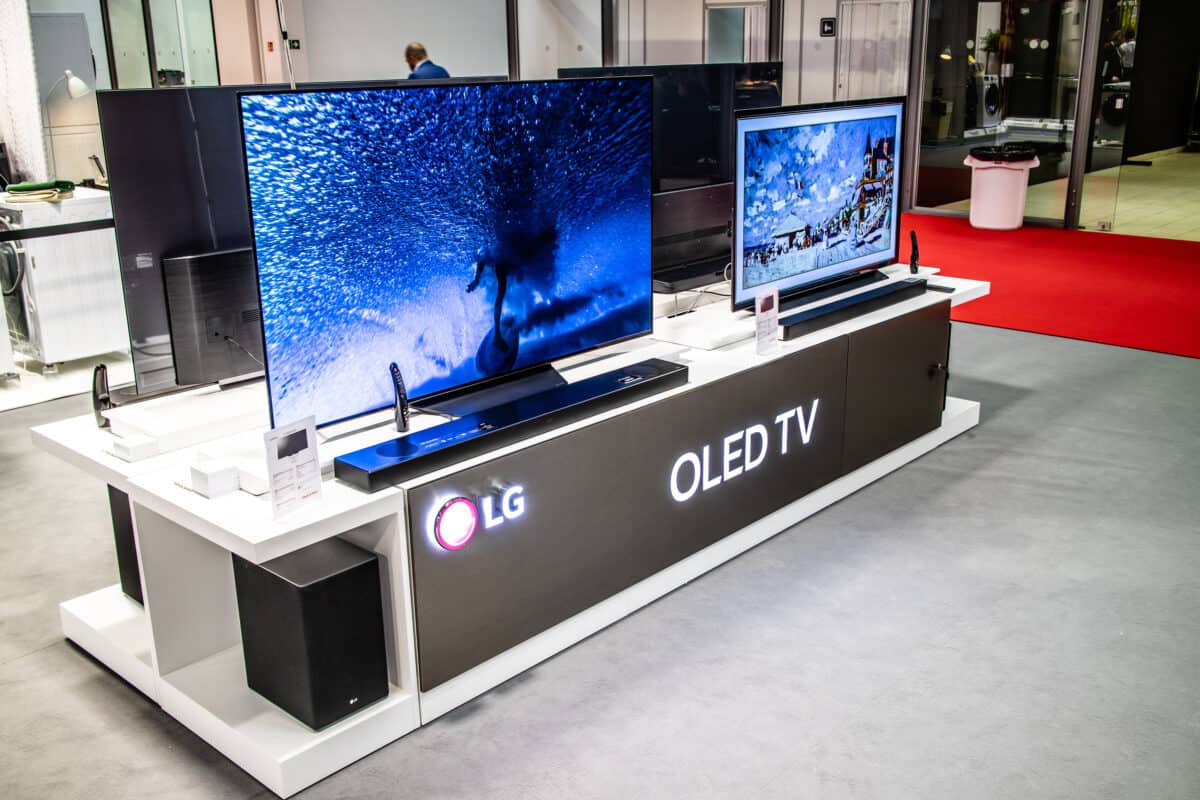 If money isn't a concern for you, then the LG C2 4K UHD OLED TV is going to be your very best bet. While that might sound like a ton of nonsense — UHD? OLED? What? — the LG C2 is the very best (and by far the most expensive) TV you can find at Costco today.
Ranging in price anywhere from $999 for a 42″ LG C2 all the way up to $4,499 for the 83″ Class, this particular TV utilizes the latest and greatest in TV technology — meaning OLED — to deliver the very best picture quality standards in consumer tech — that's 4K UHD.
Equipped with a Dolby Vision HDR10 color gamut, the LG C2 4K UHD OLED TV is widely considered to be the favorite for movie lovers, TV bingers, sports watchers, video gamers, and even computer users who double their TV as a monitor. Costco's deals on the LG C2 bring the price down quite significantly, knocking $800 off the 83″ Class's MSRP of $5,299.99.
The savings are equally significant across the smaller-sized LG C2s. If money's of no concern to you, the LG C2 4K UHD OLED TV is a real highlight of the best Costco TV deals today.
Best for Mid-Range Budgets: Sony X80CK 4K UHD LED LCD TV
While not as heralded as the priciest TVs and not as budget-friendly as the lower-priced models, the Sony X80CK 4K UHD LED LCD TV is nevertheless a great pick for those of us shopping with a hard price limit to abide by. This television might not reach the heights of the LG C2, but it's not going to result in a drastically (and maybe not even noticeably) different viewing experience.
Priced at just $999 for the 75″ Class, with prices only dropping from there, the Sony X80CK is perfect for those of us who don't want to exceed four figures on a TV but still want a quality product. Costco offers remarkable savings on the Sony X80CK, making it an easy pick for the best Costco TV deals today.
The 55″ Class — which will be more than enough TV for the average consumer — costs just $579, nearly $150 cheaper than the MSRP of $700. Boasting 4K UHD picture quality with the same Dolby Vision HDR10 color gamut as the LG C2, the naked eye will be hard-pressed to find any noticeable difference in picture quality compared to the more expensive LG C2. It's an excellent TV at an even greater price.
Best for Small Budgets: Hisense A65H 4K UHD LED LCD TV
Not all of us have hundreds upon hundreds of dollars to spend on a television. Even with the best Costco TV deals, we still need to find a good product without spending too much money. Regardless of how much has been knocked off the MSRP, over budget is still over budget.
For this reason, we've found the best deal on a TV in Costco's warehouse for those of us looking for something cheap but nonetheless functional as a 4K UHD TV. Your best bet? the Hisense A65H 4K UHD LED LCD TV.
At Costco, you can lock down a Hisense A65H 65″ Class for just $399. That's even bigger than the Sony X80CK 55″ Class, and at a fraction of the cost to boot. Even at such a low price, you're still getting 4K UHD picture quality, Dolby Vision HDR colors, and all the smart TV features found in any of the more expensive options.
The cost only drops lower for smaller models, too. A 43″ Class, which will do just fine in the average bedroom or living room, costs just $229.
How to Pick the Best Costco TV Deals: Step By Step
Before making a decision on which of these best Costco TV deals to take advantage of this holiday season, it's best to follow these few steps first. As with any big purchase, it helps to take stock of what you're about to do.
What's your budget? Is your purchase the best fit for your environment? And what do you need most from the product to begin with? These questions are no different when buying a television. Here are the steps to take before making that big purchase.
Set a Budget
Firstly, before making a decision, you should determine how much you actually want to spend in the first place. Some important considerations: a Costco membership will cost you anywhere from $60 to $120 depending on your membership level.
If you don't have a membership yet (or simply need to renew your existing one), you should account for this additional cost on top of the price of your television. Not to mention, as with anything, you can expect to pay a percentage in sales tax in addition to the TV's listed price. Set a budget, stick to it, and keep these additional costs in mind.
Measure Your Space
Secondly, consider the size of the television itself. You might think that you can squeeze an 83″ television on top of that TV stand that looks about seven feet long, but in reality, you need some space on all sides of the television for safety reasons.
You should also keep in mind that the advertised size is merely the diagonal measurement from the top corner to the opposite bottom corner. The actual length, width, and height of the television are going to be different numbers entirely. Measure everything — the TV, the stand, the living room — to make sure it'll really fit.
Determine Your Priorities
Thirdly, take your priorities into account. Do you play more video games than watch TV? Do you spend most of your TV time playing Blu-rays and very little of it watching live sports? Or are you more of a general user, doing a little bit of everything all the time?
These priorities will impact which TV is truly best for you. Some TVs are better suited for gaming. Others are best for movies. Some are optimal for sporting events. If you're not sure which one is best for your needs, there's sure to be a helping hand in the entertainment section at your local Costco.
What to Know Before Taking Advantage of the Best Costco TV Deals
A couple more things you should know before checking out the best Costco TV deals. Firstly, Costco warehouses have far more than just the few television brands and models listed above. From Samsung to Sony to LG to Vizio to Hisense and beyond, Costco has a whole slew of options available to choose from.
If one of the three listed above doesn't suit you, then feel free to browse the aisles of your local Costco warehouse and take a gander at their selection instead. You might find something even better for your particular needs than the ones listed here. Secondly, Costco warehouses are known for having some of the very best warranties and return policies in the country.
Should you take advantage of one of the best Costco TV deals and ultimately decide it's not the best fit for you, your local Costco should be more than willing to return or exchange your television. (Obviously barring any sort of damage or scratching or user error that has potentially led you to the Costco customer service desk.)
They're incredibly accommodating and understanding there, making returns and exchanges as simple as can be. You really can't go wrong.