The best apps for mountaineering can help you stay safe on the trail, even without internet service. But with so many locations and little information, finding the right program for you can prove challenging. Considering that many apps ask for purchases or memberships, you want to make sure you're spending your money wisely.
If you have no idea where to start with mountaineering apps, we've got you covered. From safety information and weather patterns to highly-rated trails and community support, these programs provide all the content you need to successfully start your summit. Continue reading for the mountaineering apps you need to check out.
10. Knots 3D (4.8 Stars, 18,000 Reviews)
At thousands of feet of elevation, a properly tied knot can save your life. While that sounds good on paper, it's hard to get enough practice out in the field. With Knots 3D, you have access to an entire library of knots for everything from mountaineering to fishing.
Our favorite aspect of this app is the level of interactivity; choose from over 175 knots to learn and analyze in 360 degrees. You can zoom in and out of the model and even use your fingers to manipulate the rope. There's no other app that portrays these knots as accurately as Knots 3D, which makes it the program of choice from Scouting Magazine, among others.
Compatibility: Android, iOS
Last Update: December 2022
Price: $5.99 (one-time purchase)
9. PeakVisor (3.4 Stars, 400 Reviews)
Naturalists across the world can agree that a feature in the distance draws attention. If you're heading upward and want to know the name of that rocky neighbor, there's no better program than PeakVisor. As one of the best apps for mountaineering, you can discover the details of surrounding features using GPS and 3D mapping technology.
The app provides a whole list of information for the curious outdoors person. Learn the names, contour lines, elevation, distance, and even the sun direction of the mountains around you. We particularly love that this app works offline. So, even if you lose service on the trail, you have access to the service.
Compatibility: Android, iOS
Last Update: December 2022
Price: $4.99 (one-time purchase)
8. Cairn (3.9 Stars, 50 Reviews)
Whether you're climbing peaks or sitting pretty at the lake, considering your safety is critical. With the Cairn app, you can share your outdoor excursion with your friends and family with the click of a few buttons. This way, you always have someone that knows where you are.
We particularly appreciate how far the app goes to keep your location up to date. Cairn provides real-time tracking as long as your phone has service, and even offers crowdsourced connectivity spots in the area.
For all these safety features, the developers offer the app for free. This makes Cairn one of the fastest growings apps in the outdoor industry.
Compatibility: Android, iOS
Last Update: May 2022
Price: Free (in-app purchases)
7. MyRadar (4.5 Stars, 250,000 Reviews)
The weather might seem nice in your area, but that can all change at the peak of a mountain. When the elements make or break a summit, you want to have the closest forecast in elevation.
Using a live radar compiled from multiple official trackers, MyRadar provides all the info you need to approach the mountain safely. These include wind speed, air quality, and even wildfires.
Where MyRadar differs from other weather apps is its ability to provide data at elevation. Using your exact coordinates, it can accommodate differentiating weather patterns as you ascend. This helps you determine when (or if) you should attempt to summit. These features make MyRadar one of the best apps for mountaineering.
Compatibility: Android, iOS
Last Update: January 2023
Price: Free (in-app purchases from $2.99 to $24.99)
6. Google Maps (4.1 Stars, 16,600,000 Reviews)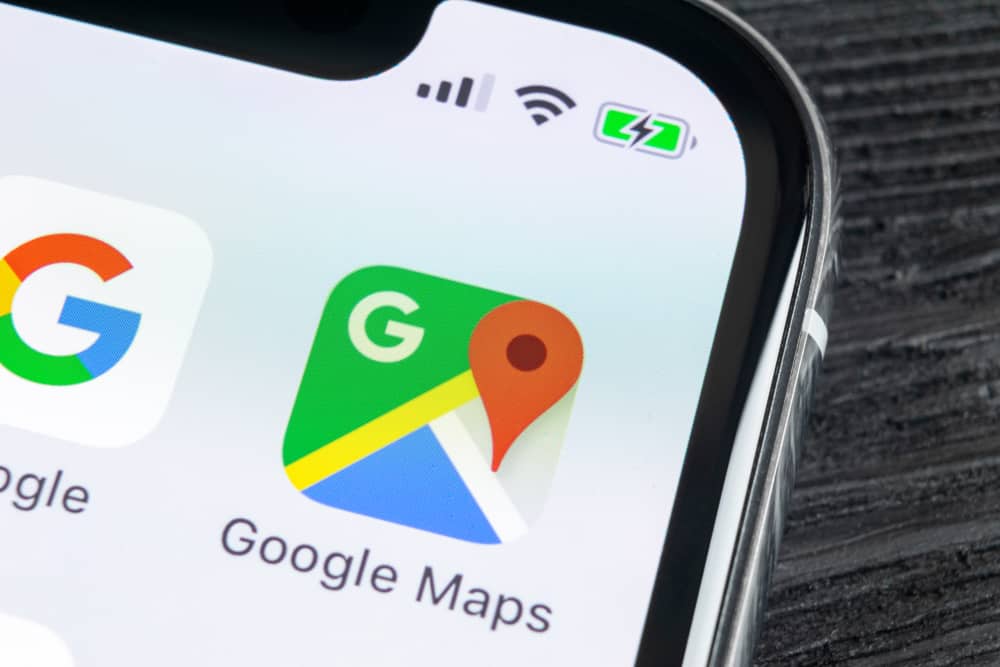 Part of the navigation lies in discovering the trail, and the rest in discovering the trailhead. When it comes to traveling from your home to the mountain, there's no better app than Google Maps. With nearly 17 million reviews on Google Play, this is the most used navigation app in the world.
Google Maps allows users to add destinations. This means that you're likely to find the trailhead for any mountain you wish to approach. The ability to drop a pin and navigate to the closest point also helps make unmarked features accessible. Drive right to the location using GPS, or download the local map for offline use.
Compatibility: Android, iOS
Last Update: December 2022
Price: Free
5. The Dyrt (4.5 Stars, 15,000 Reviews)
Listed as our favorite app for camping, the Dyrt has one of the most extensive lists of camping spots on any platform. For those attempting to approach a mountain far off, you'll want this program to help you find a place to set up for the night. Beyond camping locations, The Dyrt has one of the largest communities to help keep it verified.
While access to the app can feel limited for the free version, members receive quite a few perks. From bonuses for quality reviews to exclusive camping contests, it's no wonder the community loves to get involved.
Compatibility: Android, iOS
Last Update: December 2022
Price: (PRO membership starting at $35.99/year)
4. Mountain Hub (Reviews Unavailable)
When the weather can change without notice, catching road conditions as they happen will help you stay safe on your way to the trailhead. Google Maps provides some updates, but likely not the ones deep in the mountains.
For road conditions closer to your off-grid destination, the crowdsourced Mountain Hub app has you covered. With snow reports from thousands of users, you won't get more accurate readings anywhere else.
As of this writing, Mountain Hub was donated to Community Snow Observations. NASA-sponsored, this service now has major backing as one of the country's best snow science programs. Their map is free to use and has a variety of metrics used to estimate snowfall.
Compatibility: N/A
Last Update: N/A
Price: Free (Mountain Snow website)
3. Ramblr (4.6 Stars, 7,700 Reviews)
One of the most interactive tracking apps, Ramblr allows users to practically tell their "mountain story" and share it with the community. Working similarly to other tracking apps, this one goes deep into the analytics.
Keep an eye on distance, elevation, and speed while uploading geotagged notes and images. This allows anyone viewing the trip to see the progress as it happens.
The tracking app also gives users access to multiple supplementary features. These include offline GPS tracking, downloadable treks, and content sharing. This way, you've always got a next trip to embark on.
Compatibility: Android, iOS
Last Update: January 2023
Price: Free (in-app purchases from $0.99 to $99.99)
2. Gaia GPS (4.4 Stars, 12,600 Reviews)
When you're on an expedition to the top of a mountain, it's helpful to know land designations for safe and lawful camping. There's no better mapping app than Gaia GPS for navigating the backcountry. Combining up-to-date zoning from official agencies, such as USFS, BLM, National Geographic, and more, this program provides accurate topography.
What makes this one of the best apps for mountaineering is its deep catalog. As part of the Outside Interactive network, users have access to some of the best outdoor information anywhere. And premium members get even more benefits, including offline GPS, established camping, and a variety of outside content.
Compatibility: Android, iOS
Last Update: December 2022
Price: Free (membership starting at $2.33/mo)
1. OpenSummit (4.5 Stars, 140 Reviews)
Like MyRadar and Mountain Hub combined, OpenSummit is a radar app specifically designed for elevation. While its backing lacks in both weather and road conditions, the app works perfectly for planning trips around conditions.
Where this radar app differs from others is its focus on adventure; using a list of aspects, OpenSummit provides estimated trail conditions and recommended weather windows.
The radar app also goes into detail with its metrics. OpenSummit provides insights into essential conditions including air quality, smoke, lightning, and estimated snowfall.
One of our favorite features of the app is the ability to download all of this for offline use. Simply do your research on your location and take off; wherever you are, you can remember what to expect.
Compatibility: Android, iOS
Last Update: September 2022
Price: Annual membership starting at $29.99/year
What to Know Before Downloading the Best Apps for Mountaineering?
You might have read through our list of the best apps for mountaineering and thought you were ready to summit. However, before you download one of these programs to use in the field, it's essential to know that some have limited offline use.
Before you lose service, take time to explore the app and discover its downloadable features. This can save you time, ensuring you don't have to backtrack just to use it.
On the same path, several mountaineering apps hide their best content behind a membership. This means that if you're hoping for totally free content, you might feel underwhelmed.
In most cases, the monthly payment isn't much more than a cup of coffee per month, and the benefits are definitely worth the price. For the best apps, take a look at your budget and see what you can afford.
Summary of the Best Apps for Mountaineering
| App | Rating | Reviews |
| --- | --- | --- |
| 1. OpenSummit | 4.5 | 140 |
| 2. Gaia GPS | 4.4 | 12,600 |
| 3. Ramblr | 4.6 | 7,700 |
| 4. Mountain Hub | N/A | N/A |
| 5. The Dyrt | 4.5 | 15,000 |
| 6. Google Maps | 4.1 | 16,600,000 |
| 7. MyRadar | 4.5 | 250,000 |
| 8. Cairn | 3.9 | 50 |
| 9. PeakVisor | 3.4 | 400 |
| 10. Knots 3D | 4.8 | 18,000 |
Best Apps for Mountaineering: Further Reading
The best apps for mountaineering can keep you on the right path so you can explore completely and safely. And many of these work well with other outdoor activities. For more apps and tech, you can use to further enjoy your time in nature, check out the articles below.
The image featured at the top of this post is ©Olga Danylenko/Shutterstock.com.