Key Points
Our #1 choice for the best Alexa device actually worth using today is the Amazon Echo Dot.
When looking at an Amazon Alexa-compatible device, you should know voice commands differ by functionality.
It's important to know that Amazon does not require any fee or Prime membership to use Alexa.
Ever since Amazon Alexa was released in 2014, it has quickly grown into one of the most prominent voice command systems. Fast forward to today, and Amazon Alexa has grown into a system best known for being able to turn on the lights in your home, adjust your thermostat, open or lock your front door, or order any Amazon product you want.
Part of Alexa's growth was due in part to the Echo, Amazon's series of devices and hardware that serves as the centerpiece of the Alexa experience. While Alexa has grown well beyond Echo devices, they remain a central part of Alexa's history and still rank as arguably the best way to use Amazon Alexa today.
Let's take a look at the 7 best Alexa devices that are actually worth using today.
#1 Best Overall: Amazon Echo Dot
#1 Best Overall
Echo Dot 5th Gen (2022)
The best-sounding Echo Dot yet
Built-in LED display enables clock, weather, song titles, and more
Ask Alexa to show you either or tell you a joke
Control compatible smart home devices through Alexa voice commands
We earn a commission if you make a purchase, at no additional cost to you.
There is no shortage of Amazon Echo products available from the company, but the Echo Dot is the absolute best way to use Alexa right now.
Among the Echo, Fire TV Cube, Echo Sub, and the Echo Dot, the latter stands out as the best bang for your buck. Available in two different colors as well as a kid-friendly version, it's the best-sounding Echo Dot Amazon has ever released. The highlight is not the addition of a light-up clock but the deep integration of Alexa. With Amazon Alexa, you can easily ask the Echo Dot the day's weather, double-check a song title, set up a hands-free timer, get answers to any number of questions, or ask Alexa to tell you a joke.
Where Alexa really shines on the Echo Dot is the ability to control any compatible smart devices you have in your home. You can ask Amazon Alexa to unlock your door if you have a smart lock, or turn on air conditioning if you are too warm with a smart thermostat. If you have kids, picking up the fun animal design and using it as an alarm clock in their rooms is a definite bonus.
| Pros | Cons |
| --- | --- |
| The very best way to start using Alexa | The kid's version still requires adult supervision |
| Inexpensive and often on sale | The clock light might not be for everyone |
Best Smart Lights: Philips Hue Starter Kit
Best Smart Lights
Philips Hue Starter Kit
Total of 75 watts with 1100 lumens of light
Up to 16 million colors are available adjustable through voice commands
Schedule your own light scenes
Easily expand your Philips Hue system with more lights
We earn a commission if you make a purchase, at no additional cost to you.
One of the absolute best ways to use Amazon Alexa in a way that is both fun and functional is with the Philips Hue starter kit.
Smart bulbs are by no means a new entry into the smart home device kit, and they remain as fun as ever to install and use. The starter kit includes four lightbulbs with 1,100 lumens of light at 75W of power, which is more than enough light to turn any room vibrant. With more than 16 million colors available, you can easily adjust your smart lighting by using Alexa. As soon as you have connected to Amazon Alexa from inside the Philips Hue app, you can say "Alexa, turn on the lights," or "Alexa, turn the living room green," and these actions happen instantly.
Needless to say, having the ability to dim the Philips Hue lights with the sound of your voice feels like you are living in the future. Except it isn't the future, and there are well more than a dozen different Alexa commands you give your Philips Hue starter kit.
| Pros | Cons |
| --- | --- |
| Undoubtedly the best smart lights available today | Sometimes they feel like a novelty |
| More than 16 million colors are available | Buying multiple bulbs can add up quickly |
Best Smart Display: Amazon Echo Show 10
Best Smart Display
Echo Show 10
Powered by Alexa, use your voice to control your home including security cameras, doorbells, and lights
10.1" touchscreen display for video calls and content
Motion tracking with auto-framing keeps users in the picture at all times
Zigbee and Matter compatible along with an array of smart devices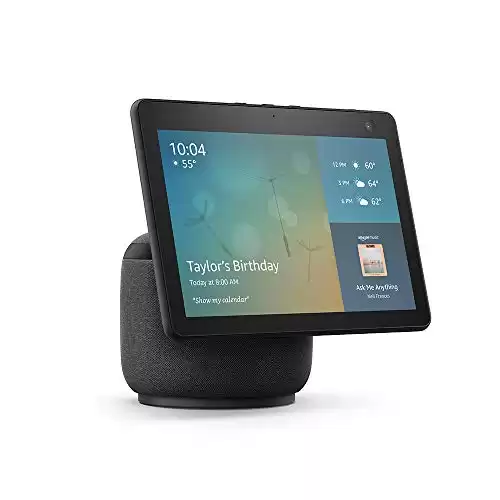 We earn a commission if you make a purchase, at no additional cost to you.
While the Amazon Echo Dot focuses largely on what its speaker can do, the Amazon Echo Show 10 adds far more value to Alexa users.
Highlighted by its 10.1-inch HD screen, the Echo Show 10 focuses heavily on what can be seen and done on screen. From video calls to looking up recipes, it's like a tablet on your countertop, but one that can almost completely operate with just the sound of your voice. Using Alexa ensures that you can ask the Echo Show 10 to play your favorite music playlist or podcast across Amazon Music, Spotify, and more.
You can also ask Alexa to show you a recipe on the screen so you can cook hands-free with step-by-step instructions. Better yet, ask Alexa to show you on-screen images from any connected smart home cameras in case someone is at your front door. In the same sense, you can also use Alexa to control your lights or adjust your smart thermostat, directly from the Echo Show 10, all without ever lifting a finger.
| Pros | Cons |
| --- | --- |
| Outstanding display that feels like a tablet | Might feel redundant if you have a Fire tablet |
| Hands-free operation is infinitely useful | Must have compatible smart home cameras |
Best Thermostat: ecobee Smart Thermostat Premium
Best Smart Thermostat
Ecobee Smart Thermostat Premium
Save up to 26% per year on heating and cooling costs
Built-in air quality monitor
Vibrant display with cinematic interface
Complete home monitoring system
We earn a commission if you make a purchase, at no additional cost to you.
There is no shortage of smart thermostats out in the market, but when it comes to Amazon Alexa-ready models, the ecobee Smart Thermostat Premium stands out.
Where smart thermostats really stand out the most is their ability to become a home monitoring hub that works to lower overall heating and cooling costs. In fact, ecobee claims its Smart Thermostat Premium can save up to 26% over a non-smart thermostat on all of your energy costs. A built-in monitor looks at air quality and gives you helpful tips to make improvements which helps lead to cost savings.
Managing thermostat functions can be done in one of two ways. The first is to control basic functions on the thermostat itself using its vibrant display and accompanying smart app. The second is to utilize a smart speaker like the Echo Dot by connecting it to the thermostat and controlling all of your home energy needs directly with Alexa voice commands. Want to change the temperature? Just say "Alexa, set the room temperature to 74 degrees." You can also say things like "Alexa, I'm hot," and the ecobee will automatically drop the temperature a few degrees.
| Pros | Cons |
| --- | --- |
| A gorgeous smart thermostat | Only useful if you change your temperature regularly |
| Claims over savings are not without merit | Self-installation isn't for everyone |
Best Smart Television: LG C2
Best Smart Televison
LG C2 42-Inch OLED evo
8 million self-lit OLED pixels deliver deep blacks and bright colors
Alpha 9 Gen 5 AI Processor 4K automatically adjusts your content to 4K
Supports Dolby Vision IQ and Dolby Atmos
Game Optimizer mode with NVIDIA G-SYNC, FreeSync Premium, and VRR
We earn a commission if you make a purchase, at no additional cost to you.
When it comes to the best televisions available today, the LG C2 is widely regarded as the best OLED TV you can pick up today.
Available in sizes ranging from 42 to 83 inches, there is so much to love about the LG C2 including its OLED evo display. Between 8 million self-lit OLED pixels, outstanding brightness, deep blacks, and Gallery mode, you're hard-pressed to find something not to like. LG's Game Optimizer mode has helped make the C2 a perennial favorite with video game consoles like the PlayStation 5 and Xbox Series X.
With Alexa enabled as soon as you unbox the LG C2, you have a host of options, including Amazon's TV streaming service. Just say "Alexa, open Prime Video." Once Prime Video is open, you can say, "Alexa, search for action movies," or "Alexa, turn off the TV." There is a litany of different voice commands you can use with Alexa and the LG C2. As a bonus, if you have your TV hooked up as a smart hub with a video doorbell, you can say, "Alexa, show me the front door," and voila, your front door appears on the big screen.
| Pros | Cons |
| --- | --- |
| Arguably the best TV on the market today | Prices for larger size screens can get expensive |
| Has some of the best gaming features in the TV space | Already outdated with LG C3 |
Best Soundbar: Sonos Arc
Best Smart Soundbar
Sonos Arc Soundbar
Includes support for Alexa voice commands, AirPlay 2, and more
3D sound with Dolby Atmos
Trueplay tuning technology produces sound optimized for your room's acoustics
Eleven high performance drivers
We earn a commission if you make a purchase, at no additional cost to you.
When it comes to soundbars, the Sonos Arc is an all-around favorite thanks to its big 3D sound with Dolby Atmos, and a feature set that is tough to match.
Sonos has long been a favorite for audiophiles looking for the very best in soundbar quality. The Sonos Arc is often considered the best in the soundbar space and for all of the right reasons. Sound comes to life with Dolby Atmos quality, which makes watching your favorite shows or movies feel as if you are right there in the action. Enhanced Trueplay tuning technology helps fill any room with just the right amount of sound so you feel truly immersed.
Best of all, Alexa gives you a host of voice commands so you can use your Sonos Arc without a remote. All you have to do is ask Sonos to play your favorite music, set an alarm, check local or world news, or ask any question as you would any other Alexa device. Everything is completely hands-free, and when you combine the intelligence of Alexa with the Sonos' beautiful design, it quickly becomes a must-own Alexa product.
| It has one of the deepest feature sets in the soundbar space | Cons |
| --- | --- |
| Has one of the deepest feature sets in the soundbar space | Pricey, very pricey |
| One of the best-looking soundbars available | Requires an open space to place right beneath a TV |
Best Smart Lock: August Wi-Fi Smart Lock
Best Smart Lock
August Home Wi-Fi Smart Lock
Easily fits inside your existing deadbolt configuration
Schedule temporary access to your home for guests
Auto-lock and unlock your door with voice commands
Works seamlessly with other smart home devices
We earn a commission if you make a purchase, at no additional cost to you.
If you have been on the fence over the idea of installing a smart lock, rest assured the August Wi-Fi smart lock is prepared to win you over.
Aside from its minimalist good looks, the August Wi-Fi smart lock is ready to be installed as soon as it arrives at your home. There are no additional installation issues, you just need around 10 minutes, a few tools to remove your current lock, get the August Wi-Fi lock installed, and voila, you are the proud owner of a new smart lock. Once installed, you are ready to go completely hands-free, courtesy of Amazon Alexa.
The August's built-in Wi-Fi connectivity ensures it can sync directly up with any other Alexa-enabled product in your home. Once connected, you can use Alexa skills to say things like "Alexa, lock the door." Alternatively, you can say, "Alexa, unlock my front door," or even double-check to make sure you didn't leave anything unlocked by asking "Alexa, is my front door locked?" just in case you can't be sure if you locked it before you left.
| Pros | Cons |
| --- | --- |
| The future is here with smart door locks | Smart locks are not for everyone |
| Installation can be done in less than 10 minutes, even for beginners | You still need to carry keys in an emergency |
What to Know Before Buy an Alexa Device
The most important thing to know before you buy an Amazon Alexa device is that there are literally dozens, if not hundreds of devices available. The good news is that because of this, you should have no problem finding far more than seven best Alexa devices actually worth using. If you don't own an Alexa device, starting with the Echo Dot is the right way to go. Having the ability to use your voice to control any other devices in a smart home as well as play music and use it as an alarm clock makes it a worthwhile purchase.
Another consideration before buying any Amazon Alexa device is double-checking what type of voice command functionality the device has. If you are looking at something like the Philips Hue lights, make sure it offers a way to add a schedule so you can program it to show different brightness levels at different times of your day. Being able to control the device via your voice is one thing, but making sure it fits your needs is something else.
Using an Alexa Device: What It's Like
There is no question that using any Amazon Alexa device without your hands feels super cool. You almost feel as if you are getting close to having your very own Tony Stark level-AI with Jarvis. While Alexa isn't Jarvis, being able to do simple things like checking on a locked door or adjusting the temperature on your smart thermostat absolutely feels like the future.
For the most part, Alexa devices are intuitive and the voice commands work the first time, but they are not perfect. Sometimes you might be asked to say a voice command twice or be told a commonly used voice command isn't working. In these cases, give Alexa a minute and try again. Voice commands are still an imperfect system that doesn't have everything figured out.