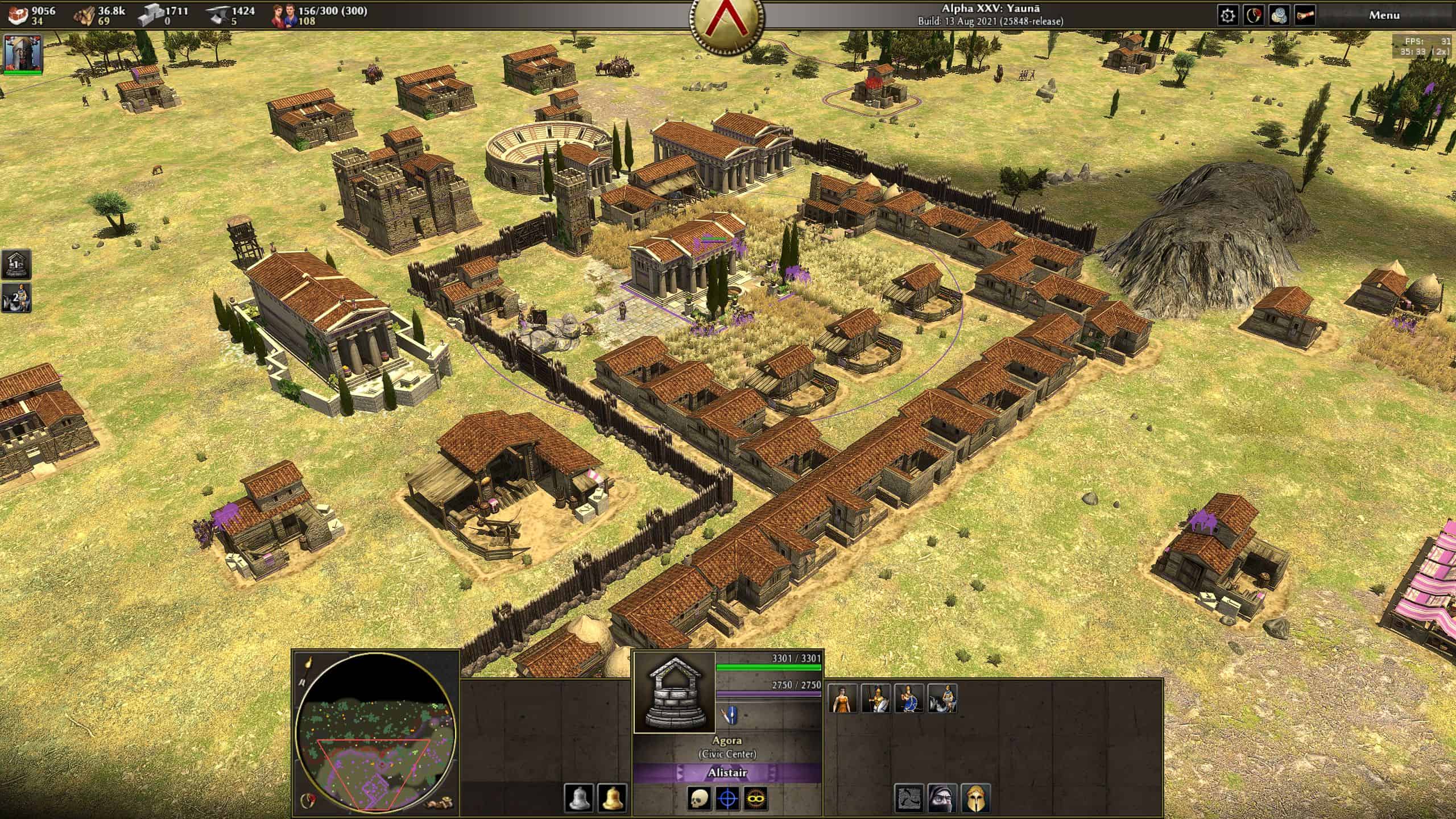 Real-time strategy or RTS games have always held a special place in gamers' hearts, even if the genre has declined recently. That's especially true for console ports, which were rare on most platforms outside the PC. If you're looking for some strategic fun and own a console from the Xbox family, you're in luck, as we're going to dive into the best Xbox real-time strategy games of all time.
| | Command & Conquer 3: Tiberium Wars | LOTR: Battle for Middle-earth II | Evil Genius 2 | Halo Wars Definitive | R.U.S.E. | Northgard | 8-Bit Armies |
| --- | --- | --- | --- | --- | --- | --- | --- |
| Developer | EA Los Angeles | EA Los Angeles | Rebellion Developments | Ensemble Studios | Eugen Systems | Shiro Games | Petroglyph Games |
| Released | May 10, 2007 | July 5, 2006 | November 30, 2021 | February 26, 2009 | September 7, 2010 | September 24, 2019 | September 21, 2018 |
| Platforms | Xbox 360 | Xbox 360 | Xbox One | Xbox 360 | Xbox 360 | Xbox One | Xbox One |
| Modes | Single-Player, Multiplayer | Single-Player, Multiplayer | Single-player | Single-Player, Multiplayer | Single-Player, Multiplayer | Single-Player, Multiplayer | Single-Player, Multiplayer |
5 Fun Facts about the Xbox Brand
Bill Gates and The Rock unveiled the first Xbox at CES in 2001.
Halo: Combat Evolved and Project Gotham were among the launch titles on the original Xbox.
Microsoft sold around 2 million units of the Xbox One within 18 days of its release.
The Xbox 360 was the first console from Microsoft to use the Kinect.
Microsoft planned but never produced a handheld system in the Xbox family.
The History of Real-time Strategy Games on the Xbox
Real-time strategy games are unique compared to other genres and beloved by gamers that grew up in the 90s and 2000s with games like Starcraft and Command & Conquer. While they aren't as popular as they were a few decades ago due to the rise of MOBAs and FPS games, you won't find a "Best Video Games" list without an RTS title.
On the Xbox, fans could play dozens of real-time strategy games beginning with the original. There were plenty of mediocre titles over the years, like Aliens versus Predator: Extinction, along with top-selling titles, including Halo Wars and a very popular game set in the realm of Lord of the Rings.
We've also seen some unique hybrids on the systems. Shadow Tactics isn't a traditional RTS, but more of an RTT, while others like Frostpunk require strategy but have pause features. Newer games for the Series X/S include hybrid titles like Crusader Kings, and we expect plenty of new content from this genre on that system through digital and physical releases.
The Best Xbox Real-time Strategy Games
Each real-time strategy game provides something different, even if they share similar gameplay styles. It's also important to remember that many are backward compatible with other Xbox systems, and some titles may be available through Game Pass.
Command & Conquer 3: Tiberium Wars - Xbox 360
Ultra-responsive, smooth-as-silk gameplay
30 single-player missions, in a vast open-world theatre
Observe, broadcast, and compete in thrilling online battles - with all-new interactive spectator modes, VoIP Communication & player commentary
High-definition, live action Video sequences seamlessly ties the game's epic story together
Adaptive AI matches your style of play & gives you the highest level of challenge
We earn a commission if you make a purchase, at no additional cost to you.
The Tiberium Wars franchise has kept gamers glued to their chairs since the first game hit the PC in 1995. We've seen more than a dozen games launch between Westwood and EA since then, but Tiberium Wars remains one of the best on any platform.
Tiberium Wars is the follow-up to Command & Conquer Tiberium Sun and its expansion. The storyline picks up 17 years after those games, but with new changes in the gameplay system. That includes the Scrin and their tech like the Annihilator Tripod, the Devastator Warship, and waves of Disintegrator troops.
Fan favorites from Nod and GDI are also present, so you can still send out a sniper team, saboteurs, and Scorpion tanks. Skirmish battle mode and multiplayer are just as sound as the single-player campaign in Command & Conquer Tiberium Wars. You can also still enjoy them today through fan servers like C&C Online.
Tiberium Wars is one of three C&C games on the Xbox 360, and our favorite, although some may prefer Red Alert 3. When you finish the campaign or want to extend your adventure, there's also Kane's Wrath expansion which is set between the first two games in the Tiberium series.
Check out the Tiberium Wars on Amazon.
The Lord of the Rings: The Battle for Middle-Earth II - Xbox 360
New races, places, heroes, and battles from the books & films
Command all the races of Middle-Earth with 3 all new factions - Elves, Dwarves, and Goblins
All-new single-player story campaign that takes you to places and battles of Middle-Earth previously unseen
Control battles with all-new enemy AI, melee combat, and flanking, adding unprecedented tactical fidelity
Extend your battlefield with larger than life navy battles at sea
We earn a commission if you make a purchase, at no additional cost to you.
Good vs. evil is often the subject of video games, including RTS titles. One of the best representations of this on the Xbox is Lord of the Rings: The Battle for Middle-earth IIaA. It's the second game in the series and one of the absolute best Xbox real-time strategy games for the Xbox 360.
In this game, players can choose between the excellent campaign where they take the side of the elves or Sauron's generals with an army of goblins. The gameplay is just as intense as you'd expect, and despite being an RTS, EA nailed the controls. However, the show's real star is the setting.
The visuals are gorgeous, and the audio is immersive, which helps suck you into Middle-earth. Voice-acting from Huge Weaving and others is top-notch, and it was one of 80 games featured in 2012's Art of Video Games exhibit in the Smithsonian.
Whether you want to destroy hobbit villages or save the realm from Sauron, LOTR The Battle for Middle-earth has something for everyone. While multiplayer mode bit the dust a decade ago, the campaigns provide hours of entertainment for fans of the franchise.
Check out the Lord of the Rings: The Battle for Middle-earth II Amazon.
Evil Genius 2: World Domination
Cruel Constructions! - Every villain needs an island lair, so pick your paradise and put your own sinister stamp on it!
Atrocious Anti-Heroes! - Competence isn't going to cut it when you're running an evil operation. As you expand and train your minion workforce, you can create new specialists to help further your evil...
Dastardly Devices! - The Forces of Justice are annoyingly punctual, so supplement your brute force by researching and developing a series of trap networks!
Nefarious Plots! - Carry out evil schemes to further your plot to build a Doomsday Device and dominate the world!
We earn a commission if you make a purchase, at no additional cost to you.
Real-time strategy games cover many settings, although most have a military aspect. Evil Genius 2: World Domination flips the genre on its head as your job is to rally your minions while evading the Forces of Justice.
The goal of Evil Genius 2 is to build up your army and your evil lair as you prepare for global domination. There are different geniuses and lairs to play, along with plenty of objectives and side missions. Getting power to your base and stockpiling gold is only half the challenge in this colorful RTS, which plays like a Bond movie but with you as the villain.
Minions in this game act as your soldiers against the Forces of Justice, who are out to stop doomsday. Your minions and henchman fall into different classes with varied traits, and while there's no multiplayer, Sandbox mode is a blast. Some missions can feel like a chore, but that's the only knock we have for this villainous real-time strategy game.
Gamers looking for something unique from the RTS genre should have Evil Genius 2: World Domination at the top of their list. It's one of the newer titles to arrive on the Xbox platform, and the Pixar-esque graphics look fantastic whether you're playing it on the Xbox One or the new high-powered Xbox Series X.
Check out Evil Genius 2: World Domination on Amazon.
Halo Wars - Xbox 360
Control armies in a whole new way as strategy gaming meets the epic Halo universe
Enter year 2531 with the crew of the Spirit of Fire and see the early stages of the war against Convent
Fight as either UNSC or Covenant and employ everything from special Marine units and Warthogs to threatening Scarabs
Experience smooth, intuitive controls and a friendly UI with a platform developed just for Xbox360
Enter into skirmishes with up to six players via Xbox LIVE online support
We earn a commission if you make a purchase, at no additional cost to you.
Halo has been a staple on the Xbox since the first consoles launched, and the franchise is still strong today. One surprising entry into the series, Halo Wars: Definitive Edition, is also one of the platform's best Xbox real-time strategy games.
Fans of Halo have spent countless hours as Master Chief, but Halo Wars takes a bird's-eye view of the battlefield. This real-time strategy game was set 20 years before Combat Evolved, a game that was initially conceived as an RTS title. While the gameplay is completely different from previous games in the franchise, the setting will be very familiar.
Players can take on campaign mode solo or co-op with a friend, and there's also Skirmish mode for those who enjoy multiplayer battles. The original game provided plenty of content to keep gamers busy and still play well. The Definitive Edition brings new achievements to the table, along with updated graphics and DLC.
Halo Wars was well-received in 2009 and again when the Definitive Edition arrived in 2016. The gameplay, cinematic, and backdrops are outstanding, even if it's a bit shallow compared to other tiles on our list. The sequel isn't quite as solid as the original, but Halo Wars 2 is a direct follow-up to this popular RTS game.   
Check out the Halo Wars: Definitive Edition on Amazon.
R.U.S.E. - Xbox 360
R.U.S.E. displays maps a hundred times larger than in traditional RTS games, which makes raises strategy to an unprecedented scale and gives deception a lot more depth.
RTS action that includes becoming a master of deception on the battlefield using tactics like decoys, camouflage, radio silence, deciphering to mislead enemies.
Experience war as a strategist commanding a huge spectrum of mechanized and infantry units.
Choose between six Axis or Allied powers with specific units and abilities and tactical leanings.
Test your strategic skills with fast-paced, addictive adversarial skirmishes, up to 8 players.
We earn a commission if you make a purchase, at no additional cost to you.
It's rare to find a real-time strategy game that received positive reviews across the board regardless of the platform. Eugen Systems and Ubisoft pulled off this rare feat with R.U.S.E., an RTS with a twist set during World War II.
A ruse is described as an action that's intended to deceive someone. That's a large part of the gameplay behind the aptly named R.U.S.E. Unlike similar strategy games, you'll need to think carefully before you act in R.U.S.E. Want to overwhelm an enemy with brute force? Good luck, although a strategically timed bluff could turn the tide of battle.
The single-player campaign in R.U.S.E. will keep you engaged long after other RTS games have been put to rest. The online multiplayer aspect of the game allows you to play co-op or competitively along with Operations missions that are historically inspired. You can only play as the U.S. in campaign mode, but other factions are available in Battle Mode.
R.U.S.E. provides a nice change of pace to gamers tired of traditional real-time strategy games. We enjoyed the campaign, but multiplayer is where the game truly shines if you enjoy online battles. The interface is also relatively streamlined compared to other real-time strategy games ported to video game consoles.  
Check out the R.U.S.E. on Amazon
Northgard (Xbox One)
Choose your clan and build your settlement on the newly discovered continent of Northgard.
Assign your vikings to various jobs (Farmer, Warrior, Sailor, Loremaster...).
Manage your resources carefully and survive harsh winters and vicious foes.
Expand and discover new territory with unique strategic opportunities.
Build mythical relics and unleash their incredible power.
We earn a commission if you make a purchase, at no additional cost to you.
Undoubtedly, Northgard has been a popular game among RTS fans since its arrival on Steam. It's one of the few games in the genre you can play on almost any platform. That includes mobile devices and consoles like the Xbox One where the game launched in 2019.
Northgard is set in the time of the Vikings with a setting inspired by Norse mythology. You'll have to survive against the elements and collect resources while reuniting clans and growing your fame. While it may sound basic, things get intense quickly, given building constraints. It's a constant balancing act in the world of Northgard, and it's a world where one mistake can mean destruction.
There's a storyline with Northgard in the single-player campaign where you play as Rig, who's out to get revenge. There's no co-op with this mode, and the missions get considerably tougher as you progress through the game. Multiplayer mode is just as brutal as the campaign with modes like Dual, Teamplay, and Free For All.
Shiro games grabbed our attention with Evoland and its sequel, which took gamers on a journey through the age of video games. Northgard is on the opposite end of the spectrum from that series and one of the hardcore real-time strategy games on the Xbox One when you want something unique but challenging.
Check out the Northgard on Amazon.
8-Bit Armies: Standard Edition - Xbox One
Jump right in with easy to understand modern military units and structures
Play cooperatively or versus the AI, choosing from multiple difficulty options
Use classic RTS base-building mechanics to construct the ultimate HQ from which to attack your foes
Explore a variety of locales, destroying everything that gets in your way with devastating superweapons
Two campaigns with a total of 40 single-player combat missions for many hours of gameplay
We earn a commission if you make a purchase, at no additional cost to you.
Retro games aren't exactly a staple on the Xbox one aside from some classics that were ported over digitally and game collections. If you're looking for an RTS game that plays and looks like it was made in the 80s, 8-Bit Armies will be right up your alley.
8-bit Armies plays like a game from the Command & Conquer franchise, although with 8-bit Voxel art. You'll have no trouble jumping into the action and building up your HQ while fending off bad guys. The gameplay is addictive, and while a bit shallow, it's designed for fans that love classic real-time strategy games.
Some companies produce the occasional RTS game, but Petroglyph Games specializes in them. Developers from Command & Conquer worked on this game, and the company developed the C&C Remastered Collection alongside Lemon Sky Studios. If you enjoy the gameplay of 8-Bit Armies, you'll also appreciate the follow-ups 8-Bit Hordes and Invaders.
Check out 8-Bit Armies on Amazon.
8.