PlayStation created their sports games with one overriding goal — to give the gamer an experience as close to reality as possible. The games cover a variety of sports, and you're certain to find one that satisfies your needs. These games are forever evolving. PlayStation replicates any changes to a sport in the real world in subsequent virtual sports. The result is that the virtual sport you immerse yourself in gives you a very satisfying experience. From ice hockey to football, golf, and skating, there are countless PlayStation sports games for you to play today. So which sports games should you consider playing? Read on to find out our pick of the absolute best PlayStation sports games of all time, across all PlayStation platforms.
#10. Riders Republic
Riders Republic is the heptathlon of the PlayStation gaming world. While human competitors taking part in a heptathlon tackle seven events, playing Riders Republic requires you to compete in six events. These events are bike freestyle, bike racing, ski freestyle, ski racing, wingsuit, and rocket wingsuit.
Excelling in such diverse endeavors takes time and hard work. To help you excel, a mentor gives you lessons and tips. In addition, the mentor will put you in touch with top brands that could offer you a sponsorship. However, the competition in Riders Republic is fierce. A session could feature up to fifty players, so you must do your best to win.
Courtesy of its outstanding graphics, Riders Republic displays stunning views of various US national parks where the action takes place. In addition to the variety of activities you take part in when playing this game, each activity has different levels, and the progression system takes you to more challenging activities. Riders Republic is the way to go if you're looking for one of the most diversified and exciting PlayStation sports games.
Best Battle Royale
Riders Republic PlayStation 5 Standard Edition
Battle against over 50 players simultaneously in a massive multiplayer playground.
Compete in an all-out mass start race—collide, grind, and fight your way to the finish
Customize your character to show off your style to your friends or show up the competition.
Bike, ski, snowboard, or wingsuit through a seamless open world in Career mode or multiplayer events.
Go wild on the heights of iconic US national parks like Yosemite, Zion, and Bryce Canyon.
We earn a commission if you make a purchase, at no additional cost to you.
#9. Gran Turismo 7
Whether you're a gamer or a motoring enthusiast, you'll fall in love with Gran Turismo 7. Gran Turismo has vast experience in motor race gaming. The company first released this product in 1997, and, as you can expect, the release of Gran Turismo 7 in 2022 means that the product has undergone massive changes.
When you play the game, you see a range of new and legendary cars from diverse manufacturers. You can choose over 400 vehicles from over 60 companies as a car collector. The car displays look as good and realistic as the original, and the game might influence you to consider collecting vintage cars. Furthermore, should you crave a certain car design, Gran Turismo 7 allows for complete customization. You can re-design a car to make it more efficient or even repaint it. In a nutshell, car customization helps you create your ideal car.
If you go to Gran Turismo 7 to race, be ready to learn, as you will compete against other drivers. Racing can get highly competitive as you can compete online with up to twenty different drivers. The display of the race tracks is exceptional, and the surroundings are as picturesque in the game as they are in the real world. In addition, beginners get step-by-step driving instructions from the "License Center."
Best Car Collector
Gran Turismo 7 Standard Edition – PlayStation 5
Collect over 400 vehicles from more than 60 manufacturers.
Still not satisfied? Customize your dream car.
25 year old franchise
Race cars around strikingly realistic, meticulously crafted environments.
Beat your friends in multiplayer mode
We earn a commission if you make a purchase, at no additional cost to you.
#8. Madden NFL 23
Released in 2022, Madden NFL 23 marked a significant improvement over other NFL games and was an instant hit with National Football League lovers. Compared to preceding games in this series, Madden NFL 23 has outstanding visual displays and sound.
To give you the exact feeling you expect from an actual football game, Madden NFL 23 has the "Gameday Atmosphere" feature that mimics the exact happenings on game day. The dramas, flare-ups, and mood swings that happen during actual games are replayed here. To further enhance the authentic feel, Madden NFL 23 uses a Next Gen Star-driven AI that helps display players and teams as they behave in real life.
Madden NFL 23 helps players understand the complexities of American football. Much as the actual game is physical, playing Madden NFL 23 will help you appreciate the complex game plans and strategies that have to be employed to win a game. You can play the game in a variety of online and offline modes.
Best American Football Drama
Madden NFL 23 – PlayStation 5
"Gameday Atmosphere" mimics a real-life football game to a T.
Next-gen Star-driven AI for a true-to-life portrayal of your favorite players
Learn all the rules of American football you've ever wanted to know.
Come up with new, complex (or simple) strategies to win
We earn a commission if you make a purchase, at no additional cost to you.
#7. NHL 21
If you demand the perfect cinematic experience from your PlayStation game, you can't go wrong with NHL 21. To improve the aesthetics, the arena you play in has a lighting engine that vastly enhances the appearance of the ice. Moreover, your playing surface does not necessarily have to be covered in ice. You could, for instance, decide to play on a lake or other fantasy surfaces.
User-friendliness usually varies depending on the level of the game you're playing. Since this game gives the ultimate ice hockey experience, it shows you the basic moves you can easily master. However, as happens in the real world, there are countless tactics and moves, some of which are complex. Playing this game will keep you permanently engrossed as you play different button combinations to make those fantastic moves that you might have seen carried out by hockey professionals.
While you could start playing NHL 21 as an amateur, the creators of this game appreciate that you'll want to become a professional at some point and have created a career path to help you achieve this dream. Under the game's "Be A Pro" feature, your star rises with your achievements and as you help the team or follow the coach's advice. Your accomplishments could even earn you a new car or home. In contrast, as happens in the real-world NHL League, you stand to lose a lot if you don't assist your team or if you upset your coach.
Best Rising Star
NHL 21 - PlayStation 4
Lighting engine for superior ice simulation
Choose your rink: traditional, lake...
Use real-life tactics and moves to win with improved AI.
"Be a Pro" lets you gradually accumulate fame along with your victories.
We earn a commission if you make a purchase, at no additional cost to you.
#6. Tour De France 2022
The Tour De France is the most popular of all the cycling races in the world, and it's only natural that it has a dedicated PlayStation game. If you've watched the Tour De France on TV, you know that it has different stages and that every cyclist craves the ultimate prize: the yellow jersey. Just like in the actual sport, you can play the Tour De France 2022 video game and compete with other cyclists for the prize.
With Tour De France 2022, winning is a matter of strategy. As a player, you can access different play modes to exploit to enhance your chances of winning. The ability to customize and play in different modes makes every second exciting.
Mimicking the actual race, this game allows you to create a team for your nation and then manage and lead it to victory. Tour de France 2022 recreates all the stages of the real-life race in the game, and all the climbs, sprints, and descents appear truly authentic.
Speaking of authenticity, the entire route is covered with the advertising messages of the official sponsors as in the actual race. The AI used to create this game is highly realistic. This is one game in which the cyclists exhibit varying behaviors, enabling you to differentiate between the various competitors and further add to the game's realistic feeling.
Best Yellow Winner
Tour de France 2022 (PS5)
New online mode with leaderboard
Race incidents (falls, illnesses)
New preparation system; New interface on cobbled sections
More intense races with a more aggressive peloton and more collaborative breakaways
All 21 official stages of the Tour de France 2022; New « Primavera Classic » inspired by a major Italian Race
We earn a commission if you make a purchase, at no additional cost to you.
#5. PGA Tour 2K21
What challenges and obstacles do you envisage in a real golf match? When you play PGA Tour 2K21, you can fully customize everything to do in the game. PGA Tour 2K21 has a game editor that lets you design the golf course, create or remove obstacles, and even change the terrain. With thousands of options available, creating the course you crave and the apparel to wear (including gear from the leading sports gear companies) becomes a breeze.
If you don't want to create a custom-made course, this game allows you to play in over fifteen real courses for the ultimate live golf experience. Still, on customization, PGA Tour 2K21 enables you to choose the game you want. Do you want a quick match or a long tournament? And if you're looking for ways to learn golf rules, this game caters to your needs with its many tutorials.
While you could play PGA Tour 2K21 to entertain yourself, you must also desire to win games and tournaments. Since this game enables you to play with up to four other players online, it'll offer plenty of practice. In addition, the game rewards your wins with sports gear and other goodies.
Best Putter
PGA TOUR 2K21 - PlayStation 4
Career mode allows you to play against your favorite golf hero, collecting rewards along with your victories.
Includes several detailed courses straight from real life.
Not enough? Create your own course as you've always dreamed it.
Learn to play golf. The tutorials and tips give in the game also work for real-life golf.
We earn a commission if you make a purchase, at no additional cost to you.
#4. MLB The Show 21
Even if you've never stepped on a baseball pitch, you'll enjoy playing MLB The Show 21. While the game might prove more appealing to professional players, it comes in different modes to serve players of varying levels of experience. As an enthusiastic fan that has never played baseball in the real world, there are game modes meant for amateurs, and this is where you should ideally start.
As a rookie, what will you learn from MLB The Show 21? A lot! You'll learn the rules of baseball and the tactics you need to become a professional player. Since you can play this game online with up to eight people, continuous play will help you learn professional tactics. You'll also learn how to build a team and make it win. To motivate you, the game rewards a win in various ways, including trophies, badges, and new characters.
Playing MLB The Show 21 makes you feel as if you are in an actual stadium. You get to hear the voices of a broadcast team, and the commentating is true to life. In addition, the game delivers crisp graphics and superb sound quality. Playing this virtual game is the closest you can come to taking part in an actual baseball game. It's not surprising that this game is called The Show.
Best Baseball Show
MLB The Show 21 for PlayStation 5
Different modes let you enjoy this as a rookie, pro, or anything in between.
Learn the rules of baseball both in-game and in real life.
Play online with 8 friends.
Packaged with actual broadcast commentating
We earn a commission if you make a purchase, at no additional cost to you.
#3. Tony Hawk's Pro Skater 1+2
Regarding PlayStation sports games, Tony Hawk's Pro Skater 1+2 is a classic. The legendary Tony Hawk started working on the project in the late 1990s, but the version you'll see today was rebuilt and released in 2021 as a new game that combines the old Tony Hawk's Pro Skater and Tony Hawk's Pro Skater 2 in one package. Despite the redevelopment of the game, Tony Hawk Pro Skater 1+2 has retained most of the original game's features, including songs and game modes. The game is ideal for gaming teams and can be played by up to eight players. You can also play it either online or offline.
Tony Hawk's Pro Skater 1+2 is a skateboarding game full of tricks and breathtaking stunts. When you play the game, you aim to get as many points as possible. The number of points you get is determined by how well you execute a combination of tricks and stunts. Ultimately, you aim to skate like Tony Hawk and other stars do.The game has varying difficulty levels. When you're done with one level, you're presented with a new challenge that is tougher than the preceding one – the greater the challenge, the more points you get for completing it.
Customization
One reason that Tony Hawk Pro Skater 1+2 ranks amongst the greatest PlayStation sports games is its ability for customization. The game has a "Create-A-Park" feature, which enables you to create your tailor-made course. Moreover, this feature will enable you to create skateboards and clothing items.
When you want to learn to skateboard, Tony Hawk Pro Skater 1+2 is a good place to start. The game is so real that it could encourage you to try some tricks on an actual course.
Best Remaster
Tony Hawk Pro Skater 1+2 – PlayStation 5 Standard Edition
Break skateboarding boundaries, show off your own style, and be part of the next generation of skaters and creators with Tony hawk's Pro skater 1 + 2.
Skate as the legendary Tony hawk and the original Pro roster, plus new pros
Hit insane trick combos with the iconic handling of the Tony hawk's Pro skater series
Play all the original game modes and go head-to-head with local 2-player modes
All the Pro skaters, levels and tricks are back and fully-remastered, plus more.
We earn a commission if you make a purchase, at no additional cost to you.
#2. NBA 2K22
If you're a basketball fan, NBA 2K22 is the game to play. You can create your dream team using the game's MyTEAM feature, which lets you choose from the current NBA and WNBA stars or players and teams from the past.
With NBA 2K22, you're playing and learning crucial basketball management skills. As a manager, you hire players, organize and take part in tournaments, and perform all the other duties expected of an NBA executive. While you have many players to choose from, winning games is crucial as it enables you to acquire quality players, increasing your chances of winning subsequent games.
Playing this game is pretty easy. You typically perform the standard basketball moves, such as dribbling, running, and blocking. To make your play immersive, you can perform complex moves and dribbles using different button combinations. And if you belong to a gaming community, this game will let you play with up to ten people online.
NBA 2K22 also has excellent visuals. Certainly, all factors considered, NBA 2K22 is thrilling and will deliver a fantastic experience.
Best Team Manager
NBA 2K22 – PlayStation 5
A WORLD OF BASKETBALL: NBA 2K22 puts the entire basketball universe in your hands. PLAY NOW in real NBA and WNBA environments against authentic teams and players.
Build your own dream team in MyTEAM with today's stars and yesterday's legends.
Live out your own pro journey in MyCAREER and experience your personal rise to the NBA.
Flex your management skills as a powerful Executive in MyGM and MyLEAGUE.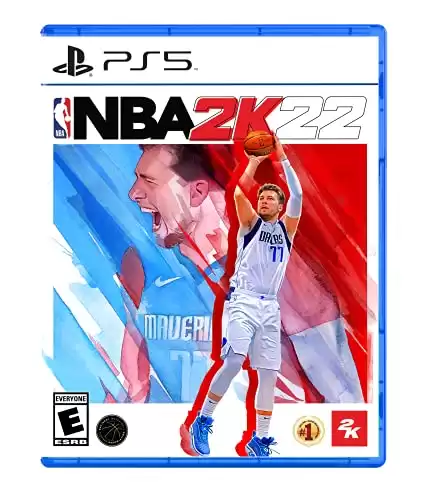 We earn a commission if you make a purchase, at no additional cost to you.
#1. FIFA 23
The 2022 FIFA World Cup is over, but you can still re-live the experiences of the world's biggest sporting event. FIFA 23 is a virtual sports game that covers not only the men's and women's world cups but also the most famous players and the top leagues.
The sports game enables you to create your dream team, and you can have Lionel Messi, Mbappe, Modric, and all the other world-famous football heroes in your squad. FIFA 23 is football animation at its best, and in addition to having the best players, you also get to play them in the best stadiums in the world.
While FIFA 23 is reasonably easy to learn, it presents plenty of challenges that make it very absorbing. The game allows complex team formations, and you can replay all the shots, dribbles, and tackles you've seen in a live match here.
Developed by EA Sports, FIFA 23 uses HyperMotion technology, making it more realistic than virtual football games of the past. The sound system is exceptional, and the graphics are crystal clear. You can play the game alone or with other players. Commentaries are available in multiple languages, including English and French.
Best World Cup Game
FIFA 23 – PlayStation 5
Features over 19,000 players, over 700 teams, over 100 stadiums, and over 30 leagues
Play as women's club teams for the first time in FIFA history
HyperMotion2 Technology utilizes real-world motion capture for more realistic animation
Play some of the biggest men's and women's soccer tournaments
Customize your own dream team in FIFA Ultimate Team
We earn a commission if you make a purchase, at no additional cost to you.
Final Thoughts
The best PlayStation sports games are an excellent source of entertainment and are ideal for unwinding. Certainly, people of all ages and backgrounds play today's PlayStation sports games. The creators of these games have invested in the latest technology, and the result is that they produce games of such outstanding quality that they keep gamers permanently enthralled. If you're considering investing in a PlayStation sports game, choosing one from our list could be a great addition to your entertainment portfolio.
The image featured at the top of this post is ©Miguel Lagoa/Shutterstock.com.