Sony's first generation console, PlayStation 1, was a great success and revolutionized video gaming. Industry. It brought about new features, such as support for CDs that held more memory than the cartridges most consoles used. The PlayStation was also affordably priced, making it accessible to most gamers. It was so successful, it became the first console to ship over 100 million units in less than a decade.
The PS1 also had a massive library of games in all genres and multiplayer capabilities, allowing gamers to connect for hours of fun and entertainment. Some of the best games we play today are sequels of the original games created for this console. The PlayStation's massive collection of party games is sure to keep players entertained for hours on end.
Was PlayStation Known for Party Games?
PS1 is among the best gaming consoles in Sony's history. With its 3D graphics, it revolutionalized gaming completely. Its massive collection of party games has all types to keep your friends and family entertained for long hours. To date, PS1 remains the timeless masterpiece that Sony has ever released. In this guide, we will explore the absolute best PlayStation party games of all time, highlighting what made these games so special and why they continue to be beloved by gamers today.
#10. Shrek: Treasure Hunt
In the party video game Shrek: Treasure Hunt, players take control of the titular ogre as he embarks on a quest to retrieve stolen picnic supplies from the three blind mice. Along the way, players must navigate various platforming stages and complete mini-games and challenges to collect items necessary to progress to the next level.
Collectibles are scattered throughout each stage and can be used to access mini-games once the required amount has been accumulated. The objective is to retrieve all the stolen items before Fiona arrives, allowing Shrek and his friends to enjoy a picnic together.
Despite its promising premise, Shrek: Treasure Hunt was met with negative reviews upon release. Based on a single review, the game received a score of just 29% on GameRankings. However, it remains a favorite among fans of the franchise.
#9. Parappa The Rapper
PaRappa The Rapper is a unique rhythm game that follows the story of PaRappa, a beanie-wearing rapping dog, as he competes in six stages to win the heart of Sunny Funny. PaRappa embarks on wacky adventures like getting his driver's license, baking a cake, and even learning karate at a dojo to impress her.
Throughout the game, players must keep up with the beat of the music, rap, and the predetermined lyrics. The game has a special feature known as the "U Rappin'" meter, which determines how the player performs. Performance is ranked into four categories: Good, Awful, Cool, or Bad. The player must consistently maintain the beat to stay in the good ranking area. Bad performance affects the ranking, and to progress through the ranks, the player must have at least two good performances.
Players can only clear the stage if they have a good ranking at the end of the song. Failing to do so will require them to start over. Once the game is cleared, players can give a Cool ranking a shot by freestyling and impressing the teacher. Players can enter Cool mode and earn large points by rapping freely if successful.
Ending a stage with a Cool ranking unlocks a special level ending while clearing all stages on Cool Mode unlocks a bonus mode where players can perform with Katy Kat and Sunny Funny. Parappa The Rapper offers a fun and challenging gameplay experience, unlike any other rhythm game. The game will entertain you with endless dance moves, rhythms, and unique modes.
Please note: As of July 19, 2023, Parappa The Rapper is out of stock on Amazon. Check back for availability.
#8. Dinomaster Party
Experience the ultimate showdown of adorable baby dinosaurs at the Dinomaster Party! With eight different dinosaur characters to choose from, including the powerful Diplodocus, the fearsome T-Rex, and the speedy Velociraptor, the battle for leadership has never been more exciting.
Challenge your friends in 4-player mode and cross four hostile worlds, including the jungle, mountains, volcanoes, and the center of the earth, all rendered in stunning Manga-style graphics. This is no ordinary dinosaur game – engage in 12 unique minigames such as Meteor Shower, Rock Push, and DinoSquare, and find out who will emerge as the ultimate Dinomaster.
#7. Dance Dance Revolution
Dance Dance Revolution is widely recognized as the trailblazer of the dance video game genre, having paved the way for other popular games such as Just Dance on the Wii. This game is not only entertaining but also a fantastic way to get a workout!
The gameplay of Dance Dance Revolution involves players standing on a dance mat with colored arrows at their feet and responding to the on-screen musical and visual cues. As the game progresses, arrows appear on the screen and move upward, passing over immobile arrows on the top.
The game requires a lot of skill and a high level of accuracy to balance stepping on arrows on the dance platform and scrolling arrows over the stationary ones. performance is gauged on the accuracy of hitting the streaked note. The highest judgment receives Marvelous, while the lowest is a Miss.
The game provides players with challenges and requires high concentration to attain the best judgment. Playing it will be an interesting and entertaining game for family gatherings and will keep you engaged for hours. The good thing is that you can choose your favorite song from the song list to match your performance.
#6. Worms World Party
Worms World Party is a beloved classic in the multiplayer genre, offering a unique turn-based artillery tactics experience. Players control teams of worms and use a variety of weapons and projectiles, from bazookas to hand grenades, to defeat opposing teams on destructible landscapes.
The game features dozens of weapons, including longbows, bazookas, fireballs, Holy Hand Grenades, and special weapons like Armageddon and the infamous Concrete Donkey. Some weapons are available from the start, while others can be found in randomly appearing crates during gameplay.
Players must adapt to their ever-changing environments, using tools like the ninja rope to reach previously inaccessible locations and gain an advantage. The landscape can be deformed with any weapon, creating new obstacles and forcing players to adapt their strategies.
Maps may contain land mines that explode when worms come close and barrels that spread burning napalm when shot. These elements add to the game's technical complexity and allow for creative and strategic combinations of attacks.
#5. Bomberman
Bomberman Party Edition is an improved version of the original game, offering a single-player campaign and a Battle Mode multiplayer option, perfect for social gatherings! Players control Bomberman characters in an arena with destructible blocks and enemies.
The Bomberman franchise mainly consists of two modes of play: single-player campaigns, where players defeat enemies and reach an exit to progress through levels, and multiplayer modes, where players eliminate each other. Gameplay involves strategically placing bombs exploding in multiple directions after a set time to destroy obstacles and defeat enemies and players.
Players can also pick up power-ups, giving them advantages like larger explosions or more bombs. However, players must also be cautious of their own bomb placement, as they can be killed if they touch an enemy or get caught in a bomb explosion. Additionally, some spin-off titles offer adventure, platformer, puzzle, and kart racing gameplay.
#4. Poy Poy 2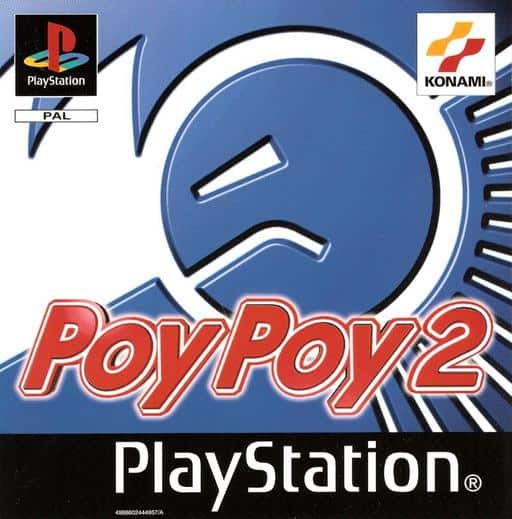 Poy Poy 2 offers a familiar gameplay experience to its predecessor with added powers, moves, characters, and arenas. Players can select from various gloves with unique abilities to aid their gameplay.
The PoyPoy Cup, a single-player campaign, allows players to choose a character and progress through tournament stages to earn gold. The winnings can be used to purchase or scale up gloves and buy drinks that grant temporary upgrades for an event. Completing the championships allows the players to face the boss characters for intensive gameplay. However, this only happens when they complete multiple titles.
Players can face boss characters upon completing the championship multiple times. You must use the glove's abilities for a set time to upgrade the gloves. Upgrading gloves requires the player to use that glove's particular ability a set number of times. Sometimes, players can purchase gloves in the game from a dark figure that appears occasionally.
Party Play is a multiplayer mode for up to four players. You can play with AI players to fill any missing slots. Players can set up a quick battle on any stage they choose. Competing against AI players allows you to score more points in all seven matches and get a cash bonus. Every direct hit will earn you a point, while lucky gold hearts makes two points. The more lucky hearts you collect, the better your chances of winning. Sustaining your health throughout the game will also be a determining factor in the winning position.
Please note: As of July 19, 2023, Poy Poy 2 (PS) is out of stock on Amazon. Check back for availability.
#3. South Park: Chef's Luv Shack
Chef's Luv Shack is a multiplayer game that alternates between trivia questions and mini-games. Before every three questions, a mini-game is played. Players earn points for correct answers and ranking in the mini-games, while incorrect answers result in point deductions. The game is designed solely for multiplayer, and single players will always win, even with negative scores, as there are no AI opponents.
Players can choose to "shaft" a question, passing it on to another player who may pass it on again or attempt to answer it. The last player to be "shafted" will be the one who answers the question. Although Chef's Luv Shack is available on major consoles of its time, only the Nintendo 64 and Sega Dreamcast versions take advantage of modern hardware to allow for up to four players. The PlayStation version requires an adapter to support four players, and the PC version supports two players with keyboards and two with joysticks.
#2. Crash Bash
Crash Bash is a multiplayer PlayStation party game that offers a choice of eight characters, each with unique abilities, including Koala Kong, Crash, Tiny, Cortex, Coco, Brio, Dingodile, and Rilla Roo. The game includes 28 mini-games divided into seven categories, each with multiple variations. The categories are Ballistix, Polar Push, Pogo Pandemonium, Crate Crush, Tank Wars, Crash Dash, and Medieval Mayhem.
The game features three modes of play, including Battle, Adventure, and Tournament. All three modes have different challenges in creating an immersive gaming experience. Adventure mode allows one or two players to work towards winning all 28 mini-games in the game, earning gems, trophies, and valuable substances by accomplishing challenges in each mini-game.
There are several Warp Rooms with various mini-games. For instance, the first Warp Room has four mini-games with multiple characters, challenges, and trophies to be won. To win a trophy, a player must attain victory in three rounds of any mini-game.
The Warp Room's Boss Arena becomes available when a minimum number of trophies, gems, and crystals have been won. The players must conquer a boss character by exhausting their health to win the Boss Arena. Winning a Boss Arena grants entry to the next Warp Room. Advanced computer-controlled opponents can be defeated in mini-game challenges to win gold or platinum Relics. Completing all crystals, trophies, and gems will complete the Adventure mode.
Crash Bash also supports multiplayer for up to four players with the PlayStation Multi-tap, where players can choose from any of the unlocked mini-games and compete against each other.
#1. Bishi Bashi Special
Bishi Bashi Special is a classic multiplayer party game that was originally released on PlayStation. The game is full of hilarious and absurd mini-games in that players compete against each other. These mini-games range from knocking over bowling pins using cars, expanding the player-characters afro until it covers the screen, and even trying to evade a security guard disguised as a trash can.
Bishi Bashi Special offers 85 unique mini-games to play and can support up to 8 players. Each mini-game is thoroughly explained with instructions before each round, so players can easily understand how to play. With Bishi Bashi Special, players will never experience boredom as they compete against their friends. This game's bite-sized mini-games inspired similar games, such as WarioWare and Mario Party. It is no surprise that it's one of the best PlayStation party games.
Please note: As of July 19, 2023, Bishi Bashi Special is out of stock on Amazon. Check back for availability.
Final Thoughts
The PS1 was home to some of the best PlayStation party games of all time, offering hours of entertainment for groups of friends and family. Whether you were a fan of classic arcade-style gameplay, wacky mini-games, or sports simulations, there was something for everyone on this beloved console. From the iconic Mario Party-inspired gameplay of Crash Bash to the zany antics of Bishi Bashi Special, these games have stood the test of time and continue to be enjoyed by players of all ages today. So gather your friends, fire up your PS1, and prepare for a night of unforgettable fun with these absolute best party games.
The image featured at the top of this post is ©TheRainstep/Shutterstock.com.