The PlayStation 3 is a home video game console presented to the public by Sony in the second half of the year 2006. The PlayStation 3 uses the Cell processor, which is noticeably more powerful than the CPU found in the PlayStation 2, and it comes equipped with a high-definition Blu-ray drive capable of reading DVDs, CDs, and SACD discs. Additionally, the PlayStation 3 can play games created for the PlayStation Portable, which was released alongside the PlayStation 2.
Regarding sports games, the PlayStation 3 has no shortage of titles. It's not just great for its impressive roster of sports games (which also includes games from other consoles) but also because it offers a host of play modes — most notably, local multiplayer. Whether you're looking for something to pass the time, or a game to challenge your skills, these games will deliver a great experience.
What are Sports Games?
Sports games are a hugely popular genre of video games, especially for PlayStation 3. They simulate real-world sports and activities like football, soccer, basketball, hockey, golf, and more. Players use a variety of controllers to control their teams and play against opponents from all over the world.
Sports games provide an immersive experience that allows players to experience the thrill and excitement of playing in a real sports match. Whether it's the strategic and tactical elements of soccer or the fast-paced action of football, sports games can bring a new level of competition and entertainment to any gaming experience.
Sports games also offer a social element, allowing players to connect with friends or form teams with other gamers to compete against one another. This makes it possible to experience the intensity and thrill of competing in a real sports match while still enjoying the comfort and convenience of playing from the comfort of home.
Is PlayStation 3 Known for Sports Games?
The PlayStation 3 is known for its technological advancements, but it's also known for its gaming libraries. So yes, the PlayStation 3 has a wide range of sports games available to play. As Sony's third installment of their popular PlayStation console series, the PlayStation 3 has seen some of the best sports games of all time. From classics like EA Sports' FIFA Soccer and NBA 2K series to newer favorites like MLB The Show and NFL Blitz, there's something for every sports fan.
So if you're looking for an exciting sports gaming experience on your PS3, these 7 titles will surely give you hours upon hours of enjoyment. They are undoubtedly some of the absolute best sports games available for PlayStation 3 and should be considered when selecting your next gaming adventure.
#7: MLB 09: The Show
With its realistic graphics, detailed commentary, and deep roster of available players, MLB 09: The Show quickly became a fan-favorite among sports gaming fans. Players can choose to take control of any team in Major League Baseball and customize their team's rosters with real players and stats. It has been updated for the new generation of consoles, adding some cool new features and making it even more realistic than before.
In addition to its incredible gameplay, MLB 09: The Show also boasts a variety of improvements to enhance the experience. The game has great graphics, sound effects, and a deep career mode that lets you build your player up from rookie to superstar. The gameplay is smooth and intuitive, with no problems playing online with other players. Plus, each user has ratings for each player on their team —players can get better at certain things over time if they practice enough!
#6. NBA 2K13
When it comes to PlayStation 3 sports games, NBA 2K13 is one of the all-time greats. Released in September 2012, the game was the fourteenth installment of the popular NBA 2K series, and it quickly rose to become one of the most beloved sports games on the PlayStation 3 platform.
The game features a fantastic array of teams and players, allowing gamers to experience the most realistic basketball experience on a console. The game also features an improved MyCareer mode, allowing gamers to take control of their custom-created player and guide them through their NBA career.
The graphics and animation in NBA 2K13 are also stunning for its time, with detailed player models and lifelike motion capture that delivers an immersive experience. The game also includes a comprehensive selection of classic teams and players, giving gamers plenty of variety.
The best part of NBA 2K13 is undoubtedly its soundtrack. Featuring an all-star lineup of artists such as Drake, Kanye West, and Jay-Z, the game has a truly memorable soundtrack that adds to the atmosphere and makes the game even more enjoyable.
Whether you're looking to recreate classic matchups or build your own custom team, NBA 2K13 is the perfect game for any PlayStation 3 sports fan. With realistic visuals and compelling gameplay, it's sure to provide hours of entertainment.
#5. NBA 2K12
NBA 2K12 is an NBA basketball video game developed by Visual Concepts and published by 2K Sports. The game was released for the PlayStation 3 and Xbox 360 video game platforms in October 2011, the same day as its sequel. It is the 13th installment of the NBA 2K series, one of the most successful sports video games in terms of sales, with more than four million copies sold worldwide as of April 2012.
There are also multiple game modes, including My Player, where you can create your custom player and join a team. You can also enjoy team play, franchise mode, and online play.
If you're a basketball fan, NBA 2K12 is one of the best sports games on the PlayStation 3. With its outstanding gameplay, incredible graphics, and amazing replayability, NBA 2K12 is a must-have for any fan of sports games. Players can dominate their opponents with all-new control mechanics for post-play and ball control, such as intuitive shooting, passing, stealing, dribbling, and dunking. And thanks to NBA Today's real-time stats, rosters, schedules, and ratings, you can enjoy the most visually accurate representation of the NBA ever.
#4. MLB 11: The Show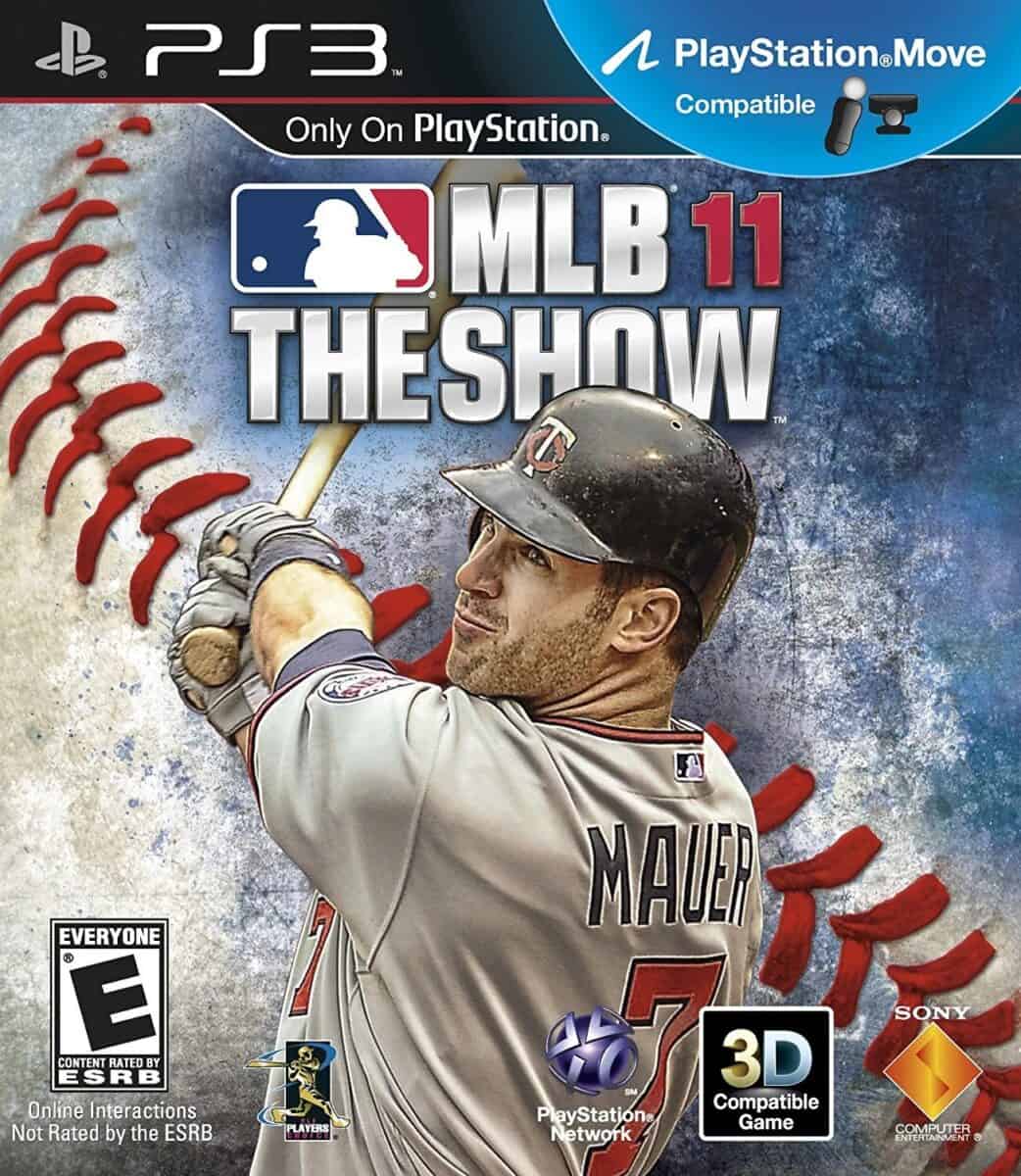 For sports fans everywhere, MLB 11: The Show is one of the best PlayStation 3 sports games ever created. Published by Sony Computer Entertainment, this game features incredibly realistic graphics and gameplay, making it a top choice for those who want to experience a real baseball game.
MLB 11 The Show is the absolute best PlayStation 3 sports game of all time and features an array of new features that make it even better than its predecessor. Players can now enjoy more tactile pitching, hitting, and fielding with the help of new analog stick control defaults. There's also a 1-4 player co-op mode and 2-on-2 online multiplayer mode so you can share the fun with your friends.
For those looking to get even more out of the game, there's a deeper player progression in Create a Player mode and Challenge of the Week online mode that gives hardcore fans a chance at big-time prizes. Plus, MLB 11 The Show showcases the latest technology with 3D game functionality and PlayStation Move support.
Whether you are a casual fan or a hardcore baseball enthusiast, MLB 11: The Show has something for everyone. It's no wonder why it continues to be one of the most beloved and critically-acclaimed sports games of all time.
#3. FIFA Soccer 10
When it comes to sports games on the PlayStation 3, FIFA Soccer 10 has to be one of the best of all time. This game was released in 2009 and has become a staple of soccer gaming on consoles. With its impressive visuals, intuitive controls, and deep gameplay, FIFA Soccer 10 is a must-play for any sports fan.
The graphics in FIFA Soccer 10 are some of the most realistic you'll find on the PlayStation 3. Player models and animations look incredibly realistic, and the stadiums are gorgeously detailed. The sound design is also top-notch, with lifelike crowd chants and realistic commentary that add to the game's atmosphere.
The controls in FIFA Soccer 10 are straightforward to learn and use. You have full control over your players, allowing you to make precise passes and shots. You can also make tactical changes on the fly, adjusting your formation to counter your opponent's strategies.
The depth of gameplay in FIFA Soccer 10 is truly impressive. You can choose to play a quick match against friends or dive into the game's manager mode, where you take your team from amateur ranks to international stardom. You can also compete online against players from around the world or test your skills in tournaments and championships.
#2. MLB 10: The Show
MLB 10: The Show is a simulation game that lets you play as your favorite baseball team and take on the best players in the world. There are several modes in MLB 10: The Show — the main one being Road to the Show, which allows you to create a player and play through their entire career. You can also choose between real-world and fantasy teams or create a custom team with any player you like.
You can play online with other players or against AI opponents. If you want to play against friends on the same console, multiplayer games are available for any team and are filled with fun mini-games that simulate real-life baseball action. The controls are easy to learn, but they're also simple enough not to get in the way of your playing time. As long as you can swing a bat with reasonable accuracy, there's no reason this game shouldn't be on top of your gaming list.
#1. FIFA Soccer 12
FIFA Soccer 12 is widely considered one of the best sports games of all time and for a good reason. Developed by EA Sports and released in 2011, this game delivers the intense and exciting soccer experience that gamers crave. It offers a comprehensive gaming experience and features real-life graphics and sounds that make you feel like you're actually on the field.
This game also has an excellent career mode that lets you play as one of the best teams in world soccer history — and it does so in an immersive way that makes you feel like you're part of their inner workings. Your career consists of training sessions, matches against other teams, and plenty of other activities designed to help you improve your skills as a player and get as close as possible to being on par with your favorite real-life players.
On top of its innovative gameplay options, FIFA Soccer 12 also offers a host of online features. Gamers can compete against each other online, play tournaments, or even participate in online seasons that span multiple weeks. This means that players can stay connected to the game even when away from their console. Additionally, the Ultimate Team mode allows gamers to create custom teams by purchasing player cards and building up their team stats. This feature adds great depth and customization to the game, making it one of the most popular sports titles on the PlayStation 3.
Conclusion
When it comes to PlayStation 3 sports games, there is no shortage of great titles to choose from. Whether you're looking for the fast-paced action of football, the intense competition of basketball, or something a little more laid-back like golf or bowling, the PS3 has plenty of options to keep you entertained. When picking the ultimate collection, it often boils down to whether or not you're a fan of hardcore simulations or arcade sports titles. Whether you're a sports fanatic or just looking for a great way to spend your free time, these games provide an immersive experience that will keep you coming back for more.
Up Next
The image featured at the top of this post is ©SU HSUN/Shutterstock.com.