The PlayStation 3 easily had some of the best open-world sandbox titles of all time. Although many people know PlayStation consoles for their exclusive games, there are shockingly few that came out for the PlayStation 3. Most of the PlayStation 3 sandbox games listed below were available across the PlayStation 3, Xbox 360, and even PC.
What sets PlayStation 3 games apart from ones that were released on previous consoles were the massive worlds coupled with stunning graphics. The PlayStation 3's GPU made possible some of the best sandbox worlds even to this day. The great thing about sandbox games is that they let you, the player, take control and create your own path without having to follow a linear story.
Red Dead Redemption
Red Dead Redemption is one of the best all-around PlayStation 3 sandbox games. It manages to do so much right despite being on an older console, and it still feels like one of the best games ever made. The game takes place as the Wild West is being tamed. It is a time rarely explored in video games, but it lends itself very well to many interesting stories as well as gameplay.
In the game, you play as John Marston, a former gang member trying to redeem himself. He lives on a ranch with his wife and son, but the life he left behind can't seem to leave him be. He ends up doing favors for the government by tracking down his old gang members. The story is incredible, and we certainly won't give you any spoilers if you haven't played it already.
Even if you aren't a fan of westerns, this game is certainly worth a try. The map is very expansive, and you get to explore much of the Old West. In addition, you also get to go to Mexico, which has its own charm. Compared to games like Grand Theft Auto, you may feel that the map is slightly sparse. Still, as a sandbox game, there's a ton to do, and other people with tasks for you will constantly run into you.
Best Wild West
Red Dead Redemption Game of the Year
The Dead Eye targeting mechanic, allowing the player to slow down time for shot accuracy
Expansive open-world gameplay set in the final years of the American Wild West
Massive play area filled with NPCs, made up 3 unique regions composed of towns and outposts filled with varying characters
Morality system based on honor and fame generated by the players actions throughout the game
Western themed mini-games including showdowns, gambling, hunting bounties, cattle herding and five finger fillet
We earn a commission if you make a purchase, at no additional cost to you.
Assassin's Creed 4: Black Flag
Coming out nearly ten years ago now, Assassin's Creed 4: Black Flag brought the series where it had never been before. Instead of exploring the ancient world, the series has moved on to a more modern era of piracy. What really put Black Flag above the rest of the series at the time was how populated the world was. Despite being slightly smaller, it was teeming with life.
When you first get started playing, you might notice things are a little slow. Just give it some time and get through the first few missions in order to open up the vast world. The game's main missions are very good and see you exploring as well as fighting on various quests. But the best part is when you get to explore the world freely by yourself.
The world consists of many explorable islands, which you can get to from a variety of different vessels. Many of these islands are not part of the main game but contain lots of things to do. Like some of the other Assassin's Creed games at the time, the controls can be somewhat clunky. Overall, Black Flag is worth playing just to see its uniquely crafted world, which has aged fantastically.
Best Pirate Simulator
Assassin's Creed IV Black Flag – Playstation 3
Effortlessly switch between the Hidden Blade of the Assassin's Order and all new weaponry including four flintlock pistols and dual cutlass swords.
Discover the most diverse Assassin's Creed world ever created. From Kingston to Nassau, explore 50 unique locations where you can live the life of a pirate.
Command your ship, the Jackdaw, and strike fear in all who see her. Plunder and pillage to upgrade the Jackdaw with ammunition and equipment needed to fight off enemy ships.
Stand amongst legendary names such as Blackbeard and Benjamin Hornigold, as you establish a lawless Republic in the Bahamas and relive the truly explosive events that defined the Golden Age of Pirates.
Play with your friends in the ruthless and critically acclaimed multiplayer experience. Choose from an eclectic cast of characters from the Golden Age of Pirates and fight to the death in exotic locations.
We earn a commission if you make a purchase, at no additional cost to you.
Saint's Row: The Third
Saints Row: The Third is an interesting addition to this list, and it may be slightly controversial. While the previous titles in the franchise try to piggyback off the success of Grand Theft Auto, the third iteration finally felt like the series fell into its own. This game picks up where the second game one left off, but if you've never played a Saints Row game before, don't worry because the backstory is well-explained.
As soon as you get into the game, you're immediately part of a bank heist that's not going according to plan. From that point, the action never stops. If you're looking for a riveting story, this likely isn't it, but Saints Row: The Third has enough to keep you wanting to play.
Your role in the game is to take control of the city, which is divided into districts. To do so, you need to complete missions in addition to the other mini-games throughout the world. But these aren't the level types we're used to seeing. Instead, Saints Row: The Third uses over the top and downright outlandish concepts like insurance fraud and mayhem. Everything about the game is downright crazy, from the levels to the world design, but that's what truly sets it apart from other PlayStation 3 sandbox games.
Best Controversial Offering
Saints Row The Third (PS3)
Action packed, open world game
Take control of the entire city through interesting missions and fun mini-games
Create mayhem, commit fraud, go on the ultimate crime spree
Face off against The Syndicate, a legendary global crime organisation
We earn a commission if you make a purchase, at no additional cost to you.
Far Cry 3
There are so many games in the Far Cry series you that might wonder why the third one makes the list. But to many people, Far Cry 3 is the series' peak. It masterfully blended great graphics, a unique story and fun gameplay. One thing about the game that is a little quirky is the protagonist and his dialogue, which doesn't always fit with what you'd expect from this type of game.
With that said, the game is still excellent, and it's also intriguing how the protagonist Jason changes as the game goes on. For an open-world game, Far Cry 3 has a lot of dialogue as well as cutscenes. This helps drive home a great overarching story. But the shining character in the game is the pirate Vass who captures Jason and attempts to sell him and other vacationers into slavery.
There are a few ways you can go about the game, such as using stealth or going in guns blazing. Ultimately, Far Cry 3 offers a lot of choice in how you play. But no matter what your style is, the beautiful island scenery will easily impress you. Despite being on an island, there's plenty to see, do, and explore, which will keep you busy for hours on end.
Best Island Holiday
Far Cry 3 - Playstation 3
Action packed, open world, first-person shooter
Multiplayer mode allows you to share the experience with your friends
A beautiful island is waiting for you to explore
Rich story, characters and relationships
We earn a commission if you make a purchase, at no additional cost to you.
Sleeping Dogs
Sleeping dogs is a unique experience on the PlayStation 3 that looks at a world that few other video games have. The game takes place in Hong Kong, but it's split up into four distinct areas. Unfortunately, Sleeping Dogs never received the recognition that it truly deserved. Part of the reason is likely that gamers in the West were either unfamiliar with or uninterested in exploring this world.
In the game, you play as Wei Shen, who is an undercover police officer trying to take down a gang. The game's story is unique and actually keeps you wanting to play. Some sandbox games simply don't have enough narrative to keep you wanting more. However, Sleeping Dogs offers just the right blend of story elements coupled with the ability to explore a massive open world.
Now you're probably wondering what you actually get to do in the game. The developers set the game up similarly to Grand Theft Auto and other open-world titles in that you drive around and engage in combat. The in-game dialogue noticeably goes back and forth between English and Chinese, which is slightly strange. Nonetheless, the graphics look pretty good, and there's even a definitive edition with upgraded visuals.
Best Undercover
SONY SLEEPING DOGS PS3
Experience Hong Kong like never before
Play as a police officer and go undercover to take down a notorious gang from the inside
Exciting driving and combat scenes to keep you engaged
Earn achievements as you play
We earn a commission if you make a purchase, at no additional cost to you.
Grand Theft Auto 5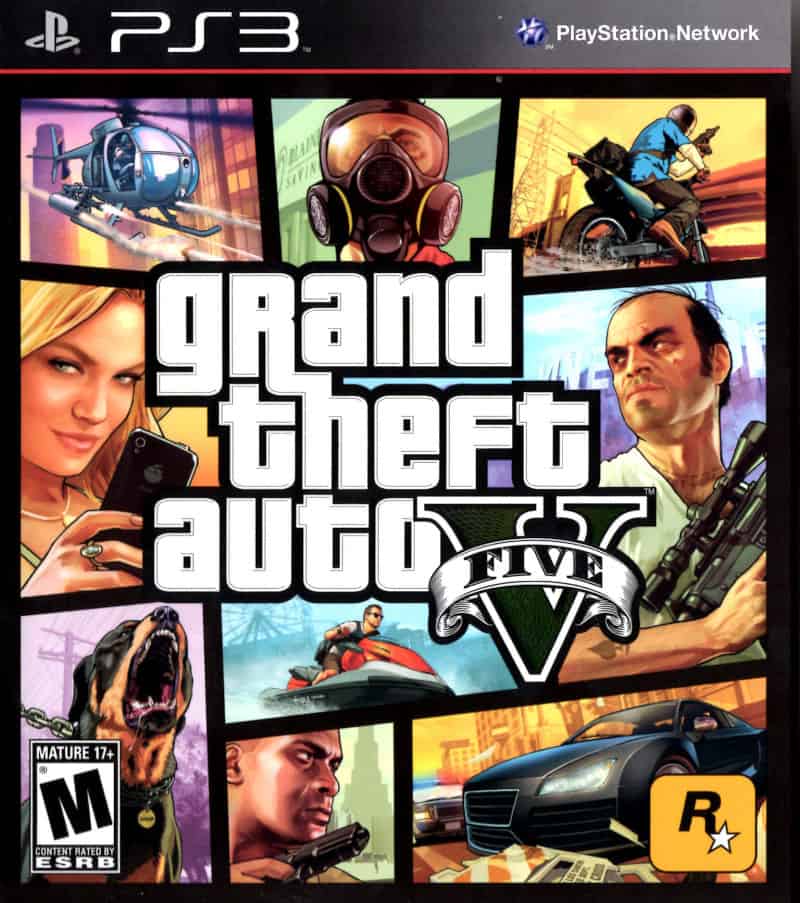 At this point, Grand Theft Auto 5 doesn't need an introduction. But no list of the best PlayStation 3 sandbox games would be complete without it. Even after nearly a decade, it remains one of the best-selling and most beloved games ever made. But ultimately, it is one of the best sandbox games because there's so much to do in a vast world.
You play in the city of Los Santos and in the greater area of Blaine County. You may recognize part of the map from Grand Theft Auto: San Andreas. Los Angeles, Ca and its surrounding areas loosely inspired the entire map. You play as either Franklin, Michael, or Trevor, who each have their own backstories. But unlike older games where you choose a character at the start, here you switch between them.
Switching between the three characters as their lives intertwine is a delightful addition and something that other games haven't done before. Stereotypes heavily influence these character designs in their backstories. When you're not completing story missions, there's plenty to see and do throughout Los Santos. There are even unique side missions for each of the three characters.
Online
It's also worth mentioning Grand Theft Auto 5's online mode because it greatly expands upon the sandbox aspects. In it, you play as a character that you create rather than one of the story characters. Essentially, you create your own story, choosing different missions and tasks to take part in throughout the city. Just keep in mind that you will need a PlayStation Plus subscription in order to play online content.
Best Activity Packed
Grand Theft Auto V - PlayStation 3
Massive open world game set in Los Santos city and the Blaine County area
Choose between playing Franklin, Michael, or Trevor and switch between them and their stories as you see fit
Quests, sidequests, mini-games, or random interactions. The world is abundant in rich experiences.
Online mode allows you to create your own character and play in the world of Grand Theft Auto 5 alongside other players
We earn a commission if you make a purchase, at no additional cost to you.
Just Cause 2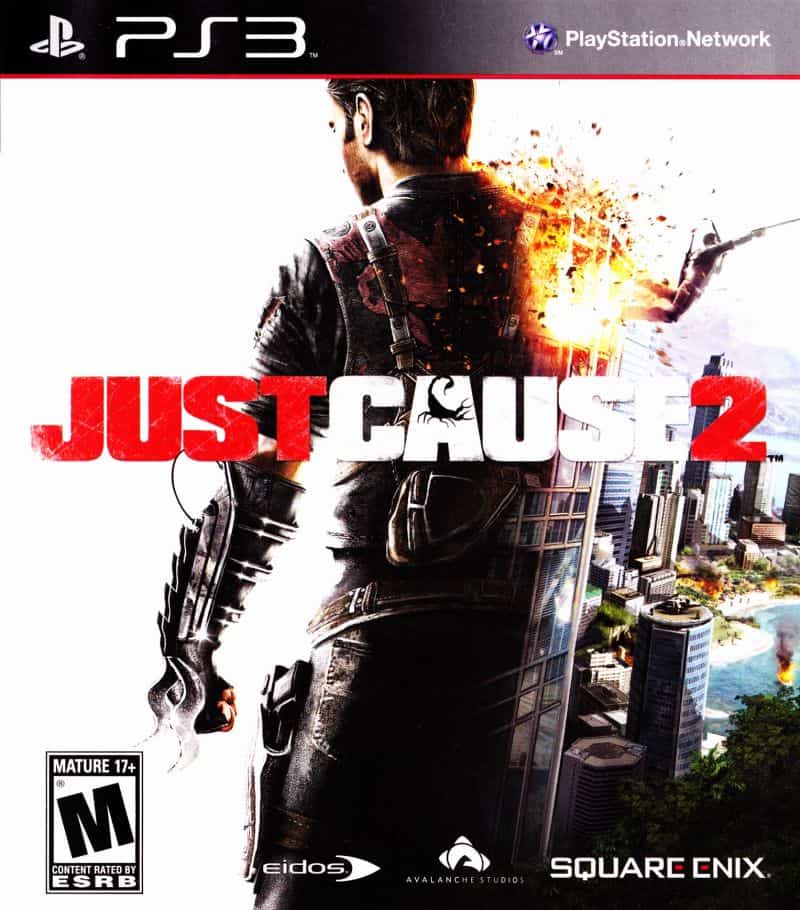 Have you ever wanted to play a game where you get to overthrow a dictatorial regime at your own pace? If so, then Just Cause 2 is the PlayStation 3 sandbox game you've been looking for. You play as a secret agent named Rico, who is back from the first game. It takes place on an island in Asia that is controlled by an evil regime that Rico is trying to overthrow.
If you're thinking the game is going to have a deep story, you're deeply mistaken. While it has some good points, the game's brightest moments are its over the top action sequences. The game is very goofy, to say the least, and feels like a campy B movie. But this works really well as the dialogue and character interactions don't take themselves seriously either.
In the game, you help people throughout the island and make attempts to call the regime's leadership into question. The island is divided into segments which you must take control of. While there are some missions, most of the game consists of completing acts against the government. The wonderfully designed, large open world really stands out.
Best Revolution
Just Cause 2 - Playstation 3
Weapons, weapons, weapons, and more weapons. You are never running out of weapons.
Over the top action sequences, including non-scripted grappling, jumping, action and excitement of every kind
Overthrow a harsh dictatorship to help the people of the island
Play freely, however you want in this large open world
We earn a commission if you make a purchase, at no additional cost to you.
The image featured at the top of this post is ©pisaphotography/Shutterstock.com.