Key Points
Party games are video games designed to be played by multiple people at once. They are great for entertainment and social gatherings.
PlayStation 3 has many suitable party games for your next video game party.
Start the Party and Carnival Island are examples of popular party games to play on PS3.
The PlayStation 3 is home to thousands of games, some better suited to solo play and others to group fun. If you're an avid PlayStation 3 gamer, chances are you have hosted or attended at least one party or get-together where guests played PS3 games all night.
Although many PlayStation 3 games can be taken very seriously, there are also quite a few titles that are made to be played with others in the same room, having nothing to do with the game's plot or objective whatsoever.
To host a memorable PlayStation 3 party, you'll need plenty of fun games to play with your guests. If you want the best PS3 party games you can get your hands on, check out this list of the absolute best ones out there. These games will surely be a hit with any crowd, so pick one or two and prepare to have some serious fun.
What are Party Games?
Party games are games that you can play with your friends. These games can be played in person or online and are a great way to spend time with friends and family. Party games are a great way to get your guests interacting and laughing together.
More often than not, party games will be played with at least two or more people. They're also an excellent alternative for those who don't want to spend the whole night in front of the television.
You can set up different stations around the house so you have something to do, whether you're feeling competitive or cooperative. With that in mind, here are the seven absolute best PlayStation 3 party games of all time.
#7. Hail to the Chimp
Hail To The Chimp: The Presidential Party Game - Playstation 3
Party game that delivers exciting gameplay, lush interactive environments, and a comic look at politics
Players use the game's unique team-up mechanic, mixing cooperation with competition, to claw their way to victory
Played by four friends on one TV, online against distant challengers or single-player against advanced AI
Offers endlessly replayable party fun for gamers of all stripes
We earn a commission if you make a purchase, at no additional cost to you.
The absolute best PlayStation 3 party games of all time are the ones that bring out your inner party animal. If you're looking for something to help you get the party started, look no further than Hail to the Chimp, a game that lets you play as an anthropomorphic animal.
In it, you are competing to be the animal kingdom president and want to collect as many clams as possible. The one with the most clams will automatically win the elections. This party game can be played with up to four people at once, making it ideal for large groups.
It's also easy to learn how to play and doesn't require any special skills or knowledge. Whether you're looking for an entertaining way to bond with your friends or simply want a great party game that doesn't require much effort from anyone involved, Hail to the Chimp is definitely worth checking out.
#6. Buzz! Quiz World
Buzz! Quiz World (Game Only)
Take on friends and family with 8 player local multiplayer quizzing and challenge groups of friends online with Sofa vs. Sofa Mode.
Personalize the experience with hundreds of player names to choose from to create your own profile, which Buzz comments on.
Customize the game and choose the round types and subjects you want. Choose from new rounds and contestant characters.
Answer over 5,000 new general knowledge questions including hundreds of pictures and videos.
Buzz Buzzers Required, but not included.
We earn a commission if you make a purchase, at no additional cost to you.
If you are looking for a fun game to play with a group of friends, then you will certainly want to consider purchasing Buzz! Quiz World for your PlayStation 3. This game is a modern-day spin-off of the classic quiz game that many people grew up playing with their family and friends as kids.
It is also one of the best PlayStation 3 games ever made. In this game, you are tasked with answering a variety of different quizzes from a wide array of different categories. You can choose to play in a solo game or with up to three other players.
If you choose to play with multiple people, you will have to work together to answer the questions correctly. If you answer the questions correctly, then you will earn bar points.
You will have a lot of fun playing this game because it has various difficulty levels to choose from. There is also a leaderboard system in place that allows you to compete with your friends and other players online to see who is the best at answering questions correctly.
#5. Guitar Hero III: Legends of Rock
Guitar Hero III: Legends of Rock - Playstation 3 (Game only)
Realize a true rock concert experience with all new venues, incredible lighting effects, authentic instruments and sick character moves.
Engage in boss battles, against the like of Slash from Guns N' Roses, and featuring original tracks recorded exclusively for Guitar Hero III: Legends of Rock and defeat opponents to achieve legendary...
Gameplay variety options including single player Training, Quickplay and Career Modes, as well as Multiplayer Co-op Career, Face-off, Pro Face-off and Battle Modes.
Guitar Hero III: Legends of Rock for PS3 features over 70 of the biggest and loudest songs ever compiled in a single game disc, as well as nearly the same amount available for download via PlayStation...
Select and customize a wide variety of Guitar Hero characters - including three new ones - as you unlock venues featuring over-the-top stage design.
We earn a commission if you make a purchase, at no additional cost to you.
If you've ever dreamed of being a rock star and playing music on stage in front of thousands of adoring fans, then you will love playing Guitar Hero III: Legends of Rock. This game is one of the best PS3 party games available and is a lot of fun to play.
In this game, you are tasked with playing different songs by pressing the correct buttons at the correct time on your controller. If you press the correct buttons at the correct time, then you will earn points. There are a ton of different songs for you to choose from in this game.
What's more, you can even play with friends and family members who may not be as musically skilled as you are. This is because the game has an easy mode that makes it more beginner-friendly.
If you and your friends or family want to have a great time playing a fun game that doesn't take itself too seriously, then you will want to consider purchasing Guitar Hero III: Legends of Rock for your PlayStation 3.
#4. Carnival Island
Carnival Island - Playstation 3
Complete challenges in 35 carnival games and attractions and redeem tickets to unlock lovable pets and amazing prizes, bringing magic and life back to the world of the carnival
Play alone or with family and friends for the perfect social gaming experience for up to 4 players
Put yourself in the game by interacting with custom funhouse mirrors, photo cutouts and more!
Share carnival memories with friends and family by sending pictures to a PSN friend or saving off to the XMB.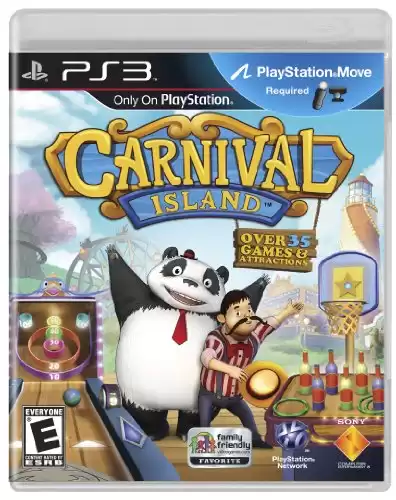 We earn a commission if you make a purchase, at no additional cost to you.
Carnival Island is a game that takes place on an island with lots of fun activities to do and a colorful cast of characters to meet. It's hard to find another game that offers as many features and customization options as this one does.
Carnival Island also has great graphics and addictive gameplay, perfect for any family get-together. It provides variety in terms of difficulty and ensures that everyone will enjoy the game. The gameplay is fast-paced and fun, and multiple levels keep things interesting.
Players can play as one of nine different animals and explore the island, completing quests and earning money to spend on food, souvenirs, games, rides, prizes, and more. This game is great for kids who want to feel like they're at an amusement park or carnival without leaving their own homes.
It's also perfect for people who enjoy exploring new places with their character while having fun in the process. The levels in this game are not easy, but players can always find their level by visiting the map.
At first, it might seem like a complex map to figure out, but once you know where everything is, it'll be easy to use it again. What's more, the game has 35 minigames that you can enjoy with your friends.
#3. Start the Party! Save the World
Start the Party! Save the World - Move Required (PS3)
Grab your PlayStation Move motion controller and prepare to battle Dr Terrible in a series of hilarious mini games
See yourself on screen as you use your motion controller to scoop up fish, swat flies and rescue lost divers
Challenge up to three friends on PS3, take down an evil villain and save the world in four different game modes
We earn a commission if you make a purchase, at no additional cost to you.
Start the Party! Save the World is a party game for Sony's PlayStation 3, and it's one of the best party games available on the console. It can be played by up to four people at a time, and each player selects from one of six different cartoon characters. The move motion enables players to play multiple minigames.
The game is set in a world where aliens have taken over Earth, and it's up to you to save it. You play as one of four characters (each with their special abilities) and work together to fight off the aliens with your superhero gear.
The game has loads of different weapons and items at your disposal, so there's plenty of opportunity for replayability. If you get tired of playing as one character, there's also a multiplayer mode that lets you play cooperatively with other players online.
There are also power-ups that will help players get ahead in the race, such as jetpacks, shields, and bazookas. There are 20 levels total in Start the Party. While this game might not be considered hardcore, it's definitely more than just a kids' game because adults can play too. If you're looking for good PS3 games to have fun with friends, this is definitely worth checking out.
#2. Start the Party!
Start the Party (Motion Control) - Playstation 3
Interactive fun for the entire family
Over 20 fun mini-games and challenges
Innovative video and audio technology that put players virtually into the game
Competitive, co-operative, and customizable team modes.
Solo play challenges.
We earn a commission if you make a purchase, at no additional cost to you.
Start the Party is an absolute blast. It's a party game that's easy to learn, and it gets everyone laughing and having a good time. The game features various minigames that are different from each other and can be played by up to four people at once.
It is played using a Playstation motion controller. Start the Party is not only great for parties but also a good family game because there is something in this game for everyone to enjoy.
You can customize your character's look by choosing from different skin tones and hairstyles. It has an easy-to-use interface with beautiful graphics that make it seem like you're really hosting a party in real life.
There are all the following activities: coloring pages, tic tac toe, and dance battle. The possibilities are endless when it comes to the kind of party this game can bring to life. You can even control the difficulty by adjusting how fast the music plays and how long it lasts.
#1. Age of Booty
If you're looking for a good time with friends and want to play something lighthearted, Age of Booty is the perfect game. It's fun and requires strategy. You'll need friends to play with, but it's worth your time. Age of Booty is a fun and competitive party game that can be played with up to eight players.
The game's goal is to be the last player alive, but you must be careful because the other players will try to kill you too. In Age of Booty, you'll need to use your wits, cunning, and guile to outwit your opponents as you compete for treasure.
The game is set on a pirate ship, with each player taking on the role of a pirate captain in search of treasure. Players then sail their ships around and battle one another to steal treasure from other players and win the game.
With each turn, players move their ship and attack an opponent. If they defeat that opponent, they take that player's treasure and add it to their pile.
There are also items hidden throughout the map that give you additional abilities. These include stealing treasures or hitting more than one opponent per turn. Items are randomly distributed at the beginning of every game, so there is always a sense of exploration when sailing your ship.
Final Thoughts
The PlayStation 3 is a great console for every kind of gamer. From deep RPGs to casual party games, the PS3 can please just about any gamer's taste in entertainment. The beauty of party games is they bring people together. They also encourage friendly competition and create a group atmosphere that's meant to be fun and laid-back.
The PlayStation 3 has had its fair share of party games. And while some have been more popular than others, they have all impacted the gaming world. If you're looking for a fun game with friends or family, you might want to try one of the big titles. Especially before making your final decision. Regardless of which one you choose, it's sure to be a night full of laughs for all those in attendance.
The Best PlayStation 3 Party Games of All Time: Summary
| Rank | Game |
| --- | --- |
| 1 | Age of Booty |
| 2 | Start the Party! |
| 3 | Start the Party! Save the World |
| 4 | Carnival Island |
| 5 | Guitar Hero III: Legends of Rock |
| 6 | Buzz! Quiz World |
| 7 | Hail to the Chimp |
Up Next