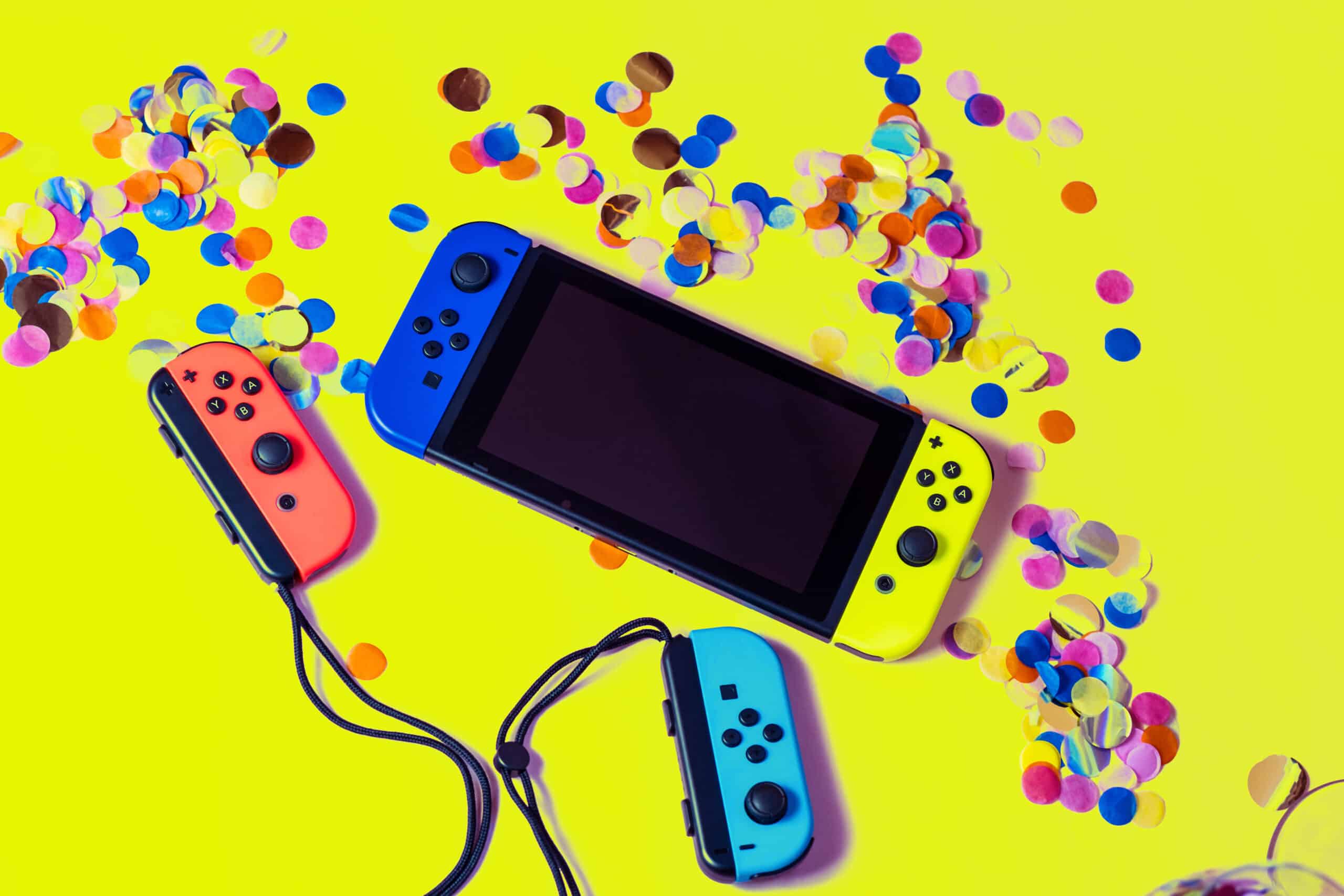 When it comes to gaming with friends and family, the Nintendo Switch is known for being one the best consoles to do that. The portability of the console, plus the fact that you can use the Joy-Con as an individual controller, make it the easiest console to use for some quick multiplayer fun.
There are also way more games on the Switch that perfectly suit small or large gatherings of family and friends. From classics to something innovative and modern, Nintendo Switch has something for everyone. If you want to game with friends and spice up things, here are the best Nintendo Switch party games;
#10. Just Dance 2023 Edition
Initially released in 2022, Just Dance 2023 Edition is a dance rhythm video game created and published by Ubisoft. Unlike other titles in this list, the Just Dance series uses motion sensors to control the game. Just Dance 2023 Edition has a newly redesigned user interface that aims to emulate those seen on Hulu, Netflix, or Disney.
In this game, you first need to choose a song you'd like to dance to. Once you've chosen one, a coach will appear on the screen and all you need to do is copy what he does as he gains scores. One thing to note, though, is that all players on your team must subscribe if you are planning to dance to songs from your Just Dance subscription.
Sale
Just Dance 2023 Edition - Code in box, Nintendo Switch
For the first time ever, dance to BTS with ""Dynamite"" and other top chart hits including: Harry Styles – As It Was, Lady Gaga Ft. Beyoncé - Telephone, Billie Eilish – Therefore I Am, Cast from Encanto - We Don't Talk About Bruno, BTS - Dynamite, Glass Animals - Heat Waves, Justin Timberlake - CAN'T STOP THE FEELING!, BTS Ft. Halsey - Boy With Luv, Bruno Mars - Locked Out of Heaven, K/DA Ft. Madison Beer, (G)I-DLE, Lexie Liu, Jaira Burns & Seraphine - More, Linkin Park - Numb, Dua Lipa - Physical, Ava Max - Sweet but Psycho, Imagine Dragons - Radioactive, Apashe ft. Alina Pash - Witch, Doja Cat – Woman AND MORE…
New User Interface: Spend more time dancing and less time searching thanks to a new, more modern, and intuitive user interface. Everything is one click away: playlists, game modes and songs!
Personalized Experiences: Unlock custom-made sessions and songs tailored to your preferences and playing habits. Plus, Just Dance will keep track of your progress and scores, so you can show off your dancing skills!
Download code only - This product does not contain a cartridge. Internet connection, Ubisoft Account and Nintendo Account required to redeem the code.
Also included is Just Dance Unlimited, now known as Just Dance +. With this feature, you get access to songs from previous installments. Currently, there are up to 150 songs, with the promise of more new exclusive songs to come throughout the year.
Overall, Just Dance 2023 Edition is a colorful game wrapped up in stunning visuals and catchy tunes. So, whether you want to play alone or chill out with your friends, this is the right game to pick.
| | |
| --- | --- |
| Developer(s) | Ubisoft Shanghai, Ubisoft Mumbai, Ubisoft Paris, Ubisoft Pune |
| Publisher(s) | Ubisoft |
| Available Platform(s) | Xbox Series X/S, Nintendo Switch, PlayStation 5 |
| Modes(s) | Single-player, Multiplayer |
| Initial Release | November 22, 2022 |
#9. Mario Kart 8 Deluxe
Whether you are a newcomer or an avid fan of the Mario Kart series, you will never get bored with Mario Kart 8 Deluxe. Featuring dozens of tracks and local multiplayer, this Nintendo Switch game can only be described as fantastic.
Mario Kart 8 Deluxe follows the format of the series before it and comes with tons of maps and challenges to compete with your friends. Alongside the traditional racing modes, there are several challenges and battle modes as well.
Sale
Mario Kart 8 Deluxe - Nintendo Switch
Hit the road with the definitive version of Mario Kart 8 and play anytime, anywhere. Race your friends or battle them in a revised battle mode for new and returning battle courses
Play locally in up to 4-player multiplayer in 1080p while playing in TV Mode. Every track of the Wii U version, including DLC, makes a glorious return
Plus, the Inklings appear at all-new guest characters, along with returning favorites, such as King Boo, Dry Bones, and Bowser Jr.
Players can choose a new Smart Steering feature which makes driving and staying on the track easy for novice players and kids even at 200cc
It also has a refined aesthetic, pleasant visual layout, and controls that make it easy to pick and play. Another important addition is the third purple boost point that helps you aim for top times in Time Trials and in small margins within races.
Therefore, it's a brilliant game to pull out at a party with friends, and there's a lot of content to play through in your own time as well. Once you are done with racing, you can move to Battle Mode and get into hilarious brawls as you chase each other with bob-ombs and red shells.
One thing you'll notice is that the game is not only addictive but unifying as well, hence absolutely perfect for a party. That said, Mario Kart 8 Deluxe is content-rich and a delightful cartoonish-karting action game that can put you on the edge of your seat for a long time.
| | |
| --- | --- |
| Developer(s) | Nintendo EPD |
| Publisher(s) | Nintendo |
| Available Platform(s) | Nintendo Switch |
| Modes(s) | Single-player, multiplayer |
| Initial Release | April 28, 2017 |
#8. The Jackbox Party Pack 3
There isn't a better video game to play at parties or normal gatherings with friends than the Jackbox Party Packs series. As the third installment in the series, The Jackbox Party Pack 3 adds more ample opportunities and fun for extremely dark jokes.
There are 5 games that you can play, including Trivia Murder Party, Tee K.O, Guesspionage, Fakin' It, and Quiplash 2. The games involve testing your trivia skills. What sets it apart is the unique way that you can join in with the games. While there are no major graphical or performance issues, you must be connected to Wi-Fi to access the game.
The Jackbox Party Pack 3
For 1-8 players, plus a participating Audience of up to 10,000!
Your phones or tablets are your controllers!
5 fun party games included:
Quiplash 2 (3-8 players)
Trivia Murder Party (1-8 players)
Once you complete a game, you need to click on the "Gallery" button to analyze every answer provided during a match. These are very small actions, but they can help keep the audience busy while waiting for you to provide their answers.
As for aesthetics, everything is colorful and vivid. Alongside beautiful backgrounds, even the ugliest line drawings look like wonderful pieces of art. To get the most out of this game, you need to invite at least 3 friends over. If you can overlook a few issues here and there, this is a stellar party mini-game that you can enjoy with friends and family.
| | |
| --- | --- |
| Developer(s) | Jackbox Games |
| Publisher(s) | Jackbox Games |
| Available Platform(s) | Xbox One, Android, Nintendo Switch, PlayStation 4, Amazon Fire TV, Android TV, Xfinity X1, Apple TV & iPad |
| Modes(s) | Single-player, multiplayer |
| Initial Release | October 18, 2016 |
#7. Super Smash Bro. Ultimate
Super Smash Bros. Ultimate is one of the best fighting games of all time, with a seemingly endless variety of options and various fun random elements. In Super Smash Bros. Ultimate, there are 74 fighters and 1,300 spirit characters to find. With tons of characters, choosing one can be daunting, even if you are familiar with each series and its characters.
Since it's all about fighting to see who's the best, it definitely brings out the most competitive side of each player involved. If you prefer hard-to-master yet easy-to-control titles, then this game is the right pick.
Sale
Super Smash Bros. Ultimate - Nintendo Switch
New stages and fighters are joined by the combined rosters of every past Super Smash Bros. Game
Challenge others anytime, anywhere, whether you're on the couch or on the go
Play any way you want—locally, online, in TV mode, Tabletop mode, Handheld mode, or even with GameCube Controllers
Fight faster and smarter with new and returning techniques, like the perfect shield and directional air dodge
Face off in 2-4 player battles, or play against the computer
Regardless of your skill levels, you can play and enjoy this game over and over. What makes it charming is the fact that anyone can pick it up, select a fighter and start playing. A lot is going on in this game and even if you are a veteran, you'll feel overwhelmed.
It throws a lot at you, including challenges, multiple branching paths, and some unique battles to free fighters and spirits. Whether you are brand new to the series or have grown up playing them, Ultimate has a lot to offer regardless of your skill level. 
| | |
| --- | --- |
| Developer(s) | Sora Ltd., Bandai Namco Studios |
| Publisher(s) | Nintendo |
| Available Platform(s) | Nintendo Switch |
| Modes(s) | Single-player, multiplayer |
| Initial Release | December 7, 2018 |
#6. Rocket League
Rocket League is a soccer video game developed and released by Psyonix in 2015. A brilliant addition to the Nintendo Switch party game lineup, this game is not only addictive and compelling but also enjoyable.
Known as soccer with rocket-powered cars, Rocket League requires you to hit a ball into your opponent's goal using rocket-powered vehicles. Rocket League features single-player and multiplayer modes that you can play locally and online. With later updates, you can now modify core rules and enjoy new game modes, including basketball and ice hockey. 
Sale
Rocket League Ultimate Edition - Nintendo Switch
Winner or nominee of more than 150 "game of the year" awards
High powered Hybrid of arcade style soccer and vehicular mayhem with easy to understand controls and physics driven competition
Includes more than 100 billion possible customization combinations
Offline season mode
In this game, you control a vehicle by accelerating, jumping, reversing, jumping, and power sliding. The aim is to outscore your opponent by bumping a giant soccer ball into a goal in either of the matches.
Since controlling the car is very important, you need to experiment with different vehicles and enjoy the fun while learning and fun of learning and mastering the game. In a nutshell, Rocket League has continued to surprise many gamers with its simple premise and intricate physics-based gameplay.
From the new game modes to improved connection and expanded cross-platform connectivity, the game has everything you need in a party game. If you are looking for fantastic and fun gameplay, Rocket League is a must-have title.
| | |
| --- | --- |
| Developer(s) | Psyonix |
| Publisher(s) | Psyonix |
| Available Platform(s) | macOS, Linux, Nintendo Switch, Windows, PlayStation 4, Xbox One |
| Modes(s) | Single-player, multiplayer |
| Initial Release | July 7, 2015 |
#5. Super Bomberman R
Super Bomberman R is an iconic video game series that has been featured on almost every video game platform in the last three decades. Given that you can play as 4 local players or up to 8 people online, this game offers an interesting battle action that you just can't help but love.
As the game progresses, it becomes highly tense as you try to blow your opponents off the map while avoiding getting bombed yourself. In multiplayer mode, you can harass other players by throwing bombs back onto the battlefield. If you prefer a single-player mode, you can take a break from the bombing chaos and enjoy the game at your own pace.
Super Bomberman R - Nintendo Switch
Over 50 levels of single player or co-op maps!
3D stages with dynamic environments!
Bomberman's siblings and well-known enemies are back with rich personality!
Battle mode for maximum of 8 players, local connection battles, and online battles!
Photo-real graphics! enriched story with all-star voice actors!
While Super Bomberman R doesn't have the coolest graphics, it offers a simple formula for getting trapped in the maze and exploding your way through. Bomberman is another one of Nintendo's signature titles that always delivers and has all the makings of an excellent maze game.
As the newest entry in this franchise, this game is not only simple and addictive but also adds tons of collectible items, modes, and characters that will keep things fresh. Although its controller issues might prevent you from achieving greatness, it has a lot of fun and fast-paced action that makes it a worthy title to add to your list.
| | |
| --- | --- |
| Developer(s) | HexaDrive, Konami |
| Publisher(s) | Konami |
| Available Platform(s) | PlayStation 4, Xbox One, Nintendo SwitchMicrosoft Windows |
| Modes(s) | Single-player, multiplayer |
| Initial Release | March 3, 2017 |
#4. Runbow
If you are looking for a game that caters to both solo and multiplayer, Runbow can be the right pick. Runbow is a party game designed specifically for the Wii U but later ported to the Nintendo Switch. Since it focuses on multiplayer, you aim to be the first to complete it at the end of each level. You can perform attacks and double jumps to gain extra reach or defeat your enemies.
At a glance, Runbow appears similar to many other platformers. What makes Runbow stand out is its color-based platform mechanics. The background is also constantly changing and cycling through colors to match other platforms. Essentially, your goal is to run across platforms and make your way to a goal or an endpoint of some sort. 
Runbow Deluxe Edition (Nintendo Switch)
Tons of competitive modes for up to nine players online and four players locally and a massive Single Player Adventure
Runbow Deluxe Edition also includes:
Satura's Space Adventure.
All 4 Costumes & Music Packs.
Runbow OST Volumes 1 & 2
The best place to start the game is Adventure Mode, where you are supposed to collect several objects and defeat a certain number of enemies to reach the goal. There's also a Bowhemoth Mode that challenges you with multiple rooms, and color schemes, in a terrifying twist.
That said, Runbow is a short single-player game with solid gameplay. Although it doesn't have the finesse of other games, it's vast when played with friends. The real beauty is that it supports up to 8 players.
| | |
| --- | --- |
| Developer(s) | CrossFunction Japan, RainyFrog, 13AM Games, HeadUp Games |
| Publisher(s) | 13AM Games |
| Available Platform(s) | Nintendo Switch, Xbox One, PlayStation 4, Wii U, Windows, Nintendo 3DS |
| Modes(s) | Single-player, multiplayer |
| Initial Release | June 20, 2017 |
#3. Keep Talking and Nobody Explodes
Have you ever imagined what it takes to defuse a bomb? Well, Keep Talking And Nobody Explodes is a game that utilizes a VR headset to create an immersive game with tight controls. To succeed here, your communication and listening skills must be refined. The best part of the game is that you'll end up laughing nonstop or screaming when you fail.
The concept of the game is simple. You're supposed to look for a complex bomb and defuse it before time runs out. To defuse the bomb, you must keep talking. As the game progresses, it keeps adding new modules that you have to understand.
For example, in one module, you need to report words that show up on a small display while your assistants show you which buttons to press underneath. If you are tired of playing games like Monopoly, Cards Against Humanity, Monopoly, and more, this game will certainly give you what you are looking for, provided your friends are up to the task.
It's actually the perfect game to play with your friends or family members. With up to 32 levels to complete, it's a game you can replay over and over again but still have a great time.
| | |
| --- | --- |
| Developer(s) | Steel Crate Games |
| Publisher(s) | Steel Crate Games |
| Available Platform(s) | PlayStation 4, Linux, Nintendo Switch, Xbox One, Android, Microsoft Windows, OS X |
| Modes(s) | Multiplayer |
| Initial Release | August 16, 2018 |
#2. Super Mario Party
Initially released in 2018, Super Mario Party is aimed at capturing the magic of the bygone era while bringing in more positive elements. For starters, this game just looks great. If you are playing with fewer than four players, you'll have to pick the other characters and randomly assign them to different levels of difficulty.
While Super Mario Party includes classic game boards, it also features rhythm and survival mode. Plus, if you play for a longer time, you can unlock additional characters, mini-games, mini-modes, a new challenge mode, and even another game mode. You can also achieve something and get rewarded in the form of gems.
Sale
Super Mario Party - Nintendo Switch
Outwit friends and family as you race across the board; whoever gets the most stars wins.
Play the original 4-player Mario Party series board game mode locally or online
Character-specific Dice Blocks with alternate numberings add another level to your strategy
Dozens of exciting minigames packed with wildly different challenges—now with newly-added online play
Pair two Nintendo Switch systems, lay them flat, and creatively combine both screens to enjoy a different, interactive style of tabletop gaming in Toad's Rec Room mode
As for minigames, Super Mario Party has up to 80 different mini-games designed around the Joy-Con. While Super Mario Party is a great multiplayer title, you can't play with Joy-Con Controls.
This essentially means you will need two sets of controls if you intend to play with four players. Although the game lacks variety in the game boards, it does fix a lot of issues from past entries, thus making it one of the best.
| | |
| --- | --- |
| Developer(s) | NDcube |
| Publisher(s) | Nintendo |
| Available Platform(s) | Nintendo Switch |
| Modes(s) | Single-player, multiplayer |
| Initial Release | October 5, 2018 |
#1. Mario Party Superstars
Coming out as the best overall Nintendo Switch party game is Mario Party Superstars. Developed by NDcube in 2021, this game's gameplay is similar to the first eight installments of the Mario Series.
Mario Party Superstars is a fun party game with 5 unique digital board games which up to 4 players can enjoy. It generally involves rolling a dice and moving around the board as you play the game.
A long-standing franchise, the game is packed with enjoyable mini-games and memorable characters, hence perfect for gamers of all experience levels. Mario Party Superstars also has an upbeat soundtrack and clean graphics that make it perform well.
Sale
Mario Party Superstars - Nintendo Switch
Bring the party on 5 classic boards from the Nintendo 64 Mario Party games
Show your friends and family who's boss in 100 minigames from throughout the Mario Party series
All game modes can be played online
Matches with friends in board game mode are saved after each turn both locally and online—pick up where you left off
Play using a single Joy-Con controller, two Joy-Con with the Joy-Con grip accessory, Nintendo Switch Pro Controller, or Nintendo Switch Lite system
While there isn't detailed content to explore, there is still a lot to keep you engaged. Mario Party Superstars is, therefore, a great party game that allows you to take on a variety of different roles.
For an adult, it's an easy-to-play party game that's fun to revisit once in a while. But for younger kids, it offers a preview of the video game history and an enjoyable way to spend time with your family.
Despite the few issues it might have, Mario Party Superstars is a unique game that's perfect for newcomers, veterans, and nearly everyone else. If you've been partying since 1998, it will provide you with much-needed nostalgia.
| | |
| --- | --- |
| Developer(s) | NDcube |
| Publisher(s) | Nintendo |
| Available Platform(s) | Nintendo Switch |
| Modes(s) | Single-player, multiplayer |
| Initial Release | October 29, 2021 |
Bottom Line
Whether you're looking for a game to enjoy with friends or a title to enjoy with family, this list has you covered. From Mario Party Superstars to Super Mario Party and Runbow, there's an overwhelming number of Nintendo Switch Party games you can choose from. Once you have your Nintendo Switch console, you can pick your preferred game and get into the action.
Up Next
Last update on 2023-01-13 / Affiliate links / Images from Amazon Product Advertising API