When looking for the best Nintendo 3DS sports games, you have such a wide variety to choose from that you might have trouble deciding which the absolute best are. From famous franchises to the classical evergreens, you're never short of gems to satisfy the most discerning gamer. While the 3DS sports games have been around for just slightly over a decade, they have continuously taken a huge chunk of the gaming market share and this speaks volumes about the quality of the products. Below, we take a closer look at the 10 absolute best Nintendo 3DS sports games of all time
#10. Inazuma Eleven 3: Team Ogre Attacks
Inazuma Eleven 3: Team Ogre Attacks is the third game in the Inazuma series and while it has slight variations from its predecessors, the storyline is not too different. It's the story of Mark Evans and the Japanese national soccer team. While Mark Evans and his teams in some of the other games have to tackle teams from other parts of the world, the enemy this time is much more formidable. Team Ogre is a team from the future and its plans are sinister. The team plans to bring an end to world soccer and Mark Evans and his team are determined to stop them.
Apart from the storyline, some of the features that make this game stand out are its excellent communication features and the options it offers for character building. And since it's a soccer game, another outstanding element is that the games you play here are fast and fun-filled. Playing Mark Evans, you'll interact with thousands of characters in your recruiting, training, and playing exercises. Moreover, you have the ability to pull off hundreds of special moves which add to the game's excitement. To further add to the game's appeal, the presentation is colorful and the music is nicely presented. You should have a great time playing Inazuma Eleven 3: Team Ogre Attacks.
#9. WWE All Stars
WWE All-Stars is all about current and past players in professional wrestling. Just as you have seen them compete on TV, this game brings you some of the most famous stars you've ever seen including the likes of The Rock, Undertaker, John Cena, and Steve Austin.
The action on WWE All-Stars is superb and resembles what you've been accustomed to on Wrestlemania and other wrestling programs. Yet this game is not just about watching the stars. The game has four modes and two of these let you play an active part. In exhibition mode, you can engage in combat with a superstar of your choice. Moreover, the game offers you the opportunity to create a wrestler and the tools provided enable you to develop a character you'd like to wrestle with.
That WWE All Stars will keep you engaged for a very long time is guaranteed by the wide range of challenges that you could take and the equally diverse trophies that you could win. The trophies for fighting a created wrestler vary from those awarded for fighting a legend or a superstar.
#8. Inazuma Eleven 3: Bomb Blast
Inazuma Eleven 3: Bomb Blast is the third installment in the Inazuma Eleven series, the soccer blockbuster from Level 5. As in the other games in this series, Inazuma Eleven 3: Bomb Blast follows our main character, Mark Evans, and his soccer teammates. What sets this game aside from the others is that this one takes place on a global stage. Where the action was local in the preceding games, the challenges that your new team faces here are monumental.
When Mark Evans and his team arrive at Raimon Junior High School, they're surprised to learn that they'll be joining well-known members of the Japanese National Soccer team. The team is being assembled to take part in the Football Frontier International (FFI), a tournament similar to the soccer world cup. As happens in the real world cup, the Japanese team will be up against the soccer powerhouses of the world.
To play this game, you're required to use your skills to scout for the kind of players who could help you participate effectively in a global event of this magnitude. You have over two thousand characters that you can use to create your dream team. Since this is the ultimate soccer event, you're equipped with the most complex array of special moves to make your players make the most dazzling moves and animation sequences. When thinking about engaging soccer games, Inazuma Eleven 3: Bomb Blast must rank among the best.
Please note: As of July 19, 2023, Inazuma Eleven is out of stock on Amazon. Check back for availability.
#7. Pro Evolution Soccer 2012 3D
Pro Evolution Soccer 2012 3D is an update of PES 2011 3D and it attempted to rectify some of the problems that were identified in the latter. As you can see from the review of the PES 2011 3D below, some issues made it not as entertaining and challenging as other soccer games. So, how were these problems addressed and what improvements were made?
First, Pro Evolution Soccer 2012 3D employed better AI than its predecessor. The AI in this game succeeds in simulating the actions of the players the way you expect them to behave in a real match. What you'll notice when playing this game is that the players' actions are intelligent. With this game, you see the kind of coordination that you expect from players in a real game. You'll, therefore, find that the wingers are making intelligent runs and that the defenders are supporting the midfielders, and that the latter are releasing the strikers in the most creative way to ensure that they score goals.
The lighting and animation in PES 2012 are also much superior to PES 2011. PES 2012 also features more clubs than its predecessor and enables you to play games featuring bigger teams and some of the most famous players. Playing Pro Evolution Soccer 2012 3D is a great way to experience the magic of the beautiful game and that makes it one of the best Nintendo 3DS sports games.
#6. Pro Evolution Soccer 2011 3D
If you need to create the aura you're used to when watching a live soccer match, then Pro Evolution Soccer 2011 3D could be your best bet. The players look so real that you might be forgiven if you entertained the thought that you were watching them live. In addition, the play in this game is accompanied by live commentary and the whistling and cheering are what you'd expect in a real match. The graphics are outstanding and the accompanying music is carefully selected.
But while there's so much going on for this soccer game, it has a few major limitations when compared to other soccer games such as those in the Inazuma series. The options you have when playing Inazuma to select players and create a dream team are non-existent here. While you can hire and sell players, you don't get the chance to train your players and your best hope of winning trophies is through the actions you take on the transfer windows.
The action on Pro Evolution Soccer 2011 3D is superb. You can control your players to make the most outstanding moves, sleek ball control, and awesome set pieces. The AI used for this game is great and the player movements are as realistic as you would expect in the real world.
#5. Inazuma Eleven Go: Light
While Inazuma Eleven Go: Light follows a similar structure to the other games in the Inazuma Eleven series, it has a new protagonist. Our hero this time is a newbie soccer player Arion Sherwind. Arion might not be as experienced as the hero in the other stories, Mark Evans, but what he lacks for in experience is more than made up for in enthusiasm. Our protagonist joins the legendary Raimon school team together with a host of new players.
In this game, you're controlling Sherwind and you've got plenty of work to do. You're required to master the control of the trading card which allows you to acquire new players and create your ideal team; you've more than a thousand players to choose from. In addition, you're empowered to use fighting spirits which empower you to increase your playing powers and make the most fearsome special moves. The matches you participate in are tough and drama-filled.
Inazuma Eleven Go: Light tests your stylus control abilities to the limit. Just think about the special moves, the fighting spirits, and energy-level management to appreciate how absorbing this game is. While the graphics appear simple, they are neat and the music is of good quality.
#4. Inazuma Eleven Go: Chrono Stones: Wildfire
Inazuma Eleven Go: Chrono Stones: Wildfire is a build-up to the goings-on in Inazuma Eleven Go and Arion Sherwind is still the main character. This game is about rescuing football. Sherwind has been away from Raimon Junior High School and he now returns to find that soccer is no longer part of the sports program. Students have taken on other activities and even the soccer pitch is being used for baseball.
To restore soccer to its rightful place in the institution, Sherwind works hand-in-hand with some future time travelers. By traveling two hundred years into the future, you'll discover a huge soccer world where you'll build your team and fight others for the sake of the game.
Like happens in other Inazuma games, you must endeavor to build the best team possible as this is one of the guarantees you need to win matches. While you could choose from over a thousand players, you only have a limited number of places so you need to exercise utmost care to ensure that you get the very best.
This game has plenty of special moves to spice things up and help you win matches. It also features fighting spirits that are capable of turning a match around. Add to that the ghosts of former players whom you'll need to tackle to appreciate the kind of soccer action to expect from Inazuma Eleven Go: Chrono Stones: Wildfire.
#3. Inazuma Eleven Go: Chrono Stones :Thunderflash
Inazuma Eleven Go: Chrono Stones: Thunderflash follows the same storyline as Wildfire and most players have a problem choosing one from the other. In both games, the story is the same – about restoring soccer's lost glory but there are crucial differences.
First, the biggest difference you'll notice between the two is the sets of characters. In Wildfire, the storyline character is known as Taiou while that role is played by Hakuryuu in Thunderstorm. The rival teams in Wildfire are Southern Claw and Wolfman Team while the teams in Thunderstorm are Northern Fang and Vamptime. The two games also differ in move manuals and the players you can recruit.
The two games also differ in terms of the equipment you can use and the scenarios you operate within. But when all is said and done, the intention when you play either of the games is to create the best soccer team possible by recruiting and managing your players to help you win matches and battles and thereby restore soccer to a world that has forgotten about the game.
#2. Mario Golf: World Tour
Mario Golf: World Tour gives you the perfect opportunity to hone your golfing skills by playing on a wide variety of courses against players from around the world. As for courses, this game has one of the most generous provisions with ten courses and over one hundred and sixty holes.
The courses cover diverse terrains and therefore you have a forest course, seaside course, mountain course, and sky island course among others.
To play Mario Golf: World Tour effectively the player has to consider several factors. As a player, you know that the accuracy of the shots you make will be determined to a substantial extent by the course topography and the weather and you, therefore, need to master playing in varying weather and course conditions.
All the tools you need to play this game are available on the touch screen. You are therefore able to control the power of your shots and add spins. Moreover, you can alter the terrain of the course to make it either easier to play on or more challenging. The game has thirteen default characters and four unlockable ones. There's also plenty of customizable gear and at the beginning of the game, you can only unlock gear by taking place in tournaments.
#1. Inazuma Eleven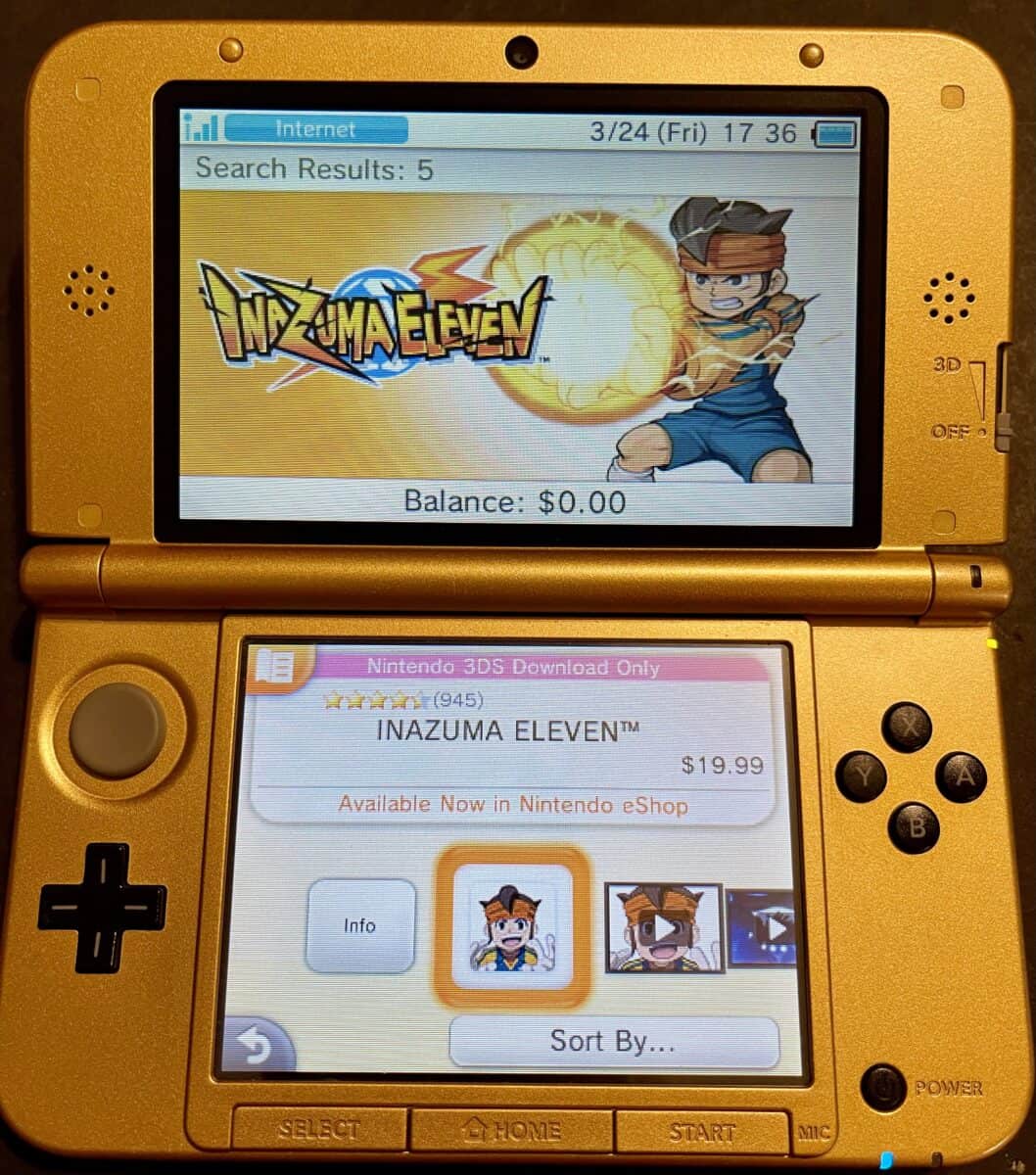 In a world that loves soccer, it's not surprising that the absolute best Nintendo 3DS sports game of all time is soccer-based. Just as soccer has millions of players and fans globally, playing this game could be the best that some young kids get to practice their soccer skills and create the most wonderful match-winning teams. The Inazuma Eleven story is utterly enticing and the actions and playable characters are unlimited so that playing the game guarantees many hours of immersive enjoyment.
Storyline
Inazuma Eleven is the story of Mark Evans, the goalkeeper of Raimon Junior High School, and his team of seven players. While Mark has inherited the skills of his late grandfather who was an outstanding player, the rest of the members of the team are not too excited about playing. This underperforming team risks getting disbanded but there's hope – an ace striker has just come to town and, if the soccer team could manage to recruit him, the team's fortunes could improve tremendously. However, things are not as straightforward as you'd expect. While Mark is desperate to recruit the star striker and other members to create a full team, his team is supposed to play Teikoku Academy which has been the undisputed soccer champions for forty years. This do-or-die scenario is what you have to deal with to play Inazuma Eleven.
Gameplay
To play this game, you have to recruit and train players and also decide how to choose the eleven players that make the best combination to guarantee that your team will win. This is a role-playing game and to improve the attributes of your players you have a Prestige Points section that you'll use to improve the performance of your recruits. The section allows you to equip your players with needed soccer skills such as ball control and better kicking abilities.
Conclusion
Nintendo has a wide selection of 3DS sports games and whenever you're out shopping, you might find it worthwhile to try the selection in this review. The games in our review are time-tested and they have consistently made up the list of the absolute best Nintendo 3DS sports games of all time.
The image featured at the top of this post is ©Zyabich/Shutterstock.com.