Key Points:
The Fully Jarvis Bamboo Standing Desk is ultra-sturdy. Once fully built, the desk can hold up to 350 pounds of weight on its steel legs.
Vari's Electric Standing Desk promises you can build the entire desk in less than five minutes.
The VariDesk Essential two-tier desktop has one shelf that is home to your keyboard and mouse and another that adds space for a monitor or laptop.
Whether you work from home full-time or in an office, sitting at your desk is linked to a rising number of health difficulties. Even with a terrific office chair, sitting at your desk all day every day isn't particularly healthy.
The rise of standing desks has been helped by the idea that standing is better for your health, not to mention a nice change of pace. The only question is, how do you choose which one is the best?
After a few weeks of reviewing multiple standing desks, we've put together a ranked list for you of the best options on the market today:
Widely regarded as the best standing desk around, the Fully Jarvis Bamboo Standing Desk is the strongest combination of stability, price, and reliability.
Available in a variety of sizes, you can choose from different depths and widths to help complement your workspace. Regardless of the size, the Fully Jarvis is incredibly sturdy, which is one of the biggest reasons that it's considered the best standing desk around. Once fully built, the desk can hold up to 350 pounds of weight on its steel legs and you have to try really hard to get it to shake even a little.
The lack of shaking is true whether the Fully Jarvis is at its seated position of 30 inches or fully raised height of 49 inches. You can quickly shift from seated to standing and back again with the motor quickly moving at 1.5 inches per second.
Four programmable presets help make sure that once you find the right height for your workday, you can lock it in and make it easy to find again and again.
You can find it on Amazon here.
A close second behind the Fully Jarvis Bamboo as a favorite standing desk, the UPLIFT Desk V2 is a tiny bit sturdier, albeit a few hundred dollars more.
Thanks to its high-quality 1" thick solid bamboo desktop and 3 stage C-shaped legs, you can barely shake this standing desk no matter how much you try. That's true whether you go for the 42" wide desktop or the 80" model, all of which offer up to 355 pounds of supported weight.
UPLIFT also excels by adding an industry-leading 15-year, all-inclusive warranty against any type of damage or defects. That's a big reason to give the UPLIFT a good look, especially if you use the motor on your desk to sit or stand frequently.
Standing desktop height ranges from 25 inches when seated to 50 inches when standing.
Check it out on Amazon here.
For many people, the difficulty of building any desk, never mind a standing desk, is a large part of their consideration process. Vari's Electric Standing Desk hopes to change all of that by promising you can build the entire desk in less than five minutes.
Vari makes that commitment to its buyers right from the start and it's something no other standing desk brand is matching. No matter who does the build, when fully built, the Vari Electric Standing Desk is super sturdy and feels like it will last for years.
Capable of raising to any height from 25 to 50.5 inches, the Vari offers four programmable memory settings. Support for 220 pounds is on the lower end of the standing desk scale but, for most people, even the largest monitor and laptop won't come anywhere near that weight restriction.
Find it on Amazon here.
If you already have a desk you love but still want the benefits of a standing desk, a standing desk converter is exactly what you need. The VariDesk Essential is a best-in-class converter that comes in 30" or 36" in width.
The two-tier desktop has one shelf that is home to your keyboard and mouse and another that adds space for a monitor or laptop. There are 11 different potential height settings raising up to 17.5 inches with a total weight capacity of 25 pounds. The raised height added by the VeriDesk should rival that of a standing desk with a total height of around 45-47 inches when it's combined with a standard 30-inch desk.
Every VariDesk Essential unit ships assembled so just unbox it and you're ready to go.
You can buy it on Amazon here.
Even as standing desks tend to have a more premium price tag, once in a while you find a really great price-friendly option like the Flexispot EC1 Essential.
Available in widths up to 60" and up to 30" in depth, the Flexispot EC1 Essential standing desk offers room for two monitors and a laptop. Up to 154 pounds of weight capacity ensures stability at any height and especially while seated.
Flexispot's motor can raise the desk from any height between 28 and 47.6 inches but lacks any programmable presets.
The only caveat with the Flexispot is that its two packages ship separately so you may receive the desktop first and legs the following day or vice versa.
Find it on Amazon here.
All too often, standing desks are just a desktop and a set of legs—and that's okay for most people. For some users, you might want a standing desk that also adds a little bit of storage. The FEZIBO Electric Standing Desk is the answer.
The dual workspace setup adds a bottom shelf which adds not one or two but four drawers in total, plus a center storage section large enough for notes, calculators, and more. The top shelf is deep enough for at least one monitor in the 48" size but plenty big for dual monitors with the 63" frame.
The steel frame can support up to 176 pounds in total which is more than enough capacity, even with additional storage options. Four programmable memory buttons enable you to choose any favorite height between 27 and 46 inches.
One final bonus is that the FEZIBO comes complete with a headphone hook for more simple storage.
Check it out on Amazon here.
For some extra savings without sacrificing the benefits of a standing desk, you can opt for a non-motorized option, like the VIVO Height Adjustable Stand Up Desk.
Using the manual crank, turn clockwise to raise the desk and counterclockwise to lower it, and you maintain all of the health benefits at a much lower cost.
The VIVO can still be raised anywhere between 29.8 and 48.8 inches in height, all within 30-60 seconds. Once locked in place, the VIVO feels incredibly sturdy and, with support for up to 132 pounds, you don't have to worry about shaking.
At 63.1 inches in width and 31.5 inches in depth, there's plenty of workspace for a dual monitor and laptop setup. No matter the size, there are eight different colors to choose from so you can match your workspace with the right aesthetic.
Get yours on Amazon here.
Standing desks are mostly just rectangular pieces of wood, but sometimes you want a look that's a little different. The L-shaped standing desk from It's Organized offers exactly that with either left or right side corners that add more desk space.`
The desk offers 61 inches in total workspace area, which is more than enough for dual monitors plus a laptop, keyboard, and mouse.
It's Organized can raise and sit from 29.9 to 48.4 inches in height and with four programmable memory buttons, so it's easy to find your favorite height in seconds. Support for up to 220 pounds promises plenty of stability
Anti-collision technology promises to protect your belongings from any accidental collisions and stop the motor's movement if it detects any obstacles while raising.
Find it on Amazon here.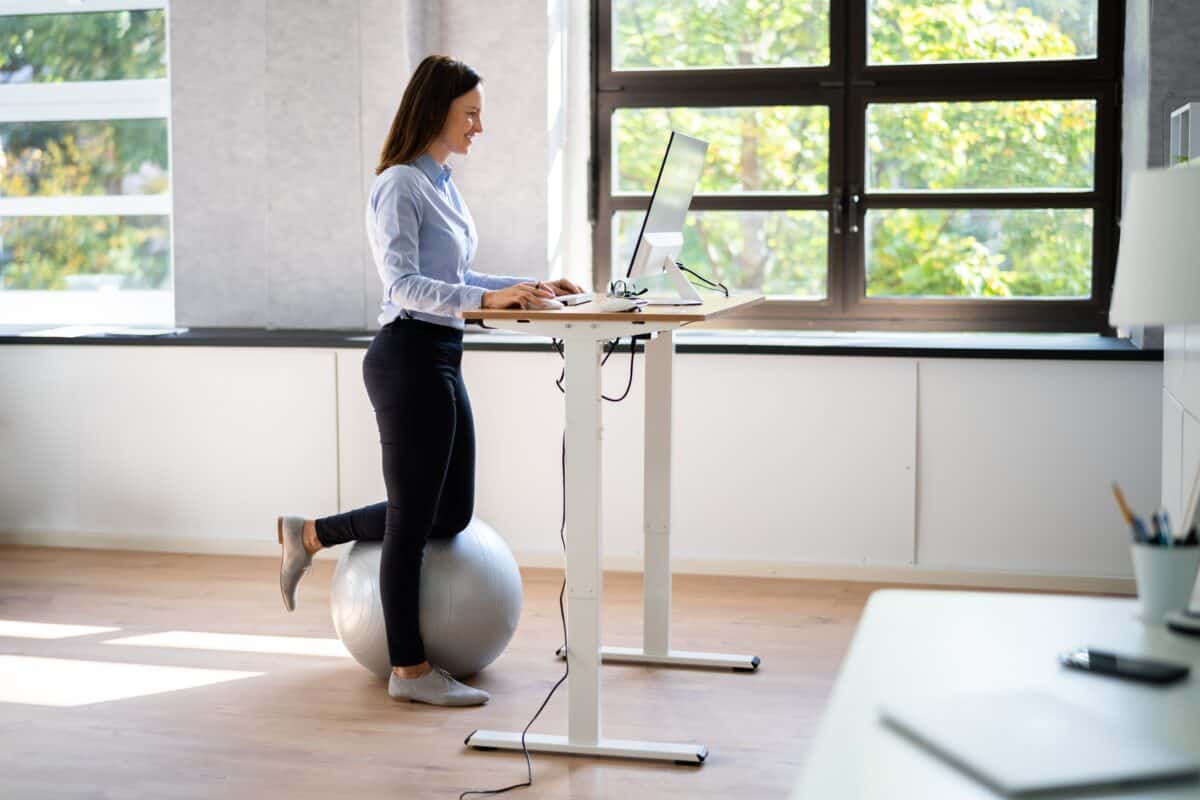 How to Pick the Best Standing Desk: A Step-by-Step Guide
Choosing the right standing desk should be done very carefully as it's something you'll need to enjoy using for hours on end, day after day. When looking at standing desk options, it's helpful to look at these four considerations.
Stability
Customization
Motorized or Manual
Max Weight
Stability
The higher a desktop stands, the more likely it is to sway, move, adjust and shift. Stability counts for a lot in this category, so it's really important for you to purchase a desk that has a reputation for being incredibly stable. The last thing you want is a wobbly desk that something valuable can easily fall off of.
Customization
Many standing desks offer different color tabletops and legs so you can consider what style works best for you. Beyond the aesthetics, you can often choose between multiple widths and depths to help find the best fit. Ideally, the larger the desktop, the better so you have room to grow, but some people may prefer small as well.
Motorized or Manual
The best standing desks are often thought to be motorized because it's less work than having to crank a desk manually. However, there is a definite price difference so, if you want to save a little, going the crank method may work out for you. On the other hand, motorized allows for programmable resets in many cases so you can quickly go back to the same height every day.
Max Weight
You aren't going to stand on your standing desk but you will be putting in valuable equipment, so you want to feel comfortable that a desk can handle the weight. As all of the top choices we've lined up support at least 150 pounds or more, there should be little concern about supporting at least two monitors and a laptop, keyboard, mouse, personal effects, and any other necessities.
Using the 8 Best Standing Desks: What It's Like
We've been trying each of these standing desks for over a month, which included building them. Each desk was compared based on motor speed, stability, comfort, and build quality. What we found is that the Fully Jarvis Bamboo Standing Desk was the best of these four categories. The same goes for the UPLIFT Desk V2, which happens to be my own personal desk that has been in use for years.
Stability was a big factor as it's one of the most discussed reasons why more people haven't gravitated over to standing desks. What we found was that the thicker the wood, the more stable the desk, along with C-shaped legs. Many people might think that "T" shaped legs are the most stable, but our testing showed that "C" shaped legs are more stable.
For comfort, we wanted to make sure that each desk provided the level of ergonomics it stated at the various heights it promised. The good news is that all of the desks lived up to their commitments, and that includes manual measurements down to a quarter inch.
Build quality, which ties directly into stability, was another big testing factor. Did the desk squeak at different heights or was it difficult to assemble because of poorly labeled holes, etc. Thankfully, there were only a few hiccups in this category, which tells you this list of standing desks includes the best for a reason.
Final Thoughts
At the end of the day, with hundreds of standing desks to choose from, the Fully Jarvis is the best bang for your buck based on our review. It just inches out the UPLIFT Desk, but you get an outstanding warranty, excellent build quality, and stability, plus a super quiet motor.
Up Next…
The image featured at the top of this post is ©Andrey_Popov/Shutterstock.com.