With ready access to cameras and smartphones, most people have taken up amateur photography. Others store thousands of pictures in their devices, memory cards, and the cloud, yet they don't have the time to view them. However, this has changed drastically with the arrival of digital picture frames. These devices can access photos taken on your camera or smartphone and display them using an automated slideshow.
Besides manually uploading photos to this device, you can send them via email or cloud as long as you have internet. Most digital frames are Wi-Fi enabled, meaning they can access videos or photos stored in the cloud, social media sites, and other applications. The latest digital models can display high-quality photographs and videos. Here are our top picks of the best digital picture frames available today.
Just take a look at our roundup of the 8 best digital picture frames:
Best Overall Digital Picture Frame: Aeezo 10-Inch Digital Photo Frame
Aeezo 10-Inch Digital Photo Frame is the best overall option because of its exceptional features and aesthetic appeal.
The Aezo 10-inch digital frame comes with massive amounts of storage and in-built speakers. It has a resolution of 1280×800, a 10-inch display, a storage of 16GB, and a 15-second video upload. The frame also has touchscreen capabilities and Wi-Fi connectivity. It is a must-have for photogenic persons. Not only does it offer ample storage, but it's easy to set up. Using unique codes, friends can also add pictures to the frame. Unfortunately, it has a plastic feel, and users can add ten photographs at a time.
You can upload pictures to the Aeezo 10-Inch Digital Photo Frame via the Frameo app, memory card, or USB stick. This digital photo frame displays clear and crisp images, and its touchscreen sensitivity is highly responsive.
Check out the Aeezo 10-Inch Digital Photo Frame on Amazon.
The Best Budget Digital Picture Frames: Aura Carver
Best Budget
We earn a commission if you make a purchase, at no additional cost to you.
Aura Carver is a reasonably priced digital photo frame that doesn't have a cheap feel. It features a 10.1-inch display, in-built storage, a motion sensor, and Wi-Fi capability. This digital frame is not just user-friendly but easy to install, and its image quality is high. Unfortunately, it only has a landscape orientation. Despite this limitation, you can still upload portrait photos.
The Aura Carver has a unique feature called photo match technology that pairs up two portrait pictures and displays them simultaneously. Other incredible smart features include pre-loading photographs, photo removal using the frame, and an automated dimming feature. Considering its price, this digital frame is good quality and aesthetically appealing. Its cloud services include the Aura App, Google Photos, and Instagram.
Check out the Aura Carver on Amazon.
Best 2-In-1 Digital Picture Frame: Facebook Portal
Apart from being a fantastic 2-In-1 digital frame, Facebook Portal, also known as Meta Portal, is a popular video calling medium that uses WhatsApp and Facebook contacts.
This digital frame has a touch-sensitive, 10-inch screen with 1280 x 900 resolution, a Wi-Fi connection, a Motion Sensor, USB/SD slots, and video uploads. This frame is a good buy because it uses Alexa smart controls, has a video calling feature, and displays pictures via Instagram and Facebook. Its only downside is a lack of in-built storage.
The video calling capabilities of the Facebook Portal has advanced features that enhance its user-friendliness. For instance, the smart camera always pans and zooms to take a good shot while video calling your friends or loved ones. Additionally, users can switch off the camera and the recording function whenever they're not calling to enhance privacy.
Check out the Facebook Portal on Amazon.
Best Gift Digital Picture Frame: Aura Mason Luxe o
Best for Gifting
We earn a commission if you make a purchase, at no additional cost to you.
A stylish digital photo frame, the Aura Mason Luxe o makes the perfect gift for your photogenic friends or loved ones, allowing them to upload photos without opening the packaging.
The Aura Mason Luxe sparkle effect and comes with a choice of two colors; sandstone and pebble. This frame has a 9.7-inch display with 2048×1536 resolution and supports Wi-Fi connectivity. The touch-sensitive frame also supports video upload and has motion sensors. It also uses the Aura app, Google Photos, and Instagram cloud services. This digital frame works with Alexa and Google Assistant smart controls. You can view photos in portrait and landscape orientation. The only downside is it lacks internal storage.
As a user-friendly frame, it is the best choice for less tech-savvy individuals. What's more, users can send photos via email. Aura Mason Luxe upgraded version can play the best video quality due to its 2K resolution. You can adjust the slideshow speed, allowing the photos to interchange slowly or quickly, depending on your preference.
Check out the Aura Mason Luxe o on Amazon.
Best 10-Inch Touch Screen Digital Picture Frame: Dragon Touch Classic 10
The incredible Dragon Touch Classic 10 has an impeccable interface, making swiping photographs easy.
Dragon Touch Classic 10's display has a resolution of 1280×800. This device also supports Wi-Fi connectivity and video uploads. You can slot in memory cards with your photos or download them to the 16 MB storage from your cloud services. Touch Classic 10 is the best option as it offers massive storage, user control, and a simple touchscreen interface. However, it limits users to upload only 30-second videos. If you are looking for a stylish digital photo frame that can easily blend with your office desk, bedroom, or living room, the Touch Classic 10 is the best pick.
Check out the Dragon Touch Classic 10 on Amazon.
Best Wall Mountable: Aluratek ADMPF310F 10-inch
Best Wall Mountable
Aluratek 10" LCD Digital Photo Frame
10-inch truecolor TFT (1024 x600 res)
4GB Built-In Memory (USB 2.0)
Transfer photos/videos from a USB flashdrive or SD card
Configure slideshows in various displays
Adjustable frame for vertical orientation
We earn a commission if you make a purchase, at no additional cost to you.
Aluratek ADMPF310F 10-inch is a basic, wall-mountable frame that does its job effectively.
This digital picture frame has a 10-inch display with 1024 x 600 resolution and supports remote control and SD slots. We like it because it is reasonably priced, user-friendly, and wall-mountable. However, it's not an excellent alternative for people that fancy digital frames with sophisticated features.
Besides its 8GB internal memory, Aluratek ADMPF310F 10-inch can support SD cards with up to 32 GB storage, allowing users to store numerous ready-to-view photographs on their devices. Also, it has USB and hard drive connectivity. This digital picture frame has automated slideshows for photographs. To download images from the cloud, simply connect this frame to Wi-Fi, and you're good to go.
Check out the Aluratek ADMPF310F 10-inch on Amazon.
Best for Large Screen Display: Meural Wi-Fi Photo Frame
Meural Digital Photo Frame
Exceptional display technology (up to 4k)
Send NFTs, Pictures, and Videos via Meural App
Built-in Stand and Wall Mount (MC315GDW)
Link your Apple or Android photo albums
Easily upload, modify, and showcase your photos
Curate photos into personalized playlists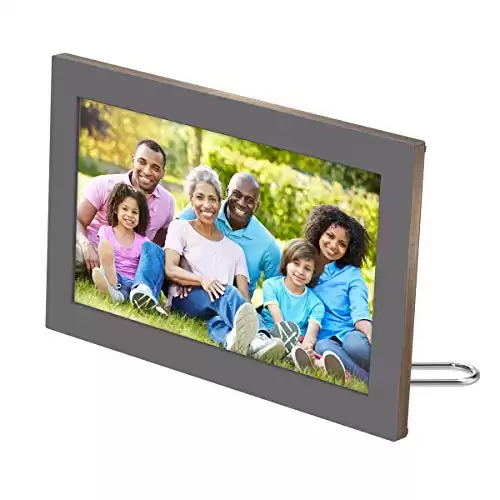 We earn a commission if you make a purchase, at no additional cost to you.
If you want to make a statement, the Meural Wi-Fi Photo Frame is the right display for you as it is larger than most digital photo frames.
The device has a 1920 x 1080 resolution, supports Wi-Fi connectivity, and comes with 8GB of in-built storage. It also supports video uploads and cloud services. Its optimal art subscription service and gesture controls make it a fantastic buy. Here's a caveat. Meural limits you to 15-second video uploads an has no touchscreen capabilities.
Meural Wi-Fi Photo Frame has a stand and a wall mount. So, you can display it in portrait or landscape format. With these peripherals, you can fix this frame permanently in your home. Aside from showcasing your photographs, this frame lets you also show popular artworks and paintings. For a start, you get 100 photos from renowned artists, collections, and museums worldwide. An annual subscription to the Meural Art Library gives you access to over 30,000 artworks
Check out the Meural Wi-Fi Photo Frame on Amazon.
Most User-Friendly Frame: Skylight Digital Picture Frame
Most User-Friendly Frame
Skylight Digital Picture Frame
Gorgeous 10-inch touchscreen display
Quick, one-minute setup and use
Send or download email photos quickly
Cloud-based storage, no need for SD card
Perfect gift for friends and family
We earn a commission if you make a purchase, at no additional cost to you.
The Skylight Digital Picture Frame is one of the most user-friendly options for photo lovers thanks to its touchscreen feature.
This 10-inch frame also features SD card slots and supports Wi-Fi connectivity. However, you don't need Wi-Fi to display photographs. You can also easily send photos to the frame via email. Unfortunately, it lacks motion sensors, doesn't play videos, and lacks internal storage. Depending on your preference, you can also set a timer for changing images between 5 to 240 seconds.
Check out the Skylight Digital Picture Frame on Amazon.
How to Pick the Best Digital Picture Frame: Step-By-Step
Searching for the best digital picture frame may look easy and sound rosy, but it's not. Over the years, these photo displays have become better. Newer models come with advanced features and capabilities, making them smart, slick, and sharp. Here is how to find the best digital photo frame in 2023.
Have a Budget
Budgets always determine what you can buy, including digital photo frames. For $60, you can get a basic model with simple features. Advanced models with cutting-edge technology cost way more than this price. Premium frames come with higher screen resolution for high-quality photo and video quality, a superior finish, and more flexibility. It's good to compare different models to see which one fits your budget.
Location
When shopping for digital picture frames, you have to decide where to place yours. Some designs are suitable for homes, while others are for offices or bedrooms. Some of the existing frame designs include:
Footprint and Stand Setup – This traditional setting is also standard for most digital frames. Versatile stands can support the frames in landscape or portrait orientation.
Wall-mounting options – If you want to hang it on the wall, this is the best type of digital frame for you. Remember that not all frames are wall-mounted.
Design and Finish – A good frame should complement the color and theme of your interior décor. You have to check its design and finish and ensure it suits your home's aesthetics.
Check the Screen
The digital frame's screen is the most vital feature, and it requires serious thought. The screen is responsible for displaying the images. It determines the quality of videos and photos you will see. It would be best if you considered the following aspects:
Size – Most existing frames have between 8-inch to 15-inch sized panels. The small-sized options are easy to handle and install. Since they have smaller pixels, they always display sharp videos and images. On the other hand, some bigger screens lack a high-resolution capability which eventually leads to displaying pictures that are unclear. So, in this case, bigger doesn't necessarily mean better.
Resolution – Go for resolutions above 1200 x 800 pixels because it's standard for displaying full HD on small screens. The higher the resolution, the better the image or video output.
Viewing Angles and Brightness – Some digital frames don't have enough brightness. However, this deficiency is unnoticeable if you place them in a room with more windows or a source of light. Therefore, finding the right viewing angle will solve the brightness issue.
Ways of Uploading Pictures
Luckily, digital frame users have various options for loading their photographs. It's up to the users to pick a loading option that suits them. The available digital photo frames allow users to source or store their snaps via:
USB slots and Memory cards
Social media integration
App compatibility and Cloud Storage
Level of Control
Although packed with numerous impressive features, don't assume every digital frame model gives the users complete control. The menu settings for some frames will limit the customization options of the users. Opt for digital frames that give you enough control to tailor the display settings to your liking. The best digital picture frame should allow users to;
Adjust the display
Set motion sensitivity and sleep schedules
Set slideshow settings
What To Know Before Buying the Best Digital Picture Frame
Every dollar you invest in a digital photo frame must pay back with adorable video and picture displays for years. However, making such a valuable investment requires a solid understanding of these frames. Here are vital things to know before buying your next digital picture frame.
Aspect Ratio
This ratio establishes the relationship between the image's width and height. Many digital photo frames have a 3:2 or 4:3 aspect ratio. It is noteworthy to remember that the frames' dimensions are different, just like those of computer screens and HDTV. Therefore, if the image's dimension matches the frame's aspect ratio, it will fill the entire screen. The most common aspect ratio include:
Wide Screen (16:9) – Used for TV shows and movies mostly. It suits people interested in displaying still photos and videos on their digital frames together.
Standard (4:3) – It perfectly fits most photo print sizes. Photos with this aspect ratio will cover every inch of the digital picture frame.
Frame
The frame is the feature surrounding the display screen. It is commonly made of glass, plastic, wood, and metal materials and comes in different styles and colors. Some digital frames have unique interchangeable faceplates that enable them to blend with the surrounding theme or décor.
Image Quality
The screen surface affects the quality of the displayed pictures. High-end digital picture frames have non-reflective, matte screens. Other frames have screens placed under the glass, creating glare. If you're using such a digital frame, consider applying an anti-glare to improve the clarity and quality of displayed photos.
In-built Storage
Digital frames with in-built memory enable users to keep videos and images in the device without requiring a memory card. The internal storage size differs depending on the model of the frame. However, the least comes with 512 MB storage, which is ideal for most users.
Memory Card Support
If you love taking many photos, opt for digital picture frames with memory card support. They should have SD card slots for providing additional storage to your device. Most frames support the SD CompactFlash and memory stick. So, ensure that the digital photo frame you choose is compatible with the SD card in your camera.
Using the Best Digital Picture Frame: What It's Like
Digital picture frames have changed how photos are displayed in museums, art galleries, homes, and offices. These frames have a higher resolution and sufficient screen sizes to display high-quality videos and images. Some allow you to view the photographs while listening to cool music through their built-in speakers.
Digital photo frames source photos from your memory cards, USB connections, email, and cloud. They are also controlled remotely or by touchscreen. What makes these frames appealing is the automated slideshows. Unlike before, you don't need to keep your pictures in several frames. You can showcase thousands of snaps using one digital photo frame every time.
Last update on 2023-09-12 / Affiliate links / Images from Amazon Product Advertising API