New Hampshire, located in the northeastern U.S. region, has adopted electric vehicles (EVs) due to their environmental benefits and energy efficiency.
As a part of the growing trend toward sustainable transportation, electric vehicles have gained significant popularity in the state. Over recent years, their popularity has skyrocketed, with many drivers switching from gas-powered vehicles.
Let's take a closer look at the most popular EVs in New Hampshire and explore why they have become the go-to choice for environmentally-conscious drivers.
Total Electric Vehicles Sold in New Hampshire
As of 2021, New Hampshire registered approximately 4,600 electric vehicles, accounting for 0.3% of all registered vehicles. On a larger scale, global EV sales reached 6.6 million in 2021 — an almost threefold increase over the previous year's sales.
California boasts the greatest concentration of electric cars, with around 39%, followed by Florida and Texas. California led sales in 2020, with 146,951 vehicles sold, followed by New York with 15,086. Consumer adoption of electric vehicles continues to accelerate rapidly.
While New Hampshire may lag behind other states in EV adoption and sales, their state government offers tax incentives of up to $1,600 for purchases. Furthermore, from their settlement with Volkswagen of $31 million, 15%, or $4.6 million, was set aside specifically for electric vehicle charging. To promote electric vehicle travel by residents and visitors alike, the state requires more publicly accessible EV charging stations.
Electric Vehicle Market Share
New Hampshire had an electric vehicle (EV) market share of 1.21% as of 2019, which included both plug-in hybrid electric vehicles (PHEVs) and battery electric vehicles (BEVs). As of 2021, around 4,600 electric vehicles had been registered statewide, representing 0.3% of total vehicles.
Electric vehicle sales have been increasing in the United States overall. In the first quarter of 2023, fully-electric vehicles (BEVs) reached a new record, accounting for 7.2% of the new vehicle sales market share in the country.
The 7 Most Popular EVs in New Hampshire
As electric vehicles become more accessible and sought-after, knowing which models are leading the pack is essential. New Hampshire consumers have shown great enthusiasm for eco-friendly transportation options like EVs, making this state a major hotspot.
The following are the 7 most popular EVs in New Hampshire.
Tesla Model 3 – 20%
The Tesla Model 3 is an all-electric vehicle that has transformed the automotive world since its highly anticipated release. It is acclaimed for its seamless fusion of cutting-edge technology, sustainable engineering, and appealing design features.
With its impressive electric motor, the Model 3 delivers an energetic yet smooth drive. Acceleration from 0-60 mph takes only 5.1 seconds in Long Range mode, while just 3.5 seconds is possible in Sport mode.
Buyers can choose between three models with range estimates from 272 miles for the base rear-wheel drive model up to an impressive 358 miles in the Long Range model.
The Tesla Model 3 has multiple charging options, including Superchargers and DC public-charging stations. Additionally, it has 120V and 240V outlets and home charging stations.
Standard features of this car include navigation, Bluetooth, and USB connectivity. However, no AM or SiriusXM satellite radio service is provided, but several internet-streamed radio options are available.
To help make layovers more tolerable, the Model 3 provides plenty of ways to pass the time, including Netflix, YouTube, arcade games, and other downloadable apps.
Chevrolet Bolt – 17%
The Chevrolet Bolt is an all-electric vehicle that General Motors (GM) produces. As one of the first affordable long-range electric cars on the market, the Bolt has quickly gained popularity among environmentally-conscious drivers looking for a reliable and sustainable mode of transportation.
The 2023 Chevrolet Bolt EV is an electric hatchback equipped with a 200-horsepower motor and 266 lb-ft of torque. This setup offers quick acceleration and a smooth ride, perfect for city cruising or highway driving. It also has a one-pedal driving mode that increases regenerative braking, meaning you rarely need new brakes.
According to the EPA, the Bolt EV has a range of 259 miles on a full charge. It has a dual-level charging cord, so you won't have to buy a separate home charger. It also has a maximum Level 2 charging speed of 11 kW, allowing you to charge the battery in seven hours. The Bolt EV is also available with DC fast charging, adding about 100 miles of range in 30 minutes.
The 2023 Bolt EV has a combined EPA rating of 120 MPGe. It achieved 102 MPGe, translating to a highway range of 180 miles.
The 2023 Chevrolet Bolt EV is a front-motor, front-wheel-drive, 5-passenger, 4-door hatchback. It has struts and a multilink suspension, 10.9-inch vented disc brakes in the front, and 10.4-inch in the rear. Additionally, it has Michelin Energy Saver A/S Selfseal tires.
Tesla Model Y – 15%
The Tesla Model Y Long Range car is ideal for drivers seeking both power and performance in one. This vehicle can reach 60mph in only 4.4 seconds, making it one of the fastest cars on the market today. Furthermore, its impressive 330-mile range and estimated fuel economy rating of 127 MPGe city/117 MPGe highway make this model one of the top choices available.
The Model Y Long Range delivers an unforgettable driving experience. It boasts a dual motor all-wheel drive setup with rapid acceleration. Plus, it boasts lower suspension height, a higher top speed of 155 mph, and even features its Track mode for those wanting an edge when pushing to the limit.
According to EPA estimates, the Long Range model achieves an estimated city MPGe rating of 127.
The Tesla Model Y Long Range boasts permanent-magnet synchronous AC motors of 272 and 212 horsepower, producing a combined output of 384 HP for an 80.5-kWh lithium-ion battery pack and direct drive system with 1-speed direct drive capability. It features a 113.8-inch wheelbase length, a passenger volume capacity of 106ft³, and a curb weight of 4,386 lbs.
The Tesla Model Y Long Range is an all-in-one vehicle, providing power, performance, and fuel economy all in one package. It boasts its dual motor all-wheel drive setup with quick acceleration and an impressive range.
Nissan Leaf – 12%
The Nissan Leaf SV is one of the most popular EVs in New Hampshire with its sleek design, spacious interior, and impressive range. As one of Nissan's flagship popular EVs in New Hampshire, its popularity among drivers seeking more sustainable transportation solutions makes this vehicle attractive.
The Nissan Leaf SV Plus is an impressive electric car by way of range and performance. It has a 214-hp electric motor and a 62.0-kWh battery, providing a powerful and efficient driving experience. The Leaf has an instantaneous power delivery, and its 0-60 mph time of 7.4 seconds is faster than the Bolt EV and the Model 3. It also features an e-Pedal feature that allows the driver to switch between regenerative braking modes, allowing for more efficient driving.
The Leaf has an EPA-rated range of 215 miles, making it a great choice for drivers with longer commutes. It can be plugged into a regular 120-volt or 240-volt outlet, with a charging time of seven hours for either. It also comes with a DC fast-charging connection for even quicker charging times.
The interior of the Leaf is well-assembled and comfortable, with spacious rear seating and La-Z-Boy-style comfort. It also has impressive cargo capacity, with seven carry-on suitcases fitting behind the back seat and 19 with the seat folded.
Overall, the Nissan Leaf SV Plus offers an impressive range, performance, and comfort, making it an ideal choice for anyone looking for an electric car.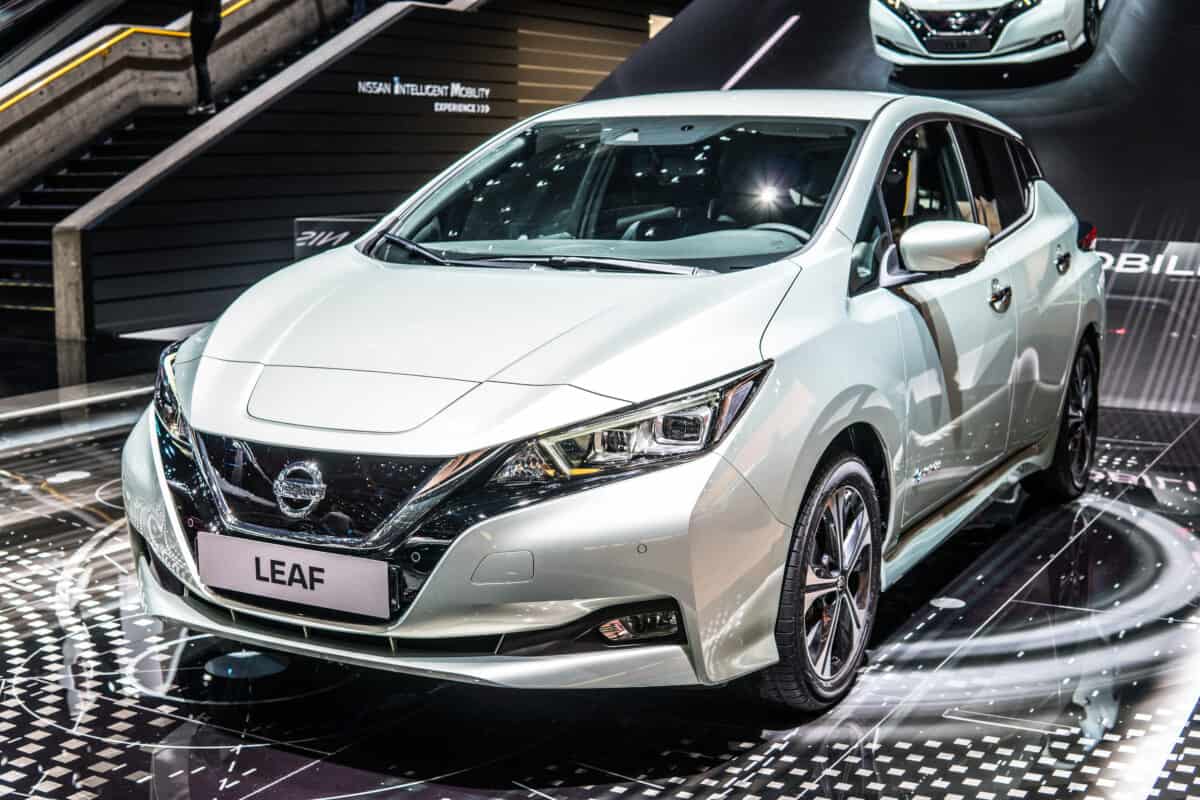 Ford Mustang Mach-E – 10%
The Ford Mustang has long been the emblem of American muscle cars, and in 2023, this legacy continued with the introduction of the all-electric Mustang Mach-E. This all-electric vehicle blends its namesake's classic design and performance with cutting-edge electric technology for an unforgettable driving experience.
Boasting sleek and stylish lines with impressive range and advanced features, this eco-friendly ride is certain to impress both die-hard Mustang fans and those simply searching for eco-friendly transportation with sporty flair alike.
The Mach-E is available in various configurations, including rear- or all-wheel drive. The GT and GT Performance models feature 480 horsepower and up to 634 pound-feet of torque, sprinting from zero to sixty in just 3.5 seconds. Lesser models have 266-346 horsepower and 317-428 pound-feet of torque. You can customize the ride with various wheel sizes (18-20 inches) and adaptive dampers.
The Mach-E has a Ford-estimated range of 224-312 miles, depending on the battery pack and the configuration of electric motors. It also features a fast-charging capability. The included mobile charging device can add up to 30 miles of range per night with a 120-volt outlet and up to 80 percent of battery life overnight with a 240-volt outlet. A Ford charge station can be installed for even faster recharging.
The 2023 Mustang Mach-E is loaded with driver-assistance technology. Standard features include automated emergency braking with forward-collision warning, blind-spot monitoring, and rear cross-traffic alert. Additional features include adaptive cruise control with hands-free driving mode.
The 2023 Mustang Mach-E is a truly premium electric vehicle experience, offering exceptional power, performance, range, and safety. With its fast-charging capability, driver-assistance features, and range of up to 312 miles, the Mach-E is a great option for those looking for a reliable and luxurious EV.
Audi e-Tron – 8%
The Audi e-tron Sportback is an all-electric 5-passenger SUV designed to offer luxury and performance. Equipped with two electric motors, the Audi e-tron Sportback produces 355 horsepower and 414 pound-feet of torque. This is enough to accelerate from zero to 60mph in 5.1 seconds. For even faster acceleration, upgraded S models feature 496 horsepower and 718 pound-feet of torque, allowing even quicker acceleration from 0-60 mph.
The Audi e-tron offers up to 222 miles of range per single charge; its Sportback version offers 218. The 150kW fast charger enables 80 percent battery charging in as little as 30 minutes, while an inductive charging station takes nine hours for a full charge up.
The Audi e-tron can tow up to 4,000 pounds, while its braking system expertly blends traditional and regenerative brakes. While its regen feature may not enable one-pedal driving, its SUV characteristics still shine through.
The Audi e-tron is swift yet composed, boasting rapid acceleration that befits an electric vehicle. Its luxurious ride quality confirms its status, while handling is equally impressive. Sport mode unlocks 402 horsepower and 490 pound-feet of torque for even more responsive performance.
Volkswagen ID.4 – 7%
The 2021 Volkswagen ID.4 is the perfect vehicle for those looking to switch to electric. With a single rear motor and all-wheel drive options, the ID.4 provides impressive power and performance. With 275 miles of EPA estimated range on its larger 77.0-kWh battery, the ID.4 is ideal for a comfortable and reliable electric vehicle. And when it comes to towing, the ID.4 has you covered with a maximum capacity of 2,700 pounds.
The ID.4 offers an impressive 201 horsepower from its single rear-mounted motor and 295 horsepower with the dual-motor, all-wheel-drive model. While acceleration may not be as gut-punching as other popular EVs in New Hampshire, the rear-wheel-drive ID.4 still has a respectable 7.6-second 0-60 mph time, while the all-wheel-drive model comes in at 5.4 seconds. Handling is smooth and refined, and the ride quality is quiet and comfortable.
The ID.4's larger 77.0-kWh battery gives it an EPA estimated range of 275 miles, putting it in the same league as the Hyundai Kona Electric and the Kia Niro EV. If you're looking for a longer range, the Standard model features a smaller 58-kWh battery and a 208-mile range. The battery can be charged at home on 110- or 240-volt connections and is also capable of DC fast charging.
The 2021 Volkswagen ID.4 is perfect for those looking to switch to electric. With great power, performance, and range, the ID.4 will surely give you the reliable and comfortable driving experience you want. From its smooth and refined handling to its impressive towing capacity, the ID.4 is the perfect choice for anyone looking for an electric vehicle.
Wrapping Up
New Hampshire has seen a spiked interest in electric vehicles. The most popular EVs in New Hampshire are models offering features including long-range capabilities, efficient performance, and innovative technology. Consumers realize the environmental benefits of their choice of EV. Their increasing prevalence can only help protect our environment through decreased greenhouse gas emissions and greater sustainability initiatives.
Breaking EV News
June 9, 2023 — At the start of 2024, owners of Ford and General Motors (GM) EVs will be able to charge their vehicles at 12,000 Tesla Superchargers. And both companies announced that, starting in 2025, their EVs will feature Tesla's North American Charging Standard connector.
According to Mary Barra, GM's CEO, "This collaboration is a key part of our strategy and an important next step in quickly expanding access to fast chargers for our customers. Not only will it help make the transition to electric vehicles more seamless for our customers, but it could help move the industry toward a single North American charging standard."
The image featured at the top of this post is ©Winston Tan/Shutterstock.com.