Nebraska has made great strides toward adopting electric vehicles (EVs). Thanks to an increasing number of charging stations and government incentives, more Nebraskans are making the switch. Electric cars provide a cleaner and more sustainable form of transport with cost-cutting benefits and low maintenance requirements. Below we look at Nebraska's most popular EVs, including their features and advantages.
Total Electric Vehicles Sold in Nebraska
Nebraska had 1,810 registered electric vehicles as of 2021, placing the state at 42 overall among U.S. states for total EV registrations. Note that these numbers only account for registered EVs. As of April 2022, Nebraska had 181 public charging station locations offering 383 charging ports. On February 20, OPPD inaugurated their fast-charging station bringing the total of Level 3 charging stations in Nebraska up to five. ChargeHub provides accurate information regarding Nebraska EV charging networks.
Electric Vehicle Market Share in Nebraska
The electric vehicle market share in Nebraska was 0.18% in 2019. As of Q1 2023, fully electric vehicles (BEVs) held a record 7.2% market share in America, with 258,882 of 3,594,969 light-duty vehicles being fully-electric vehicles. Additionally, the total EV market share has now passed 6%, with eight projects that could grow up to 50% by 2030. The current US electric vehicle market size stood at USD 24.03 billion with an anticipated compound annual compound growth rate of 25.4% over 10 years, per Fortune Business.
As of Q2 2022, EV sales accounted for 5.6% of the total auto market, up from 2.7% in Q2 202. In the global electric vehicle market, EV sales climbed over 10.2 million units in 2022, seeing a 65% YoY growth. As of 2022, there were over 924 plug-in electric vehicles (PEVs) on Nebraska roads, with the market ready to expand as the new vehicle makes and models become available in the state. The electric vehicle market size is projected to grow from 8,151 thousand units in 2022 to 39,208 thousand units by 2030 at a CAGR of 21.7%.
The 7 Most Popular EVs in Nebraska
In recent years, electric vehicles (EVs) have been gaining popularity due to their environmentally friendly nature and technological advancements. With a growing demand for sustainable transportation, Nebraska is no exception. Let's take a look at the 7 most popular EVs in Nebraska.
Tesla Model 3
The Tesla Model 3 is an undisputed standout in the electric vehicle segment. Boasting affordability, impressive range, and strong performance characteristics – not to mention an outstanding driving experience. Additionally, its affordability makes it an appealing option for shoppers searching for an EV. Plus, its Long Range variant provides up to an estimated 358-mile range. It's perfect for those who wish to reduce range anxiety.
Features
The Tesla Model 3 offers heated front seats, navigation, and Tesla's Autopilot semi-autonomous driving system. In addition, all models include aluminum wheels with plastic aerodynamic hubcaps to help extend their range and improve driving dynamics.
Performance and Efficiency
The Tesla Model 3 has multiple performance options, from its base rear-wheel-drive model to the high-performance trim. According to EPA estimates, each version of this car gets between 113 MPGe and 138 MPGe fuel economy. The test vehicle only managed 84 MPGe on our 75mph highway fuel economy test.
The Tesla Model 3 is an excellent option for an affordable and enjoyable EV experience, boasting impressive range and performance. It also has great features like hubcaps that help increase its range efficiency.
Chevrolet Bolt
The Chevrolet Bolt EV is revolutionizing the all-electric vehicle experience. Boasting cutting-edge technology, outstanding efficiency, and an eye-catching aesthetic. It is truly setting new standards for style and efficiency for electric vehicles.
Touch-Screen Technology
The Bolt EV features a 10.2-inch diagonal color touch-screen equipped with Chevrolet Infotainment 3 Plus System and four energy screens to provide real-time driver information. With this powerful instrument, you can track driving habits while increasing efficiency and range.
Driver Information Centre
The Bolt EV has an innovative 8-inch diagonal graphic display called the Driver Information Centre. Additionally, it makes monitoring driving statistics much simpler, from basic gauges like fuel economy and distance traveled to more complex metrics such as energy efficiency and variable real-time range monitoring.
Connectivity
The Chevrolet Infotainment 3 Plus System provides connectivity features such as wireless Apple CarPlay. Additionally, Android Auto compatibility and Amazona Built-In for seamless smartphone integration and to stay up to date with modern life on the move.
MyChevrolet Mobile App
The Bolt EV includes the myChevrolet Mobile App for remote access and features for three years. It monitors vehicle status from any location and keeps track of it from anywhere with access.
Charging Options
Easily charge your Bolt EV using the Dual Level Charge Cord, just as easily switching between Level 1 (120V) and 2 (240V), just like charging your smartphone. The Chevrolet Bolt EV offers the fully electric vehicle experience, giving you tools to stay connected, maximize efficiency and drive smarter. Step behind the wheel now and experience all-electric driving.
Nissan Leaf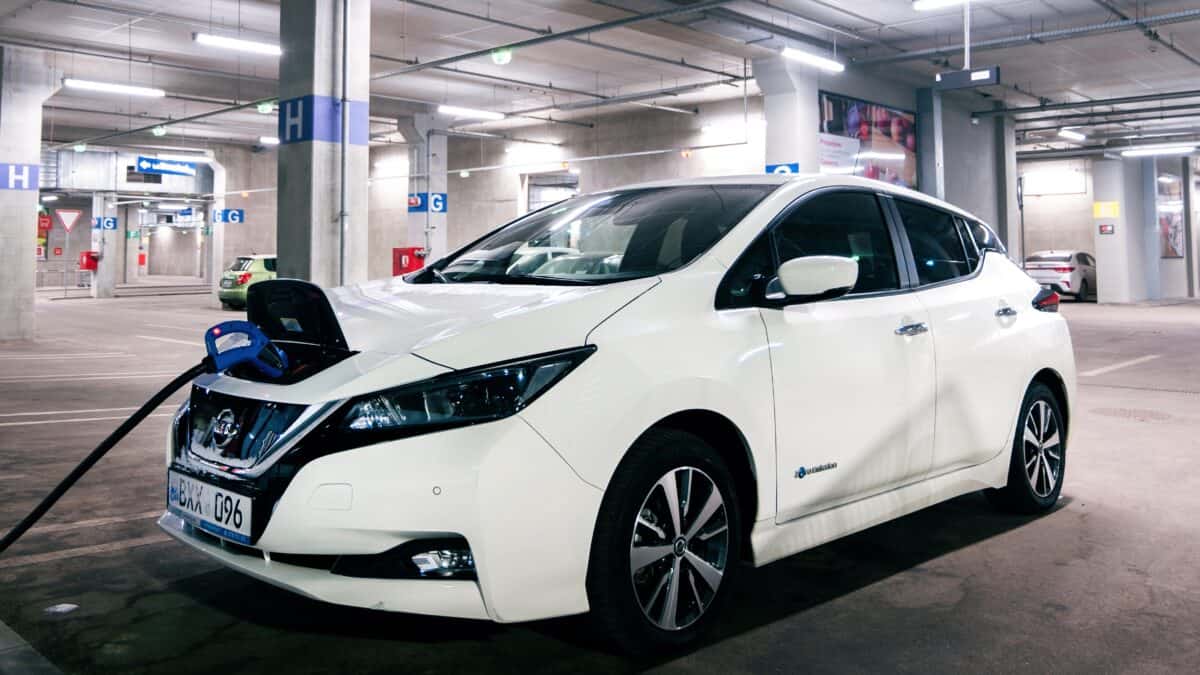 The Nissan Leaf SV Plus is a powerful and efficient electric car with a range of 215 miles. A permanent-magnet synchronous AC motor has a power output of 215 hp and 251 lb-ft of torque. This electric car has a 1-speed direct-drive transmission and a 62.0-kWh lithium-ion battery pack. It has a 106.3-inch wheelbase, a length of 176.4 inches, a width of 70.5 inches, and a height of 61.4 inches. It has 93 cubic feet of passenger volume and 24 cubic feet of cargo volume.
Performance
The Leaf SV Plus offers great performance with a 0-60 mph time of 6.8 seconds and a 0-100 mph of 19.9 seconds and can reach a top speed of 106 mph. Additionally, the car has a braking distance of 190 feet from 70-0 mph and has a road-holding of 0.76g on a 300-ft-dia skidpad.
Fuel Economy
The Leaf SV Plus has an estimated combined/city/highway fuel economy of 104/114/94 MPGe and a range of 215 miles. It has an observed fuel economy of 90 MPGe and a highway range of 180 miles.
Charging
The Leaf SV Plus can be charged using either a regular 120-volt outlet or a 240-volt outlet. Additionally, charging times vary dramatically between the two. On a 240-volt connection, Nissan says the Leaf Plus can be replenished in seven hours. It also comes with a DC fast-charging connection as standard.
Ford Mustang Mach-E
The 2023 Ford Mustang Mach-E is built for power and efficiency and is among the top EVs in Nebraska. It offers drivers a sleek yet efficient driving experience. Equipped with either its standard-range 70 kWh battery pack or extended-range 91.0 kWh pack. The Mach-E packs plenty of punch. On sporty GT and GT Performance models, two motors combine for up to 480 horsepower and 634 lb-feet of torque. It can go from zero to 60mph in just 3.5 seconds. Other models provide 266-346 horses and 317-428lbf of torque depending on the configuration.
Range, Charging, and Battery Life
The 2023 Mustang Mach-E has an estimated range of 224-312 miles depending on its battery pack configuration and configuration of electric motors to cover considerable ground on a full charge. In addition, it comes equipped with fast charging capability and a mobile charger capable of adding 30 miles per night with 120-volt outlets or up to 80 percent overnight charge at 240V outlets.
Fuel Economy and Real-World MPG
2023 Mustang Mach-E has an EPA estimated range of up to 312 miles when equipped exclusively with all-wheel drive in its California Route 1 trim, while midlevel Premium models with rear-wheel drive can go for 306 miles. Additionally, its range may vary depending on model and equipment configuration. Standard Range battery models configured with an all-wheel drive have the lowest estimated driving range (224).
Ride Quality
The Mach-E is equipped with wheels ranging in diameter from 18-20 inches and adaptive dampers to allow you to customize its firmness settings. It offers quiet operation and an unparalleled riding experience, creating an unforgettable ride experience.
Overall, the 2023 Ford Mustang Mach-E is an outstanding choice for drivers searching for an efficient yet powerful ride. Boasting long range, quick charging capabilities, and impressive ride quality features, it will quickly become one of their favorites among drivers.
Audi E-tron
The Audi e-Tron Sportback is an all-electric SUV designed for luxury and performance. It boasts two powerful electric motors that deliver up to 402 horsepower and 490 pound-feet of torque for optimal driving experience. Furthermore, its 150kW fast charger enables it to recharge up to 80 percent of its battery within 30 minutes.
Performance
The e-Tron Sportback delivers impressive performance thanks to its two electric motors, reaching 60 mph in just 5.1 seconds and reaching its top speed of 125 mph. Furthermore, it has a two-speed direct-drive transmission and electronic all-wheel drive for added traction and extra traction. Additionally, the S and Sportback S models can produce up to 496 horsepower and 718 pound-feet of torque for even more power and performance.
Range and Charging
According to EPA estimates, the e-Tron Sportback boasts can go for 218 miles, while its Sportback version can cover 226 miles. Additionally, It comes equipped with an impressive 150kW fast charger capable of recharging 80 percent of its battery in just 30 minutes. Those using conventional 240-volt outlets should fully charge it in around nine hours.
Towing and Braking
The e-Tron has a maximum towing capacity of 4000 pounds. Its braking system seamlessly blends traditional brakes with regenerative braking for an intuitive driving experience that provides smooth and quiet ride quality. Regen isn't aggressive enough for one-pedal driving but offers a smooth, quiet travel experience.
The e-Tron Sportback boasts a wheelbase of 115 inches, a total length of 193 inches, a width of 76.2 inches, and a height of 65 inches. Furthermore, its passenger volume is 102 cubic feet, while its cargo volume measures 27 cubic feet. Finally, its curb weight stands at 5819 pounds.
Kia Niro EV
The Kia Niro EV is an all-electric compact SUV gaining popularity due to its impressive range and practical design. The Niro EV is Kia's first fully electric vehicle offering, and it has been lauded for its efficient performance, spacious cabin, and advanced technology features.
Power and Performance
The Kia Niro EV delivers a powerful 201 horsepower, making it a great choice for those searching for the most popular EVs in Nebraska. With Normal and Sport driving modes, the Niro EV is an efficient and responsive car that can get you from 0-60 mph in 6.7 seconds. The Niro EV also has a natural-feeling steering and cornering grip to keep you in control.
Range and Charging
The Niro EV has an estimated range of 253 miles per charge, and its 64.8-kWh battery pack can charge from 10 to 80 percent in 45 minutes when connected to a DC fast charger. The EPA has rated the new Niro EV for 126 MPGe cities and 101 MPGe highways, making it more efficient than the most efficient Volkswagen ID.4 model.
Fuel Economy
The Niro EV's fuel economy is excellent, offering 113 MPGe combined, 126 MPGe city, and 101 MPGe highway. During our 75-mph highway fuel-economy test, the Niro delivered 210 miles of driving before needing to be recharged.
Specifications
The Kia Niro EV is a front-motor, front-wheel-drive, 5-passenger, 4-door wagon with a base price of $33,000 and an as-tested price of $40,000. The motor is a permanent-magnet synchronous AC, with 201 hp @ 9000 rpm and 188 lb-ft @ 0 rpm. The transmission is direct-drive, the suspension struts/multilink, and the brakes are vented disc/disc. The tires are Nexen N Priz S EV 215/55R-17 94V M+S AK1. The wheelbase is 107.0 in, the length is 174.0 in, the width is 71.8 in, the height is 61.8 in, the passenger volume is 100 ft3, and the cargo volume is 23 ft3. The curb weight is 3715 lb.
The Kia Niro EV is a great option if you're looking for a powerful and efficient electric car. With its impressive range, fuel economy, and natural-feeling steering and cornering grip, the Niro EV will surely exceed your expectations.
Volkswagen ID.4
The Volkswagen ID.4 is an electric compact crossover with plenty of power, performance, and range to make it a great vehicle for everyday use. With its single rear-mounted motor, the ID.4 produces 201 horsepower, and its all-wheel-drive model can put out 295.
Performance
The ID.4 has a 7.6-second run to 60 mph, making it faster than many traditional compact crossovers. With its all-wheel-drive model, it can reach 60 in just 5.4 seconds. It has a smooth and refined ride and a quiet cabin, and while it may not have the same gut-punch acceleration as other electric vehicles, it is still a great choice for those looking for a comfortable ride.
Range and Charging
The ID.4's optional 77.0-kWh battery provides up to 275 miles of driving range between charges, comparable to other electric SUVs. You can charge it from 110 or 240-volt outlets at home and fast charging at DC stations. You can also use our cheaper Standard model, which uses a smaller 58-kWh battery with only a 208-mile driving range.
Specifications
The 2021 Volkswagen ID.4 has a mid-motor, rear-wheel-drive design and can seat up to five passengers. Its powertrain features a permanent-magnet synchronous AC motor that produces 201 hp and 229 lb-ft of torque. It has a 1-speed direct-drive transmission, and its suspension and brakes are struts/multilink and 13.4-in vented disc/11.0-in drum, respectively. The car has a 101-ft3 passenger volume and a curb weight of 4698 pounds.
Fuel Economy
The 2021 Volkswagen ID.4 has an EPA-estimated fuel economy of 97 MPGe combined, 104 MPGe city, and 89 MPGe highway. When tested, it got 80 MPGe observed and 82 MPGe in 75-mph highway driving. Its highway range is estimated to be 190 miles.
Wrapping Up
Electric vehicles are gaining popularity in Nebraska, and many are embracing these eco-friendly cars. Not only is the cost of EV ownership low, but they also reduce carbon emissions. It's possible to charge your EV at home and plug it in at the growing network of charging stations throughout the state, making long-distance travel easier for EV owners. Additionally, the state government encourages EV adoption by providing incentives for purchasing and installing charging stations. If you're planning to make a switch, now is the perfect time.
The image featured at the top of this post is ©Have a nice day Photo/Shutterstock.com.