Key Points
Our choice for the #1 Best Overall (but most expensive) Nerf is the N-Strike Longstrike CS-6 Dart Blaster.
Amazon once had a token with a button for auto-ordering Nerf darts but discontinued it.
The Nerf Crossover bow series borrows its name from a YouTube channel called "Dude Perfect."
The Terrascout Drone is among the hardest to find.
The N-Strike Vulcan weighs 7.7 pounds (3.5 kg) and is one of the heaviest Nerfs.
When buying an expensive Nerf, you'll want to check its firepower, age limit, amo type, and cost.
The Nerf toy brand wave started in the 1980s, with the first Nerf, the Ball Blaster, being released into the market in 1989. Initially, the blasters shot Nerf balls before adding foam missiles and bows. 1992 was a deal breaker following the release of the first dart blaster. It was an instant hit.
Nerf blasters have since gained collectible value. You will be surprised at the most expensive Nerfs available today! Passionate collectors have rare unopened Nerfs in their custody. They sell them for a fortune, while others keep the collection as a hobby.
Nerf blasters are versatile play objects that you can use indoors and outdoors. You can take the fun everywhere you go. So, what's going to be your favorite Nerf? We can help you select the first of your collection.
After painstaking research and review, here's our list of the best, most expensive Nerfs!
#1 Best Overall Most Expensive Nerf: N-Strike Longstrike CS-6 Dart Blaster
Best Overall for Sniping
Nerf N-Strike Longstrike CS-6 Dart Blaster
Awesome air-powered dart blaster
Can store two quick-reload clips
One clip included
Blaster comes with barrel extension, flip-up sight, quick-reload clip, 6 Clip System darts, and instructions
Since been discontinued by the manufacturer
We earn a commission if you make a purchase, at no additional cost to you.
The N-Strike Longstrike CS-6 Dart Blaster is our choice for the #1 Best Overall most expensive Nerf.
It resembles a military-issue standard rifle and is the longest blaster in the Nerf brand. The toy rifle is 3 feet (1 meter) long and has a non-removable shoulder stock with four rails. Two rails are on top and in tandem, while one is above the other underneath. It has two quick re-load clips ensuring you don't fall short of ammo while in action. Besides, a flip-up sight enhances accuracy providing a decent view of your target.
The blaster has a firing range of 35 feet (11 meters). This Nerf looks fantastic, especially when you attach the front barrel. Another aspect is that you detach the barrel extension to achieve better shots. The piece retails at $110.
| Pros | Cons |
| --- | --- |
| Customizable with other accessories | Hasbro discontinued the production of this blaster |
| Its ability to hold two magazine clips is impressive | |
| The hand grip has a firm feel compared to similar blasters | |
Most Quiet Blaster: Nerf Rayven CS-18 (Light It Up Series)
A Quiet Blaster with a Great Design
Nerf N-Strike Rayven CS-18 Blaster
Get your fill of night action with the RAYVEN CS-18 blaster and 18 glow-in-the-dark dart
Load the 18 included darts in the Firefly Tech clip to charge them for awesome glow-in-the-dark firepower
Blaster comes with 18 Clip System glow-in-the-dark darts, Firefly Tech clip, and instructions
We earn a commission if you make a purchase, at no additional cost to you.
The Nerf Rayven CS-18 (Light It Up Series) takes the slot as the quietest blaster with its whispering motor.
It features a Firefly Tech semi-automatic clip and two tactical rails. The clip system can accommodate 18 clips. Also, the darts glow in the dark, which is so cool. You can carry it on a sling attached to two holes at the top and bottom of the item's stock.
A flywheel system powers the firing mechanism. An acceleration trigger activates it, which you must pull for the blaster to start firing darts. You need to maintain your hold on the switch for continuous operation. The Rayven has a battery-powered motor with a slot for four batteries. Its motor is tranquil, making it an ideal choice for indoor fun. The Rayven has a $200 price tag and is one of the most expensive Nerfs.
| Pros | Cons |
| --- | --- |
| Attractive design | The rev-up time creates a lag in fast-paced games |
| The glow-in-the-dark darts are fantastic | |
| Small, lightweight, and sturdy | |
Best Long-Range Bow: Dude Perfect Signature Bow
Best Long-Range Bow
Nerf Dude Perfect Signature Bow
2 Nerf whistling arrows
For kids, teens, and adults

The Dude Perfect Signature Bow is the biggest Nerf toy bow, measuring a whopping 42 inches (122 centimeters) long

Fires arrows up to 105 feet

Comes with a target to set up so you can practice your skills
We earn a commission if you make a purchase, at no additional cost to you.
The Dude Perfect Signature Bow pleased us to place it in the best long-range bow category.
The 2017 release comprises a firing bow and an arrow. The bow spans 42 inches (107 cm) long. It can fire arrows at 32 meters (105 feet). The toy kit includes two Nerf arrows. You will love the whistling sound the arrow produces as it flies through the air. You also get a target with a beautiful DP logo for practicing your firing skills.
The Dude Perfect is a befitting name, having been featured in a video by the Dude Perfect group that runs a sports YouTube channel with a massive following. You'll have to pay $250 to purchase the Dude Perfect Signature Bow.
| Pros | Cons |
| --- | --- |
| Has a big bow for an easy play experience | Only suitable for the outdoors |
| A target is part of the product package | |
| The bow easily snaps into place during launch | |
Best High-Capacity Blaster: Nerf Rival Artemis XVII-300
Best High-Capacity Blaster
Nerf Rival Artemis XVII-3000 Red
High capacity blaster holds 30 high-impact rounds
Rotating barrel
Easy-load integrated magazine
Includes blaster, 30 rounds, and instructions
Slam-fire action
We earn a commission if you make a purchase, at no additional cost to you.
The Nerf Rival Artemis XVII-300 clinched top honors as the best high-capacity blaster owing to its ability to hold more rounds.
The blaster holds 30 rounds of ammo in a rotating barrel. It has three built-in magazines, each with a 10-round capacity and a firing velocity of 30 meters per second (100 feet per second). Its integrated magazine allows quick loading, ensuring you don't take long before rejoining the action. A tactical rail, trigger lock, and a rotating barrel are other impressive features of the Artemis XVII-300. Besides, you have a choice of two colors, red and blue. The toy's estimated value is around $75, not so much compared to others here, but it is still one of the most expensive Nerfs.
| Pros | Cons |
| --- | --- |
| It is easy to load and fire amo on this Nerf | Darts fired at close range can cause eye injury |
| It has an impressive 30-rounds capacity | |
Best for Kids and Teens: Nerf N-Strike Elite TerraScout Recon
Best for Kids and Teens
We earn a commission if you make a purchase, at no additional cost to you.
The Nerf N-Strike Elite TerraScout Recon is the best Nerf for kids and teens who will love its remote-controlled tank drone.
The TerraScout Recon is a fabulous toy featuring a tank RC drone and a dart blaster. You also have a 35-dart drum loaded with official Nerf darts. Even more impressive is that this blaster toy has a camera to record battle photos or videos and monitor the drone's movement. An LCD screen captures a video feed, enabling you to see out-of-sight targets.
You can scout a battlefield through the live feed feature, select your target, adjust the firing angle, and unleash firepower. The blaster has all-terrain tracks, a 360-degree rotation ability, and can hit speeds up to 215 feet per minute (66 meters per minute). The toy kit has 18 Elite darts, a charger, and a rechargeable NiMH battery.
| Pros | Cons |
| --- | --- |
| It has impressive features that appeal to youngsters | The camera requires an SD card which is not a part of the product's package |
| The screen has clear views and aims accurately | |
Most Efficient: Nerf N-Strike Vulcan EBF-25
Powerful and Efficient
Nerf N-Strike Vulcan EBF-25 Dart Blaster
The removable tripod folds for easy transport
The fully automatic blaster holds up to twenty-five darts and can fire up to three darts per second
Blaster comes with an ammo box
We earn a commission if you make a purchase, at no additional cost to you.
The N-Strike Vulcan EBF-25 grabbed our attention as the most efficient blaster.
It has a tripod that boosts your aiming efficiency. Also, you can quickly remove and fold the tripod when you need to evade enemy fire. Springs attached to the tripod provide an automatic fold-back motion. As one of the most expensive Nerfs, N-Strike has a commanding presence and is an excellent choice for dart battles. It boasts an impressive firing rate of three darts per second. N-Strike's ammo belts carry 25 darts each.
The Nerf blaster has a top handle with a proper hand grip for easy carrying to your desired action location. Also, you can swivel the blaster at 360 degrees on its tripod with click-stops at 25-degree intervals. Even more impressive, the blaster has a back and forward elevation of 45 degrees. The package includes 25 Whistler Darts, a dart belt, a removable tripod, and an ammo box. Regarding the price, you'll fork out $520 for this unit.
| Pros | Cons |
| --- | --- |
| Outstanding design | Batteries used on the product weigh it down, causing an imbalance |
| There are no flimsy or hanging parts | |
| Bold and clear colors distinguish it from an actual weapon | |
Best Customizable Blaster: Original Nerf Crossbow (Purple Version)
Best Customizable Blaster
Nerf Rebelle Codebreaker Crossbow Blaster
Show your skills and style with Nerf Rebelle high-performance blasters, bows, and crossbows
Launch into spy missions with Nerf Rebelle Secrets and Spies bows and blasters
Unleash your inner warrior and soak your target in wild water battles with Rebelle soakers
Experience real bow action with Nerf Rebelle arrows and bows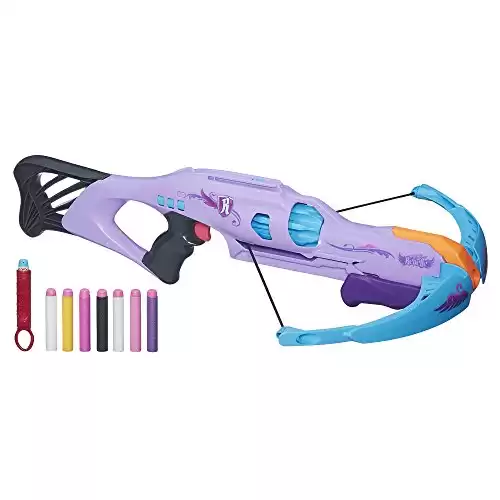 We earn a commission if you make a purchase, at no additional cost to you.
The Original Nerf Crossbow (Purple Version) is our best customizable blaster.
The Kenner Brand first released the Nerf Crossbow in 1995 before Hasbro acquired it later. It can store four Mega suction darts and three large arrows. Another design aspect is the rotating dart barrel which can fire eight darts in a row before reloading. It has a 22-meter (75 feet) firing distance. In addition, the toy features a comfortable grip section. Nerf fans adore the toy for its vintage value and customization ability. Its average price is $250 for the used variant. A new one goes for between $300 and $350.
| Pros | Cons |
| --- | --- |
| It has a secret passcode | The blaster occasionally jams, taking away the fun |
| The crossbow has fun colors | |
How to Pick the Most Expensive Nerf: Step-by-Step
Buying the most expensive Nerfs can be confusing as there are many options. Whether you seek a budget-friendly blaster, high-quality, or one with firepower, here are ways to go about it.
Firepower
Age limits
Ammo type
Affordability
Let's examine each of these in detail!
Firepower
Determine the best Nerf toys with the firepower that excites you. Furthermore, blasters load in different ways. Examples include chains, belts, clips, front load, internal magazines, hoppers, barrels, and trunks. Motorized blasters have faster firing rates than other types.
Recommended Age Limits
Nerf blasters have different age limits depending on the type, mode of firing, and reload. The Mega Series, for example, is for children above eight years (8+). They have a predominantly bold scheme.
Ammo Types
High-impact balls are for ball blasters. Mega blasters require mega ammo. There are also Nerf discs and elite ammo for premium toys. Foam missiles and arrows are other types you will come across.
Affordability
Despite the appealing nature of the most expensive Nerfs, you still do not want to avoid buying impulsively. However, once you have zeroed in on the type of blaster you need, it becomes easy to determine if it is within your budget.
What to Know Before Buying the Most Expensive Nerf
Whether you are using Nerfs for the first time or are a pro, it helps to know these toys. Here's a sneak peek of what to know before buying.
Brands
There are four leading brands you will come across, including:
Dart Zone
Zuru X-shot
Air Warriors
Adventure Force
The last category mainly comprises modified versions of the other three brands. But, again, it is exclusive to Walmart.
Blaster Types
Nerf blasters are in four categories, i.e., springers, flywheels, airpower, and stringers.
Springers: These are the simplest. They are easy to operate and don't require batteries or an electricity connection. Springers are perfect for younger fans.
Elecro Flywheel Blasters: These are the most plentiful varieties. They operate on battery power, and you'll need to replace them over time. Most of these Nerfs have a rev trigger and a common trigger. Other types feature an on-and-off switch in place of a rev trigger.
Airpower Blasters: An airpower blaster has a pumping mechanism that you activate to build pressure in a built-in tank. Once complete, you only need to press a trigger for the pressure to release the darts. They're some of the coolest toys but are challenging to find.
Stringers: These resemble a bow and use string propulsion to fire darts or arrows. However, some models feature the spring bow design but utilize a plunger tube for propulsion.
Using the Most Expensive Nerfs: What It's Like
Nerf blasters utilize harmless missiles that do not ruin your clothes or bruise the skin. They comprise foam-tipped discs, balls, or darts. Kids and adults will enjoy firing at each other or imaginary targets. Your backyard or a nearby local park are the ideal locations.
Most importantly, Nerf solidifies bonds between family, friends, and enthusiastic fans. Using Nerfs is a simple affair. Most come with accessories and instructions for ease of use. First, read the manual before assembling the toy. After that, you can perform a few test runs by firing a round or two. It doesn't take long for you to get acquainted with the toy.
The image featured at the top of this post is ©ZikG/Shutterstock.com.