It's safe to say that modern life would look very different without computers. The world as we know it today would not exist without them. And chips, also called semiconductors, are the basis on which this technology is built. We've already gone through the largest chip makers in the world. Now, let's run down the largest chip makers in the U.S.
Determining which U.S. chip makers are the largest can be hard to pin down. Technology moves fast and the markets are always changing. No one thing determines how large a U.S. company is. It is important to look at a variety of factors like the number of employees, revenue, market share, and capitalization. So, let's look at the largest chip makers in the U.S. and how they impact your everyday life.
#1 – Intel
No surprise here. Intel is not only the largest chip manufacturer in the U.S. but also one of the largest semiconductor companies in the world by revenue.
Intel is based in Santa Clara, California, and has a current market capitalization of $147.9 billion. For years, Intel has dominated the semiconductor market share in the U.S., and, at one time, laid claim to 99% of the market.
More recently, Intel has considerably dropped in market share and has had to fend off fierce competition from other chip makers. Globally, Samsung is looking to dethrone Intel by revenue. AMD gave the company a bloody nose earlier this year when it outpaced its market capitalization for the first time ever.
Despite these setbacks, Intel remains the biggest US semiconductor company by revenue. As of Aug 2nd, 2022, Intel reported revenues of 73.4 billion, far and away the highest on this list.
Intel might be on the ropes but it is still a force to be reckoned with.
#2 – Nvidia
It might be a bit surprising to see Nvidia this high, but we think it deserves this spot due to a few factors.
The Santa Clara-based chip maker is riding an all-time high with a market capitalization of $456.2 billion, by far the highest market cap on this list. It does lag behind its competitors in other areas like revenue, but it dominates the GPU market with a market share of 84.87% in the discrete graphics cards arena.
A big part of Nvidia's high market cap is its focus on Metaverse technology. Their version of the Metaverse called Omniverse, claims to be the first ever to create full-fidelity "live digital twins." They have partnered with automation giant Siemens to help realize the ambitious project. The Omniverse will use AI and Deep Learning to simulate a fully realized world, or so they claim.
Everyone is looking for the next big technological shift and Nvidia is offering this with Omniverse. The company leading the charge, Meta/Facebook, has been pouring millions of dollars into its virtual world. Unlike Meta, however, Nvidia has the computing power at its disposal to make this a more believable reality. Time will tell, but Nvidia is a company worth keeping an eye on.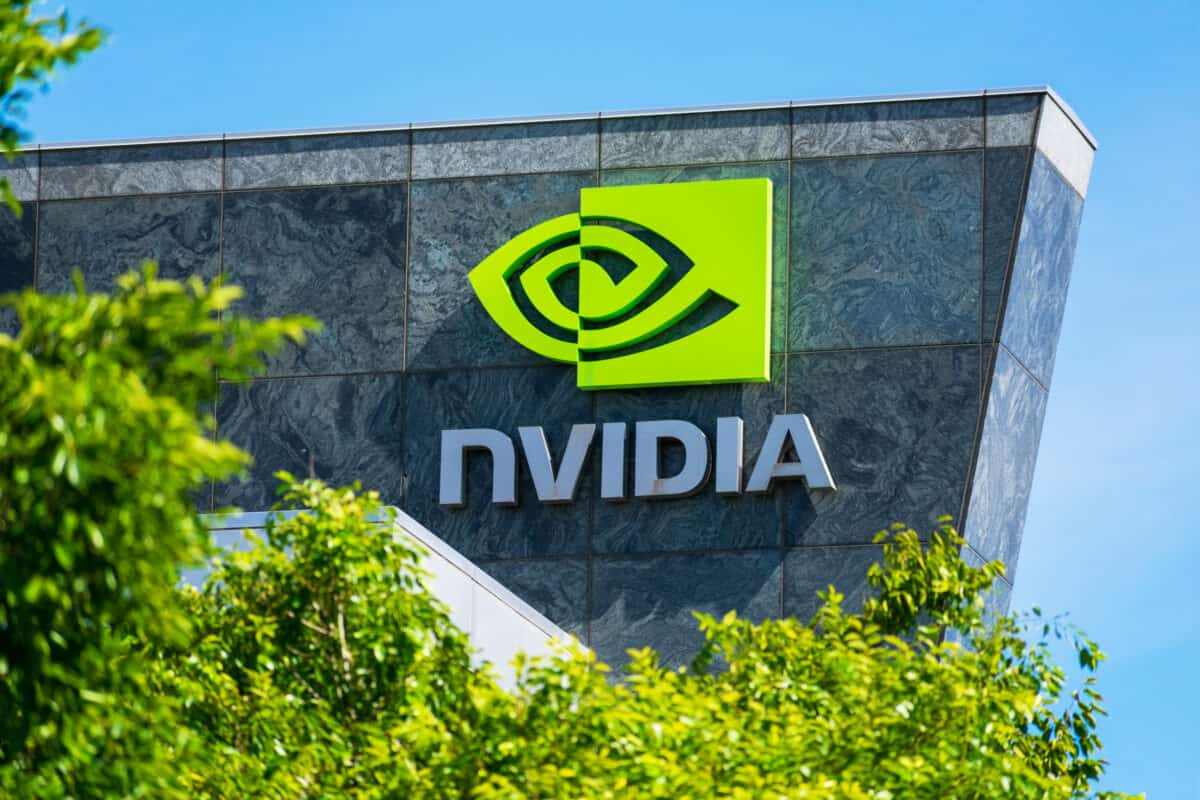 #3 – Qualcomm
By revenue alone, Qualcomm is actually bigger than Nvidia, and its market cap is a whopping $165.1 billion.
They are based in San Diego, California, and they are one of the leading telecommunications manufacturers in the world. They are best known for creating chips for android smartphones, including Samsung. While this is a large part of their business, they also produce chips for laptops, gaming devices, tablets, routers, and much more.
Qualcomm is broken into three main business segments: Qualcomm CDMA Technologies, Qualcomm Technology Licensing, and Qualcomm Strategic Initiatives. CDMA Technologies is responsible for the design and manufacture of products. Qualcomm Technology Licensing secures patents and licenses for their proprietary technologies, and Strategic Initiative makes strategic investments.
Qualcomm is also a burgeoning player in the Metaverse space. According to the company's website, they have invested 'heavily' in Extended Reality, or XR, technology. This refers to their Snapdragon XR1 and XR2 technologies that are found in many VR/AR devices today. They have also started a $100 million Metaverse Fund to help innovative start-ups looking to create metaverse content. The future of the Metaverse is unclear, but you can bet Qualcomm will play an important part.
#4 – Micron Technology
Micron is an American semiconductor company based in Boise, ID. They are a leader in memory and storage solutions for a variety of industries like healthcare, automotive, and personal computing.
Their strongest focus is on DRAM and Nand memory chips. DRAM stands for dynamic random access memory and refers to the memory used in personal computing. Nand is flash storage more involved in long-term storage solutions.
As a company, they have seen consistent growth over the past few years, pushing up its revenue and market cap. They are currently valued at $68 billion and they are the fifth largest Nand manufacturer, with a market share of 11%.
#5 – Broadcom Inc.
Broadcom is a long-time player in the semiconductor space. At one point, in 2017, they even attempted to buy Qualcomm, but it was blocked when the U.S. administration cited National Security concerns. So, who is Broadcom, and what do they do?
Based in San Jose, California, Broadcom is a leading semiconductor manufacturer for a variety of industries. Mainly, they focus on manufacturing chips for networking, broadband, and wireless, as well as optical and storage technologies. They are a major provider of chips to the telecommunications industry.
So, you may have never heard of a Broadcom product, but you have definitely encountered one.
#6 – Texas Instruments
Everyone, even folks that aren't interested in tech, has heard of Texas Instruments. They make the graphing calculators that every student eventually had to buy for Algebra class. But they do a whole lot more than just that.
They are a leading US semiconductor company, with a market cap of $161.9 billion and a dizzying array of products. They have pioneered some major advancements in technology and continue to do important work in that sector.
Based in—you guessed it—Dallas, Texas, Texas Instruments produces chips for the industrial, automotive, and personal computing industries, among others. Historically, they have been involved in defense technology and artificial intelligence. More recently, they have focused on the industrial sector and have steady revenue streams.
Their total revenue in 2021 was $18.4 billion and they are on track to exceed that this year.
#7 – AMD
Why is AMD on this list, you may ask? We think they deserve this spot for a few reasons.
As we mentioned earlier, they surpassed Intel's market cap earlier this February for the first time ever. At $154.23 billion, their current market cap is still higher than Intel's. They may not have the revenue of their competitors but they are growing like crazy and it doesn't feel right to leave them out of the conversation.
AMD is based in Santa Clara, California, alongside bitter rivals, Intel and Nvidia. They are known for producing processors and GPUs (both integrated and discrete). AMD has made some incredible gains over competitors capturing 27.7% of the 86x market share, a 7% increase. These market share increases have been seen for AMD in every category.
They have worked hard to close the gap in quality with Intel and Nvidia and it shows. The superiority between AMD and Nvidia GPUs is hotly contested by PC enthusiasts and gamers, and AMD has done a great job capitalizing on this debate.
AMD is still a relatively small company, compared to competitors, but if things keep trending their way, that is likely to change.
Up Next…
Can't get enough of chips? Check out some of these other articles on History Computer: