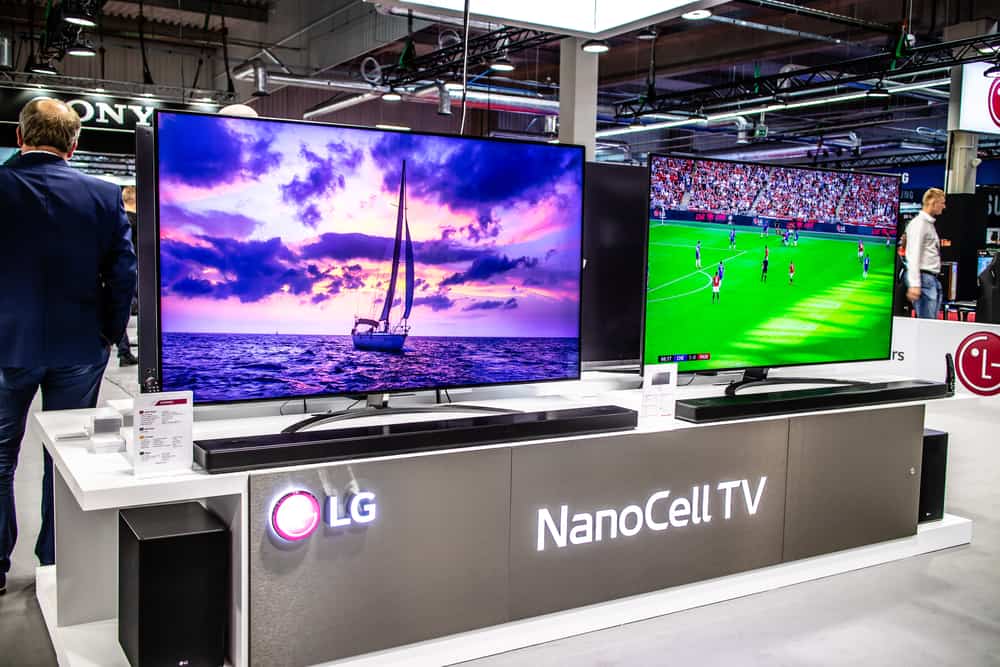 NanoCell TV is an incredible TV with cutting-edge technology and an unparalleled viewing experience. If you're in the market for a new TV or want to upgrade your old TV, you'll seriously want to consider NanoCell TV for good reasons. From its intuitive smart features to its sleek, modern design, a NanoCell TV is a perfect addition to your home entertainment setup. So what makes NanoCell TVs stand out from the competition?
Some Background Information on NanoCell TV
LG, a leading global electronics company, introduced NanoCell technology in 2017. NanoCell TVs use a layer of nanoparticles called Quantum Dots to enhance color accuracy and overall picture quality. Their advanced technology filters unwanted light wavelengths and provides a wider color gamut. This TV is now a go-to choice for consumers looking for a high-quality viewing experience.
NanoCell TVs can support High Dynamic Range (HDR) content, allowing a greater range of brightness and color contrast, leading to more vivid and realistic images. Moreover, these TVs deliver a variable refresh rate and have minimal input lag, which makes them ideal for gaming. The latest models have innovative TV features, including access to popular streaming services, a user-friendly interface, and voice control options.
Best Reasons To Buy a NanoCell TV Today
NanoCell TVs utilize nanotechnology to achieve vibrant and precise hues, enhancing the overall image quality. But what are these pressing reasons for considering a NanoCell TV? Here are several key reasons:
Enhanced color accuracy
Better viewing angles
HDR support
Gaming
Smart TV features
Energy efficiency
Sleek design
Enhanced Color Accuracy
Many viewers appreciate NanoCellTV's color accuracy features because they enhance their viewing experience. NanoCell TVs utilize a distinct technology that amplifies color precision, resulting in images that are more vivid and true to life. They also employ a unique technique that uses particles of nanometer dimensions, known as "nanoparticles." These particles act as a filter, eliminating undesired colors and bolstering the authenticity of the colors displayed on the screen.
In addition, NanoCell TVs provide an extensive color spectrum, enabling them to showcase a broader array of colors compared to conventional TVs. This results in more vivid and true-to-life visuals, with colors that closely resemble what the human eye perceives in reality. Notably, the color precision of NanoCell TVs remains steady even at wide viewing angles. This feature makes them an excellent option for spacious areas or social events where all attendees wish to experience consistent image quality regardless of their seating positions.
Better Viewing Angles
Not being able to view your TV from various seating positions can be highly irritating. However, NanoCell TV eliminates this discomfort by providing a wider range of viewing angles, ensuring everyone in the room can enjoy the same picture quality. This makes NanoCell TVs a perfect choice for larger spaces where many people watch TV.
The magic behind this is in-plane switching (IPS) panels, which create a wide viewing angle. These panels maintain consistent color accuracy and contrast even when viewed from an angle. So, you can watch your movies or TV shows from any seating position, thus eliminating strain.
HDR Support
NanoCell TVs come with irresistible technology, making them the top choice for various consumers. Among the compelling reasons to buy a NanoCell TV is the inclusion of High Dynamic Range (HDR) technology. This technology is critical as it enhances the brightness and contrast of the image, leading to more vivid and lifelike images. HDR technology enables a broader range of colors and contrast levels, resulting in a more immersive and realistic viewing experience.
Equally, NanoCell TVs can produce brighter whites, deeper blacks, and a more comprehensive range of colors. This results in images closer to what the human eye sees in real life with HDR support. With many streaming services and Blu-ray discs offering HDR content, HDR content is becoming more widely available.
These televisions also have local dimming, enabling different screen areas to darken or brighten independently. This functionality enhances contrast and accurately depicts an image's dark and light regions. Additionally,  the HDR support on NanoCell TVs is compatible with multiple HDR formats. This includes HDR10, HLG, and Dolby Vision, ensuring you can enjoy HDR content from various sources.
Gaming
One area where NanoCell TVs have made their mark is gaming. With their low input lag and rapid response time, these TVs provide a more engaging gaming experience. The reduced input lag of NanoCell TVs minimizes the delay between your controller's commands and on-screen action, making these TVs an excellent selection for high-speed games.
Furthermore, NanoCell TVs support auto low latency mode (ALLM) and variable refresh rates (VRR), which help to lower screen tearing and improve the overall gaming experience. VRR technology ensures that the TV's refresh rate matches the game console's output. The effect will be evident by displaying smoother and more fluid gameplay. ALLM automatically switches the TV to the game mode when it detects a compatible console, reducing input lag and improving overall performance.
NanoCell TVs also boast a range of gaming-specific features. They include a black stabilizer that enhances visibility in dark areas of the game and a motion blur reduction feature that lowers blurring during fast-paced action sequences. Additionally, NanoCell TVs have a range of screen sizes and resolutions. Hence, they can be an excellent choice for gamers who want a larger screen for a more immersive experience or a higher resolution for greater detail and clarity. Such features are evident enough to offer you perfect reasons to buy a Nanocell TV. 
Smart TV Features
Manufacturers are becoming increasingly innovative, incorporating intelligent features into their products to enhance user convenience. These innovative features make NanoCell TVs attractive, significantly elevating the viewing experience. Equipped with various smart TV capabilities, NanoCell TVs are an excellent choice for anyone seeking seamless internet connectivity and content streaming from diverse sources. 
Among the best reasons to buy a NanoCell TV include Wi-Fi connectivity, compatibility with popular streaming services like Netflix and Amazon Prime Video, and access to the LG Content Store, which boasts an extensive selection of apps and games.
NanoCell TVs also use LG's webOS platform, offering a user-friendly interface and easy access to your favorite apps and content. The webOS platform has various voice control options, making navigating and controlling your TV easy without a remote. 
Again, NanoCell TVs support Apple AirPlay 2 and HomeKit, enabling you to easily stream content from your Apple devices and control your TV using voice commands or the Home app. The good news is that NanoCell TVs are compatible with the LG Magic Remote. This allows for easy navigation and control of the TV using gestures and voice commands.
Energy Efficiency
NanoCell TVs are known for their energy efficiency, meeting the ENERGY STAR certification criteria and the European Union Energy Label. These TVs use less power, saving you money on electricity bills and lowering your environmental impact. They employ various technologies to achieve high energy efficiency. One of these is LED backlighting, which surpasses the energy efficiency of conventional LCD backlighting. The LED backlighting enables precise control over display brightness, improving contrast and enhancing color accuracy.
Equally, NanoCell TVs feature a range of energy-saving modes, like a standby mode that lowers the power consumption when the TV is not in use. Also, an auto power-off feature turns the TV off after a set period of inactivity. In addition, NanoCell TVs have energy efficiency certifications from organizations such as ENERGY STAR and the European Union Energy Label, indicating their commitment to reducing energy consumption and environmental impact.
Sleek Design
Have you ever wished for a TV that provides a large, immersive display without consuming too much space in your room? Well, a NanoCell TV won't disappoint. These TVs have a slim design that fits seamlessly into any living area. Specifically, their thin bezels and sleek profile make them ideal for mounting on a wall or placing on a stand.
Despite having a slim profile, NanoCell TVs maintain functionality, another reason to buy this type of TV. Transporting NanoCell TVs is also a breeze as they are remarkably light and easy to handle. The design is especially beneficial if you frequently rearrange your living area or transfer the TV between different rooms. 
Alternatives to NanoCell TV
OLED TVs
OLED TVs are renowned for their remarkable picture quality and elegant design. Unlike conventional LED TVs that rely on a backlight for screen illumination, OLED TVs feature individual pixels that emit light. This allows OLED TVs to achieve deeper black levels, superior contrast, and precise color reproduction. These TVs also have a wider viewing angle. Everybody can enjoy the same picture quality regardless of their seating position.
QLED TVs
If you're looking for top-of-the-line TVs with sleek design, advanced processing technology, and high dynamic range (HDR) content support, QLED is the best choice. QLED TVs use quantum dot technology for vibrant and accurate colors; such a TV suits consumers who want a high-quality picture.
Quantum dots are microscopic particles that emit different light colors when exposed to an electrical charge. This technology allows for a wider color gamut and more accurate color reproduction. Samsung has some of the best QLED TVs. 
QNED TVs
QNED models showcase innovative advancements in display technology. They blend quantum dot and NanoCell technologies. This combination delivers a captivating and extraordinary viewing experience. Quantum dot technology can produce strikingly vibrant colors that will amaze you. Because they incorporate NanoCell technology, they have impressive color accuracy and contrast.
The magic doesn't stop there, as this unique combination of technologies goes beyond the capabilities of the traditional LED or QLED TVs, surpassing them to create a more lifelike and vivid picture. Thanks to their remarkable clarity and realism, QNED TVs offer an unparalleled viewing experience.
Wrapping Up
NanoCell TVs' sleek profile and lightweight design offer functionality and style, making them a versatile and practical addition to any living space. They deliver vibrant, realistic colors and razor-sharp details. Combine these with features such as 4K resolution and HDR compatibility, and you'll find yourself at the heart of the action like never before.
NanoCell TVs also offer wide viewing angles and support HDR, enhancing your viewing experience. You can expect smart TV features to provide seamless connectivity, better energy efficiency, and decent gaming capabilities. It's undoubtedly a worthy investment in the rapidly expanding television market.