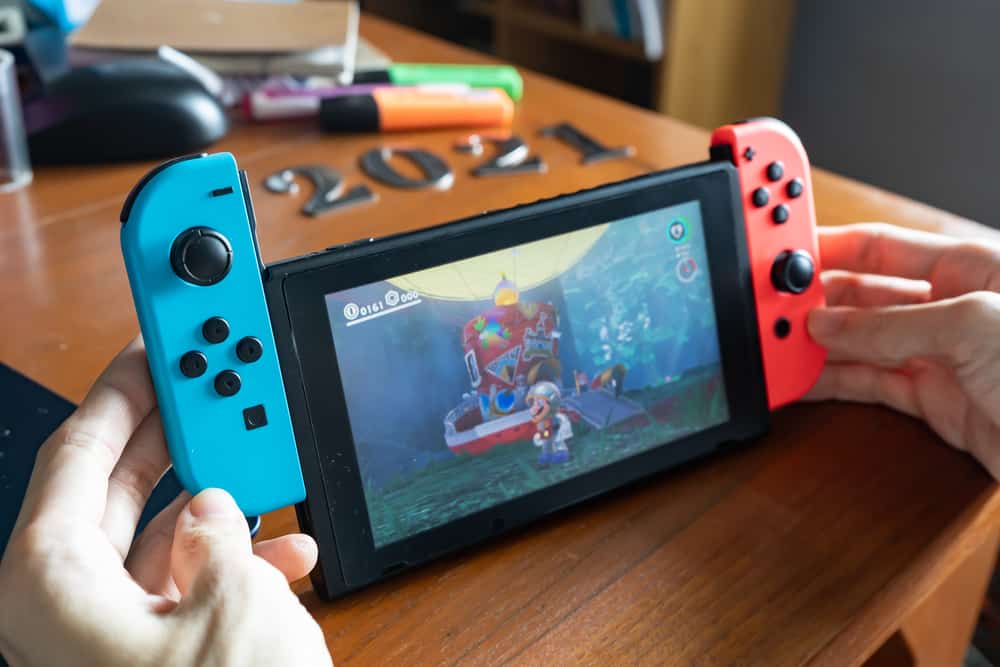 Certain types of video games are designed for PCs, but that's not the case with sports titles. They are a perfect fit for consoles, including newer ones like the Switch.
If you're looking for the best Nintendo Switch sports games, you may be in for a surprise depending on the sport. While you won't find a few popular franchises on the platform, we've compiled a list featuring the top sports games for the Switch.
Let's get started!
| | MLB The Show 22 | Tony Hawk Pro Skate | NBA2K23 | Mario Aces Tennis |
| --- | --- | --- | --- | --- |
| Developer | San Diego Studio | Vicarious Visions | Visual Concepts | Camelot Software |
| Publisher | Sony Interactive | Activision | 2K Sports | Nintendo |
| Released | April 5, 2022 | June 25, 2021 | September 9, 2022 | June 22, 2018 |
| Modes | Single-player, Multiplayer | Single-player, Multiplayer | Single-player, Multiplayer | Single-player, Multiplayer |
| | Easy Come Easy Golf | ARMS | Lonely Mountain: Downhill |
| --- | --- | --- | --- |
| Developer | Clap Hanz | Nintendo EPD | Megagon Industries |
| Publisher | Clap Hanz | Nintendo | Thunderful |
| Released | September 13, 2022 | June 16, 2017 | May 7, 2020 |
| Modes | Single-player, Multiplayer | Single-player, Multiplayer | Single-player |
5 Fun Facts about the Nintendo Switch
The Nintendo Switch is in the 8th console generation with the PlayStation 4 and Xbox One.
Nintendo has sold more than 114 million Switch consoles.
Nintendo launched the Switch with games like Legend of Zelda: Breath of the Wild.
The Switch has a built-in locator for the Joy-Con controllers.
Mario Kart 8 Deluxe is the best-selling game for the Switch with more than 48 million copies sold.
Sports Games on the Switch
Nintendo produced another winner when they released the Switch, although it's not as powerful as new next-gen systems. The Xbox One X and PlayStation 5 can run circles around it from a hardware standpoint, but that's not really the draw of the Switch.
The console arrived in 2017, and since that time we've seen well over a dozen sports titles released. That includes titles that cover most of the major sports like baseball, basketball, and soccer. There have also been a handful of boxing games that put a unique twist on the genre, although you won't find anything from the Madden franchise.
Madden hasn't been on a Nintendo system since Madden 13, so football fans are out of luck. FIFA did make the jump, although FIFA Switch reviews have been less than kind over the years. The best titles from that franchise are the earlier ones on the Switch considering the lack of upgrades compared to the PS5 and Xbox Series X/S.
While you won't find Madden or FIFA on our list, we have included something for almost everyone whether you prefer the NBA, tennis, or Tony Hawk.
MLB The Show 22 for Nintendo Switch
MLB The Show 22 (Nintendo Switch)
Create and use multiple Ballplayers, beyond your Road to the Show personalized Baseball RPG experience and customize your Ballplayers how you want to aid in your progression.
Diamond Dynasty is back and better than ever! Play, collect, and build on your fantasy card collection and bring to life on the diamond. Try the new Mini Seasons mode, where each season brings new challenges as you face off against a new set of competition!
Face your friends with cross-platform play. With cross progression, continue your progress and earn and use earned content on other console platforms.
Stepping up to the plate for the first time? Tailor your experience with gameplay styles and two new difficulty settings to help you get the hang of the basics.
Some sports games are hard to find on Nintendo systems, but that isn't the case with baseball. It's been popular since the RBI franchise on the NES, and if you're looking for a realistic game, MLB The Show 22 for Switch is the best of the bunch.
MLB The Show 22 lets you step onto the diamond as any one of the 30 major league baseball teams. It's an official MLB game, so player likenesses, historical stats, and stadiums are all present. It's also a full-fledged baseball game, not a mediocre port. That means there's plenty of depth as Sony didn't cut any content from the title when porting it to the Switch.
In MLB The Show 22, you can play an exhibition match, set up a franchise, or take your created player through the MLB. Diamond Dynasty Mode, and Road to the Show play just as well on the Switch as they do on the PlayStation 5 or Xbox X/S.
You may notice the hardware limitations if you play this one undocked, but it's certainly one best Nintendo Switch sports games for baseball fans.
MLB The Show 22 is unique on the Switch as it's a game from Sony, the makers of the PlayStation 5. We're thrilled the game made the jump, however.
The ability to take your Diamond Dynasty on the go should not be underestimated, even if the gameplay isn't as smooth as you'll find on next-gen consoles. If you're not interested in the deep mechanics of this game, Super Mega Baseball is a fun alternative.
You can find MLB The Show 22 on Amazon here.
Sale
Tony Hawk Pro Skater 1+2 - Nintendo Switch Standard Edition
Break skateboarding boundaries, show off your own style, and be part of the next generation of skaters and creators with Tony hawk's Pro skater 1 + 2.
Skate as the legendary Tony hawk and the original Pro roster, plus new pros
Hit insane trick combos with the iconic handling of the Tony hawk's Pro skater series
Play all the original game modes and go head-to-head with local 2-player modes
All the Pro skaters, levels and tricks are back and fully-remastered, plus more.
If you owned the original PlayStation, Tony Hawk probably made an appearance on your home console. Pro Skater shook the gaming world up when it was released, and Tony Hawk Pro Skater 1 + 2 did the same thing a decade later on the Switch.
To say the first two Tony Hawk Pro Skater games were popular would be an understatement. The franchise lost steam with newer titles in the series, but the first two are beloved by gamers. Tony Hawk Pro Skater 1 + 2 is a remaster of those two games and is just as fun on the Switch as it is on the PlayStation 5.
All the classic skateboarders from the originals are back in this remaster along with the soundtrack. The classic skaters have been "aged up" and there are newer skaters like Tyshawn Jones, Shane O'Neill, and Leo Baker. 
You can create your own skater or park just like you could in the original. The classic tricks are still present with the inclusion of some new ones from the Underground series.
Tony Hawk Pro Skater 1 + 2 is the best-selling game in the franchise, and it was an instant success on next-gen consoles and less-powerful ones including the Switch. The only knock on the game is that online multiplayer feels a bit light, although that's minor in comparison to the endless entertainment the game provides.
You can find Tony Hawk Pro Skater 1 + 2 on Amazon here.
Sale
NBA 2K23 - Nintendo Switch
Feel refined gameplay in the palm of your hands on both sides of the ball in NBA 2K23.
Embark on a swashbuckling basketball journey aboard a spacious cruiseliner equipped with pristine courts, scenic views, and a boatload of rewards for you and your MyPLAYER to enjoy.
Step back in time with era-specific visuals that captured Michael Jordan's ascent from collegiate sensation to global icon with immersive Jordan Challenges chronicling his career-defining dominance.
Ball without limits as you collect and assemble a bevy of legendary talent from any era in MyTEAM.
If you want to play basketball on a console, the NBA2K series is the game of choice for most sports fans. The franchise made its yearly appearance on the Switch with NBA2K23, and despite a few cuts, it's the best NBA game on the console.
If you've never experienced NBA2K, you're in for a treat. It's an in-depth game with multiple modes that let you build dynasties or hit the court as a created player. Want to build a team using cards? You can do that or spend time in the online neighborhood shooting hoops in multiplayer mode. The latest version received a number of incremental upgrades, although some things are missing on the Switch.
MyNBA Eras mode didn't make the cut, and your MyPlayer can't roam around the city like they can on next-gen consoles. The Jordan Challenge makes a return, however, and you can play with current and classic NBA players across multiple modes. The game also feels more stable in handheld mode compared to other high-end sports titles on the Switch.
While it's disappointing some things were cut from this version of NBA2K on the Switch, the game is well worth your time if you love the NBA. Overall, it's essentially the same game as last year with minor updates like most sports titles. That's not a bad thing, however, considering NBA2K23 is the best basketball game around.
Check it out for yourself on Amazon here.
Sale
Super Mario may have sprung to life dodging barrels and busting bricks, but he's no stranger to sports games. Mario Tennis Aces is the 8th game in the series and the best tennis game on the Switch if you're looking for a different take on the sport.
This is a sports game with a storyline involving a magical tennis racket with a sense of style that would make Mario proud. The colorful title has arcade-based gameplay with an Adventure mode, online multiplayer, and Swing mode which utilizes the Joy-con controllers in a way fans of Wii Sports will be familiar with.
Trick shots liven up the game along with zone speed, which activates slow-motion mode. Some shots require energy bringing strategy into play as you can drain your energy bar quickly if you're not cautious. There are around 30 playable characters in the game including Toadette, Boo, Chain Chomp, Birdo, Blooper, and Dry Bones. 
Mario Tennis Aces is one of the best-selling Switch games and an excellent addition to the Mario Sports franchise on Nintendo. It's a hybrid sports game that puts the Joy-Con controllers to good use, and they've done an amazing job of adding new content since the game arrived in 2018.
Find it on Amazon here.
#3: Easy Come Easy Golf
As mentioned, hardware limitations can make some sports games challenging to pull off on the Switch. Golf is one of those titles due to the scenery, but that's not a problem with Easy Come Easy Golf. It's what Mario Golf should have been, and one of the best Switch games regardless of the genre.
Fans of the classic Hot Shots Golf series will feel right at home with this game. It's developed by Clap Hanz, the same company responsible for PlayStation classics. That means the controls are rock solid and there are plenty of unlockables. One of the things that makes this game unique is the fact you'll need multiple golfers to finish a round instead of just one.
Building a team of golfers instead of relying on one character puts a different spin on the genre. The gameplay and graphics are reminiscent of Mario Golf, and Easy Come Easy Golf has just as much content. Tournaments are fun, and we enjoyed also enjoyed the Survival and Score Attack modes. The game has several multiplayer modes as well. 
Easy Come Easy Golf doesn't have the depth of PGA2K or realistic graphics like MLB the Show. What it lacks in those departments, it makes up for with gameplay as the game is a blast to play solo or online. While you can't purchase a physical copy of this Clap Hanz port, it's available to download directly from the Nintendo Store.
Sale
ARMS - Nintendo Switch
Fight via simple motion and button controls
Select from a variety of fighters
Fight in arenas with unique obstacles
Choose your arms carefully
Rated "E10+" w/ Cartoon Violence
There has been no shortage of boxing titles released for Nintendo consoles, but none are quite like ARMS.
It's another hybrid sports game, although this one was designed by Nintendo specifically for the Switch, so it's not your typical boxing game.
ARMS is a boxing game where you take on your opponents with extendable arms. Each fighter has unique arms and abilities which you can control using the Joy-Cons motion controls or the standard layout. That kind of gameplay can take some getting used to if you're looking for a Punch Out! clone, but it's hard to put the controller down once you get the swing of things.
There are 15 fighters in ARMS, including several released as DLC. While those arms are tied to the fighter, you can mix and match in Get Arms mode. They did a great job of ensuring there is a character and ability suitable for everyone whether you want to get physical with Max Brass or take a sneakier approach through Ninjara.
ARMS was an instant hit upon release and a game that helped push a lot of consoles in 2017. It's a family-friendly game you can have a lot of fun with, and incredibly easy to pick up and play. Gamers that want a game with some depth won't be disappointed either once you delve into the multiplayer mode or Arms Getter.
Get it for yourself on Amazon here.
Bicycling games are a unique sub-genre in the world of sports games, and there have only been a handful of good titles for consoles. While there are sadly no plans for Dave Mirra or Mat Hoffman's BMX games on the Switch, Lonely Mountains: Downhill takes things in a new direction.
Lonely Mountains: Downhill is an aptly named game that pits you against downhill mountain courses.
You're not racing against any opponents, and there's no multiplayer mode. It's just you, your bike, and gorgeous backdrops. The minimalistic style of the game is part of the charm. You'll hear the chain of your bike and the sounds of nature, but there is no music in the Lonely Mountains.
There are five mountains to take on in Downhill, including one added through DLC. Each mountain has a set of trails, complete with checkpoints. That's a good thing in case you ride your bike off a cliff. While there are no traditional power-ups, you can customize your bike. New bikes and parts are unlocked through challenges as you progress through the game.
Lonely Mountains: Downhill isn't a game for everyone, especially if you're looking for a sports game involving balls, rackets, or bats. It is a highly-rated indie on the Switch, however, and a game we highly recommend if you're in the mood for something different. This one's only available through Nintendo's online shop, except for the rare limited physical editions of Lonely Mountains: Downhill.
Find a rare copy of Lonely Mountains: Downhill on Amazon here.
Last update on 2022-11-29 / Affiliate links / Images from Amazon Product Advertising API