Key Points:
The Nintendo Switch, with it's ability to function as a home console and a portable console has helped it sell more than 111 million units since 2017.
Swapping to a new dock that is smaller, more portable or has more features could increase the potential of the Switch.
Switch Lite has limited dock functionality and doesn't provide support for TV output. 
Even with so many great third-party dock alternatives available for the Nintendo Switch, the official dock from Nintendo remains the best.
The Nintendo Switch and its staying power in the marketplace is a testament to its excellence as a console. Its flexibility to function as a home console and a portable console has helped it sell more than 111 million units since its release in 2017. 
Those are impressive numbers when you consider that, as an eighth-generation console, the Nintendo Switch now competes against Xbox Series X and PlayStation 5. Even so, one of the many joys of being a Switch owner is that it offers so much flexibility, including a wide selection of different dock options. 
The dock that is included with every Nintendo Switch unit is perfectly good enough, but sometimes you want one that i smaller, more portable, or has more features. Swapping to a new dock may very well increase the potential of the Switch.
After time spent testing, here are our choices for the best Nintendo Switch docks:
Nintendo Switch Dock Set
Functionally identical to the dock included with the Nintendo Switch system
Maintain multiple Switch docks in your home to easily move from one TV to another
Includes a Nintendo Switch dock, Nintendo Switch AC adapter and high speed HDMI cable
Nintendo Switch box set does not include the console or controllers
Official Nintendo product is completely compatible with the Switch
There are a lot of great Nintendo Switch docks on the market, but none are more reliable or better suited for the console than the official dock.
The dock comes with all of the accessories you will ever need, including an HDMI cable, AC to USB-C power adapter, and the dock itself. That means the only thing you need is the Switch console and you're ready to play on any HDMI-ready TV. It's also portable enough that you can unplug from one TV and hook it up to another TV in under a minute if you need to switch game rooms. 
The only real downside to the official Nintendo Switch Dock is that it only offers a slim input for your console. That just means you need to be careful taking it in and out to prevent scratches. 
Pick up yours at Amazon here. 
Sale
Docking Station for Nintendo Switch, Switch Dock, ikedon Portable TV Docking Station Replacement for Nintendo Switch with 4K HDMI and USB 3.0 Port
[Replacement For Official Nintendo Switch Dock] This dock is only 48g(1.7 oz), which is much more portable and lightweight than official switch dock, ideal replacement for taking out anywhere. Same amount of ports for USB controllers and HDMI ports for TV.
[Never Scratch Your Switch Screen & Overheat] The official dock is a RISK for scratching the screen even with a screen protector, but now ikedon solve this problem with unique design. The console sits on top of the unit instead of sliding into the Switch docking station avoiding overheat.
[One-touch Display Switching] Switch with one-touch button between the host and the TV display interface with 4K HDMI port. Note: To play and charge at the same time, you need a 15V/2.6A power supply (NOT INCLUDED).
[Adjustable Play Angles] 3 angles allows you to play your Nintendo Switch at the best viewing angle for different environments.
[Won't Sliding Around] The anti-slip base design prevents it from sliding around or falling over by accident.
When you want something smaller but still capable of charging up the Nintendo Switch, the Ikedon Switch Dock is the perfect solution. At only 1.7oz in weight, it's vastly more portable and lightweight than the official Switch dock, as well. 
Once you dock your Nintendo Switch into the Ikedon, you need to only touch the dock once to switch between tabletop and TV mode. 
The 4K HDMI port makes the setup super easy and will provide the same level of graphical support as the official dock. It also provides adjustable play angles, so you can leave your Switch in the dock and use it as a stand at a desk or table as well. 
Charging the Switch is the best part of the Ikedon, as its diminutive size hides that it can charge your Switch while playing. The 15V/2.6a power supply is not included, but the official cable from your dock will work just fine. 
Grab the Ikedon Switch on Amazon today here. 
Sale
REAKA Upgraded USB Type C to HDMI Digital AV Multiport Hub,USB-C(USB3.1) Adapter PD Charger for OLED Switch/Nintendo Switch,Portable 4K HDMI Dock for Samsung Dex Station Travel TV Docking Station
►【2023 Upgraded OLED Switch Dock】The USB C to HDMI adapter work without additional installation or software / APP necessary.RREAKA Multiple USB C Adapter with 4K HDMI Port, USB 3.0 Port, USB 2.0,USB Type C PD Charging Port.RREAKA USB C Adapter = Nintendo Switch Dock + Samsung Dex Station + USB C Converter - Perfect support for OLED Switch,Nintendo Switch,Steam Deck,Samsung S21/S20+(Dex station) and more USB Type C Device.RREAKA USB-C to HDMI adapter is ready to go anywhere you want.
►【Portable Dock & Dissipate Heat】With pocket-size and Aluminium alloy light weight(1.5oz) design, you can put it into your pocket and take it to everywhere as you like and enjoy theNintendo Switch games (1080P) or 4K vivid movies in TV mode at home or extend your Macbook laptop PPT to a 4K HD Monitor for an excellent meeting.The heat dissipation of original Nintendo Switch Dock is not so good and it makes the console hot.But use RREAKA slim HDMI adapter,you will never worry about this problem.
►【Dex Station】Turn your Samsung Galaxy Note S21/S20/S20 FE/Note20/Note10/Note9/ mobile and Tab TabS7/S7+/S6 tablet into a PC-like experience. Our USB Type C adapter allows you connect your Galaxy S21/S20/S20 FE/Note20/Note10/Note9/ mobile and Tab S7/S7+/S6 tablet to a 4K monitor and keyboard,mouse for a desktop experience powered by your mobile phone. So you can turn any place into a workplace and enjoy vivid video in huge TV or monitor anywhere.
►【Work with Gamecube Controller Adapter】It works perfectly with your Switch set up which includes a gamecube adapter for smash.Just plug gamecube adapter to 2 USB ports.Now You can choose your favorite hero to battle on OLED/Nintendo Switch.
►【3 years Warranty of USB C Hub】You will get 90 days money back & worry-free 3 years warranty, and friendly customer service & technical support. We provide free replacement and return term, we will take care of all your matters within 24 hours.
When portability matters above all else, the RREAKA Portable Switch Dock is the best way to play on the go. Okay, so it's not really a dedicated Nintendo Switch dock—it's more of a digital AV hub that does everything. 
What it lacks in being able to prop your Switch up, it still enables you to play on the big screen thanks to USB-C connectivity, USB-A, and HDMI ports. You can expect 1080p output just as you would with the official Switch dock, so even with its small size, you lose nothing in overall gaming quality. 
There's support for every large-size Switch model, including the original Switch released in 2017 and the more recent OLED variant. And, if you want to charge the Switch while playing, you have support for up to 60W, though RREAKA recommends using the original charger when using the dock in HDMI mode.  
The RREAKA is available on Amazon here. 
The official Nintendo Switch dock may be a great choice overall, but it's definitely not compact. If you don't want to make a tradeoff between size and gaming, the HORI Compact Playstand is right for you. 
Officially licensed by Nintendo, the HORI offers three different angles to play and can fold completely flat for storage when not in use. At only 6 inches high, 3 inches wide, and 0.6 inches tall, you get just enough height to elevate the console enough for charging without relying on the included kickstand. 
Speaking of charging, charging with the HORI is no problem as you can use any official or third-party charger and connect to your Switch hardware while in use. Last but not least are rubberized grips on the bottom of the dock to keep it firmly in place while playing. 
Pick up the HORI Compact Playstand today on Amazon here. 
[New Version] TV Docking Station for Nintendo Switch, Knofarm Foldable TV Dock Charging Station with Gigabit Ethernet and 4K HDMI Adapter, Support 45W Fast Charging, Portable Switch Dock Station
【Play Game while charging, NO Overheat】With 45W charging output. You can play games while charging. To charge and play on the tv or tabletop simultaneously, you need a 15V/2.6A power supply. The original switch wall charger will work in this case. Exactly compatibility with the air outlet holes on Switch. Your Switch will continuously stay at a normal/low temperature while docking or charging. Prevent your Switch from burning inside. Note: Do Not Support Switch Lite.
【Smoother game experience】Simply plug your network cable to the ethernet port and enjoy a much faster and stable network connection than standard WiFi. Never skip a beat when online gaming and enjoy high-speed downloads on your Nintendo Switch. You can freely and easily switch between the console and the TV monitor with one click. Note: Wait for 10 seconds to enjoy the high-definition game pleasure.
【Multiple interfaces】The replacement for Official Nintendo Switch dock. Combine with1x Ethernet Port, 2x USB 3.0 Port, 1x HDMI, 1x Type C Port. It supports 4K, 1080P and 720P video output (Nintendo Switch only supports 1080P). Note: AC Adapter and Charging Cable Not Included.
【Durable ABS Material】 Use high-quality wearable ABS material which is not easy to break. Rubber studs on the bottom of the kickstand prevent it from sliding around or falling over on accident. It allows you to play games in table-top mode with multiple people.
【Lightweight & Portable】The size of the switch docking station is only 3.15*2.8*0.78 inches(8*7.1*2cm), even smaller than a smart-phone. Small size fits well in pocket or makeup bag, plug and play,foldable design, so you can use it in anywhere you want.
Color coordinating your Switch dock to your console likely isn't top of mind for many, but for those who want those beautiful blue and red colors, the Knofarm Switch Dock is for you. 
This dock comes in two variants: one with ethernet capability and one without. The former offers support for HDMI, USB 3.0, and USB-C for charging. The latter trades the USB 3.0 port for ethernet connectivity while only increasing the price by $5. 
Support for 45W of charging output makes it convenient to charge while playing, and with heat vents on both sides of the dock, overheating is not a concern. 
Play with confidence on the TV as well, as the Knoform not only supports tabletop mode but also TV mode, thanks to the various outputs included with the hardware. When you're done playing, fold the Knofarm flat and it easily fits in a pocket or bag for taking on the go. 
The Knofarm Switch Dock is available on Amazon here. 
Sale
Switch Controller Charging Dock Station Compatible with Nintendo Switch & OLED Model Joycons, KDD Switch Controller Charger Dock Station with Upgraded 8 Game Storage for Nintendo Switch Joycon & Games
⭐ 【Better Replacement for Nintendo Switch Original & OLED Model Joycons Charging Dock】 This Switch controller charger dock station matches the switch TV dock station for OLED model & Original version perfectly, charging 6 joycon controllers at the same time. It's must have switch controller charging dock for Nintendo Switch gamers, this joy con charge station is upgraded with 8 game slots to keep your gaming desktop tidy and space saving.
⭐ 【Easy To Use】Cradles around your Switch joycon charger and uses 6 joy-controller slots on the side to charge all 6 joycon controllers simultaneously. It is securely fixed to the dock with double-slided adhesives.
⭐ 【Detials Optimization】This joy con charging Dock has built-in an additional light guide plate is added to reflect the green TV light on the dock. This will show the TV modes (On or off). Turn it on and off with the button.
⭐ 【Safe&Reliable】This joycon controller charging station has built-in intelligent protection chips. These are designed to prevent over-currents, over-heating, over-voltage, short-circuits, and as a precaution, it will never over charge.
⭐ 【KDD】If any issue arrives, please feel free to contact us. Our after-sale service support team will offer help you to the best of our abilities! KDD: Keep durable and distinctive!
Something of an add-on to the official Nintendo Switch dock, the KDD Switch Charging Dock adds a number of extra features while keeping the price tag low. 
Plug directly into the official Switch dock and you're now able to charge not one or two but six Joy-Con controllers all at once. All of the controllers will charge up from 0 to 100% in just two hours and that's true with one or all six Joy-Con slots in use. 
Along with the charging space for controllers, the KDD dock also adds space for up to 8 Nintendo Switch game cards, so you have them quickly accessible. 
The dock runs completely off the existing power unit from the official dock so there are no cables or plugs required. 
The KDD Switch Charging Dock is available on Amazon here. 
KIWIHOME Switch Dock Charger Adapter for Switch OLED, 3 in 1 Switch Charger for TV, Switch TV Dock with USB 3.0 Port, Covert Dock Switch for Android Smartphone Tablet, 1.2M Power Cord
【3-in-1 Converter Dock for Switch OLED】Built-in HDMI port, USB 3.0 port, and Type-C port enable you to insert three devices simultaneously, this OLED Nintendo Switch convert dock combines the original dock and AC charger functions, save your money and space.
【39W PD High-Speed Charging】The switch charger adapter fits all type-C devices. Input: 100-240V~50/60Hz; Output: PD 39W 5V 1.5A/15V 2A. High speed charger Nintendo switch AC adapter fully charged your switch within 3.5 hours, allows you to charge and keeps it adequately powered while playing in handheld mode.
【USB 3.0 Data Transportation】When the dock is connected to a computer or a smartphone, the USB 3.0 port can be used to connect USB mobile devices, such as a mouse, a USB flash drive, and other USB devices. Support USB3.0, compatible with USB 2.0 devices at the same time, the maximum rate is 5Gbps. NOTE: USB 3.0 ports don't support quick charge for other USB devices, except for type-c ports.
【4K High-definition HDMI Output】This TV dock adapter can connect Switch to HDMI-enabled devices (e.g.: monitor, TV, projector), extending working space with split-screen or mirroring display. This switch HDMI type c hub adapter supports resolution up to [email protected] ([email protected],[email protected]). Have fun with a big screen and high-quality picture thanks to its HDMI port supporting 4K.
【Gaming On The Go】An affordable travel dock for Switch/Switch OLED gamer: 1 * switch charger adapter, 1 * 1.2M USB-C to USB-C Cable. It takes up much less space when traveling than the Nintendo Switch Dock. KIWIHOME encourages buyers to contact us through Amazon customer service instead of the website. Please feel free to contact if you have any question.
It's a dock, it's a charger, it's both. The KIWIHOME Switch Dock Charger Adapter may not have the best name, but it's a fantastic product that's perfect for taking on the go or using at home. 
As a 3-in-1 product, there is a built-in HDMI port, USB 3.0 port, and USB-C port for connecting up to three devices at once. Plug the Switch into the USB-C port for charging (bring your own cables) and the HDMI port for connecting to a TV. The adapter supports resolutions up to 4K at 30Hz or 1080p at 60Hz. 
With 39 watts of power, the KIWIHOME can charge the Switch from 0 to 100% in around 3.5 hours. And, when the Switch isn't in use, the KIWIHOME doubles as a charger for any other compatible device like a tablet or smartphone. 
Pick up the KIWIHOME Switch Dock on Amazon here. 
What to Know Before Buying the Best Nintendo Switch Dock
Right away, it's important to note that all of these docks were selected for use with the large Nintendo Switch. Unfortunately, the Switch Lite has limited dock functionality and doesn't provide support for TV output. 
As long as you have the larger/original Nintendo Switch, you should know that all of these docks are going to provide close to the same level of functionality, but not in the same way. For example, the HORI Compact Playstand and the Knofarm Switch Dock all support charging, but the former connects directly to your Switch while the latter charges your Switch through the dock aka passthrough charging. 
The next important thing to know is that some of these are more portable than others. Since the Switch is already a travel-friendly console, selecting the best dock for portability and travel is going to be critical. 
One final important takeaway is that all of these docks, minus the official Nintendo model, are relatively inexpensive. At most, you might spend up to $35 for one of these docks but, realistically, you can spend half of that.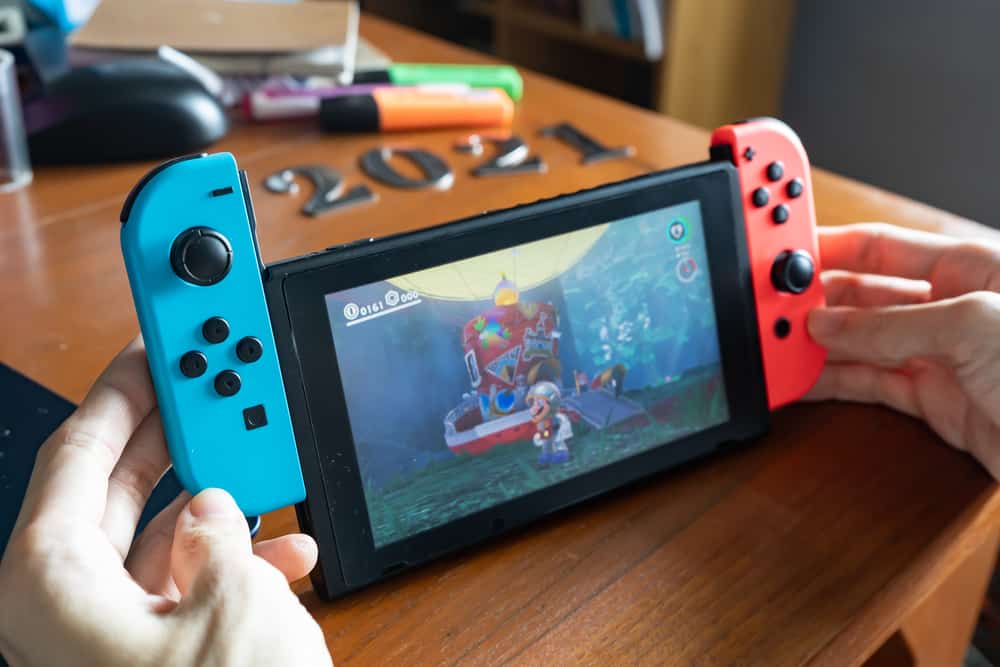 Using the Best Nintendo Switch Docks: What it's Like
For anyone who wants the best dock experience with the Nintendo Switch, look to the official dock that comes included. You won't find a more reliable option that fits the Switch hardware perfectly, maybe a little too perfectly. Please be careful taking the Switch in and out of the dock or get a screen protector, as it could cause scratches. 
People who want a more portable dock experience will absolutely love the portability of the RREAKA or KIWIHOME options. The ability to get a full Switch experience connected to a TV and charge at the same time in such a small package is wonderful. 
For anyone who wants a more official dock-like experience, the Knofarm is perfect. It takes the dock you already love but adds two very important features in charging Joy-Cons and placeholders for games. The Knofarm is also the best for anyone who wants to color coordinate their dock and their console. 
Final Thoughts
Even with so many great third-party dock alternatives available for the Nintendo Switch, the official dock from Nintendo remains the best. Yes, you'll pay more than you would for nonofficial docks, but you know it's up to Nintendo's standards of quality and connectivity.
Up Next…
Last update on 2023-03-17 / Affiliate links / Images from Amazon Product Advertising API