MagSafe is a wireless technology integrated into the latest iPhone versions, including the iPhone 12, iPhone 13, and iPhone 14, excluding iPhone SE. MagSafe accessories attach wirelessly to the back of the iPhone to improve functionality and enable fast wireless charging. These accessories have a ring of magnets that align with the magnets on the back of your iPhone, which hold them securely in place and enable their use.
They range from wireless battery packs, phone cases, and wallets to stands and car mounts. We've compiled a list of the best MagSafe accessories in various categories to help you get more out of your iPhone:
Anker 633 Magnetic Battery (MagGo), 10,000mAh Foldable Wireless Portable Charger, 20W USB-C Power Delivery for iPhone 14/14 Pro / 14 Pro Max, iPhone 13/12 Series. (Black)
2-in-1: The charger wirelessly charges your phone while the practical foldable stand props up your phone for easy viewing.
Compact and Powerful: The 10,000mAh small-sized battery contains enough power to charge an iPhone 13 Pro 1.8 times*.
Snap On, Power Up: Get a safe and secure wireless charge with the perfectly aligned strong magnets that snap onto your phone for a constant charge.
High-Speed Charging: Use the 20W USB-C Power Delivery port and a USB-C charging cable to charge your iPhone 3x faster.
What You Get: Anker 633 Magnetic Battery (MagGo), 2ft (0.6m) USB-C to USB-C charging cable, welcome guide, our worry-free 24-month warranty, and friendly customer service.
We earn a commission if you make a purchase, at no additional cost to you.
The Anker 633 Magnetic Battery is first on our list because it's the best utilization of the MagSafe technology. With this battery pack, you can always have a fully charged phone and enjoy viewing your favorite show or reading a book in either portrait or landscape mode.
The Anker 633 has a 10,000 mAh battery capacity, which allows you to wirelessly charge your iPhone fully and leave some charge for a second partial charge. Although it fully charges your phone, it does so at a slower rate of 7.5W than the official Apple MagSafe battery pack, which fast charges at 15W. However, you can still enjoy high-speed charging with the 20W USB-C to USB-B cable that comes with this power bank. You can also use the cable to charge the battery pack and your device simultaneously.
The Anker 633 is incredibly versatile because, other than doubling as a phone stand, it's available in three colors: white, black, and blue, allowing you to pick one that matches your style. It also includes a MultiProtect system that facilitates temperature control, radiation shielding, and foreign object detection.
On the flip side, the Anker 633 is incompatible with non-MagSafe phone cases. It's also important to note that magnets and metal attachments like keys and bank cards can interfere with the battery pack's effectiveness. Again, it's not bulky to attach behind the mini iPhone 12 and 13, so it's not recommended for use with these devices.
| PROS | CONS |
| --- | --- |
| Has a high battery capacity of 10,000mAh | Incompatible with iPhone 12 and 13 mini versions |
| Has a phone stand | A bit bulky |
| Allows wireless and wired charging | |
| It can charge multiple devices simultaneously | |
Check out Anker 633 Magnetic Battery on Amazon.
We earn a commission if you make a purchase, at no additional cost to you.
A MagSafe case is non-negotiable when you have a MagSafe-enabled iPhone 12, 13, or 14. That's because standard cases weaken the magnetic pull between your iPhone and the accessories you stick to the back.
Clear iPhone cases are creating buzz because they provide an extra layer of protection while showing off your iPhone. The Spigen Ultra Hybrid (MagFit) Case is a transparent MagSafe-compatible case that blends with any color iPhone and various color accessories.
The Spigen case is made from clear polycarbonate and flexible TPU, making them lightweight, easy to grip, and comfortable in your hand. It's ultra-slim, crystal clear, and optimized to prevent it from yellowing over time. 
It also has a shock-absorbent bumper, raised bezels around the screen, and cameras for maximum drop protection. And the magnets are strategically placed to align perfectly with your iPhone and enable fast charging and secure attachment of MagSafe accessories.
| PROS | CONS |
| --- | --- |
| Crystal clear design  | Not as protective as other iPhone cases |
| Doesn't discolor | |
| Lightweight and easy to grip | |
| Enhanced with Air Cushion technology | |
Check out Spigen Ultra Hybrid (MagFit) Case on Amazon.
Bullstrap Premium Leather MagSafe Wallet Compatible with All MagSafe iPhone Cases, Sienna Brown
Premium Quality: Our case was crafted using leather from some of the most exclusive tanneries. It is made from supple, top-quality, 100% calfskin leather and designed to meet the highest of...
Unique Patina: Our luxury magnetic wallet will come to life as the leather ages over time, creating a patina unique to you and your lifestyle. Please note that due to the one-of-a-kind finish, the...
Minimal & Streamline Design: Each of our leather wallets is crafted using micro-precision cutting technology that ensures a slim, flawless fit with no added bulk. The MagSafe Wallet attaches...
MagSafe: Extra strength MagSafe magnets infused within the wallet optimize MagSafe compatibility. The thickness of our premium top-grain leather may seem to slightly decrease magnetization, but rest...
Specifications: The MagSafe Wallet is designed easily to hold one to three cards, and with an internal tension-peg, your cards will stay secure. The convenient thumb-slot makes access to your card...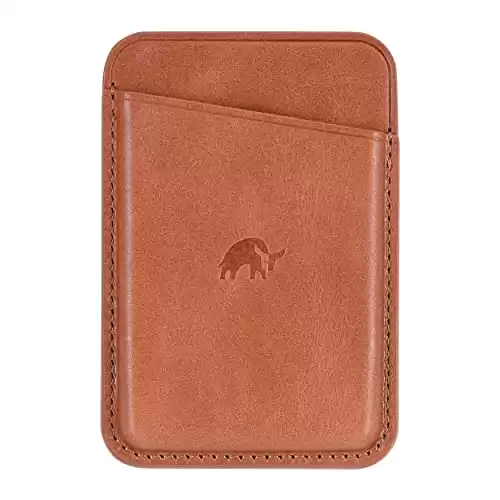 We earn a commission if you make a purchase, at no additional cost to you.
Carry your most essential cards with you at all times with the Bullstrap Premium Leather Wallet with MagSafe. The Bullstrap Premium Leather Wallet with MagSafe is made of 100% calfskin leather that has been tanned and finished in the finest tanneries. It is available in various subtle colors that go with any style, including sienna, ocean, bourbon, and black.
It features a slim, luxurious, and minimalist design without added bulk. The high-quality leather ages gracefully, and the strong magnets don't decrease magnetization despite the seemingly thick leather used. The wallet attaches firmly to the back of your iPhone, either directly or onto a MagSafe-compatible case, like the Bullstrap MagSafe leather cases. It can hold up to three cards, has a tension peg at the back to ensure secure attachment, and has a convenient thumb slot that makes it easy to retrieve your cards.
| PROS | CONS |
| --- | --- |
| Can fit three essential cards | It doesn't come with "Made for MagSafe" badge |
| Available in various subtle colors to suit any style | |
| Slim and minimalist design | |
| Has a tension peg at the back | |
Check out Bullstrap Premium Leather Wallet with MagSafe on Amazon.
We earn a commission if you make a purchase, at no additional cost to you.
A multi-device charger is the perfect definition of convenience. The Belkin 3-in-1 Wireless Charger with MagSafe allows you to charge your three essential Apple devices — AirPods, Apple Watch, and iPhone — simultaneously.
The MagSafe charging stand is "Made for MagSafe," meaning it's certified for use with MagSafe-compatible devices. It ensures that the device and charger magnets are aligned to be pumped up quickly. It has a wireless magnetic charging module for your iPhone 12, 13, or 14 and an Apple Watch Series 8 plus charging pad to boost your AirPods wirelessly. 
The round pad on the right is for charging your iPhone, and it is angled at a slope so you can continue using your phone in either landscape or portrait mode while it charges. The smaller round pad on your left is meant for charging your Apple Watch, while the flat bottom pad is where you place your AirPods to charge. The stand delivers up to 15 W to each device.
The Belkin 3-in-1 charging stand has a strong magnetic pull that ensures your Apple devices don't move, even when your iPhone vibrates. 
| PROS | CONS |
| --- | --- |
| Allows multi-device charging | The magnets on the iPhone charging mount may not be strong enough to support heavy iPhone Pro versions |
| Supports fast wireless charging | |
| You can continue using your iPhone in either portrait or landscape mode as it charges | |
Check out Belkin 3-in-1 Wireless Charger with MagSafe on Amazon.
Belkin MagSafe Vent Mount Pro - MagSafe Phone Mount For Car - Car Accessories - Car Phone Holder Mount - Magnetic Phone Holder for iPhone 14, iPhone 13, iPhone 12 Pro Max, Pro, and Mini Models
MAGSAFE COMPATIBLE - The Belkin Magsafe Vent Mount Pro is compatible with the Apple iPhone 14, 13, and 12 Series, and certified MagSafe Cases
DURABLE AND SECURE - This MagSafe certified phone mount for car is made of high-quality materials, securely keeping your MagSafe compatible phone in place while driving
POWERFUL MAGNETIC CONNECTION - The Magsafe compatible car vent mount uses Magsafe technology to ensure perfect alignment. Even with one hand the embedded magnetic system allows you to easily place...
CHARGE IN ANY POSITION - View and charge your phone in portrait or landscape mode for optimized access to navigation, music playlists, and calls, all while keeping hands free
BUILT IN CABLE MANAGEMENT - Convenient integrated cable management keeps your charging cable organized and within reach. (Charging cable and power supply sold separately)
We earn a commission if you make a purchase, at no additional cost to you.
The Belkin Car Vent Mount Pro with MagSafe is a reliable car mount that helps you firmly attach your iPhone to the dashboard. This makes it safer and more convenient to use your phone while driving. 
The mount has magnetic grips that can be attached in a horizontal or vertical orientation, depending on your car's vents. The strong magnets in the mount also allow you to securely snap your iPhone into place and ensure it doesn't slip off when taking sharp corners or hitting the emergency brakes. 
It's compatible with iPhone 12, 13, and 14 series and has a solid ball joint that allows you to flip between portrait and landscape orientation. There's a cable management system that goes around the back of the mount to secure your charging cable, preventing it from dangling around in the car and making it easier to plug it in when needed.
| PROS | CONS |
| --- | --- |
| You can use your iPhone in either portrait or landscape mode | It doesn't support wireless charging  |
| Secure magnets that hold the iPhone tight | A bit heavy and bulky |
| Has a cable management system | |
| Easily detachable when not in use | |
Check out Belkin Car Vent Mount Pro with MagSafe on Amazon.
ESR HaloLock Universal MagSafe Ring 360, MagSafe Conversion Kit, MagSafe Sticker, Compatible with iPhone 14/14 Plus/14 Pro/14 Pro Max and 13/12/11/X Series, Galaxy S22/S21/20 and More, 2 Pack, Black
Welcome to MagSafe: upgrade your case to MagSafe to unlock the potential of fast and easy wireless charging; only compatible with PC or TPU case without a non-slip coating
Strong Magnetic Lock: the ring's unique design triples magnetic strength to ensure your phone stays securely attached to all MagSafe accessories
Power in a Snap: ensures perfect alignment between your phone and the charging coil to maximize charging efficiency and allow you to enjoy faster and easier tap-and-go wireless charging
Effortless Setup: easy alignment guide ensures perfect installation every time by taking the guesswork out of application; once installed, the ring can be removed but not repositioned
Works with any Wireless Charger: maintains your ability to use a standard wireless charger while giving you access to MagSafe charging; phone should be properly aligned with standard wireless charger...
We earn a commission if you make a purchase, at no additional cost to you.
Are you dreading the idea of changing your cute phone case that's not MagSafe compatible to one that supports the magnetic technology? You don't need to because the ESR HaloLock Universal Ring 360 lets you keep using your phone case that's not MagSafe compatible.
This universal ring can work on the iPhone 12, 13, and 14 and, interestingly, on the Samsung Galaxy S10, S20, and S21. It only works with polyurethane or polycarbonate phone cases that are not more than 4 mm thick, smooth, fingerprint-proof, and without a non-slip coating.
The ESR Universal Ring lets you attach your MagSafe accessories, including chargers, battery packs, and wallets. It also has ferromagnetic heat management technology that prevents your phone from overheating when you're charging it. 
You must use the easy-to-follow alignment guide provided by the manufacturer to ensure proper attachment. This will, in turn, facilitate the effective attachment of accessories and charging. Once you have it attached to your phone case, you cannot reposition it, and you can't reapply it when you remove it.
| PROS | CONS |
| --- | --- |
| Allows you to use phone cases that are not MagSafe compatible | Improper alignment may render it unusable |
| Can be used with Samsung Galaxy S10, S20, and S21 | Can't be repositioned or reapplied |
| Prevents your phone from overheating | |
| Comes with an easy-to-use alignment guide | |
Check out ESR HaloLock Universal Ring 360 on Amazon.
Belkin Fitness Mount compatible with MagSafe for Gym Equipment, Magnetic Cellphone Handlebar Strap for Indoor Cycling, Treadmill, Spin Bike, Elliptical for iPhone 14, 13, Pro, Pro Max, Mini
MAGSAFE COMPATIBLE iPHONE MOUNT: Bring ease to your fitness routine & make the most of your iPhone 14, iPhone 13, & iPhone 12 with the MagSafe compatible Belkin Magnetic Fitness Phone Mount & strap
DUAL MAGNETIC ATTACHMENT: Easily mount your iPhone to the Belkin Magnetic Fitness Phone Mount as a powerful rear magnet attaches to surfaces on indoor gym equipment
SECURE FITNESS MOUNT: This fitness equipment and Peloton accessory comes with a strap to securely attach your iPhone to any gym equipment of 1" to 1.5" diameter.
FREEDOM TO MOVE: An internal ball joint rotates this magsafe compatible phone mount 360-degrees, making it the perfect treadmill or Peloton accessory.
SECURE & VIBRATION PROOF PLACEMENT: Our mag safe compatible magnetic iPhone mount keeps your iPhone in place even if it vibrates or gets bumped during your workout.
We earn a commission if you make a purchase, at no additional cost to you.
The Belkin Fitness Mount is your best bet for securing your iPhone as you work out in an indoor gym. This fitness mount has two magnetic attachments that help you stick or wrap it around various fitness machines, including treadmills, exercise bikes, and spin bikes.
The MagSafe compatible mount can magnetically attach to the handlebars, but if the bars or poles are not magnetic, the straps will suffice. The straps fit over equipment bars and poles between 1 and 1.5 inches in diameter. 
This fitness mount has a 360-degree rotating ball joint that can tilt, allowing you to use your iPhone in any direction. The rare magnet keeps your phone secure, so it doesn't budge or slide as your iPhone vibrates or the exercise machines move too vigorously.
| PROS | CONS |
| --- | --- |
| Dual magnetic attachment | Doesn't support wireless charging |
| Full-circle rotation | |
| Strap attachment fit for equipment with 1 to 1.5" diameter | |
| Vibration-proof attachment  | |
Check out Belkin Fitness Mount on Amazon.
How to Pick The Best MagSafe Accessories: Step by Step
The best MagSafe accessories for you are a matter of preference. For example, while a wallet may be your best pick because you constantly need your cards, your content creator friend can't do without the battery pack because they need a fully charged phone to capture snippets of their day.
So, simply consider what you require more than the other.  Fortunately, you can always switch between MagSafe accessories from time to time, and some may be used together, like the MagSafe phone cases and all the other accessories.
What To Know Before Buying MagSafe Accessories 
MagSafe accessories work thanks to a ring of magnets on the back of your iPhone. Non-MagSafe phone cases will reduce the magnetic pull that helps secure your iPhone to accessories. So, a MagSafe-compatible case is a great place to start when you're looking for MagSafe accessories to purchase.
Official MagSafe products are produced by Apple and have a "Made for MagSafe" stamp on the box. Accessories from certified manufacturers like Belkin also come with the "Made for MagSafe" badge. 
All other MagSafe accessories without the badge are not certified by Apple. Therefore they don't perform as well as the "Made for MagSafe." However, they're still compatible with MagSafe but lack the same level of precision.
Using MagSafe Accessories: What it's Like
MagSafe accessories make life more convenient. For instance, battery packs and MagSafe chargers enable super-fast recharging, and a MagSafe wallet allows you to keep your essential cards in your hand at all times. Additionally, a MagSafe multi-charger will help boost the charge in your three favorite devices simultaneously, and you can enjoy using your phone while driving with a MagSafe car mount.
MagSafe charging is at least twice as fast as regular wireless charging. It's also less damaging than cable charging because you don't need to insert and remove a cable from your phone constantly.