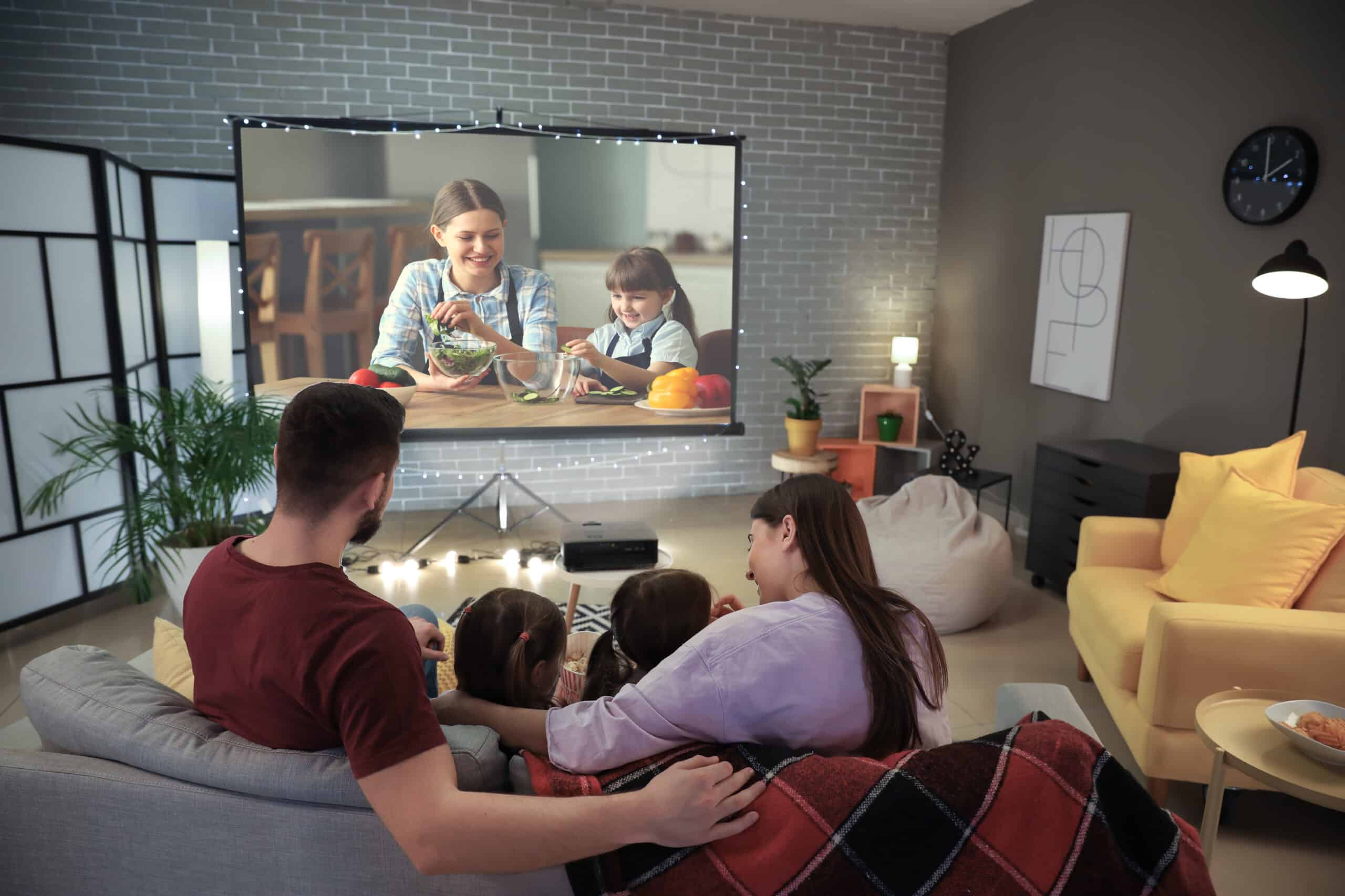 Creating a home theater can be a wonderful experience that completely changes the way you watch movies, play video games or watch reruns of Jeopardy. Adding an AV receiver will be the backbone of any home theater experience as a soundbar can only do so much as far as room-filling sound. Combined with a home theater receiver, you can surround an entire room with speakers and create a movie theater-like experience with today's modern televisions. 
With so many home theater receivers on the market, it's easy to get lost when you are trying to decide not only what you should spend, but what features you need now or will you need in the future. The more you try and research, the more complicated things can get, so we're here to help make things easy but narrowing down to the absolute best home theater receivers you should buy today. 
In a highly competitive category, taking the prize of the best overall home theater receiver is no easy feat, but the Yamaha RX-V6A rises to the challenge.
At first glance, it might be as if it's just another black box home theater receiver, but inside the RX-V6A resides an outstanding sound when connected to the right speakers. The addition of Dolby Atmos Height Virtualization allows Yamaha to use your existing speaker set to simulate the effect of having in-ceiling speakers. It's not quite as good as actually having in-ceiling speakers, but for the price, the Yamaha is as close to perfect as you are going to get. 
You can combine the Yamaha RX-V6A with wireless rear speakers and create 5.1 channel sound is another big win for Yamaha. Add in Wi-Fi, Bluetooth, and AirPlay 2 connectivity and you can sync not just to televisions but any Android or iOS device for wireless streaming. Seven total inputs also mean that you can connect a huge number of HDMI-ready devices including televisions so you can upscale content as high as 8K or game away with the latest video game consoles.
You can grab the Yamaha RX-V6A home theater receiver from Amazon here. 
For a budget-friendly price, you really cannot go wrong with the Sony STR-DH590 as a home theater receiver.
All of the essentials you need to build a 5.1 surround sound theater setup are tucked away inside the Sony hardware. That includes support for five total speakers that, when placed correctly, will provide a room with heart-pounding audio. Of course, that's before you add up to two subwoofers so even more bass is potentially coming your way. And should you decide to max out at only two speakers near your television, Sony's S Force PRO technology picks up the slack and creates virtualized surround sound. 
As a budget receiver, there are some tradeoffs as there is no Wi-Fi or AirPlay for streaming, though you do get Bluetooth connectivity. Likewise, you won't have access to Dolby Atmos technology or any type of 8K upscaling. What you get is an FM antenna for use with the FM radio tuner plus four HDMI inputs and four stereo RCA audio inputs/outputs. 
Grab the Sony STR-DH590 from Amazon today here. 
Denon has long been a highly regarded name in the av receiver business and the Denon AVR-X2700H shows why that continues to be true.
As one of the earliest 8K receivers on the market, it's already won quite a bit of praise from owners. Right away Denon stands out thanks to its wireless capabilities, including built-in Wi-Fi, Bluetooth, Apple's AirPlay 2, and voice assistance through both Google Assistant and Alexa. 
As a 7-channel amplifier, the Denon AVR-X2700H delivers 95W per channel for a booming sound that works perfectly with both 4K and 8K pass-through audio. Speaking of audio, support for Dolby Atmos gives that 3D audio feel with 7.1.2 surround sound and support for up to nine total channels of amplification. Add in DTS Virtual: X technology and the audio delivered by Denon is worth every single penny of the price tag. 
Extras like support for all HDR formats including Dolby Vision combine with some great gaming capabilities like Variable Refresh Rate (VRR) and Auto Low Latency Mode (ALLM0) to ensure there's something for everyone with the Denon. 
Go wireless with the Denon AVR-X2700H available on Amazon here. 
Like Denon, Marantz is a name that needs no introduction in the home theater space, and when it comes to a great av receiver for movies, the Marantz Cinema 60 is the answer.
Appropriately named for movies, the Marantz grabs you right away with 8K/60Hz or 4K/120Hz passthrough connectivity plus 3D surround sound across its 7.2-channel audio experience. Add support for Dolby Vision, HDR10+, Dynamic HDR, HDR10, and HLG along with VRR and ALLM for gaming, and there are enough features available for the Marantz that you never need to see a movie in a theater again. 
Marantz's proprietary HDAM amplification also introduces some of the best musical audio experiences on an AV receiver at this price point. And whether it's for movies or music, you can input up to eight separate HDMI connections, two subwoofer outputs as well USB, analog, and digital inputs. Best of all, the Marantz requires very little setup and you can be up and running in under five minutes. 
Watch your movies in style with the Marantz Cinema 60 available from Amazon here. 
When buying a home theater receiver, the size of the unit might not be top of mind as part of your purchase. However, for those with limited space, an AV unit like the Marantz NR1711 Slim ensures you have all the power you need in a slim shell that's only 3.5 inches tall or roughly half the size of the average home theater receiver.
Of course, a reduced size does mean some tradeoffs in that the amplifier inside the NR1711 had to scale down so you only receive 50W per channel. You'll still have seven available channels with the amplifier as well as 8K/60Hz passthrough, so don't expect to be too disappointed.
There are also plenty of bells and whistles around HDR10, HDR10 plus, ALLM, and enough space inside its hardware for Dolby Atmos and Dolby Atmos Height Virtualization. The latter feature helps simulate a full surround sound as if you had speakers installed on your ceiling. 
Six HDMI 2.1 inputs work great with any type of speaker or latest-generation gaming console plus you have added value like HEOS, AirPlay, Alexa, and Google Assistant. 
Pick up the Marantz NR1711 Slim from Amazon today right here. 
There is no shortage of 8K-ready home theater receivers but few stand out in the way the Denon AVR-X6700H does.
Complete with excellent 140W per channel amplification, when you need a sound that shakes the room, this is the AV receiver. There's support for Dolby Atmos, Dolby Atmos Height Virtualization, DTS:X, DTS Virtual:X, DTS:X Pro, and eARC. All of these extras come in handy when you're upscaling content to 8K at 60Hz (or 4K at 120Hz) which is being handled at HDCP 2.3 or the highest possible format currently available. 
All-Zone Stereo mode makes sure that any audio playing in one room stays perfectly in sync with up to two other rooms which comes in handy with built-in streaming services like Pandora and Spotify. And, if you weren't satisfied with the highest levels of 8K passthrough, there is also support for next-generation gaming. VRR, ALLM, and Quick Frame Transport (or QFT) are all here to help reduce lag and smooth the overall frame rate. 
Go wild with 8K audio upscaling on the Denon AVR-X6700H from Amazon here. 
When most people think of home theater receivers, they think of movies first and foremost and that's completely fair. However, video game consoles can be equally demanding when it comes to audio needs, and that's why anyone looking for the ideal AV for gaming should grab the Yamaha RX-A2A. 
Important elements like VRR, QFT, and ALLM are all present, which help enhance the overall gaming experience by reducing lag regardless of the age of the console. And with HDMI 2.1 inputs you'll have the fastest possible data transfer speeds with the PlayStation 5 and Xbox Series X all while listening to the impressive soundtrack of AAA games. 
As far as video quality, the RX-A2A includes all of the best features including 8K/60Hz and 4K/120Hz passthrough with Dolby Vision. Don't forget that HDR10, HDR10+, and HLG are along with connectivity options like Bluetooth, AirPlay, and Wi-Fi for wirelessly connecting to speakers. Last but not least is the addition of an array of voice control options including Alex, Google Assistant, and Apple Siri. 
Pick up the Yamaha RX-A2A directly from Amazon here and enjoy your games with the best audio around. 
How to Pick the Best Home Theater Receiver
With so many available options, choosing the best home theater receiver can be a real challenge. As you are searching for your next purchase, there are five main considerations that you need to know before making any purchase. 
Price
Connectivity
Surround sound
Resolution support
Gaming
Price
Price is definitely a factor as home theater receivers can range from a few hundred dollars all the way up to a few thousand. There's a good chance you'll be somewhere on the lower end of that scale for your needs but that's not to say you can't go premium. If you do choose to go more expensive, you'll be rewarded with more input/output options, increased connectivity capabilities, and so on. Going less expensive might mean a few trade-offs, but no matter how much you spend, almost every home theater is better than your default TV speakers. 
Connectivity
There's no question that connectivity is a major factor alongside other considerations like how many HDMI inputs are available. More and more people are looking for a wireless solution so that's a connectivity option you want to make sure is available. The same goes for Bluetooth so you can connect a smartphone or tablet to play music through streaming options like Pandora or Spotify. 
Surround Sound
Within the options listed here, there are a number of different surround sound options available. Should you go with a 7.1.2 option, you are going to have a larger number of speakers available for connection. A 5.1.4 connection means less wattage overall and a smaller number of speakers. Now, that doesn't mean the latter is going to sound worse, on the contrary, but you can get more sound (and speakers) by looking for at least seven channels, if not nine for the best audio. 
Resolution Support
Even if 8K movies and TV shows have yet to materialize, you want to have a home theater receiver that's futureproofed, so looking at 8K should be the standard. Having 4K is now the bare minimum with 8K available for future proofing until there is content actually available for streaming or viewing at this resolution. 
Gaming
Gaming likely isn't top of mind for every home theater receiver but it can make a significant difference if you are passing through cables instead of directly connecting to a television. That's especially true if your TV lacks gaming functionality like VRR or ALLM which you can find on many home theater receivers. That's a big bonus and a strong reason to look at the options listed here that include those features which come in very handy with next-generation consoles like the PS5 or Xbox. 
Using a Home Theater Receiver: What It's Like
Home theater receivers are the lifeblood of any stereo system and can help bring the movie theater into your room. All it takes is a few speakers and a subwoofer or two, and you are immediately transported into another audio world where everything booms a little bit more and sounds a whole lot clearer.
Of course, overall sound quality is going to be dependent on the receiver you choose. The higher-end you go, the more likely you are to have more available channels at a higher wattage which means louder. You might also find that a less expensive model has exactly what you need without spending too much, so it's good to look at all available options. 
For gaming, adding a home theater sound can make a world of difference. For any gamer who has never played in surround sound, it's an eye-opening experience. Just think about how awesome Call of Duty: Modern Warfare would be if Captain Price's voice filled your whole room. 
The best part with most of these systems is that setup is incredibly easy. While it's not as simple as just plugging in a few cables, it's not that far removed from this simplification either. You'll likely spend more time playing with all of your audio settings than you will setting things up for the first time.