When you start looking for a new gaming computer, it can quickly grow into a fantastical journey in the world of pre-built gaming hardware.
If you can avoid the calls to build your own desktop gaming PC, some excellent desktops for beginner and professional-level PC gaming are available. With a pre-built gaming PC, you get better support, more likely a better value, and ease of mind that you will not do anything wrong with your build.
As deep as searching for a desktop computer for gaming can go (and it can get deep), the list below will cut out a lot of the noise and help you get right to the important stuff.
Here's a look at the best desktop computers for gamers that you can buy today.
Best Overall: Alienware Aurora R14
Best Overall
Alienware Aurora R14 Liquid Cooled Gaming Desktop
7200 RPM hard drive rotational speed

1 TB memory storage capacity

32 GB RAM

Overclockable DDR4 memory

PCI-Express 4.0

Chassis based on the Legend Industrial Design (allows for liquid cooling and efficient airflow)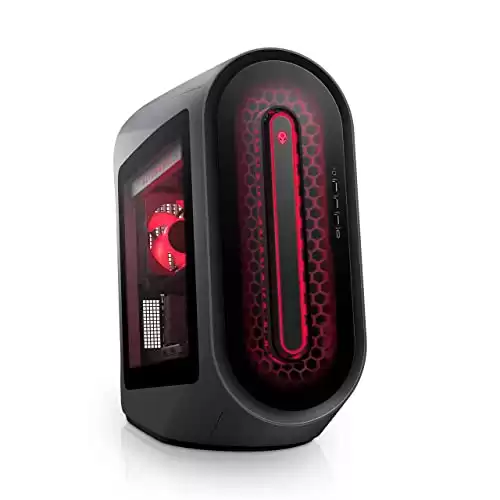 We earn a commission if you make a purchase, at no additional cost to you.
Choosing the best overall gaming computer, especially for a desktop, is an exercise in complete patience. With so many available options, it takes a lot to stand out, and that's exactly what the $2,400 Alienware Aurora R14 does.
Powered by a 12-core AMD Ryzen 9 5900 processor with 32GB of RAM, there is more than enough power here to push through as many AA and AAA games as you can throw at it. That's doubly true when you include the NVIDIA GeForce RTX 3080 GPU along with its 10GB of dedicated DDR6X RAM.
The hardware itself, or the chassis as Alienware refers to it, is based on the company's Legend Industrial Design and uses liquid cooling to keep CPU temperatures down so you can game longer. Liquid cooling also helps with overall noise, so while the R14 won't be whisper quiet, you won't be drowned out by the sound of a raging fan either.
Another highlight is the internal AlienFX lighting so you can adjust RGB colors that shine on the internal hardware to create something of a personalized experience. Add in multiple USB 3.2 Gen 2 USB-C ports for data transfer speeds up to 10Gbps, and this is one seriously powerful gaming computer. 
Check out the Alienware Aurora R14 on Amazon.
Best Value: HP OMEN 25L Gaming Desktop
Best Value
HP OMEN 25L Gaming Desktop
GeForce RTX 3060 GPU
AMD 8-core Ryzen 7 3700X processor
HyperX 16GB DDR4 RAM
1TB HHD + 512GB PCIe NVMe SSD
We earn a commission if you make a purchase, at no additional cost to you.
Anytime you call a desktop gaming computer value-focused, it turns into a serious discussion over what value really means. In this case, it means right around $1,500 if you want the absolute best bang for your buck while still being able to play most AAA games at or near 60 frames per second. Hardware-wise, the HP OMEN 25L is a fairly plain-looking black box, save for the window on the side, so you can see all of the internal hardware at work. Thankfully, the HP Omen 25L performs way better than it looks. 
Running a Ryzen 7 3700X 8-core processor that can hit a boosted clock speed of 4.4GHz, the Omen 25L is also home to 16GB of DDR4 RAM. Add in an NVIDIA GeForce RTX 3060 GPU with its own set of 12GB of dedicated RAM and, while the price of the Omen might be value-focused, its performance is certainly a step above.
Downloading games also will not be an issue thanks to the dual inclusion of a 1TB 7200 RPM processor as well as a 512GB SSD for a total of 1.5TB of available game space. Plus, there is plenty of space for inputs like computer speakers, headsets, and a gaming mouse. 
Check out the HP OMEN 25L Gaming Desktop on Amazon.
Best for AMD: Alienware Aurora R10
Best for AMD
We earn a commission if you make a purchase, at no additional cost to you.
Looking at the best AMD gaming computer out there is not nearly as difficult as it once was. Whereas Intel was long the dominant force in CPUs, AMD has had a resurgence in the last decade and, with that, made a name for itself all over again in gaming. The Alienware Aurora R10 is no exception with its 12-core AMD Ryzen 9 5900 processor that offers outstanding performance when partnered with 32GB of DDR4 HyperX Fury RAM, all running Windows 11 for the most up-to-date compatibility. 
One of the biggest highlights of the Aurora R10 is its dual combination of a 2TB SSD and 2TB HDD for a total of a whopping 4TB of overall storage space. This leads to a whole lot of room to put the AMD Radeon RX 6800 XT GPU with its own 16GB of dedicated DDR6 RAM through the AAA gaming gauntlet.
Plus, the Aurora R10 includes PCI-Express 4.0 for the latest in graphics, drives, networking and storage adapters so you are ensured the best possible connections and high levels of performance in total. 
Check out the Alienware Aurora R10 on Amazon.
Best for VR: CyberpowerPC Gamer Xtreme VR
Best for VR
We earn a commission if you make a purchase, at no additional cost to you.
While VR gaming isn't the hottest ticket in town anymore, the CyberpowerPC Gamer Xtreme VR is still a fantastic gaming machine.
Running an Intel Core i9 13th-generation processor with 16GB of DDR5 RAM and a 1TB SSD, there is plenty of power here to run everything from VR to just about every AAA game you can imagine.
Keeping everything running inside the Y60 chassis is liquid cooling, which you can see throughout the three-side tempered glass hardware. This makes for a very cool look at all of your hardware, all while gaming, streaming, podcasting, or playing the latest VR release.
Speaking of VR, the Cyberpower PC Gamer Xtreme desktop is ready to go out of the box with support for both the HTC Vive and Oculus Rift headsets.
Keeping this VR-ready hardware going strong is the NVIDIA GeForce RTX 4070 GPU with its own 12GB of dedicated RAM for very solid graphics performance. For the $2,300 price, you also receive a mechanical keyboard and wired mouse as something of a bonus. 
Check out the CyberpowerPC Gamer Xtreme VR on Amazon.
Best Compact: Corsair One i300
Best Compact
We earn a commission if you make a purchase, at no additional cost to you.
Compact gaming desktop computers are often regarded as good-looking but full of compromise due to the smaller amount of space for components. The Corsair One i300 is out to prove this myth wrong and, by doing so, show that you don't need a big footprint to produce a lot of power. 
Of course, the $4,700 price tag might stop a few people from grabbing this compact powerhouse, but if you do, you'll have a 12th-generation Intel Core i9 processor at your disposal. Also contained within Corsair's small footprint is Wi-Fi 6E for a fast connection, which will come in handy when you want to game online with your NVIDIA GeForce RTX 3080 Ti GPU. The graphics card also includes its own set of 12GB of RAM on top of the main hardware's 32GB of DDR4 RAM included for everyday tasks.
Also proving size doesn't matter is the idea that the Corsair can support up to four separate 4K monitors at once, all while including multiple USB-C 3.2 Gen 2 ports for fast data transfers. 
Check out the Corsair One i300 on Amazon.
Best for Streaming: MSI Aegis RS 13
Best for Streaming
We earn a commission if you make a purchase, at no additional cost to you.
When it comes to a desktop gaming computer that can handle streaming, you are looking for something with top-notch hardware. Enter the MSI Aegis RS 13 with its NVIDIA GeForce 4080 GPU and dedicated 16GB of RAM, which is enough power to play a AAA game on Twitch and Stream at the same time without your computer's fan acting as if it's ready to fly away.
This graphics card is truly premium at this point and is among the most powerful available on the market. On top of the graphics card, the MSI Aegis RS 13 can handle whatever you throw at it every day, courtesy of an Intel 13th generation Raptor Lake Core i7 processor, which is pushing out 16 cores and a top boost speed of 5.4Ghz. Throw in a 2TB SSD and you not only have space for games but also saved clips of your most recent streams so you can share them on your other social media channels.
Best of all, you can upgrade the hardware to a whopping 128GB of RAM as well as add in another SSD just in case you need even more storage for games. 
Check out the MSI Aegis RS 13 on Amazon.
Best for Beginners: Acer Predator Orion 3000
Best for Beginners
Acer Predator Orion 3000
Excellent for gaming at 1080p and 1440p
Expandable12GB DDR4 memory, and 512GB storage (SSD)
Powerful GeForce GTX 1660 graphics with 6GB of GDDR6 video memory
Predator RGB gaming keyboard and gaming mouse
We earn a commission if you make a purchase, at no additional cost to you.
Calling any desktop gaming computer good for beginners leaves the door open for a lot of interpretation. Beginners should start with a computer that isn't too powerful or too expensive, so at $1,200, the Acer Predator Orion 3000 is the perfect beginner desktop computer.
With the purchase of the Orion 3000, you are getting a 10th-generation Intel Core i5 6-core processor along with 12GB of DDR4 RAM and a 512GB SSD.
For gaming, the Orion 3000 includes a more entry-level but still great for lower frame rates NVIDIA GeForce GTX 1660 GPU with its own 6GB of dedicated RAM. Combined, both the CPU and the GPU enable a great overall gaming experience for beginners who should have no issue jumping headfirst into the deeper end of the Steam store.
Along with the rest of the hardware, the Orion 3000 includes dual Predator FrostBlade fans to help keep things cool while gaming or just during regular use. Last but not least is the inclusion of 16.7 million RGB colors to help customize the overall look of the Orion 300 hardware. 
Check out the Acer Predator Orion 3000 on Amazon.
How to Pick the Best Desktop Gaming Computer
When choosing the best desktop computer for gaming, there are a few important considerations to look at before deciding on a purchase:
Performance
Graphics card
Price
Cooling
Performance
For many people, performance might come down to AMD versus Intel, but it's not that simple. Instead, you need to make sure that you have the latest possible Intel processor (10th generation or newer), or one of the newer AMD Ryzen 5, 7, or 9 CPUs.
Along with the CPU, you also want to make sure you have as much if not more RAM than you think you might need. This means 16GB of RAM should be the absolute minimum for any desktop gaming computer.
Graphics Card
The graphics card, or GPU, is long regarded as the most critical component of any gaming computer. On the low-end side, going lower than a GTX 1660 is not recommended, though you can go as high as an RTX 4090. Anywhere in-between is usually good enough, but if you want to play at least some AA and AAA games reliably. Still, start with the RTX 3060 as your bottom and go up from there.
Price
Price is always the X factor in any desktop gaming computer discussion as it can vary wildly. Most important is to know your budget first, and then look for the best computer within that budget range. Looking at a computer first and then trying to make it fit into your budget is the wrong way to go about purchasing a gaming computer.
Cooling
Anyone who has used a few tabs in Chrome knows that a computer fan can quickly jump on when things get too hot. Well, nothing makes a computer heat up more than a gaming session, so looking for a computer with proper airflow, liquid or otherwise, is the only way to go. The less emphasis a computer manufacturer puts on cooling or airflow is a good sign you might want to look elsewhere.
Using the Best Desktop Computers for Gamers
No matter which of these seven best desktop computers for gaming you choose, you are going to have a good time. Any gaming, no matter whether it's retro or AAA, is going to lead to a good time and a whole lot of fun. Even if you need something more powerful for streaming on a Twitch channel or want to start from the beginning, there is something for everyone on this list.
The most important factor is going to be your budget, but once you move beyond that, you can turn your attention to finding the best keyboard, mouse, and gaming headset that works for you.
Please don't ignore cooling either as this is a big factor in how you use one of these computers. If you don't have the right cooling and you want to game frequently, you are likely going to find out your computer has a shorter lifespan than you think. There is also the likelihood that you can and will add some upgrades to every computer on this list, something which most desktop gaming manufacturers welcome. Rest assured that no matter which computer on this list you choose, you are in for a treat, just don't let your productivity suffer (well, too much).
The image featured at the top of this post is ©Gorodenkoff/Shutterstock.com.