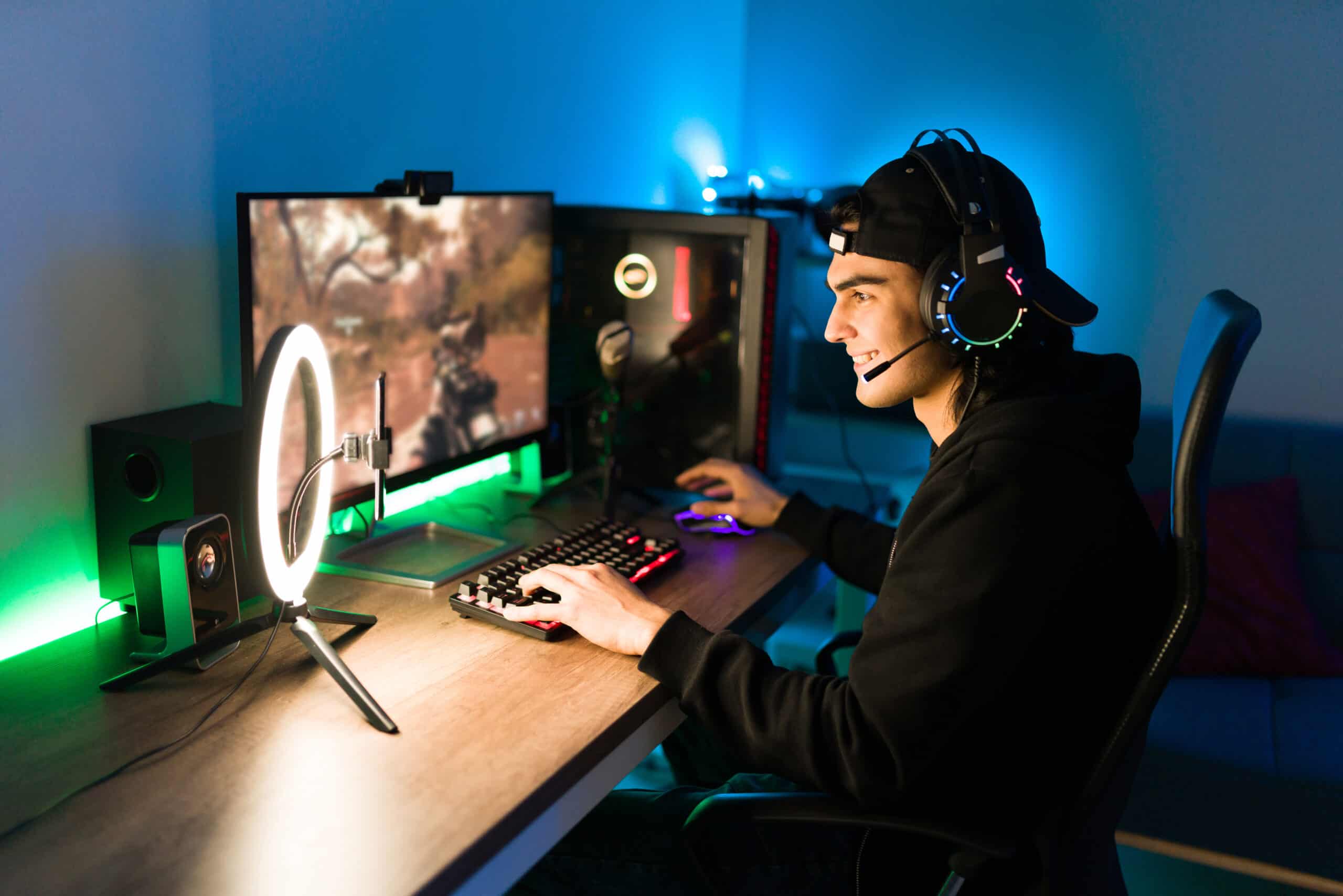 Key Points
We spend a lot of time, sitting on our desk and if it is not right for us, it may affect our physical health.
The size and height of the desk determines our posture and if not chosen well, it may lead to back issues.
The factors that should influence your buying decision is the size, width, shape, storage options and how ergonomic it is.
Your workspace or gaming setup shouldn't be uncomfortable or unnecessarily difficult. Another thing you should consider is to have an ergonomic workspace, by getting a well-designed desk for work and play.
Whether you use your desk for work or gaming, you shouldn't go ahead and buy any desk you see on sale. It's best to ensure that the desk is durable, fits in your space nicely, and has enough surface area for your gadgets and needs.
There are numerous desks on the market, and if you don't select carefully, you can waste a lot of your hard earned money. Only a handful of desk options will meet your criteria, including features, size, and price point. And it's important to know what to look for.
No matter what your purpose is, worry not! Our expert team has scoured the market for the best desks in a range of sizes, budgets, and style options. Now you don't have to worry about searching for yourself!
So, after weeks of reviewing dozens of options, here is our ranking for the best computer desks for work and gaming needs:
FLEXISPOT Height Adjustable PC Gaming Desk 55 x 27 Inches Computer Table for E-Sports Gamer Gray Frame with Game Top
Quick & smooth adjustments: FlexiSpot makes it easy to go from sitting to standing in less than 10 seconds with the press of a button.
Super stable and whisper quiet :Experience industry-leading stability and noise levels with our thoughtfully engineered and thorougly tested motors.
High quality, environmentally friendly desktop : The 1" thick work surface on every height adjustable desk is constructed from environmentally friendly chipboard. WIth a miriad of different color...
Standard two-button :up and down keypad The standard electric height-adjustable desk frame ensures smooth and comfortable transitions.
Robust and stable construction: Frame's double-steel tubing provides plenty of support for the jostling that comes with energetic gaming so equipment stays secure whether sitting or standing.
We earn a commission if you make a purchase, at no additional cost to you.
Our best overall selection comes classy and convenient at a very affordable price: The FlexiSpot Height Adjustable PC Gaming Desk is nothing to scoff at.
As the name suggests—you can adjust the height of this desk by up to 48 inches. Some other gaming desks have feature as well, however, unlike others, the height adjustment is motorized, so you can use the touch controls to find your ideal desk height. The motor is whisper-quiet, which is a plus for midnight gaming sessions.
Its robust and stable construction, banking on double-steel tubing, ensures sturdiness to protect gadgets from falling even in the most rigorous gaming moments. The desktop dimension of 55 x 28 inches can hold a maximum load of 154 pounds, which is more than enough for even the heaviest gaming setups.
Further, this adjustable desk's 1-inch thick work surface is constructed from environmentally-friendly chipboard, aimed at improving mouse tracking and overall gaming experience.
As said earlier, it comes at a very affordable price of $400. You might want to jump on this incredible offer with the highest quality around!
Check it out on Amazon here.
Waleaf Vitesse Gaming Desk 55 inch, Gaming Computer Desk, PC Gaming Table, T Shaped Racing Style Professional Gamer Game Station with Full Mouse pad, Gaming Handle Rack, Cup Holder
[Gaming Handle Rack]: Comes with a rack where you can place a couple of controllers and games for convenience. All your gaming tears are near by your hand.
[Full Mouse Pad Top ]: Further upgraded the desktop, 55.1"L×23.6"W extra large desktop provides more space. The mouse pad covers the entire surface, so don't have to worry about running out of...
[Support for Dual Monitors ]: Constructed via a premium density fiberboard and a coated steel frame. Ensuring stability whilst you game. You can put 2 monitors here and a bunch of accessories without...
[Cup Holder and Headphone Hook]: The last thing you want is to spill water all over your expensive electronics, that's why this desk comes with a cup holder. It's an arm reach away and can fit...
[12 Month Service]: Free replacement or parts guarantee for any quality problem within 365 days. Reply in 24 hours for any problems.
We earn a commission if you make a purchase, at no additional cost to you.
Waleaf might not be the brand that comes to mind when you think of gaming desks. However, this piece Waleaf Vitesse Gaming Desk has a lot of reasons to be loved.
The Vitesse desk comes at an ultra-affordable price of $139 and is built to be sturdy. It's more than capable of supporting a gaming PC and a few gaming monitors. The fairly large-sized desktop can accommodate a lot of gadgets for a good gaming setup that includes two large monitors without cluttering your setup. Also, the additional headset and cup holders help free up more spaces for other equipment.
Another feature that makes this such an excellent gaming desk is the expansive mouse pad. The mouse pad covers the whole surface; You don't have to be bothered about running out of surface space. With the built-in 4-port USB charger on board, the cable management of this desk is top-notch, especially for the price.
Check it out on Amazon here.
MojoDesk - Mojo Gamer Pro - Electric Standing Standing Desk for Esports PC Gaming Bundled with 5 Accessories - Monitor Arm, CPU Hanger, Cable Tray, Cable Chain, Powerbar
GAMING STANDING DESK - Mojo Gamer Pro is designed for eSports gamers. It is an adjustable electric sit to stand desk - 24" to 49.8" suitable for heights of 4'11" to 6'6". 4 programmable settings for...
FULLY ACCESSORIZED - Bundled with 5 accessories to keep things organized and maximize space. Includes our MagicSnap magnetic cable system (Cable Tray, Cable Chain, Power Bar Surge Protector) C-Clamp...
SOFT TOUCH COMPUTER GAMING SURFACE - Ultra-soft surface guarantees precision mouse tracking - Anti-glare matte finish prevents distracting reflections from any LEDs in your setup - Extremely durable...
STABILITY & SAFETY - No shake or wobble. rated for 300lbs of gear. Mojo Gamer Pro is built on a steel frame independently tested to meet industry standards set by BIFMA and is UL Greenguard certified,...
US BASED, MADE IN DENVER - Mojo Gamer Pro is made at our factory and headquarters in Denver, Colorado. Everything has been well thought out from the moment you open the box - easy setup, clear...
We earn a commission if you make a purchase, at no additional cost to you.
The Mojo Standing Desk Gamer Pro has a great design for your work or gaming setup.
Mojo is known for the standing desk and unique accessories such as cable management, a monitor arm, and a CPU tower hanger. This desk would have been the top contender for our Best Overall category if it wasn't for its $1,000 price tag.
The Mojo Standing Desk is luxurious and environmentally friendly. The wood products used by Mojo have a minimum of 92% pre-consumer recycled wood fiber content. With thoughtful details like a waterproof surface and a matte lux finish, smooth mouse gliding and precision tracking are guaranteed. The control panel is interestingly built and has an extremely sturdy frame that can carry a load of up to 300 pounds.
Check out the Mojo Standing Desk on Amazon here.
Thermaltake ToughDesk 500L RGB L-Shaped Desk with Full Surface 16.8 Million Color Software Enabled RGB Mouse Pad Electric Height Adjustable Battlestation Gaming Computer Desk GGD-EDL-BKEINX-01
The ToughDesk 500L RGB Gaming Desk comes with a RGB mouse pad for the main desk and a non-RGB mouse pad for the side desk; both full surface in size.
Ergonomic design with electric height adjustable buttons that allows users to switch between sitting or standing positions, and adjust desk height between 70cm/27.5" to 110cm/43.3" according to your...
Utilizes a 6-button controller for easy operation along with a digital display board that shows accurate height adjustments. The smart controller panel can be set up with 4 height memory settings, so...
For your safety, we've included an anti-collision safety sensor to automatically detect when the desk encounters obstacles while elevating your gaming desk.
Steel-constructed frame with anti-scratch and high-pressure laminated desktop material that is 3cm in thickness. The ToughDesk 500L RGB Gaming Desk is designed for maximum stability and durability.
We earn a commission if you make a purchase, at no additional cost to you.
The L-shaped Thermaltake ToughDesk 500L lives up to its name: It truly is a battle station.
This desk was made to maintain its sturdiness regardless of how many hours it's used.
It comes custom-made with valuable features like cable management to more fun ones, like built-in RGB lighting. And it incorporates a gaming accessory that most users typically have to purchase separately—a mouse pad for both the primary and side desks.
The most important feature of this desk is its adjustability. Controlled by three motors strategically placed in the corners, the ToughDesk can go from sitting to standing with the press of a button. The controller can also store up to four height memory settings to keep your favorite ones just one press away.
Check out the ToughDesk 500L on Amazon here.
COUGAR Mars PRO 150: Dual-Sided RGB Gaming Desk
Your Gaming Battlefront: COUGAR Mars Pro 150 stands on the shoulders of giants. Not only Mars Pro 150 retains the best features of Mars but evolves with much more handy functions, such as a USB 3.0...
Convenient Display Extension: The control box of Mars Pro 150 features the monitor extension. Via Type-c port to HDMI female connector with exclusive Type-c to Type-c cable, you can easily extend the...
Advanced and High-speed Links: With the control box, you will have the transfer extension of USB 3.0 Type-C port, two USB 3.0 Type-A ports, and audio jacks for reducing the long cable clutter.
Dual-sided RGB Lighting Effects: To increase more immersive feeling in your gaming atmosphere. Mars Pro 150 provides various RGB lighting effects. It is also compatible with motherboards' 5V...
Ergonomic Gaming Space: The spacious gaming surface up to 150cm width with carbon fiber texture brings you plenty of space for your gaming monitors, gaming keyboards, and other gaming gears. Highly...
We earn a commission if you make a purchase, at no additional cost to you.
Better than the previous versions, the Cougar Mars Pro 150/strong comes with many great features.
There are more ports on this well-connected desk, including the now-necessary USB-C and a Type-C monitor extension—two things its predecessors only wished they had.
Cougar Mars Pro 150 comes with a manually adjustable height to make your gaming experience comfortable, and the dual-sided customizable RGB lighting makes it more immersive. A cable management tray avoids those pesky cables, which can easily get in the way during work or gameplay.
The only downside to this desk is that it is a bit tricky to set up. It takes two people to put it together safely.
Check out this desk on Amazon here.
We earn a commission if you make a purchase, at no additional cost to you.
The Arozzi Arena Gaming Desk stands atop the list of the best gaming desks you can buy if you're a PC gamer.
The desk banks on its massive 63-inch surface design accommodate all the equipment needed to build a comfortable gaming setup. The real appeal of this gaming desk lies in its build quality and the slightly curved shape that puts you in the middle of the action.
Thanks to its heavy build, the desk is super sturdy and can withstand just about anything. Further, the built-in mesh hammock for cable management is fantastic. And the mouse mat-covered surface improves the comfort of using the mouse without restrictions. Also, the water resistance feature helps prevent water spillage from affecting your gaming gadgets as the liquid balls up without floating around.
Check out this desk on Amazon here.
FLEXISPOT EC1 Standing Desk 48 x 30 Inches Height Adjustable Desk Electric Sit Stand Desk Home Office Desks Whole Piece Desk Board (Black Frame + Black top,2 Packages)
WHOLE-PIECE Cozy & Ergonomic Workspace: Spacious 48" x 30" eco-friendly desktop offers a roomy setup for 2 monitors and a laptop so you can spread out and calmly take on the challenges of the...
Electric Height Adjustable Lift System:The motor lift mechanism offers smoother height adjustments, from 28" to 47.6"(without 1" thickness of table top included), at a speed of 1"/second with...
Solid Construction: An industrial-grade steel frame combined with a solid desktop allows for a 154 lbs weight capacity to support your ideal workspace setup.
Built For Work From Home:The perfect standing desk to allow independent and remote workers to stay active, healthy, and productive while working from home. Precisely adjust your desk to your height...
Please Note:The product will be shipped in two separate packages which may be delivered separately from each other. Some steps may require a drill, which is not included.
We earn a commission if you make a purchase, at no additional cost to you.
The FlexiSpot EC1 Adjustable Height Desk is a perfect fit for users who cares about maximizing their space.
This desk comes in different sizes, and the 42-inch model minimizes its footprint while still providing ample amounts of desk space for work and play. As petite as this table is, it can easily support up to 154 pounds.
Besides its environmentally friendly chipboard tops and scratch-resistant powder-coated steel frame, its adjustability is a key feature. You can get this desk with a primary controller that will let you raise and lower it between 48 and 28 inches, or opt for one that includes height presets and a programmable reminder to switch positions.
Check out the FlexiSpot EC1 on Amazon here.
How To Pick The Best Computer Desk For You
A suitable desk accommodating all your gaming or work essentials is a must-have. Here are the most important factors to look out for before picking a desk:
Size
Width
Shape
Storage
Ergonomics
Size
A gaming desk should be large enough to fit your monitor, keyboard, mouse, speakers, and any other peripherals you use while playing games. The size of the desk you need depends on whether you're using a single or dual monitor setup and how much space you have to devote to your desk.
This is especially important if you're in an apartment or just generally need to conserve space for your office or gaming area.
Width
Your desk should be wide enough for your monitors to sit side-by-side without any overlap or awkwardness and with some room to spare.
The average computer monitor size is roughly 25 to 28 inches wide, horizontally. So, if you have two of them set side-by-side, you need at least 50 inches of width for your gaming desk.
Using a single ultra-wide monitor can range from 34 inches wide to 49 inches wide or more, so having adequate desktop space to support such a large monitor is crucial to ensure your everyday desk space isn't cramped and your devices are safe.
Shape
The best desk shape depends on your preferences and your desk's placement in the designated area.
The most common desk shape is rectangular, and they are the easiest to use as they can be quite flexible. You can choose a wide variety of sizes depending on the size of your office or gaming space. Rectangular desks allow you to maximize your viewing area and get close to your monitor as needed.
Another common type is the L-shaped desk. L-shaped desks are the best fit if you need a multi-functional space and more than just a dedicated gaming desk. L-shaped desks are great for gamers who want to use their desk for work and gaming, and they're great for fitting into a small bedroom setup where you need to put your gaming desk in a corner.
Storage
A suitable desk should have enough storage for your gadgets such as drives, disks, headsets, and other accessories. Having storage compartments built into the underside of your gaming desk makes it easy to access your gaming accessories while keeping them out of sight for no-mess, easy cleanups.
Ergonomics
Another thing you should consider before picking a desk for yourself is workspace ergonomics. Ergonomics is how well your work equipment fits with your body mechanics. Because gaming or working can mean spending several hours in a seated position, it's vital that your gaming desk helps you to avoid any pain or fatigue.
What To Know Before Buying A Gaming and Work Desk
Before buying a desk for gaming or your workstation, you should select one that is specifically designed for computer use, as it's built with your monitor in mind.
You should consider what your specific needs are for a desk. If your desk is for gaming, you might want to get a more oversized desk to accommodate all your gaming gadgets. If your computer desk is for work, your desk needs will depend on the amount of space you prefer and the features you'd like to make your day-to-day experience more comfortable.
For PC users, consider a desk that offers space or a compartment to hold the CPU underneath. Look for built-in wiring holes or channels for electrical connections; This allows for a safe way to keep cords out of your way.
Lastly—and maybe most importantly—considering your budget is necessary so you're not unnecessarily splurging on a desk when you can find an option that meets your criteria and is within your budget.
Using A Computer Desk: What It's Like
Computer desks come in a wide variety, and their use cases are specific to the person sitting at them. Most users have testified that the above desks have demonstrated performance quality, durability, sturdiness, and capacity to carry heavy gaming or work setups.
Further, their compatibility with most external hardware components and their cable management has been proven efficient and safe. Predominantly, their abilities to prioritize simplicity without neglecting the much-needed features, like mouse surface pads and CPU space.
Each desk highlighted here has outshined all other desks on the market for gamers and work-from-homers alike.
Now, all you have to do is figure out what matters the most to you in a desk, and use that criteria to find a great one for you!
Next Up…