Key Points:
According to data published by the Recording Industry Association of America, 46.6 million CDs were sold in 2021, so there is still a definite need for hardware to play compact discs.
The Bose Wave Music System IV stereo system combines traditional CD playback with MP3 files on CDs and CD-RW for the full gauntlet of CD capability.
The Sony Stereo Boombox is a return to the late 1980s but updated with a built-in full-function CD player that can play CD-R, CD-RW, and MP3 CDs.
In the age of streaming music where tens of millions of songs are one screen tap away, for many people, streaming will never match the satisfaction of playing a CD. If you happened to grow up in the 1980s and 1990s, CD players were all the rage, before there was anything like the iPod or MP3. 
Today, even if CD players do not enjoy the same popularity as in their heyday, they are still readily available. According to data published by the Recording Industry Association of America, 46.6 million CDs were sold in 2021, so there is a definite need for hardware to play those compact discs. 
After weeks of testing out CD players, here are our recommendations for the best CD players you can still buy today. 
Bose Wave Music System IV - Espresso Black
Lifelike, room-filling sound with breakthrough waveguide technology
Fresh, updated design
CD/MP3 CD player; advanced AM/FM tuner; text display of song information
Dual alarms, touch-top on/off/snooze, slim remote with 12 presets
Wireless network compatibility: 802.11 b/g/n
We earn a commission if you make a purchase, at no additional cost to you.
Bose has long been a standout in the music quality business, so it's no surprise to see one of their products at the top of any "best of" list. The Bose Wave Music System IV is a mouthful of a name, but an outstanding CD player. 
This home stereo system combines traditional CD playback with MP3 files on CDs and CD-RW for the full gauntlet of CD capability. Regardless of the format, Bose's waveguide speaker technology delivers excellent sound whether you enjoy classical music or the Billboard Top 100 hits. 
A remote control allows you to control every critical function of the Bose system from anywhere in a room, including volume, selecting AM/FM stations, setting the clock, and skipping tracks. Bluetooth technology is included so you can easily connect to a smartphone or tablet and playback through the speakers or listen quietly with wireless headphones. 
Best of all, the Bose Wave Music System IV is only 4.5 inches tall, so it's perfectly sized for an entertainment center, bookshelf, or a large desk. 
You can get it on Amazon here.
Rechargeable Portable Bluetooth CD Player,Lukasa CD Player Portable,Compact Music CD Disc Player for Car/Travel, Home Audio Boombox with Stereo Speaker & LCD Display,Support CD USB AUX Input,2000m...
♬【2021 Upgrade CD Player】Based on the previous version of CD players, we have made special research and improvement on the problems mentioned most by customers, such as better CD playback...
♬【7 in 1 Powerful Functions】Lukasa compact Bluetooth music player has powerful functions, could act as 1) a portable CD player, 2) learning supplies, 3) Bluetooth HiFi speaker, 4)a mini personal...
♬【Compact & Portable】 CD player is compact, lightweight, and easy to be carried or stored. You can enjoy your favorite CDs music perfectly at home, in the car, or on the travel, no matter where...
♬【Special Design】In addition to all the standard playback features: volume control, skip forward/back, play/pause, electronic skip protection, Our personal 2000mAh CD player also offers...
♬【Perfect Gift】Perfect Gift with Lukasa CD player, It can be used as any type of gift of fathers day or mothers day , such as fathers day gifts from daughter, great gift for father, wonderful...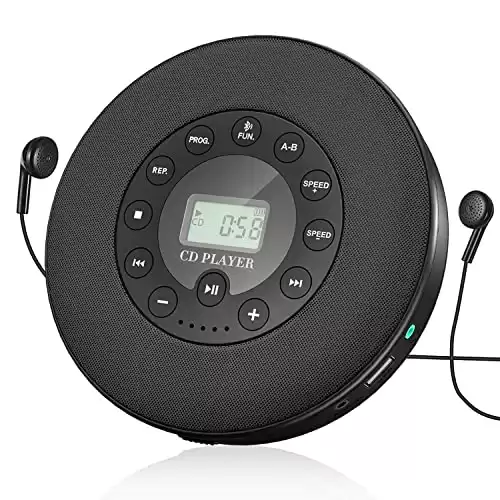 We earn a commission if you make a purchase, at no additional cost to you.
Even without a brand name, the Lukasa CD Player is the best portable option on the market. As most of the brand names like Sony have exited the space, lesser-known brands look to fill the void and introduce new features to stand out. 
In the case of the Lukasa, its highlight is that it not only plays all of your favorite CDs but also acts as its own speaker. If you thought the feature set would stop there, the good news is that there are actually multiple functions alongside playing CDs, including Bluetooth connectivity and USB flash drive access. 
A 2,000 mah battery ensures you'll be able to listen to and enjoy a few albums before recharging or needing to plug in headphones, thanks to its auxiliary headphone jack. Regardless of how you listen, up to 100 seconds are available for anti-skip protection for CDs and 180 seconds for MP3 CDs so you should never miss your favorite song chorus. 
The Lukasa is available in both black and white enabling a small sense of personalization. 
Get yours on Amazon here.
We earn a commission if you make a purchase, at no additional cost to you.
The days of the boombox have returned: the Sony Full Range Stereo Boombox is a great mix between home CD players and portable players. 
Complete with carrying handles and all, the Sony Boombox is a return to the late 1980s when boomboxes reigned over society. However, instead of cassettes, you have a built-in full-function CD player that can play CD-R, CD-RW, and MP3 CDs. 
An auxiliary input makes it ideal for adding your own music player (think iPod) and utilizing Sony's speakers for playback. And, yes, there is even a built-in cassette tape deck for truly nostalgic music listening.
An AM/FM tuner enables up to 30 preset stations so you can quickly jump from CDs to cassettes and radio and back again. What it lacks in Bluetooth it more than makes up for with nostalgia and sound quality. 
You can find it on Amazon here.
Onkyo DXC390 6 Disc CD Changer,Black
Remove and replace 5 CDs as one continues to play. Dimensions (W x H x D):17 1/8 inch x 5 3/16 inch x 17 1/16 inch
Plays Audio CDs, MP3-Encoded CDs, CD-R/RWs, Digital filter 352.8 kHz
192 kHz/24-Bit Audio DAC and Direct Digital Path;Frequency Response : 5 Hz-20 kHz
40-Track Programming, 6 Repeat Modes (Entire Disc/All Discs/Random Tracks/Programmed Tracks/Random Memory/Single Track)
Brushed Hairline Aluminum Front Panel and RI (Remote Interactive) Remote Control
We earn a commission if you make a purchase, at no additional cost to you.
If you are looking for a CD player that can keep the music going all day and all night long, the Onkyo DXC390 is the perfect answer.
The big highlight of the Onkyo is its six-disc capability enabling you to load six separate CDs at once for hours of audio playback. 
What helps make the Onkyo a real bargain is that you can remove and replace five CDs while one continues to play. Each CD can consist of a CD-R, CD-RW, and MP3 CD for the full gambit of CD capabilities. Combined with six different repeat modes and 40 different track programming options, music should always be ready to go every time you power the Onkyo on. 
Audio quality is another big highlight as it's exactly what you expect from an Onkyo system. Crisp and clear sound are expected from the Onkyo name and it delivers, assuming you have some excellent speakers available. 
Find it on Amazon here.
PHILIPS Bluetooth Stereo System for Home with CD Player, MP3, USB, Audio in, FM Radio, Bass Reflex Speaker, 60W, Remote Control Included
All your music - This stylish micro system lets you stream playlists and more via Bluetooth, play CDs and listen to FM radio. The digital radio tuner with 10 presets delivers clear reception, and the...
Bass-reflex loudspeakers. Richer low tones - These bookshelf-style loudspeakers give you clear sound and good bass thanks to the combination of woofer, tweeter, and bass-reflex ports. A 60 W maximum...
Classic design - The two-tone central unit and speaker cabinets recall the design of hi-fi separates. The textured volume-control dial adds a satisfying analog feel to operation. There are buttons on...
Digital Sound Control. Choose a preset sound style - Hip-hop or choral, symphony or rock opera? Whatever you love, this micro system's Digital Sound Control function lets you enjoy it more. Pick from...
At home in your home - This AC-powered micro system looks great in any room. Bluetooth wireless range is 10 m, and you can charge a smart device via the USB port. An easy-to-use remote puts key...
We earn a commission if you make a purchase, at no additional cost to you.
When you want one purchase that gives you everything you need for CD playback, the PHILIPS 1268 Bluetooth Stereo System is the best choice. 
The classic design of the PHILIPS is going to fit well in any entertainment center or bookshelf. However, design isn't why you look at a CD player like this. Instead, it's the sound quality, and with bass-reflex loudspeakers, PHILIPS provides rich low tones and excellent bass. Each speaker consists of a woofer, tweeter, and bass-reflex ports for 60 watts of total output. That's more than enough sound to fill a large room, or two. 
The CD player offers support for both CD-R, CD-RW, and MP3 CDs, as well as FM radio with 10 presets available. Bluetooth support offers 30 feet of range for connecting to a smartphone or tablet, which can also be charged via the USB-A port. 
When you want to sit on the sofa and just listen, the included remote control makes it easy to sit and relax. 
Get yours on Amazon here.
Marantz ND8006 Low-Profile 4-in-1 Digital Media Player: CD Player, Music Streamer, DAC & Pre-amp | with Airplay 2, Bluetooth & HEOS | Amazon Alexa Compatibility
A COMPLETE DIGITAL MUSIC SOURCE – Connect UNLIMITED AUDIO SOURCES & LISTEN TO YOUR FAVORITE TRACKS via CD, USB, locally saved music files on laptops, or smartphones and more. GET HOME AN EXCLUSIVE...
UPGRADE ANY EXISTING AUDIO SYSTEM AND ENJOY THE BEST OF DIGITAL SOUND. A first of its kind music hub that features unique Marantz digital filtering (MMDF) for the FINEST SOUND REPRODUCTION of digital...
BUILT-IN HEOS TECHNOLOGY allows you to STREAM UNLIMITED MUSIC WIRELESLY. Use your favorite streaming service like Spotify, TuneIn, Internet Radio, Tidal and more, and play songs directly from your...
USE YOUR VOICE TO COMMAND LEADING AGENTS like Amazon Alexa, Google Assistant, Apple Siri and even high-end smart home automation systems like Josh. Play music, control the volume, skip to the next...
With 60 YEARS OF INNOVATION and DEDICATION to PREMIUM AUDIO SYSTEMS, Marantz gives you the best of digital music and stereo listening experience imaginable. BECAUSE MUSIC MATTERS!
We earn a commission if you make a purchase, at no additional cost to you.
When you want the absolute best CD audio experience at home, look no further than the Marantz ND8006.
There is a price tag to match its best-in-class sound, but you won't find a more complete CD player than the Marantz. 
For audio, you get the preservation of digital signals with the hyper-dynamic amplifier modules, plus digital filtering and dual crystal DAC. While some of that may not mean much to non-audiophiles, what it all means is that you hear music from your CDs as musicians intended. 
Outside of audio, the price point also serves up a list of nice-to-have features. This includes AirPlay 2 for streaming directly from any recent Apple iPhone, iPad, or Mac. HEOS compatibility allows you to stream music from Spotify, TIDAL, TuneIn, and other streaming music services directly from your device to the audio unit. 
Last but certainly not least, Marantz's feature set is Amazon Alexa compatibility for voice commands. 
Get it on Amazon here.
We earn a commission if you make a purchase, at no additional cost to you.
One might not consider vintage style as a necessary part of any CD player purchase until you see the Toshiba Retro Look CD Player. 
The simple wood grain look adds a real vintage feel, as does the classic-style remote control. The silver face adds to the retro look with a style that's very reminiscent of products from the 1980s. 
What helps Toshiba stand out is that its retro look is mixed with modern technology. Support for CD, CD-R, and CD-RW plus MP3 CDs ensures it works with every type of compact disc on the market. What makes it modern is support for Bluetooth streaming from any Apple or Android device with sound directly from the built-in speakers. 
Another modern take is the addition of audio playback via the available USB-A port and headphone support through an auxiliary cable input. 
You can find it on Amazon here.
What To Know Before Buying the Best CD Player Available Today
In the world of streaming music, it might feel like picking out a CD player is a tough task. The reality is that picking out any CD player is as easy as you want it to be, you just need to know what you are looking for. 
Before buying any CD player, consider whether you are going to hook it up to external speakers or want something with speakers built-in. There are great options for both choices. If you want speakers built in, the PHILIPS 1268 or the Bose Wave Music System IV are great choices. For use with external speakers, the Onkyo DXC390 is everything you need.
Your next question is going to be whether you are looking for something that can be immediately portable. The Lukasa Portable CD Player might be exactly what you need to take music on the go anytime, anywhere. The same for the Sony Stereo Boombox, though it's a little less welcome in public places without headphones. 
Those looking for the absolute best in audio quality also want to make sure they have the right expectations ahead of time. A product like the Marantz ND8006 is going to get as close as you can to music as if the musicians are recording in the same room as you. 
Using The Best CD Players You Can Still Buy Today
We've been using CD players since the mid-1980s, so it's okay to say we have some strong knowledge in the space. We tested each selection on this list over the course of the past few weeks looking at portability, audio experience, ease of use, Bluetooth compatibility, and even available remote controls. 
All of the CD players on this list stood out for one simple fact: they were the best in their particular category.
When it comes to finding a CD player that has the best combination of sound, design, and size, Bose kept standing out. We tried looking at other, more expensive Bose options, but the tradeoff in price didn't gain enough to warrant a more expensive version of the Wave Music System. 
Testing the Marantz and hooking it up to an older set of speakers lying around was a reminder that streaming, while convenient, doesn't always offer the best overall sound. For that, you need better physical hardware and the Marantz ND8006, along with the PHILIPS 1268, deliver. 
What we particularly enjoyed with all of these products was that each one has built-in skip protection. Skipping on a CD player was once the biggest downside of owning one of these products, but today, skipping is a must-have feature.
Up Next…