For the last few years running, the Bose QC45 headphones have been considered one of the best, if not the best, noise-canceling headphones on the market. Bose has a long-standing reputation for excellent sound and that carries through to the QC45 headset, which is equally loved for its superb comfort levels.
However, if you believe the Bose QC45 just isn't the right sound for you or not the most comfortable, the good news is that there are plenty of terrific alternatives on the market.
Let's take a look at the 7 best alternatives to the Bose QC45 headphones currently on the market today.
Best Overall: Sony WH-1000XM5
Best Overall
Sony WH-1000XM5 (Silver)
Auto NC Optimizer

Crystal clear hands-free calling (

4 beamforming microphones)

Multipoint connection

Up to 30-hour battery life

Integrated Processor V1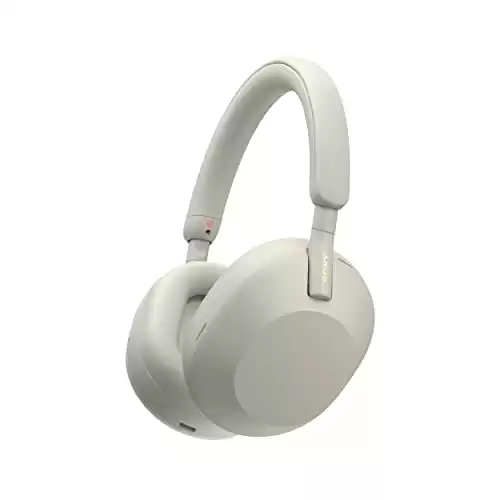 We earn a commission if you make a purchase, at no additional cost to you.
When it comes to the absolute best alternative to the Bose QC45 headphones, the Sony WH-1000XM5 is almost always at the top of every list.
Offering Sony's best-in-class noise cancellation, the 1000XM5 headphones make use of a total of eight different microphones to ensure as much ambient noise is blocked as possible. Of these eight total microphones, four contain beamforming technology, which makes hands-free calling sound as if you are in the same room as the person you are talking with.
Whether it's a phone call or listening to music, you'll find more than 30 hours of battery life with the Sony as well. A quick three-minute recharge can even help you gain three extra hours of listening time, which is perfect for traveling or at home. When thinking about traveling, the collapsible design of the Sony headset is welcome for quickly fitting into a bag when on the go. Even when you're not traveling, the ultra-comfortable leather material makes the WH-1000XM5 headset a pleasure to wear no matter what you are listening to.
One final bonus around the Sony headphones is a speak-to-chat feature as they automatically pause your music as soon as you start talking.
Check the Sony WH-1000XM5 (Silver) out on Amazon.
Best Sound: Bowers & Wilkins PX7 S2
Best Sound
We earn a commission if you make a purchase, at no additional cost to you.
Released in late 2022, the Bowers & Wilkins Px7 S2 headphones are widely considered the best-sounding Bose QC45 headphone alternatives around.
Each of the 40mm custom-designed drivers is angled the exact right way inside each ear cup so as to sound truly immersive. If the quality of the sound is near perfect, so too is the premium design of the PX7 S2. Labeled as Luxurious by Bowers & Wilkins, the memory foam earpads are designed to cushion your ears while also looking and feeling as premium as the price of the PX7 demands. What's more, the same joyous sound you experience when listening via Bluetooth is the same as it is through USB thanks to B & W's Adaptive Wireless Technology.
Another highlight Inside the PX7 is a powerful digital signal processor that makes it sound the same when you are listening to any streaming service on the go or when connected to a computer via USB. No matter how you listen, you'll be able to do so over 30 hours with a minimum two-hour charge or get 7 hours of playback in just 15 minutes of charging.
Check out the Bowers & Wilkins Px7 S2 Over-Ear Headphones (2022 Model) on Amazon.
Best for Apple Owners: AirPods Max
Best for Apple Owners
We earn a commission if you make a purchase, at no additional cost to you.
For any iPhone, iPad, or macOS user, the absolute best alternative to the Bose QC45 headphones is undoubtedly the AirPods Max.
Apple's most premium headphone experience ever comes with an unsurprisingly high price tag but the cost provides you with Apple's dedicated focus on making the best possible product for its customers.
Because of this, you get Apple's own drivers inside each of the earcups on the AirPods Max which provide a high-fidelity sound that is often unrivaled across iOS devices. Active noise cancellation ensures you're removing a massive percentage of outside noise so you can focus on the music without the sounds of cars, barking dogs, or even screaming kids.
Built with Apple's H1 chip, the AirPods Max provides a best-in-class software experience for connecting seamlessly to any compatible Apple product. Although they are a tad heavier than many competitors, Apple's focus on comfort with memory foam ear cushions ensures the AirPods Max is comfortable for both long and short listening sessions. Up to 20 hours of listening or watching episodes of Ted Lasso are possible even with active noise cancellation enabled.
Check the Apple AirPods Max (Green) out on Amazon.
Best for Phone Calls: Bose Noise Canceling Headphones 700
Best Design
Bose Noise Canceling Headphones 700
11 levels of active noise cancelation
Built-in beamforming microphone that adapts to noisy and windy environments
Lightweight stainless steel headband and tilted earcups

Up to 20 hours of wireless battery life on a single charge
We earn a commission if you make a purchase, at no additional cost to you.
Unsurprisingly, one of the best alternatives to the Bose QC45 headphones is another product with the Bose name in the case of the Bose Noise Canceling Headphones 700.
Where the Bose 700 headphones immediately stand out over the competition, the QC45 headphones included are just so good with phone calls. Bose's inclusion of 11 different levels of active noise cancellation ensures that you are able to block out much of the world as a phone call takes place.
More important than the ANC is the addition of Bose's claim of a revolutionary microphone system that adapts to both noisy and windy environments so voices sound crystal clear. During a phone call, you'll want to be comfortable, and the Bose 700 delivers with a lightweight stainless steel headband and ear cups designed to fit most shaped ears perfectly. Up to 20 hours of battery life won't phase you as you find the comfort of the Bose 700 to be outstanding.
Phone calls might be the main highlight of the Bose 700 headphones but another definite plus is one touch listen to Spotify. With the press of a button, Spotify users are immediately placed into their last Spotify session.
Check the Bose Noise Canceling Headphones 700 out on Amazon.
Best Battery: Sennheiser Momentum 4 Wireless
Best for Travel/ Most Comfortable
Sennheiser Momentum 4 Wireless
Battery life of up to 60 hours

Features a 42mm transducer system

Comes with adaptive noise cancellation

Use the Sennheiser Smart Control app to personalize sound settings

4 digital beamforming microphones
We earn a commission if you make a purchase, at no additional cost to you.
Sennheiser's signature sound is alive and well inside the Momentum 4 Wireless headphone with 42mm transducer system drivers and aptX adaptive sound.
Focusing on the sound becomes even more valuable with the Momentum 4 headphones with the Sennheiser Smart Control app available on both Android and iOS. Using the app, you can find the exact right musical settings for you using an integrated equalizer or one of the available presets.
As good as the sound is, noise cancellation is even better with Adaptive Noise Cancellation and includes a transparency mode to help allow for a little bit of ambient noise to bleed through. No matter if you allow a lot of noise through or try to block everything, you'll have up to 60 hours of playtime back available which is handily best-in-class among the best Bose QC45 alternatives.
Last but not least, the Sennheiser Momentum 4 Wireless headphones include four beamforming microphones that help suppress ambient noises like the wind for the best possible phone calls.
Check the Sennheiser Momentum 4 Wireless out on Amazon.
Best Earbuds: Bose QuietComfort Earbuds II
Best Earbuds
We earn a commission if you make a purchase, at no additional cost to you.
While many alternatives to the Bose QuietComfort 45 headphone focus on other over-the-ear options, perhaps something more like the Bose QuietComfort Earbuds II are more your style.
These one-size-fits-all headphones not only offer their own type of personalized noise cancellation but they do so with all-day comfort. Each Earbuds II order includes three different sizes of ear tips and three custom stability bands so you can find the best possible fit for you.
Unlike over-the-ear headphones, you can even change things up with the Bose QC Earbuds II by going with just one earbud at a time. This setup is perfect for taking a phone call or listening to music while still keeping one ear available for listening to the outside world. Six hours of battery life await you with the Earbuds II which is more than enough to get through a day's commute or a cross-country plane ride. You can also give yourself a quick battery boost with a 20-minute charge that provides up to two hours of additional listening.
Bluetooth 5.3 built-in to the headsets provides the Earbuds II with up to 30 feet of range from your smartphone or computer so you can listen while you cook, exercise, or walk into another room.
Check the Bose QuietComfort Earbuds II out on Amazon.
Best Budget-Friendly: Anker Soundcore Life Q30
Best Overall
We earn a commission if you make a purchase, at no additional cost to you.
While every other Bose QC45 headphone alternative on this list comes out with price tags over $200, anyone on a budget can look to a more wallet-friendly alternative with the Anker Soundcore Q30 series.
With three different noise cancellation modes, Bose QC45 fans won't want to be able to block out ambient noise, including that one coworker that chews too loudly. Thanks to 40mm drivers, the sound from the Anker Soundcore Life Q30 punches well above its budget price tag, thanks to 40mm drivers that can reach up to 40kHz of range for strong clarity.
If the price tag and the excellent noise cancellation don't win you over right away, perhaps the 40-hour battery life will do exactly that. You can even skip noise cancellation and push your total listening time up to 60 hours overall. With a five-minute charge, you can grab a quick four hours' worth of listening in a pinch as well.
While the Anker headphones won't offer the premium level of ear pad comfort like, say, the Bowers & Wilkins, they still have ultra-soft leather earcups with memory foam for all-day comfort.
Check the Soundcore by Anker Life Q30 Hybrid Active Noise Cancelling Headphones out on Amazon.
What to Know Before Buying a Bose QC45 Alternative
When you're looking for the best alternatives to the Bose QC45, you want to start with finding another headphone that offers a similar level of active noise cancellation. Fortunately, there are many that do, including the Sennheiser Momentum 4 Wireless, Bowers & Wilkins Px7 S2, and the Sony WH-1000XM5. Other alternative rivals like the Bose 700s or the AirPods Max get really close and are catching up.
Another big area to focus on is sound, and that's where headphones like the AirPods Max and Bowers & Wilkins Px7 S2 really show their advantages. For as good as Bose it as audio, headsets like the aforementioned two or the Sony WH-1000XM5 really show off a musical experience that reminds you why looking for Bose QC45 alternatives is okay.
Similarly, call quality is another Bose QC45 feature that, while good, isn't as outstanding in the real world as it is on paper. It's actually the Bose 700 or the AirPods Max that really stands above the competition when it comes to call quality. Between blocking ambient noise and having excellent microphones that sound like you are in the same room, when you are looking for a Bose QC45 alternative, finding excellent call quality is a must.
Using a Bose QC45 Alternative: What It's Like
Ultimately, every headset on this list is worth trying for one reason or another. They are all considered best-in-class for something like call quality, active noise cancellation, quality materials, fit, battery life, or being budget-friendly. You can feel confident that, in skipping out on the Bose QC45, one of these headsets will help you forget you may have ever considered the Bose.
Using a headphone like the AirPods Max quickly reminds you that it can be incredibly seamless to connect with your Apple devices. The H1 chip is so welcome that you can almost set and forget your AirPods Max connection to your iPhone. While more battery life would be welcomed, it's easily overlooked because of the AirPods Max style and easy connection.
The Anker Soundcore Life Q30 is such a good option for people who don't want to spend $200 plus on new headphones. It's easy to think that budget means poor sound or worse noise cancellation but couldn't be more inaccurate. For many people, this will sound far better than the headphones they are upgrading from.
The image featured at the top of this post is ©beton studio/Shutterstock.com.