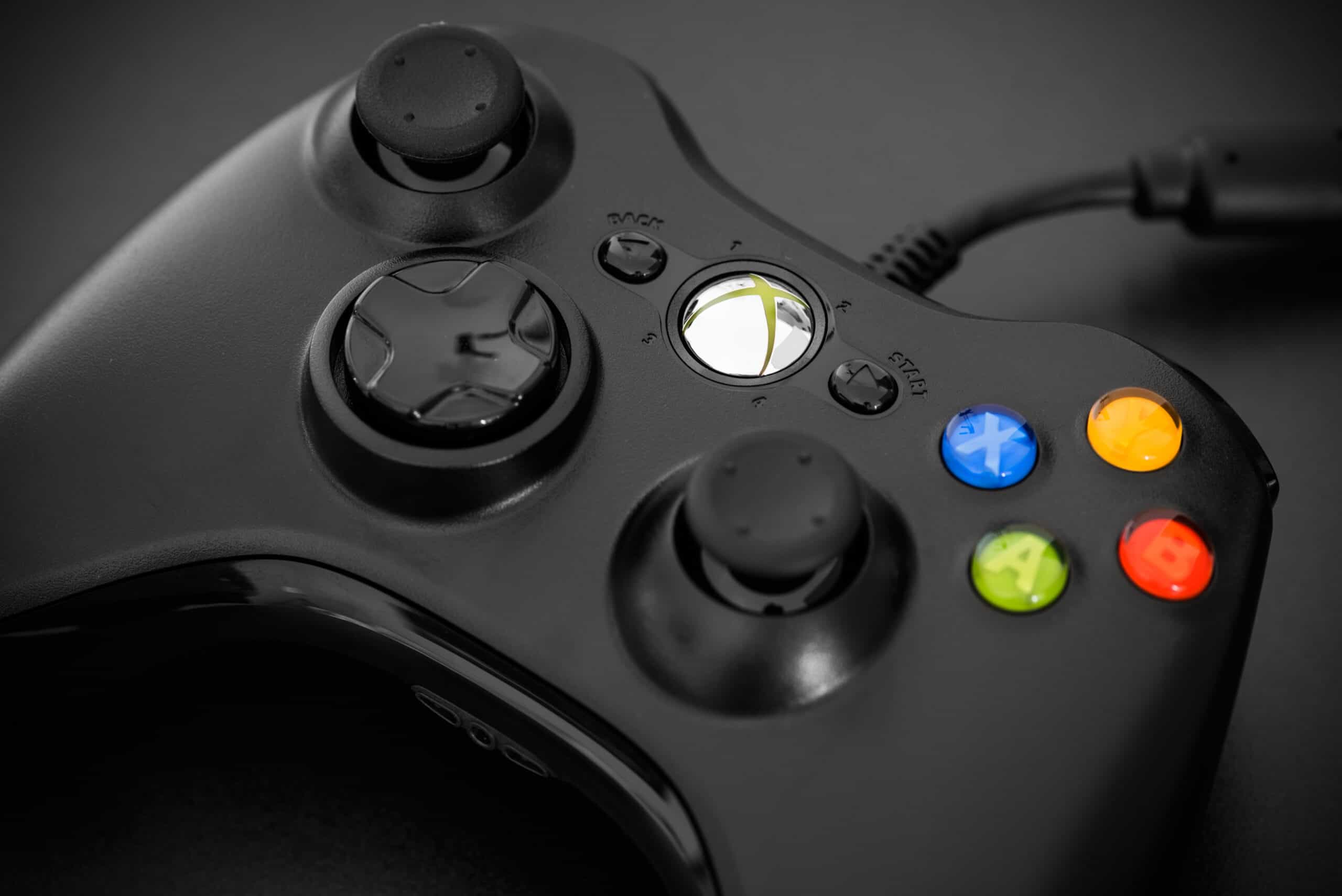 Best known as the successor to the original Xbox, Microsoft released the Xbox 360 to the world on November 22, 2005. Some 84 million consoles were sold before Microsoft finally pulled the console off store shelves in 2016, a fantastic life cycle of just over 11 years.
Part of the seventh generation of video game consoles, the Xbox 360 was also Microsoft's first console to debut Xbox Live, its now massively popular online gaming portal. 
Though the "red ring of death" plagued early hardware versions of the Xbox 360, after some retooling and two more redesigned models of the console, the Xbox 360 lives on as the sixth best-selling console in video game history. A good reason for that is due to the strength of its game lineup, including some fantastic first-person Halo shooters. 
Let's dive into the best FPS games for Xbox 360!
What is a First-Person Shooter? 
A first-person shooter is a hugely successful video game genre that focuses on playing a game from the main character's point of view. Whatever they see is what you see when you play. That likely means you'll play through an entire first-person shooter game with just a look at your protagonist's arms and hands, which are often holding a weapon.
First-person shooters can be found as military titles, futuristic titles where you battle aliens, or a run-and-gun type of game where it's every person for themself. 
Was the Xbox 360 Known for First-Person Shooters? 
Given that the popularity of the first Xbox heavily surrounded the Halo name, whether the second generation Xbox would see the same success was often-thought to be dependent on its launch titles.
Out of the 14 games that launched with the Xbox 360, the best-selling game was a Call of Duty title while another first-person shooter, Ghost Recon Advanced Warfighter, was another big seller. Out of the top ten best-selling games for the Xbox 360 during its lifecycle, five were first-person shooters. 
Let's take a look at the absolute best first-person games that would call the Xbox 360 home. 
Halo Reach
Meet Noble Team. For the first time, players will fight alongside a squad of iconic Spartan soldiers, each with deadly talents as unique as their individual personalities and customized gear
An intense campaign. Live the events that set the stage for the Halo trilogy as the UNSC and Covenant clash at the height of their military power
Stunning technical advancements. Halo: Reach takes a massive leap forward through all-new engine technology designed to take full advantage of next-generation graphics, audio, special effects,...
The definitive multiplayer experience. Halo: Reach builds on the success of its predecessors, setting a new standard for competitive gameplay, customization, variety and community integration
Unparalleled feature suite. Halo: Reach expands on the industry-leading suite of features found in Halo 3, including four-player cooperative
We earn a commission if you make a purchase, at no additional cost to you.
Developed specifically for the Xbox 360, emHalo: Reach/em represents the fifth game in the Halo series and is a direct sequel to Halo: Combat Evolved.
Released in 2010, you are once again thrust into the world of a war between humanity and the Covenant in the year 2552. However, unlike previous Halo games that saw the protagonist as Master Chief, you instead play as Noble Six, a member of a super elite supersoldier squad.
The launch of the game was so successful that it earned Microsoft more than $200 million in revenue on the first day it was available to the public. 
The campaign could be played as a single-player or as a co-op as you make your final stand on the planet Reach. Thanks to the Xbox 360's new game engine, graphics were vastly improved over the original Xbox and it shows in every detail between weapons, environment, and even your team members.
Once the campaign ends, Halo fans should absolutely turn their attention to the multiplayer, which offers split-screen on the console or online gameplay through Xbox Live. With a 91 Metascore, emHalo: Reach/em does the Halo name proud. 
Defeat the Covenant by jumping right into emHalo: Reach/em on Amazon here. 
We earn a commission if you make a purchase, at no additional cost to you.
Selling just over 1.5 million copies, emFallout 3/em remains one of the best-selling and best-rated first-person shooter games on the Xbox 360 platform.
As the third installment in the Fallout series, this was the first time the series was able to utilize 3D graphics as well as real-time combat. Set in a post-apocalyptic Washington, D.C., the game provides an alternate timeline that saw a nuclear war in 2077.  While not a direct sequel to its predecessor, the game does provide a deep storyline consisting of the protagonist venturing out into the world in search of his father. 
Picking up a 93 on the Metascore scale, the only major downside of emFallout 3/em is the lack of a multiplayer experience. However, to make up for that, you get a 22-hour plus single-player campaign that can take well over 100 hours to finish if you are an absolute completionist.
The game was so well received by critics, a "Game of the Year Edition" would later be released to include the original game plus all five of its downloadable expansion packs. 
Grab a copy of emFallout 3/em on Amazon here. 
BioShock Infinite - Xbox 360
BioShock Infinite is not a direct sequel or prequel to previous BioShock games, taking place in an earlier period and different setting, though it features similar gameplay concepts and themes
BioShock Infinite is a first person shooter with role-playing game elements
Development of open spaces created new gameplay options for the player, such as deciding between long-ranged attacks or finding a means to move in for short-range or melee combat
We earn a commission if you make a purchase, at no additional cost to you.
Through its fifteen-hour single-player campaign, emBioShock Infinite/em will have you following the protagonist, Booker DeWitt, on his quest to rescue a kidnapped woman.
Held captive in 1912 on a floating steampunk city, the two will form a deep bond and allow your character to bring his own set of hidden abilities directly to the surface. The successor to the hugely popular BioShock has little to do with the original outside of fantastic storytelling. 
The strength of the plot combined with excellent gameplay drove this game all the way to a 93 Metascore. Using various tools and weapons, you'll fight your way through the floating city known as Columbia, and you can choose from one of four difficulty levels. 
What's most disappointing about emBioShock Infinite/em is the lack of multiplayer support. This is a title that just screams for you and a group of friends to traverse this flying city battling enemies with a range of weapons. Unfortunately, you'll have to stick to the single-player campaign, but thankfully, it's incredibly satisfying. 
Climb high into the sky with a copy of emBioShock Infinite/em you can get from Amazon here. 
Call of Duty: Modern Warfare 2 Platinum Hits Xbox 360 - Xbox 360
"Bailout" - a multi-level apartment complex torn apart by combat with tight corridors and blown out suites along with vantage points overlooking the connecting courtyards and parking lots
"Storm" - an open industrial park with large abandoned warehouses and factories littered with heavy machinery subjected to the rain and booming approach of an impending thunderstorm
"Salvage" - a snowy junkyard fortified by stacked debris and crushed cars that offer a varied layout of open and close-quartered combat areas
"Crash" - a war-torn urban environment centered by a downed helicopter and surrounded by vantage points from multi-story shops and destroyed buildings
"Overgrown" - which features open fields with high grass and a massive dry creek bed that splits this neglected village in half
We earn a commission if you make a purchase, at no additional cost to you.
Selling a whopping 13.49 million copies on the Xbox 360 platform, emCall of Duty: Modern Warfare 2/em is a fantastic first-person shooter that still lives on to this day.
Earning a Metascore of 94, everything about emModern Warfare 2/em is unsurprisingly excellent. The game launched with a massive amount of hype and for many games, too much hype is a bad thing, but Modern Warfare 2 more than lived up to the promise. The game follows Task Force 141 as they hunt a terrorist who is partially responsible for an invasion of Washington, D.C. 
Throughout the game, you don't follow one single protagonist but instead swap between multiple characters taking part in various activities around the world. One level might find you saving the White House from attack while another might find you fighting aboard a nuclear submarine. It's hectic and fast-paced taking place over roughly seven hours of gameplay, but it's oh-so-good.
The multiplayer aspect enables you to compete against up to 16 other players in team-based deathmatch games across the various maps you encounter throughout the game. 
Save the world by picking up a copy of emCall of Duty: Modern Warfare 2/em on Amazon here. 
Halo 3 – Xbox 360
Expands on the franchise and adds a wealth of technical and gameplay advancements
Unparalleled first-person shooter experience and the most compelling story of the trilogy
Builds upon the social multiplayer experience and innovative, evolving, online gameplay of Halo 2
Loaded with high-definition visuals, enhanced AI, an advanced lighting engine, new weapons, characters, and challenges
We earn a commission if you make a purchase, at no additional cost to you.
Another must-play title on the Xbox 360, emHalo 3/em is the third game in the Halo trilogy and concludes the original storyline with Earth forces attempting to push back the Covenant invasion.
Set in the year 2552, humans are still at war after the Covenant fleet found Earth at the end of Halo 2. Jumping back into the battlesuit of Master Chief and with Cortana firmly in your ear, Master Chief must take the fight to the enemy. Across an eight-hour single-player campaign, emHalo 3/em is the first introduction of both support weapons and "equipment," including defensive shields. 
Once you defeat the single-player campaign and save Earth, jump right into playing it all over again in co-op mode with up to three of your friends via Xbox Live. Alternatively, you can also play multiplayer game types like deathmatch or capture the flag with up to sixteen different players from around the world courtesy of Xbox Live.
With more than 12 million copies sold, it's no surprise that emHalo 3/em earned a 94 on the Metascore scale, continuing to show that Halo is one of the most dominant FPS titles on the Xbox platform. 
Pick up your copy of emHalo 3/em on Amazon today here. 
Call of Duty 4: Modern Warfare - Xbox 360
Intense action thriller with stunning next-generation graphics and amazing special effects
Play as both a U.S. Marine and British S.A.S. soldier fighting through an unfolding story full of twists and turns
Enter treacherous hotspots around the globe to take on a rogue enemy group threatening the world
Use sophisticated technology, superior firepower, and coordinated land and air strikes on a battlefield where speed, accuracy, and communication are essential to victory
Depth of multiplayer action providing online fans an all-new community of persistence, addictive, and customizable gameplay
We earn a commission if you make a purchase, at no additional cost to you.
While not as commercially successful as Modern Warfare 2, emCall of Duty 4: Modern Warfare/em is actually the former's prequel despite the confusing naming convention.
Selling more than 4.2 million copies, emCall of Duty 4/em was applauded for its outstanding single-player campaign and fantastic multiplayer integration. The single-player campaign focuses heavily on a civil war breaking out in Russia and various tasks around the world that special force teams undertake to try and stop the fighting. 
Like its sequel, gameplay jumps you between a variety of characters depending on which level you are playing. One minute you might be fighting alongside "Soap" McTavish or the next minute you might be trying to stop an invading force as Captain Price. 
The seven-hour single-player campaign is amazing and so is the narrative that comes along with the storyline. Of course, if single-player gaming isn't the reason you are picking up this game, fear not, as the multiplayer component is so, so good. Deathmatch-based games can be played through Xbox Live against up to 18 different players from around the world. 
Stop the end of the world with your copy of emCall of Duty 4: Modern Warfare/em on Amazon here. 
Bioshock - Xbox 360
Bio Shock lets you do the impossible as you explore a mysterious underwater city. When your plane crashes, you discover Rapture - an underwater Utopia torn apart by civil war.
Caught between powerful forces and hunted down by genetically modified "splicers" and deadly security systems, you have to come to grips with a deadly, mysterious world filled with powerful technology...
As little girls loot the dead, and biologically mutated citizens ambush you at every turn. Now you're trapped, caught in the middle of a genetic war that will challenge both your capacity to survive...
Make meaningful and mature decisions that culminate in the grand question - do you exploit the innocent survivors of Rapture to save yourself - or risk all to become their savior?
Biologically mod your body with plasmids - genetic augmentations that empower you with dozens of fantastic abilities
We earn a commission if you make a purchase, at no additional cost to you.
Coincidentally, the absolute best first-person shooter on the Xbox 360 was also one of its worst-selling. Moving only 1.5 million copies throughout its availability, emBioShock/em leads the FPS genre with a Metascore of 96.
Metacritic's game of the year in 2007 is a fast-paced FPS that takes you on a journey when your plane crashes in uncharted waters on Earth. What happens next is that you find yourself in a battle for your life against genetically mutated citizens and giant robot-like machines. Of course, all of this is part of the emBioShock/em charm that has seen wide critical praise for its unique plot and introduction of role-playing elements into the first-person genre. 
The 12-hour single-player campaign looks as good as it plays, making full use of the newer graphics engine on the Xbox 360. The city of Rapture, where the campaign takes place, is an underwater city that looks fantastic on the console, so it's no shock that the game scored so high with Metacritic. Of course, a beautiful game needs to be both fun to play and compelling, and emBioShock/em has both in spades. 
Find out why emBioShock/em is a first-person shooter classic by picking it up on Amazon here. 
Final Thoughts
The Xbox 360 was full of first-person shooters that are all highly praised for their gameplay, soundtrack, plot, and multiplayer goodness. BioShock stands out which is a testament to the uniqueness of its gameplay, but there's little surprise that Halo and Call of Duty titles find themselves stealing multiple places on any list of the absolute best Xbox 360 first-person shooters.