While the Xbox One never quite rose to the prominence of the PlayStation 4 as part of the eighth generation of gaming consoles, it still offers an excellent lineup of titles. Among those games are an array of outstanding titles that are arguably among the best games of all time in the open-world genre.
Whether it's driving across town or riding a horse and trying to conquer the West, there's just so much to see and do with these games, thanks to the power of the Xbox One console they are hard to put down.
What is an Open-World Game?
The best open-world games allow you to play what can often feel like an endless array of missions, side quests, and so much more across tens plus of hours of gameplay. Players of this genre can explore freely in a way that is less linear than a game that offers more structured gameplay.
Popularized by the likes of Grand Theft Auto III, there are few boundaries that dictate where a player can go. Of course, open-world games are not without their limitations as there might be an ocean you cannot swim past or a mountain you cannot climb over, which provides some sense of a geographic boundary.
Was the Xbox One Known for Open-World Games?
Like most consoles, the Xbox One wasn't specifically known for any one genre, but open-world games played a role in its success. The Witcher 3: Wild Hunt, an open-world action role-playing title, ranks as the third best-selling game for the Xbox One console, selling more than 4.3 million copies. Even if the following list of games is not exclusive to the Xbox One, it's home to many excellent open-world titles which was good news for console owners.
Fallout 4 Game of The Year Edition - Xbox One
Freedom and Liberty Do whatever you want in a massive open world with hundreds of locations, characters, and quests. Join multiple factions vying for power or go it alone, the choices are all yours
Be Whoever You Want With the S.P.E.C.I.A.L. Character System. From a Power Armored Soldier to the Charismatic Smooth Talker, You Can Choose From Hundreds of Perks and Develop Your Own Playstyle
New Next Generation Graphics & Lighting Engine Brings to Life the World of Fallout. From the Blasted Forests of the Commonwealth to the Ruins of Boston, Every Location Is Packed With Dynamic Detail
Intense first or third person combat can also be slowed down with the new dynamic Vault Tec Assisted Targeting System (V.A.T.S) that lets you choose your attacks and enjoy cinematic carnage
We earn a commission if you make a purchase, at no additional cost to you.
Imagine you are the lone survivor of a nuclear fallout shelter and that you have to fight pretty much everyone and everything that comes your way in order to survive. That's not the entire recap of emFallout 4/em, but it's pretty close even if it doesn't yet explain its 88 Metascore.
What does explain the high score is the massive world you will find over roughly 27 hours plus of gameplay. As players leave their "vault" or home, you'll find a post-apocalyptic Boston set in the year 2287. The game itself follows the storyline set forth in Fallout 3 and picks up ten years later as the protagonist looks for their missing son.
Through the protagonist's eyes, you'll discover the world is fearful of a mysterious organization known as "The Institute" and a race of hybrid robot humans. Rest assured, this is a group of violent bad people that are going to make you develop eyes in the back of your head between a variety of towns and terrains. Thankfully, there are companions you will find along the way like Dogmeat (an actual dog) as well various ways to modify your weapons to help you combat all of the different threats you will come across, and there will be many threats throughout this game.
Grab your copy of emFallout 4/em for the Xbox One on Amazon here.
#6: Yakuza 0
Yakuza 0 might not be the largest open-world game on this list, but that doesn't make it less fun to play.
The game takes you back to Tokyo in 1988 and where it was easy to make money and everyone wants to play hard. Players are free to walk around and explore different areas of Tokyo that have been painstakingly recreated for the game. As you interact with different NPCs, you can open up different side quests and mini-games, or even find playable versions of Sega arcade games like Space Harrier and Out Run.
Players will take on the protagonist role of Kiryu and Majima, each of whom has their own different fighting styles that can even be switched up while you're in the midst of a fight. It's a fantastic highlight of the game as you take down various thugs and goons that don't want to see you progress on your mission.
Across 17 different chapters, you'll find more than 31 hours on average of gameplay on a title that is arguably the best Yakuza game in the series. It's included in Xbox GamePass which is a great way to jump directly into the game. It offers a 90 Metascore, just an added bonus for why you should pick this game up today.
Witcher 3: Wild Hunt Complete Edition - Xbox One
If you buy this game, you will receive a free next-gen update on December 14th!
Play as a highly trained monster slayer for hire.
Built for endless adventure, the massive open world of The Witcher sets new standards in terms of size, depth and complexity.
The Witcher 3: Wild Hunt Game of the Year edition brings together the base game and all the additional content released to date.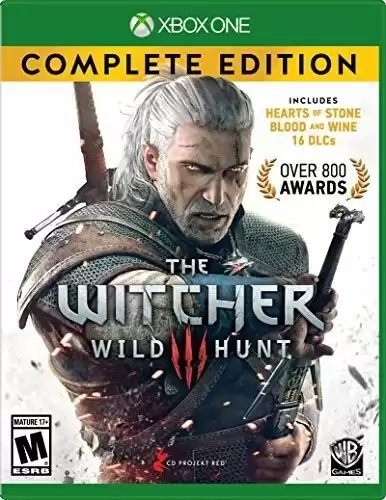 We earn a commission if you make a purchase, at no additional cost to you.
As the only open-world game found on the list of Xbox One's best-selling titles, there is an almost guarantee that emThe Witcher 3: Wild Hunt/em is going to be a fantastic open-world title.
Selling more than 4.3 million copies on the Xbox One, you play the role of Geralt of Rivia, a monster slayer for hire with superman skills and strength.
Famously played by Henry Cavill on the Netflix show and has already been a successful book series, The Witcher is one of the best-known titles on this list, and for all the right reasons. The open world is, in a word, massive, and unsurprisingly scores a 91 Metacritic score that offers a story-driven experience unlike anything else on this list.
Across the 51-hour-plus story, there's just so much to explore all while making your world toward battling an ancient evil and tracking down the Child of Prophecy. There's more to see and do than you'll know what to do within your first playthrough including caves, shipwrecks, mountains, open plains, and even a few evil witches to battle with every now and again.
emThe Witcher 3: Wild Hunt/em is ready to pick up on Amazon here.
Forza Horizon 4
0889842392500
The Forza Horizon 4 Standard Edition includes: Forza Horizon 4 game disc
SEASONS CHANGE EVERYTHING
Britain Like You've Never Seen it. Discover lakes, valleys, castles, and breathtaking scenery all in spectacular native 4K and HDR on Xbox One X and Windows 10
Master Driving in All Seasons. Explore a changing world through dry, wet, muddy, snowy, and icy conditions
We earn a commission if you make a purchase, at no additional cost to you.
Arguably one of the racing games ever created, the Forza series is well known for its beautiful scenery, excellent car selection, and fantastic gameplay. emForza Horizon 4/em picked up the series and helped it leap forward on the Xbox One with one of the best new features ever brought to the world of racing games.
Easily justifying its 92 Metascore, emForza Horizon 4/em introduced dynamic seasons across its open world, which changes seasons depending on the time of year in the real world. When combined with its beautiful scenery, dynamic seasons make it very hard to put down the controller. You'll keep telling yourself "just one more race" with Forza each and every time you play.
As you drive across Britain, you'll find more than 450 cars to choose from, including 100 different licensed vehicle manufacturers. As part of the open-world campaign, there's an opportunity for you to explore and, of course, race, but also to perform stunts and create your own tracks. Add in two downloadable content expansions and even if a racing game was never top of your list for open world, emForza Horizon 4/em will quickly make you a convert.
Race around the English countryside with emForza Horizon 4/em from Amazon here.
Taking the Metal Gear Solid franchise to new heights, emMetal Gear Solid V: The Phantom Pain/em is a terrific first-person experience that takes place in an open world, giving you the freedom to carry out missions as you see fit.
Snake is back as the protagonist and he's ready to exact revenge on those who tried to take him out in the previous Metal Gear Solid game.
Played from a third-person perspective, this is an open world that you can adventure around either by foot or vehicle all while choosing from a wide variety of weapons. Taking out enemies can involve any number of approaches, allowing players to take advantage of the open-world environment.
Do you want to run in guns blazing or prefer stealth mode? You can try again and again until you get it right but be forewarned that enemy AI learns in this game and trying something twice isn't always the path to success. Scoring a terrific 95 on Metascore, emThe Phantom Pain/em is the conclusion to the overall Metal Gear V storyline and is a true masterpiece.
emMetal Gear Solid V: The Phantom Pain/em is available on Amazon today here.
Grand Theft Auto V (Xbox One)
Experience the world of Grand Theft Auto V like never before with the power of the Xbox One.
Explore the City of Los Santos, the countryside and even the ocean.
Play through an epic single player experience using three very different characters.
Join your friends in GTA Online and see what trouble you can cause.
Play golf, tennis, see a film or call someone and just hang out.
We earn a commission if you make a purchase, at no additional cost to you.
No open-world series may be as popular or as well-regarded as Grand Theft Auto. emGrand Theft Auto V/em, or GTA V as it's more commonly known, has been around since the Xbox 360 era and continues to be the personification of what an open-world game should be.
From the countryside of San Andreas to the city of Los Santos, there is so much to see and do in GTA V that it's possible to play for more than 75 hours without ever finishing the main storyline.
While there is a linear storyline you will follow that will take you on missions, but in-between those missions, the GTA V world is your oyster. There are almost too many distractions put in front of you that will definitely distract you from pushing the storyline forward.
Between scuba diving, playing golf or tennis, going BASE jumping, watching a movie in a theater, trading stocks, and buying real estate, you are essentially living vicariously through the main protagonists.
Earning a 97 Metascore is no easy feat but it's well earned here as emGrand Theft Auto V/em takes the open-world genre to whole new levels, and that's even before you try the popular online version. Endless exploration is key here, and with a fictional amount of 35 square miles to play with, there's always something to do.
Grab your copy of emGrand Theft Auto V/em on Amazon here.
Most Complex World
Red Dead Redemption 2 (XBox One)
From the creators of Grand Theft Auto V and Red Dead Redemption
The deepest and most complex world Rockstar Games has ever created. 4K Ultra HD not available on Xbox One or Xbox One S consoles
Covers a huge range of 19th century American landscapes
Play as Arthur Morgan, lead enforcer in the notorious Van der Linde gang
Interact with every character in the world with more than just your gun
We earn a commission if you make a purchase, at no additional cost to you.
Developed by Rockstar, the same developer behind Grand Theft Auto V, emRed Dead Redemption 2/em is every bit as engaging as its more modern-based predecessor, but as a western.
There's a strong argument to be made that emRed Dead Redemption 2/em is among the best games of all time and not just open-world near perfection. Earning a 97 Metascore is the payoff for years of hard work from Rockstar, and it shows with every wavy piece of grass as you ride across the open plain.
Your character, Arthur Morgan, will venture from town battling different gangs or perhaps he will hunt bears across different terrains. Rest assured that exploring is something you absolutely need to do within this game. Taking place in 1899, the west is shrinking as cities expand and fashion moves forward but it's still an area of true lawlessness and you'll need to be fast to survive.
Loot and collectibles are everywhere, so whether it's on foot or horse, preferably the latter, you'll find at least 50 hours of gameplay at your disposal and more than triple that if you want to complete every side mission available. Like GTA V, emRed Dead Redemption 2/em expands exponentially once you jump into the online world which makes an already big game even bigger.
Pick up your copy of emRed Dead Redemption 2/em on Amazon here.
Final Thoughts
Even if the Xbox One didn't sell as many consoles as its biggest competitor, the PlayStation 4, there's still a deep library of titles worth playing. Open-world games, in particular, help make the Xbox One and its strengths shine. Games like The Witcher 3, Grand Theft Auto V, and Red Dead Redemption 2 can be played for months on end before even considering completing the game, making them well worth owning.