When it comes to open-world games, few consoles have provided as much fun or any many options as the PlayStation 4. Even as game releases ramp up for the PlayStation 5, the PlayStation 4 remains home to some of the absolute best games that allow you to freely explore, fight, battle, ride, drive, and fly.
Released in 2013 and selling more than 106 million units, hundreds of open-world games are at your disposal on the PlayStation 4. These can make choosing the absolute best open-world game a little challenging. Thankfully, that's where Metacritic comes in handy.
Let's dive into the best open-world games the PlayStation 4 has to offer!
What is an Open-World Game?
When it comes to an open-world game, the easiest definition is to describe them as a game that allows the protagonist or main character to move around their virtual world freely. Instead of a linear set of objectives, the character (or characters) can choose which missions they want and in what order. There's always likely to be the main mission to continue but the game doesn't force you in that direction. Instead, you can move around a city, island, or kingdom on foot or by some type of vehicle like a plane, train, or automobile.
Is the PlayStation 4 Known for Open-World Games?
While the PlayStation 4 isn't known for any one type of game format, there is definitely a case to be made that shows some of the best-selling games on the console fit these criteria. Titles like Marvel's Spider-Man, Horizon Zero Dawn, The Witcher 3: Wild Hunt, and Ghosts of Tsushima are all in the top ten of games sold, and all meet open-world criteria as far as gameplay. So, the PlayStation 4 might not necessarily be known specifically for any one type of game format, but there's a strong argument to be made for the PlayStation 4 being a friendly open-world console.
Open-World Action Adventure
Ghost of Tsushima Director's Cut (PS4)
Roam vast countryside and expansive terrain
Encounter rich characters, discover ancient landmarks, and uncover the hidden beauty of Tsushima
Seek support from old friends and new unlikely allies to reclaim Tsushima
Break away from tradition, become a new kind of warrior, and protect what's left of your home and people at all costs
Challenge opponents with your katana for an immersive samurai combat experience, master the bow to eliminate distant threats, and develop stealth tactics to disorient and ambush enemies
Play with friends or via online matchmaking in a series of two-player story missions or four-player wave-based survival missions in the Legends online co-op*** mode inspired by Japanese folk tales and mythology
Travel to Iki Island to investigate rumors of a Mongol presence in a brand-new story with deeply personal stakes
We earn a commission if you make a purchase, at no additional cost to you.
A relative unknown in the greater open-world scene, emGhost of Tsushima/em is one of those hidden gems you just have to play.
Released in 2020, the player takes on the role of Jin Sakai, a samurai fighting to protect Tsushima Island after the first Mongol invasion of Japan. Taking full advantage of the open-world genre, Jin is able to move around either on foot or on horseback.
The game's highlight is its combat and there's just something really special about taking down opponents using a katana blade. Billed as one of Sony's fastest-selling exclusive games, emGhost of Tsushima/em has seen plenty of critical praise including a few Game of the Year nominations.
Played from the third-person perspective, the game offers a unique play style that maintains the wonderful feel of an open world without feeling too much like a GTA V clone. Earning an 83 Metascore surely made the game's developers proud, but it's the 9.1 user score that is really proof the game hit the right chord with users. Selling more than 9.7 million copies as of July this year is even more evidence this open-world game is worthy of your attention.
Pick up emGhost of Tsushima/em for the PlayStation 4 on Amazon here.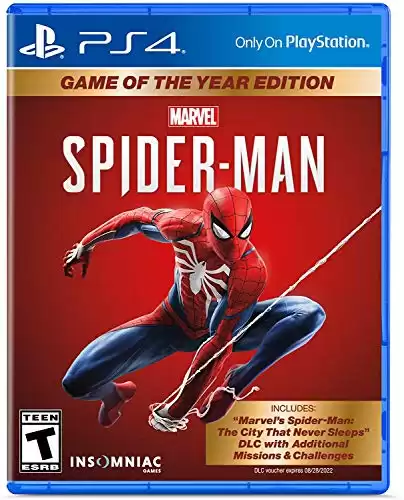 We earn a commission if you make a purchase, at no additional cost to you.
No question this is going to be a controversial choice as many die-hard open-world gamers will believe that emMarvel's Spider-Man/em is worthy of a higher ranking.
As good as it is, earning an 87 Metascore puts it firmly in sixth place no matter how wonderfully fun it is to swing around New York City. Released in 2018, the game is very much based on the comic superhero as he once again fights to save New York City from evil viruses and deadly henchmen and tries to repair his relationship with Mary Jane.
Everything from the combat to the narrative screams fun and the sales numbers prove it with more than 20 million copies sold. That's good enough to give emMarvel's Spider-Man/em the title of the best-selling PlayStation 4 game of all time.
Earning that sales title doesn't come easy, but this is one of the most fine-tuned open-world games ever created. There's just something truly special about interacting with all of the NPCs or finding all of Peter's hidden backpacks around town. The gadgets, the combat, the storyline, it's just all so fantastic. Developer Insomniac delivered such a strong product that it's no surprise anticipation for the sequel is ready to take over the gaming industry.
Web your way onto Amazon and pick up Marvel's Spider-Man right here.
Horizon Zero Dawn Complete Edition Hits - PlayStation 4
A Lush Post Apocalyptic World: How have machines dominated this world, and what is their purpose? What happened to the civilization here before?
Nature and Machines Collide: Horizon zero dawn juxtaposes two contrasting elements, taking a vibrant world rich with beautiful nature and filling it with awe inspiring highly advanced technology
Defy Overwhelming Odds: The foundation of combat in horizon zero dawn is built upon the speed and cunning of Aloy versus the raw strength and size of the machines
We earn a commission if you make a purchase, at no additional cost to you.
Driven by an incredibly wonderful and unique story, emHorizon Zero Dawn/em was a massive sleeper hit by developer Guerilla Games.
Set in a post-apocalyptic setting somewhere in the Colorado and Wyoming area, the player takes on the role of Aloy who was cast out of her tribe and adopted by another fellow outcast. Together, Aloy learns the ropes of how to survive in her world and the emotions of the storyline grip you from the very first minute. Aloy's ability to survive by learning all about humanity's past and trying to piece together what happened to it hundreds of years ago comes together in a way that feels anything but forced.
Combat is a true highlight as Aloy masters her bow and arrow but finds herself full of surprises with her spear and other weapons along the way. The voice acting is second-to-none and that's especially true when the game's mysterious frenemy, Sylens, enters the picture.
Earning a Metascore of 89, emHorizon Zero Dawn/em would go on and sell more than ten million copies, spawn a sequel with Horizon Forbidden West, and become one of the best single-player open-world games ever to grace the PlayStation 4.
Take a spear to emHorizon Zero Dawn/em available from Amazon here.
The Witcher 3: Wild Hunt (PS4)
A Vast Open-World Environment: 30 times bigger than The Witcher 2, the size of the world requires new methods of exploration such as horse riding and sailing.
A Living World: The open world environment does not consist of set piece scenes the player rushes through, but real ecosystems, with their own life, which can be easily set out of balance by Geralts...
Player Decisions: Each action will have consequences that change the story and the game world. NPCs, communities, monsters and locations all change, based on player choice.
Unique atmosphere: The game world has its own unique feel. It is a classic dark fantasy tale that will appeal to fans of all kinds of fantasy stories.
Non-Linear: The player can resolve quests and main story threads in any order or complete them in a parallel fashion.
We earn a commission if you make a purchase, at no additional cost to you.
The fourth best-selling game on the PlayStation 4 and the second best-selling open-world game, emThe Witcher III: Wild Hunt/em is a game that keeps on thriving years after its 2015 release.
Geralt of Rivia is a name that needs little introduction (thank you, Henry Cavill), but as a "Witcher," Geralt must take on his role as a master swordsman and monster hunter and do battle against those who would do harm to residents of his fictional world on the "Continent." Geralt's world consists of humans, elves, monsters, dwarves, and other-worldly creatures that all combine to create a huge open world full of exploration on foot or horseback.
Having been trained to hunt monsters since a young age, Geralt is on a quest to find Cirilla, a girl who disappeared years before as he looks to uncover the mystery of the Wild Hunt group. Between all of his available weapons and magic, Geralt is a serious opponent for anyone who stands in his way. The game offers 36 different endings which only adds to the reason it has earned a 92 Metascore. Selling more than 10.8 million copies, there's a huge audience that continues to help drive The Witcher's popularity.
Grab your copy of emThe Witcher III: Wild Hunt/em from Amazon here.
Selling more than 1.1 million copies since its release in 2015, emMetal Gear Solid V: The Phantom Pain/em might not be the best-known name on this open-world list, but it's just as good as any other game that appears.
Earning a 93 Metascore is no easy task, and with this game, you'll find some of the best stealth action ever created for a home video game console (sorry, Hitman series!). Played from a third-person perspective, you traverse the world either by foot or through various modes of transport as the main protagonist, Snake, moves from target to target.
The ninth installment in the Metal Gear Solid series, emThe Phantom Pain/em is set in 1984 as Snake goes back to Afghanistan to seek revenge for a previous attack on his forces. What really makes this game so open-world friendly is that you have your pick of methods to dispose of enemies. Even open-world games can typically funnel you into one or two ways to take out an enemy but that isn't the case here. If Snake can think it, he can execute it, and that's exactly what he's going to do.
emMetal Gear Solid V: The Phantom Pain/em is available today from Amazon here.
Grand Theft Auto V Playstation 4
The biggest, most dynamic and most diverse open world ever created and now packed with layers of new detail
Grand Theft Auto V blends storytelling and gameplay in new ways as players repeatedly jump in and out of the lives of the game's three lead characters, playing all sides of the game's interwoven story
Grand Theft Auto V also comes with Grand Theft Auto online, the dynamic and ever evolving Grand Theft Auto universe for multiple players
We earn a commission if you make a purchase, at no additional cost to you.
Selling more than two million copies on the PlayStation 4, emGrand Theft Auto V/em needs no introduction as one of the best-known games and franchises for open-world gaming.
Released all the way back in 2014, the PlayStation 4 marks the third generation of consoles GTA V has been playable on, and yet it remains as solid of a title as ever.
Set within the fictional city of San Andreas, you take on the role of one of three main protagonists all working their own angles and aiming to make their mark in the world. The game has won dozens of awards including multiple Game of the Year titles, which only further serves to show why it's considered an open-world staple.
It has sold more than 170 million copies worldwide (and counting), only emphasizing the point even more and a 97 Metascore that further proves that it's well deserving of being considered one of the best video games of all time.
There's so much to see and do in San Andreas that you can skip out on the main mission for days on end before you even have to consider giving up side missions. The game enables you to buy and manage property, trade stocks, play a round of golf, and see a movie, and that's just the beginning of what you can do.
Pick up your copy of emGrand Theft Auto V/em from Amazon here.
One of the Best Out There
Red Dead Redemption 2 (PS4)
From the creators of Grand Theft Auto V and Red Dead Redemption
Covers a range of 19th century American landscapes
Play as Arthur Morgan, lead enforcer in the notorious Van der Linde gang
Interact with every character in the world with more than just your gun; engage in conversation with people you meet.
Your actions influence Arthur's honor
Horses are a cowboy's best friend, both transport and personal companion; Bond with your horse as you ride together to unlock new abilities
We earn a commission if you make a purchase, at no additional cost to you.
Developed by Rockstar games, the same name behind Grand Theft Auto V, emRead Dead Redemption 2/em took everything players loved about GTA V and put it on horseback, making it a Western.
Released in 2018, more than 14 million copies of emRead Dead Redemption 2/em have been sold for the PlayStation 4, and that number continues to grow. Earning a 97 Metascore is no easy task, and RDR2 has done so with one of the deepest and most beautiful open worlds ever developed. Even if you are not a fan of Western movies, there's just something to appreciate about how much care Rockstar puts into the different towns and environments you'll move between.
The game switches between a first and third-person perspective as protagonist Arthur Morgan as he looks to keep the Western world alive at the turn of the 20th century. That's no easy task as the modern world begins to creep in, but Arthur does a great job of keeping his focus on the task of his current mission, whether that's a side mission or Arthur's main mission.
Watching your health and stamina make this game as much a strategy title as it is open-world as Arthur and his horse have to eat to survive. It's just one of the many ways emRead Dead Redemption 2/em sets itself apart and takes on the title of the absolute best open-world game on the PlayStation 4.
Rope your way onto Amazon and pick up a copy of emRead Dead Redemption 2/em right here.
Final Thoughts
Some of the best open-world games in recent memory, if not of all time, have been released on the PlayStation 4. Between Horizon Zero Dawn, Grand Theft Auto V, and Marvel's Spider-Man, there is an eclectic mix of titles and undoubtedly something for everyone. Grand Theft Auto V and Red Dead Redemption 2 are likely to dominate for some time, at least until Grand Theft Auto VI comes out.
The image featured at the top of this post is ©charnsitr/Shutterstock.com.