The Nintendo Switch is quickly becoming the best console for platformers. There are dozens of excellent platformers available, despite the fact it hasn't been around that long. In addition to many new games, it also received a lot of ports from previous Nintendo consoles, such as the Wii U.
Not to mention Nintendo Switch Online lets you play even more classic games from the NES, SNES, and Nintendo 64. The only problem is that it can be hard figuring out where to start can be hard. We've made a list of our top 7 favorite platformers on the Switch. No matter where you start, you are sure to not be disappointed.
emYooka-Laylee and the Impossible Lair/em is a sequel to the first Yooka-Laylee game and is a throwback to the platformers of the Nintendo 64 era.
The first Yooka-Laylee game was a 3D platformer, while this one is a 2D Sidescroller. If you didn't know any better, it's easy to think that Yooka-Laylee is a first-party Nintendo game.
The game is a lot of fun if you enjoy sidescrollers. Instead of the regular 2D style like the Mario franchise uses, emYooka-Laylee and the Impossible Lair/em takes some 3D elements along the lines of Donkey Kong Country. The gameplay is great, and the story actually starts on the final boss level. The first level serves as a warning for what is to come and as a good joke.
To successfully beat the final level, you must play through the game and collect bees which serve as extra lives. The more bees you collect, the more hits you can take. This method entices the player to keep trying to beat the final level before reaching the end of the game. The 2D platforming levels are connected via a larger 3D world that has many of its own puzzles you need to complete in order to continue.
Find it on Amazon here.
emKirby and the Forgotten Land/em takes place in a post-apocalyptic world, but not everything is doom and gloom, as the game features bright and vibrant colors in this unique take on an abandoned world.
Temhe Forgotten Land/em is a 3D Switch platformer that offers Kirby in a way that you haven't seen him before.
The gameplay primarily revolves around rescuing Waddle-Dees trapped throughout Dreamland. To do this, you must play through a mix of platforming and combat. As you rescue the Waddle-Dees and complete levels, part of the town will begin repopulating. The game's combat system works great and offers a large variety of abilities.
You get a range of weapons which is part of Kirby's ability to pick up abilities from other characters. One example is a Link outfit that Kirby adorns alongside a sword. The gameplay is super fun, and the graphics are great for a 3D platformer. However, you may find it a little too easy as it is a casual platformer that is great for gamers of all ages.
Check it out on Amazon here.
emCrash Bandicoot N. Sane Trilogy/em is a bundle of the first three games in the Crash Bandicoot series.
Those who played the games back in the PlayStation 1 era will undoubtedly love this faithful remaster. Each game looks great, keeping true to the art of the original game. They actually stay very close to the originals but polish out the details.
The biggest change in the games, however, is that they are now much more playable. If you played any of the games on the PlayStation 1, then you probably remember how painfully difficult some levels could be. Making matters worse is that lives were limited. emCrash Bandicoot N. Sane Trilogy/em makes things much better by allowing you to continue and even providing extra shields when you fail.
The visuals are fantastic, and the game looks and plays as if it were made specifically for a modern console. With a total of three separate games, this trilogy offers hours of gameplay with some of the best Nintendo and Switch platformers ever made. The Crash trilogy is the perfect choice for those who want a platformer that offers a more challenging experience than your typical Nintendo game.
You can take it home from Amazon here.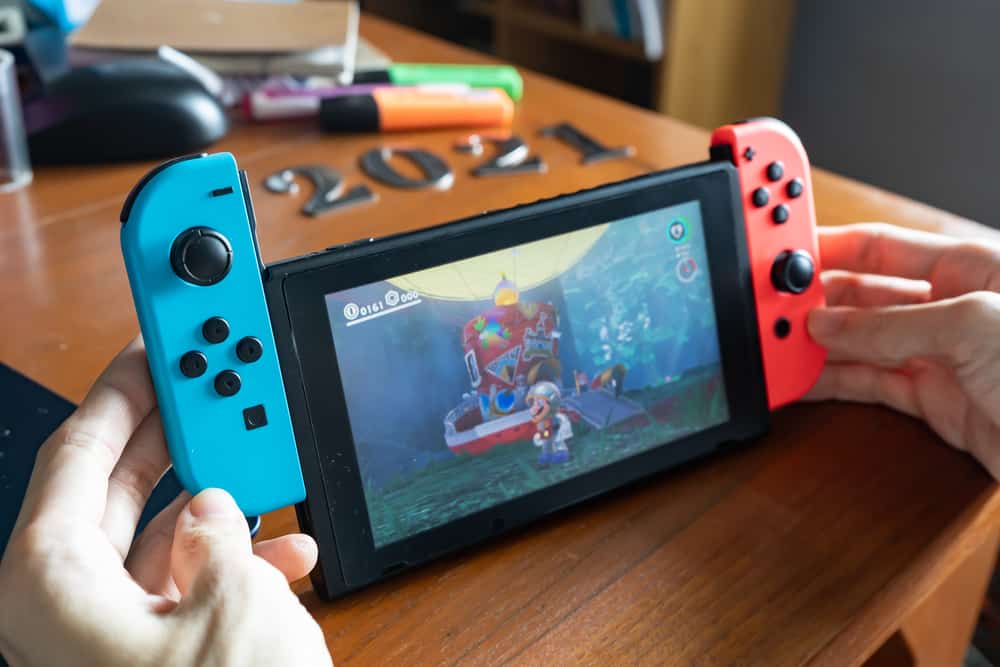 emNew Super Mario Bros. U Deluxe/em has to be one of the longest titles for a video game.
As the title suggests, it is a port of a Wii U game. While the Switch certainly deserves its own 2D sidescrolling Mario game, this one does a good job of holding fans over. This works primarily because so few played the title on the Wii U.
Like nearly every other Super Mario game, you play as the Italian plumber in his quest to rescue the princess from Bowser. The art style of the game is nearly identical to all of the other games in the New Super Mario Bros. series. But, the game is able to take advantage of the power of the Switch, which is much more powerful than the games its predecessors released on.
Therefore, the Switch delivers beautiful graphics and flawless gameplay. Nintendo manages to walk a fine line between a dated platformer and a timeless classic. They've somehow managed to add new details to the classic Mario games. A major difference between the Wii U and Switch version is the addition of Super Luigi U, which was previously sold as a separate game. There are also other characters you can play as.
Check it out on Amazon here.
emDonkey Kong Country: Tropical Freeze/em is a port of the original Tropical Freeze game from the Wii U.
Not much has changed, except for some changes to remove the need for a gamepad screen. The game still looks and plays great, and it was even considered one of the best games on the Wii U. Unlike games such as Kirby, emTropical Freeze/em has moments that are really difficult.
There are tons of levels that are each masterfully crafted with their own design and style. In each level, you can also search for extras like hidden collectibles. There are also plenty of mini-games to complete as you make your way through the game. The game also has some great boss battles that manage to strike the perfect balance of challenge and fun.
emDonkey Kong Country: Tropical Freeze/em on the Switch does have some minor differences from the Wii U version. Namely, the Switch version includes a "Funky Mode," which offers a much easier and more laid-back take on the otherwise difficult game.
All in all, emTropical Freeze/em feels like the perfect Donkey Kong Country game as it takes heavy inspiration from past games in the series and improves upon them.
You can buy it on Amazon here.
The original Sonic games from the Genesis era have received more remasters, rereleases, and spinoffs than anyone can count. While many of them are simple rehashes of the original games, some really stand out. emSonic Mania/em is one that stands out as a fantastic game that can hold its own in a crowded field.
emSonic Mania/em starts with the original Green Hill Zone, which feels like this may be another remaster. But, you quickly realize that this is much different. There are all new moves and abilities, in addition to new features on the stage. On top of some original levels that received a complete makeover, there are also plenty of new levels to play.
The levels feature a mix of styles from throughout Sonic's history, plus numerous mini-games from previous titles also made the cut. Altogether, it feels like something from nearly every 2D Sonic game made it into Mania, even if it is just a nod. Whether you've played Sonic games from the beginning or you want to get started, emSonic Mania/em is one of the great Switch platformers to play.
Play emSonic Mania/em when you get it off Amazon here.
emSuper Mario Odyssey/em is one of the best games available on the Nintendo Switch.
It is a 3D game, similar to Super Mario 3D World and Super Mario Galaxy. While those were some great games, emSuper Mario Odyssey/em feels like the perfect Mario platformer. What makes Odyssey so unique is that you get to explore all new worlds that have never been seen in a Mario game before.
The most notable location is New Donk City which is the first time that Mario has found himself in a major city center amongst regular people. Mario is accompanied throughout the game by his hat, known as Cappie. The game also features a unique story that is a little deeper than the usual Bowser has captured Princess Peach narrative (which he also does).
emSuper Mario Odyssey/em also features plenty of new gameplay mechanisms, many of which are possible thanks to Cappie. However, the game also features sequences and mini-games with distinct 2D-style Mario puzzles. The game also has a nice ending which is unlike any other Mario game. Once you do complete the game's story, you can go back and further explore each of the game's levels to continue collecting items and completing side missions.
Unfortunately, we can't cover all of the Switch platformers in-depth, but if you enjoyed emSuper Mario Odyssey/em, consider also playing Super Mario 3D World which comes with a new game called Bowser's Fury. This is another remake of a Wii U game with some additions. Also, be sure to check out Super Mario 3D All-Stars, which is a compilation of Super Mario 64, Super Mario Sunshine, and Super Mario Galaxy.
Play the Switch's best platformer from Amazon here.
The image featured at the top of this post is ©Alvaro Reyes / Unsplash.