The Nintendo 64 redefined what a platforming title was. Platformers had been around for a long time, but most were 2D sidescrollers. While there were some 3D titles like Super Mario RPG, they lacked the detail that the Nintendo 64 was able to deliver. The console also made it possible to tell richer stories that gave players a better understanding of the game they were playing.
This even included adding voiceover to character conversations, which were largely unnecessary in the 2D sidescrolling platformers. While Nintendo is well known for its first-party platformers, such as Mario, there was one company that took the Nintendo 64 by storm. The video game developer, Rare, made the majority of well-remembered games on the Nintendo 64 and perfected the 3D platformer.
Let's check out the best platformer games the N64 has to offer!
emSuper Mario 64/em is easily one of the best Mario games ever made; although it wasn't the first time that Mario appeared in 3D, it was most people's first experience with the bulgy character.
emSuper Mario 64/em is what many gamers fondly look back on as one of their favorite platformers. Not only was it a great game for its time, it still holds up exceptionally well today.
You obviously play as Mario, who goes to Peach's castle for cake, where he quickly finds out that she's been captured by Bowser. You then enter the castle and jump into a painting. This use of a hub world that was also 3D and explorable worked exceptionally well. The game uses a variety of levels that all have their own unique design and gameplay.
Speaking of gameplay, Mario uses a variety of mechanisms to get around and solve puzzles. The levels are linear but allow for plenty of exploration. Then, when you reach the end, there is a boss battle rather than taking a flag, like in the 2D sidescrollers. The gameplay really makes up for the lack of an in-depth story. The game's story is pretty basic and similar to nearly every other Mario game.
The graphics look a bit dated today, but for its time, emSuper Mario 64/em was groundbreaking. The worlds also offered plenty of detail that was unseen in other games of the era. The only downside to the game is that the camera is very annoying compared to today's standards. However, that shouldn't stop you from picking it up since you quickly get adjusted.
You can find this classic on Amazon here.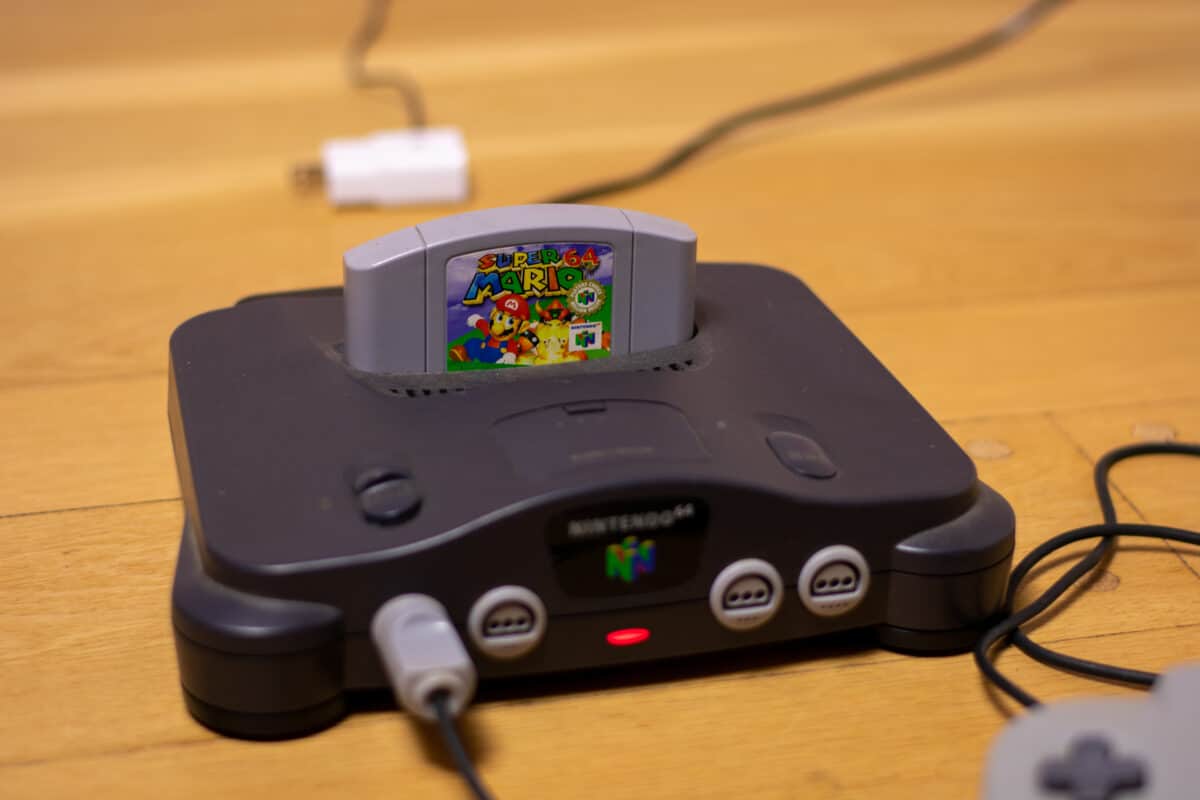 emBanjo-Kazooie/em is one of the most fondly remembered 3D platformers on the Nintendo 64.
In the game, you play as a bear with a bird on his back. The game was made by Rare, which made a lot of the platformers on the console. At first glance, emBanjo-Kazooie/em looks like a game for kids, which it is, but it really is a great game for anyone.
Unlike most games for kids, this one is hard. Not so hard that you abandon it and pull out your hair, but difficult nonetheless. What really makes emBanjo-Kazooie/em great is its story. Although there is a lot of reading that is easy to click right past, the game is very humorous. Adding to that is a cast of characters who each have their own crazy personalities.
As for gameplay, you must solve a range of puzzles to collect different objects, such as puzzle pieces. The puzzle pieces are what you need to progress to the next level of the game. But, the dynamics between Banjo and Kazooie are great and playoff each other's abilities. The graphics were decent for their time, but the scenery and backgrounds really add to the game's personality.
Check it out on Amazon here.
emKirby 64: The Crystal Shards/em is the first time we get to see Kirby in a 3D game, and while the game looks 3D, it is actually just a sidescrolling platformer.
Although your travel is limited, the worlds you travel through still look sprawling and have a lot of depth. The game creates a good illusion that the levels are bigger than they really are.
The basis of a Kirby game is that you can copy other characters, but emThe Crystal Shards/em lets you combine copy abilities. This provides over thirty combinations of copy abilities that you can become. The game is relatively short, but you can make it take longer if you want to collect all the crystal shards. Collecting the shards requires special copy combinations, which can be confusing and time-consuming.
Still, emKirby 64: The Crystal Shards/em is a ton of fun. It isn't overly simple, but you will likely find some levels much easier than others. The most annoying part of the game is that Kirby is very slow, even when running. It can also be very easy to die. The gameplay offers a nice variety of mechanics, with a mix of battles and puzzle-solving. emThe Crystal Shards/em also has some basic mini-game packed in that are really fun.
You can find it on Amazon here.
emConker's Bad Fur Day/em is a deceptive game if there ever was one.
On the face, it looks like another cute game from Rare, who published the Banjo-Kazooie games. But, if you picked this up thinking it was for kids, boy, were you wrong. Coming off the success of the Banjo series, Rare decided to make a game targeted toward adults.
The main character, Conker, was actually seen in previous Rare titles. But, this is the first time we really get to see who he is. emConker's Bad Fur Day/em features voice acting, which makes it stand out. The antics of the game are what really make it stand out — the game is filled with blood and gore, along with alcohol and tobacco use.
The game's story is a major part of what makes it successful. Throughout, there are also spoofs of various hit movies. The gameplay is equally insane, with Conker having many different abilities. The game also has sections with combat as well as puzzle solving. The game's graphics are very impressive, especially the cutscenes.
Check it out on Amazon here.
emDonkey Kong 64/em follows up on the hit Donkey Kong Country games.
Fortunately, this is a worthy successor as we get to see Donkey Kong in 3D for the first time. In fact, many still consider emDonkey Kong 64/em to be the best in the franchise. The game starts with a backstory where you find out Donkey Kong's friends have been captured.
The levels of the game are great, and you get to explore much of Donkey Kong Island. There are tons of collectibles to pick up while you explore. These collectibles help provide some insight into where to find the next golden banana. Besides the typical jungle that is expected, there is a variety of scenery that breaks up what could otherwise get rather old.
Besides Donkey Kong, you can control four other monkeys too. Each of the game's characters has its own unique abilities. The gameplay involves a lot of puzzle-solving and basic combat. The game also relies on plenty of mini-games which are one of the most difficult parts. emDonkey Kong 64/em's graphics are really good, and the artwork bares a strong resemblance to the Banjo-Kazooie games.
Take it home from Amazon here.
emBanjo-Tooie/em is the direct sequel to Banjo-Kazooie, and it picks up two years after the events of the first game.
The overall concept and feel of the game are very similar to the first. However, it starts with some darker tones. One nice thing about the sequel is that you start off with all the abilities you worked so hard to get in the first game.
Along your adventure, you get to pick up new abilities that can help you on your adventure. While the first and second games share many similarities, the world in emBanjo-Tooie/em is much larger than its predecessor's. Another difference is that you can play the different characters by themselves. Again, you must go around to collect various objects, primarily puzzle pieces, to proceed in the game.
The story and characters are just as whacky as the first game. The game's unique characters work very well and add story elements. Most notable is a tragedy at the beginning that really makes you want to play the game to its ending. emBanjo-Tooie/em's graphics are pretty similar to its predecessor, but the worlds are arguably more impressive.
Check it out on Amazon here.
The Rayman series may not be as popular as it once was, but emRayman 2: The Great Escape/em was the franchise at its prime.
The game perfectly balanced fun and difficulty to create something that wasn't frustrating but offered players a challenge. emRayman 2: The Great Escape/em is another 3D platformer that closely resembles the many similar titles on the platform.
emRayman 2/em, however, lacks the in-depth storytelling that many of those other games feature. Instead, the game quickly drops you into action so you can start playing. The game stands out for its broad range of environments that you must explore. As you make your way through the game's levels, you also pick up new abilities to use.
While emRayman 2: The Great Escape/em sounds like the average platformer, it is not. The gameplay varies dramatically from level to level. Some parts of the gameplay are like a standard platformer, while others are set up as a rail-shooter, and others include epic boss battles. The graphics of emRayman 2/em also stand out compared to other 3D platformers, which were very blocky.
You can find emRayman 2: The Great Escape/em on Amazon here.
The image featured at the top of this post is ©iStock.com/luza studios.