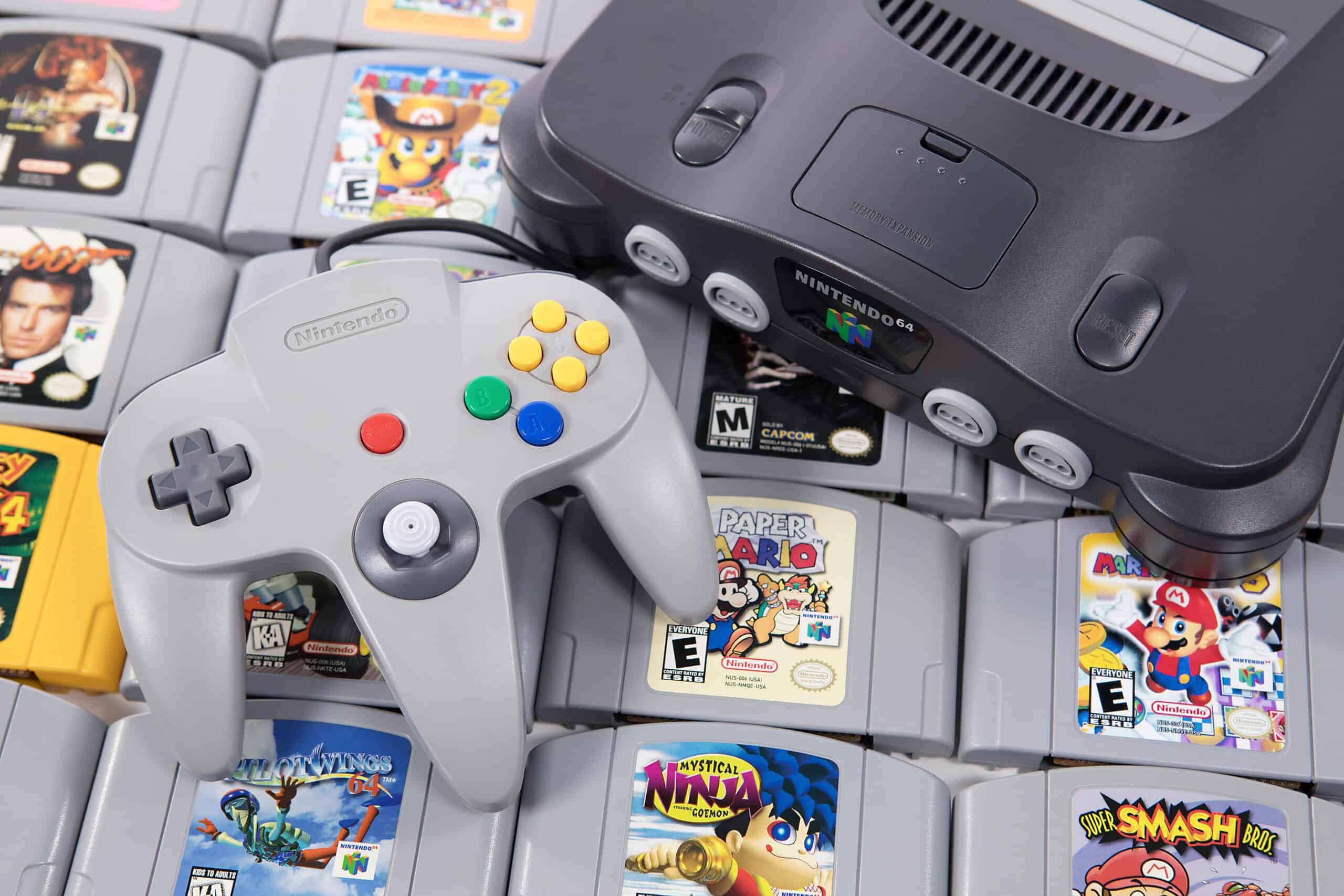 As the last home console to use cartridges, the Nintendo 64 has a special place in the history of video game consoles.
The 17th best-selling console of all time, it might not sound like the Nintendo 64 was a success, but selling 32.9 million consoles is nothing to ignore. More important is that the Nintendo 64's popularity has grown over time, especially in recent years as retro gaming has made a roaring comeback. 
Thanks to its 3D effects, popular games, and unique controller, the Nintendo 64 was unlike anything else on the market at the time. That's even more true when you consider that the console had port space for up to four controllers at once, something that really boosted multiplayer experiences. That led to the release of some incredibly memorable games, many of which are action-packed titles that still play well to this day. 
Let's dive into the best action games for the N64!
What is an Action Game? 
An action game on a video game console is one that focuses on a more physical style of gameplay that demands fast hand and eye coordination and faster reflexes. Game types like platformers, fighting games, and beat 'em ups are among the best-known subgenres of an action game.
First-person shooters are another solid entry point for an action title because they are fast-paced, require quick decisions, and demand all of your attention to stay alive. 
Is the Nintendo 64 Known for Action Games? 
Like most consoles, the Nintendo 64 is known for a variety of games but action games certainly rank near the top.
Some of the console's most memorable and most popular titles will appear on this list. Those same titles also happen to be some of the best-selling games for the Nintendo 64 as well.
Super Mario 64, is undoubtedly one of the best-known games on the console and the first to really show what 3D on the console was capable of. First-person shooters like Perfect Dark and GoldenEye 007 were action games known for their demand for quick reflexes. 
Oddly enough, emDonkey Kong 64/em remains the only 3D game in the entire Donkey Kong series, on any console.
Considering how wonderfully fun the game is on the Nintendo 64, it's a shame the developers haven't introduced a new 3D version on a next-generation console (hint hint, Nintendo Switch).
Even so, the game takes around 27 hours to beat and earned a 90 Metascore, which is all the reason you need to play this again or for the first time. There's just something truly memorable about a game that might have you running around on a rhino on one level only to find yourself in a slot car a few minutes later. 
Every level just feels bigger than the one before it and you have to really search high and low to find all of the secrets and collectibles contained within. Plus, you can choose which Kong you want to play as. 
If the gameplay wasn't already selling you, DK 64 is arguably one of the best-looking games on the N64 console. The colors are beautiful and tie together so well with the sound, which makes it worth it on its own. 
emDonkey Kong 64/em is calling your name and it's available on Amazon here. 
Rayman is no stranger to video game fans and this 3D adventure platformer feels right at home on the N64. Once again jumping into the shoes of Rayman, emRayman 2: The Great Escape/em starts you off with a mission to free his friends from Razorbeard, a robot pirate that took over Rayman's home.
To succeed you'll need to do plenty of jumping, bouncing, running, more jumping, and hovering as you guide Rayman on his journey. 
Across the eight-hour game, Rayman will go through a mostly linear series of levels in his land of Fairy Glade and collect "lums." The more lums Raymond can collect, the faster he can gain access to newer levels and abilities. 
Rayman also starts off the game with minimal powers and skills and is only able to level up as the game progresses, including gaining the ability to fly with his hair. While flying with Rayman's hair should be the best part of emRayman 2: The Great Escape/em, it's actually battling through 45 unique levels across eight hours of gameplay.
The 90 Metascore and strong 8.7 out of 10 user score emphasizes just how great of a title this is on the Nintendo 64 and it's good for all ages. 
Help Rayman with his great escape by picking this game up on Amazon here. 
Another solid hit by popular Nintendo 64 developer, Rare, emConker's Bad Fur Day/em is just so much fun.
Conker, the main character, is a red squirrel with some really bad habits. The game takes place the day after his 21st birthday, so Conker is sporting quite a headache. Of course, this means there are plenty of hijinks to be had. Conker sure looks innocent enough, but the reality is that he's quite the foul-mouthed squirrel and his mind is totally in the gutter. 
A platformer at heart, Conker also adds some shooting elements that feel like it just delivers a homerun in a 3D environment. In order to continue progressing throughout the game, Conker needs to find himself some additional cash, and until he can, certain portions or sections of the game are blocked off. The more bosses you defeat or puzzles you solve, the more cash you can earn. 
What's really delightful about emConker's Bad Fur Day/em is that it includes a local multiplayer mode enabling up to four players to compete against each other in a series of games. All of these elements come together to deliver one of the most original titles on the Nintendo 64 and enough laughs to earn a 92 Metascore. 
Watch Conker battle his hangover by grabbing emConker's Bad Fur Day/em on Amazon here. 
Another game on this list by developer Rare, there's a pattern beginning to develop on who made the best action games for the Nintendo 64. emBanjo-Kazooie/em, the first entry in the emBanjo-Kazooie/em series, is the story of a bear, Banjo, and a bird, Kazooie, who must stop the evil witch.
Banjo follows the same 3D format as another Rare hit, Super Mario 64, but it's a winning formula worth reusing and it works really well for emBanjo-Kazooie/em.  
As you take up the mantle of Banjo as the main hero, you guide him on his journey traveling from one world to another. Within each level, Banjo and Kazooie work to solve puzzles, and with every completed puzzle, they bring themselves closer to a final showdown with the evil witch, Gruntilda.
Each world Banjo and Kazooie enter will have them looking to defeat any opponents that hope to stop them from running, jumping, climbing, swimming, or even rolling into the enemy. One of the best challenges of this game is searching near and far for the golden puzzle pieces called Jiggies and Jinjos. All of the names in this game are hopefully the reason why it earned a 92 Metascore. 
Grab your copy of emBanjo-Kazooie/em on Amazon here. 
Up until the release of the Nintendo 64, Mario was the epitome of the 2D sidescroller and the thought of Mario doing anything but a 2D sidescroller else was almost unthinkable. Then, emSuper Mario 64/em was released and the entire Mario universe was upended in the best possible way.
Featuring Mario in 3D, emSuper Mario 64/em has gone on to earn praise the world over and is widely considered one of the greatest video games of all time. It's also the best-selling game on the Nintendo 64 with more than 11.9 million copies sold. 
Taking roughly 12 hours to finish, the storyline isn't much of a surprise as Mario must once again rescue Princess Peach and defeat Bowser. Thankfully, it's not the storyline that really sets this game apart. As a 3D platformer, Mario can run, jump, grab objects, punch, swim, kick, and move in an entirely new set of directions, thanks to the Nintendo 64 and its controller.
You can maneuver the joystick around and manipulate the camera angle to see your next move which was something completely unheard of in previous Mario games. 
emSuper Mario 64/em only earned a 94 Metascore which feels disappointingly low, considering its impact on the gaming industry. Even so, emSuper Mario 64/em is 3D platforming at its absolute best. 
Pick up the best-selling game in Nintendo 64 history from Amazon right now here.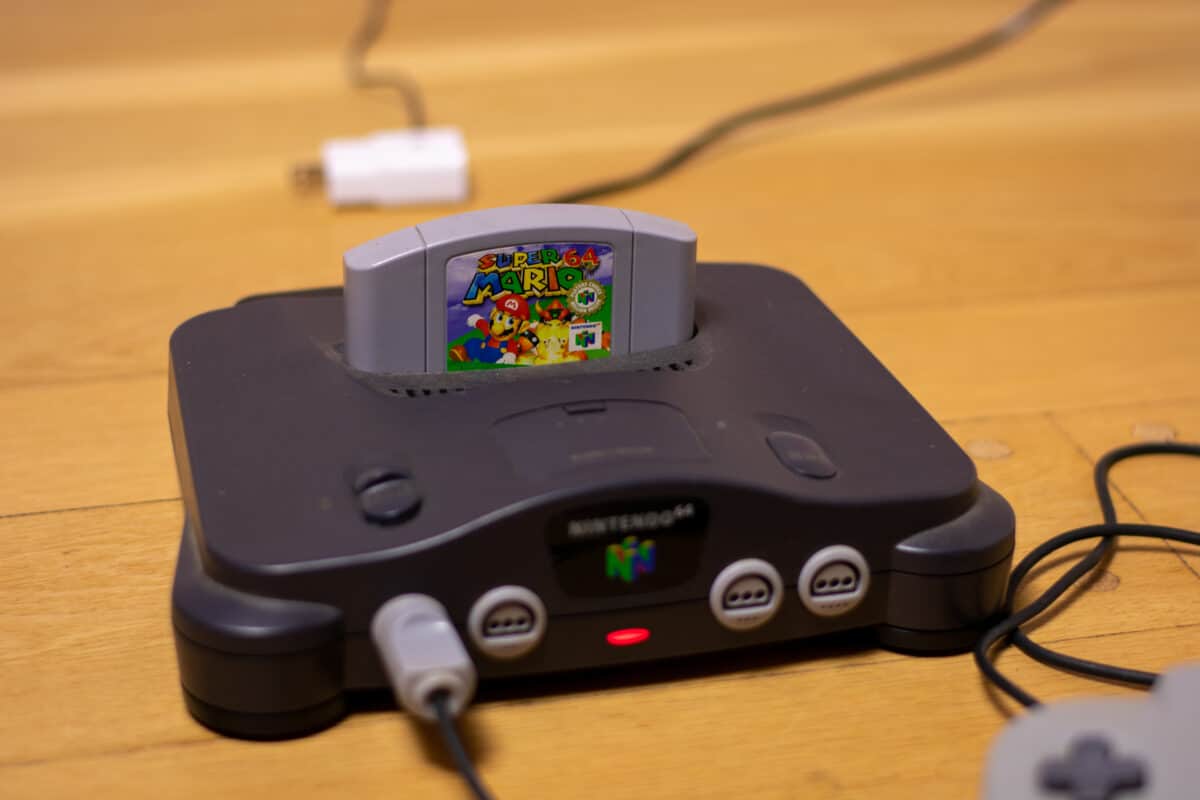 Let it be said that emGoldenEye 007/em is the absolute best James Bond game to appear on any console, ever.
Based on the movie of the same name, Rare developed and released the game exclusively for the Nintendo 64. Players take up the mantle of James Bond and follow a similar storyline to the movie itself and attempt to stop evil henchmen from misusing a satellite weapon. M makes an appearance, ensuring that you know your mission objectives, and Q will outfit you with the latest gadgets and weapons to complete your mission. 
As one of the first games to feature a true 3D environment that allowed players to somewhat explore on their own, emGoldenEye 007/em, like Super Mario 64, changed gaming for the better. The single-player campaign is just shy of ten hours long but it's not the campaign that really helps this game shine. 
Thanks to the inclusion of four ports for controllers, emGoldenEye 007/em became the party game right after its release. Split-screen deathmatches were just so incredibly fun that you could lose track of time easily and without regret.
emGoldenEye 007/em earned a 96 Metascore and even that might be too low, considering just how amazing the multiplayer experience was and still is to this day. 
James Bond needs your help to succeed so pick up a copy of emGoldenEye 007/em on Amazon here. 
It's hard to imagine there could be a better game on the Nintendo 64 not named GoldenEye 007 or Super Mario 64. That is, until you try emPerfect Dark/em.
If GoldenEye 007 was the first-person shooter to beat on the Nintendo 64, Rare managed to develop a game that toppled an almost perfect title. Arriving in 2000, emPerfect Dark/em is played at a slightly slower pace than GoldenEye where stealth and strategy are a little more integral to your survival.
Of course, you still have a few dozen weapons at your disposal throughout the game to quickly dispatch your enemies, so the slower pace doesn't mean less excitement.   
Your protagonist is Joanna Dark and she's on a mission to stop an extraterrestrial conspiracy, and to achieve that goal, must play through each level in order to unlock the next level. Every level is a visual masterpiece and pushes the Nintendo 64's graphics to their absolute limit. As the 20th best-selling game on the N64 console, emPerfect Dark/em accounted for more than 2.5 million copies sold. 
It's often regarded as a masterpiece of the fifth generation of video games and that's especially true of its multiplayer component as well. It borrows quite a bit from GoldenEye 007 and improves on that near-perfect title in all of the right ways. 
emPerfect Dark/em is a near-perfect action game and is available on Amazon right now here. 
Final Thoughts
Even if the Nintendo 64 wasn't the best-selling console of its generation, the list is proof that there are some incredible games in its lineup. It's hard to imagine a more perfect trio of Perfect Dark, GoldenEye 007 and Super Mario 64 for any console. That each of these games are widely considered not just critical successes but among the best video games of all time is a testament to this list and Nintendo in general.